🙍‍♂️User case: I am a freelance graphic designer, and I regularly back up my important files using the File History feature on My HP laptop which is running Windows 11. 
One day, when I try to run the File History backup on my external hard drive, an error message appeared, which says "File History doesn't recognize this drive." I tried to troubleshoot the issue by disconnecting and reconnecting the external hard drive, and some other basic troubleshooting steps, but the error was still there. Any advice?
File History is an amazing built-in file backup tool in Windows 11 that helps users automatically save images, videos, music, and desktop items, among other things, to external hard drives or network locations. However, users have reported a variety of issues while using it, with the "File History doesn't recognize this drive" error being one of the most common.
If you are in the same situation, keep reading the post. We'll tell you why the error appears, and how to fix it with effective solutions.
🎁Bonus Tip

Several fixing tips will be provided in the following text. If you don't want to attempt each one individually, a quick solution will solve the mistake with a simple action, which is to use the File History replacement, EaseUS Todo Backup.
EaseUS Todo Backup is a fantastic backup and recovery application that will eliminate numerous backup issues and assure a smooth and rapid backup with only a few clicks.
Do you want to learn more about it? For more information, proceed to the next part.
Why File History Can't Recognize The Drive
Many causes can contribute to the hard disk not being recognized by File History, including:
The target drive isn't turned on or enabled
Unstable connection
The File History service is turned off
The hard drive is been destroyed, corrupted, or contains bad sectors
[Fixed] File History Doesn't Recognize This Drive on Windows 11
Fix 1. Turn On the Destination Drive
If your hard drive is turned off, File History certainly can't find the destination drive. Follow the steps below to enable it. 
Step 1. Access the File History on Windows 11 by typing File History in the search bar, and then launching it.
Step 2. Click Configure File History settings.

Step 3. Click the Turn on button in the bottom-right corner.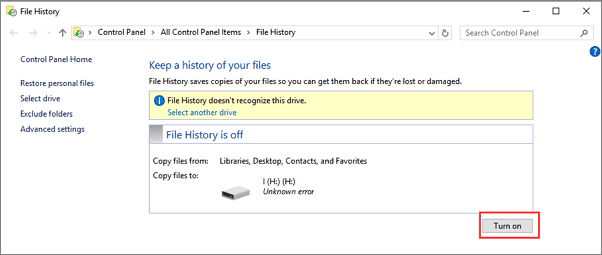 Fix 2. Reconnect Hard Drive
An unstable hard disk connection will also result in failed drive recognition. It could be due to a loose USB interface or a faulty cable. In this case, you should unplug the drive and reconnect it with a functional cable or interface.
Fix 3. Turn On File History Service
Another option is to enable the File History service in order to repair and fix the File History can't recognize the drive problem and restore file backup functionality:
Step 1. Type Services in the search bar, and open it on Windows 11 computer.
Step 2. Find and locate File History Service, double-click it, and set the Start type as Automatic.
Step 3. Restart your computer to keep all changes. Now you can use File History to back up files to a hard drive successfully.
Fix 4. Change Another Normal Hard Drive
If none of the above solutions work to resolve the issue of the hard drive not being recognized, the fault may be with the hard drive itself. A hard drive that is corrupted or damaged will not be recognized. You can try to file backup again after switching to another functioning drive.
Step 1. Open File History on your Windows 11 computer.
Step 2. Select Configure File History settings > Select another drive.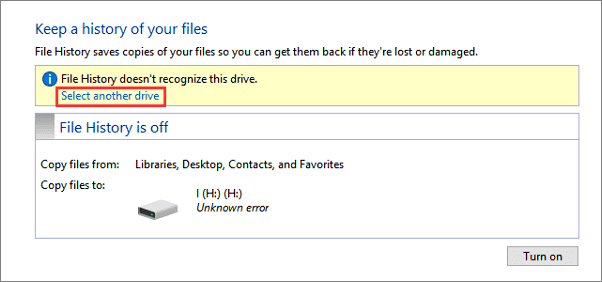 Step 3. Choose a new disk as the destination disk, and click OK.
Use File History Alternative to Backup Files on Windows 11 Easily
As we mentioned above, using File History to back up files has many issues, such as incomplete backup, not backing up all files, backup process stuck at 97% or 57% or the drive can't be recognized, etc. So, you can turn to the File History alternative, EaseUS Todo Backup, which has many advanced features that File History doesn't have, such as system image creation, clone disks and systems, backup game saves, universal restore, moving OS to another computer without reinstalling, etc.
EaseUS Todo Backup is available on Windows 11/10/8/7 computers. With this robust, all-in-one backup program, all files and data saved on your computer can be protected well. According to its users, they have had almost no problems using the tool for backups. Using a simple UI, EaseUS is suitable for both beginners and experts.
What are you waiting for? Download and try its functions. You won't be disappointed.
To back up files with EaseUS Todo Backup, follow the instructions below. The approach has no technical restrictions, and you can use it with confidence to protect your data.
Step 1. To begin the backup process, click the Select backup contents button.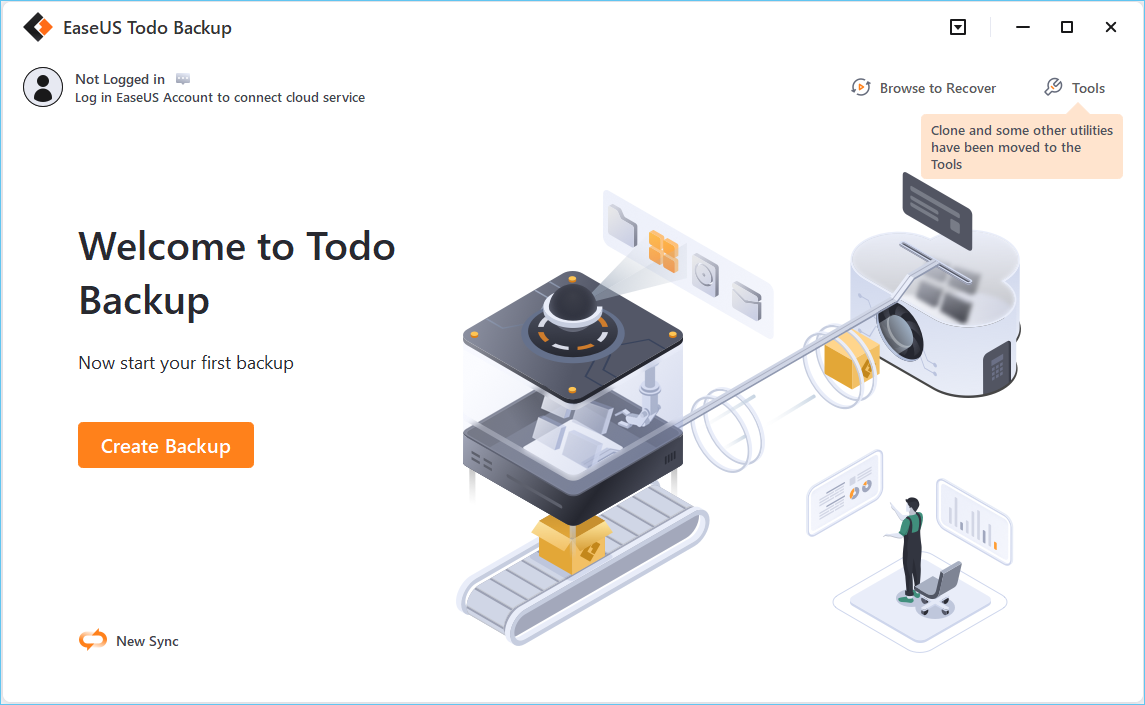 Step 2. Four data backup categories are listed: File, Disk, OS, and Mail.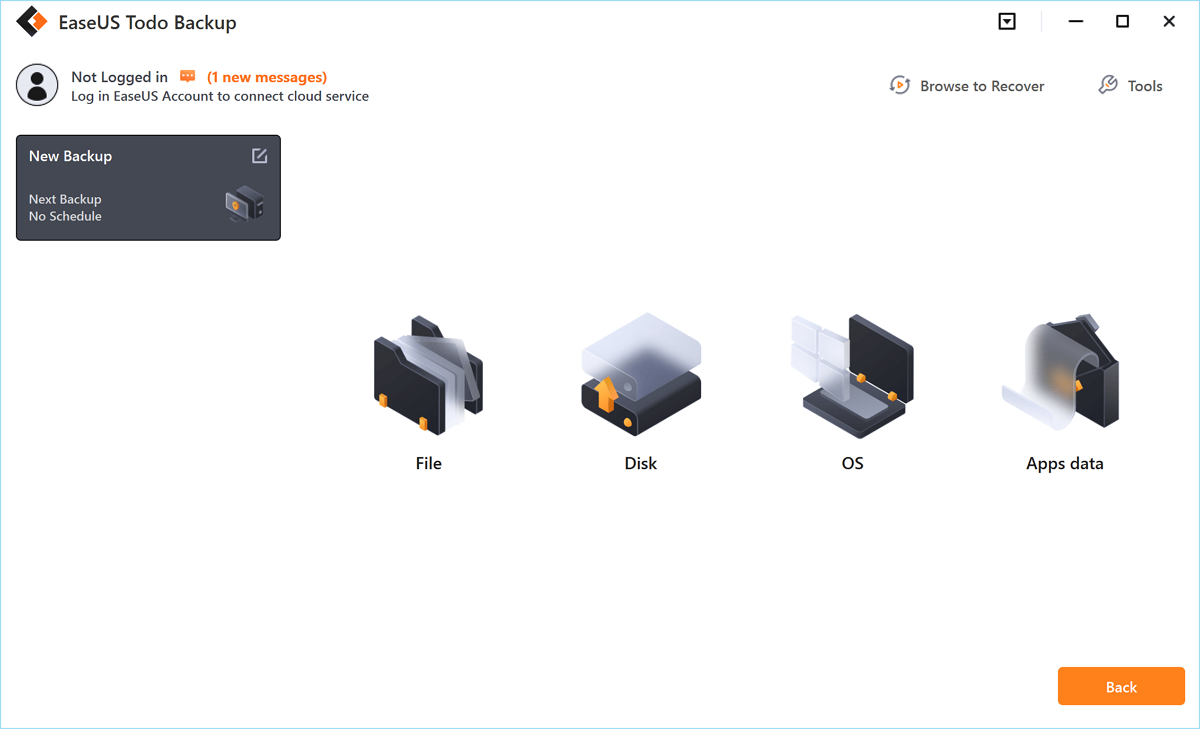 Step 3. Lists of both local and network files are shown on the left-hand side of the screen. Expanding the directory so that you can choose the files to back up.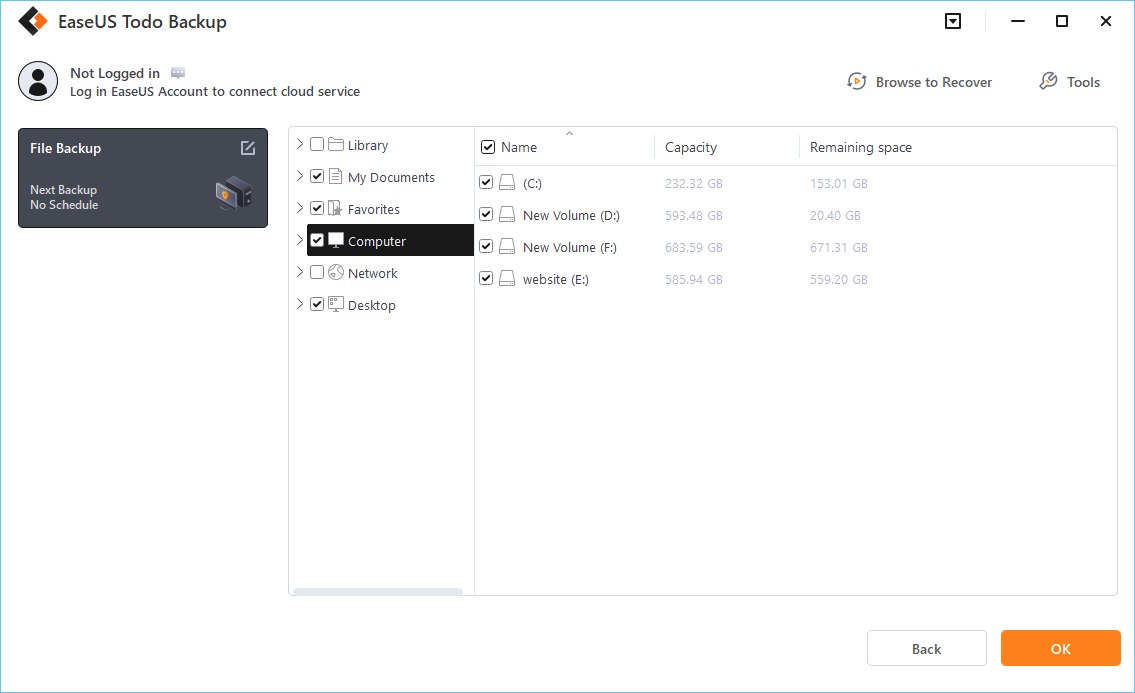 Step 4. Follow the guidance on the screen and choose the place where you want to store the back up.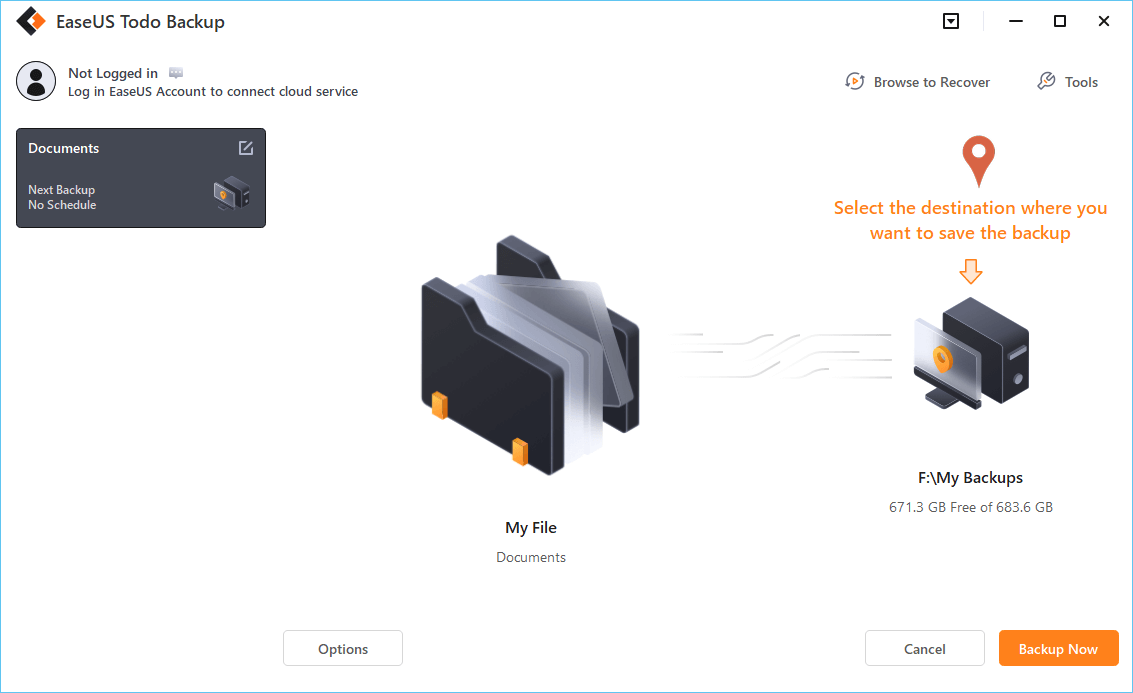 Make sure that the backup is encrypted and set the backup schedule by clicking Options in Backup Options. You can also choose to start the backup at a certain time in Backup Scheme by clicking Options. There are many other customizable options that you can look into.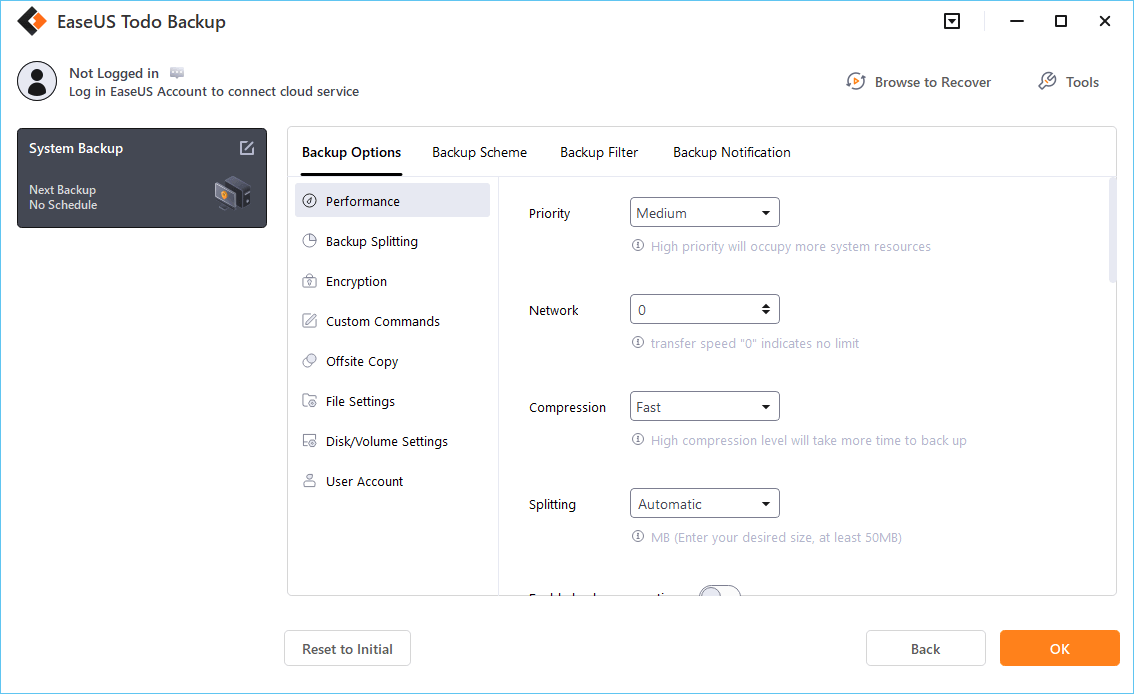 Step 5. You can store the backup file either on your computer, in EaseUS's cloud service, or on a network-attached storage device (NAS).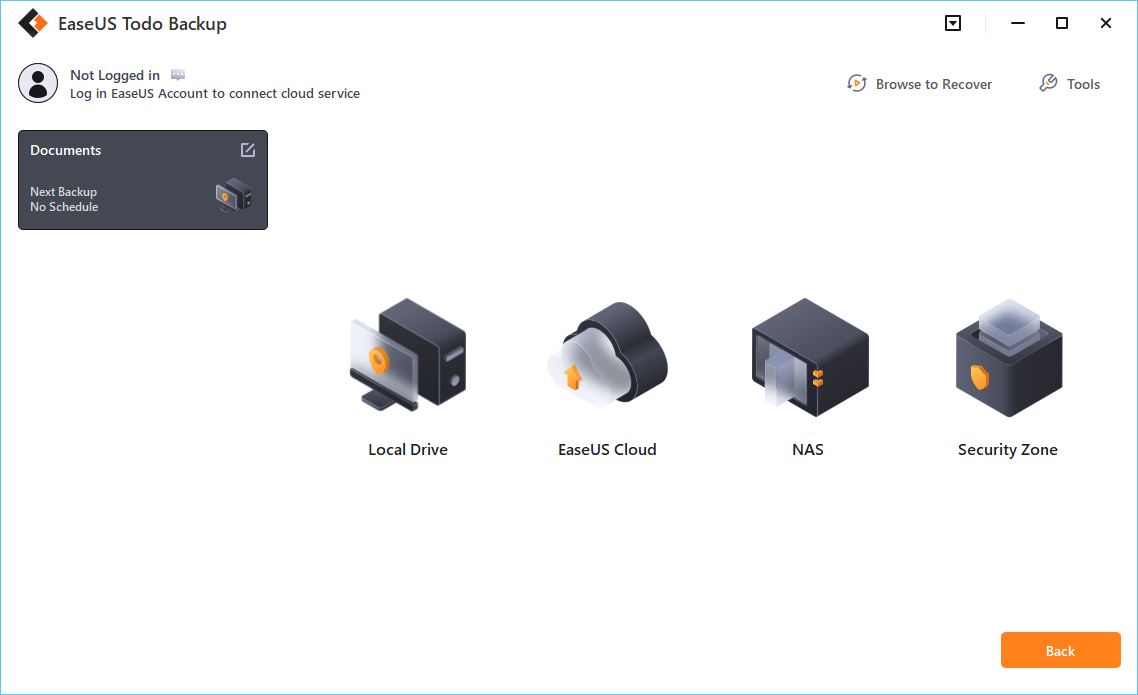 Step 6. EaseUS Todo Backup enables customers store backup copies of their files on a third-party cloud drive or on the company's own cloud storage.
If you want to back up your data on a third-party cloud drive, select Local Drive and scroll down to add Cloud Device. Then fill in your account information.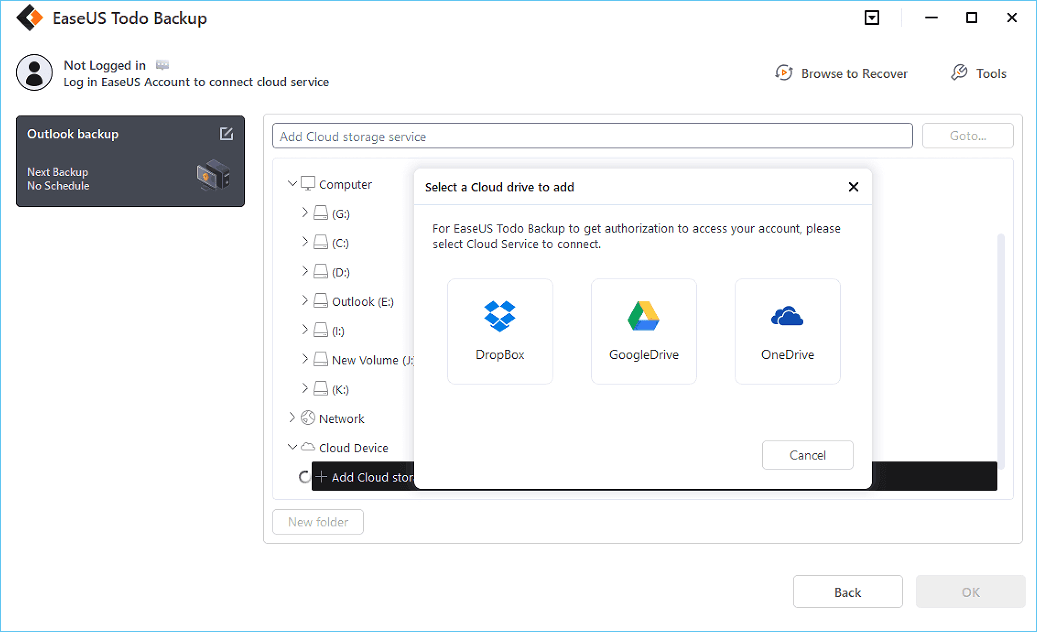 Click EaseUS Cloud, then sign up and log in with your EaseUS account if you wish to store backup files to EaseUS' own cloud storage service.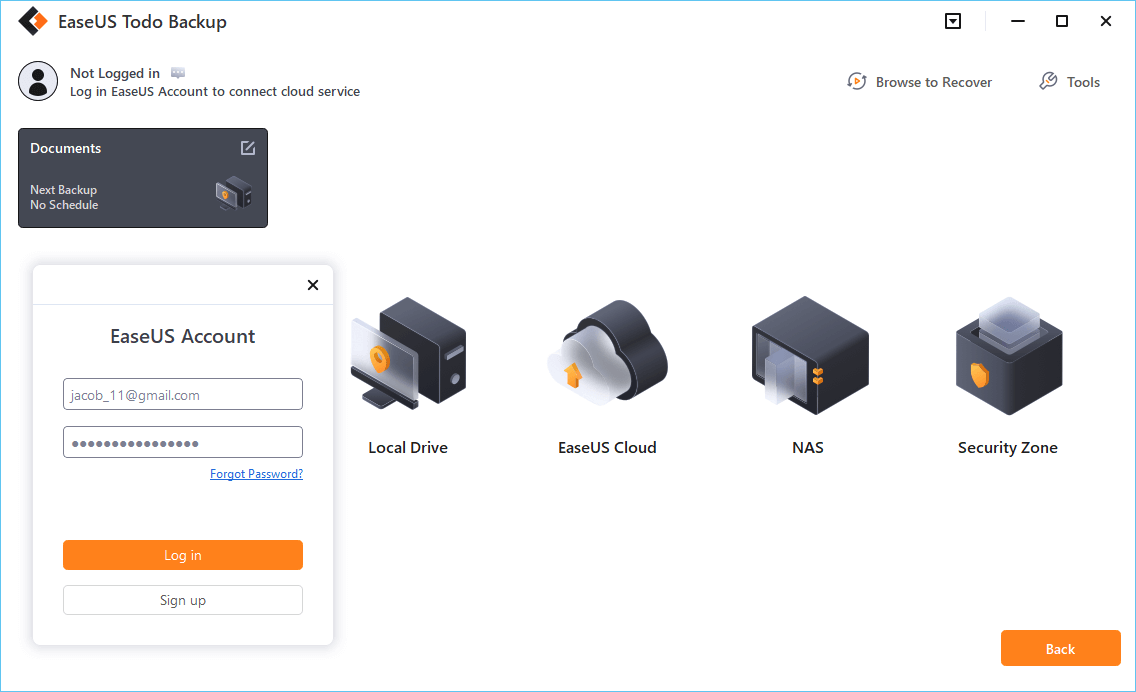 Step 7. Click on Backup Now to start a backup.  When the backup process is done, it will display as a card on the left-hand side of the screen. A right-click will let you see more about how to handle the backup job in more depth.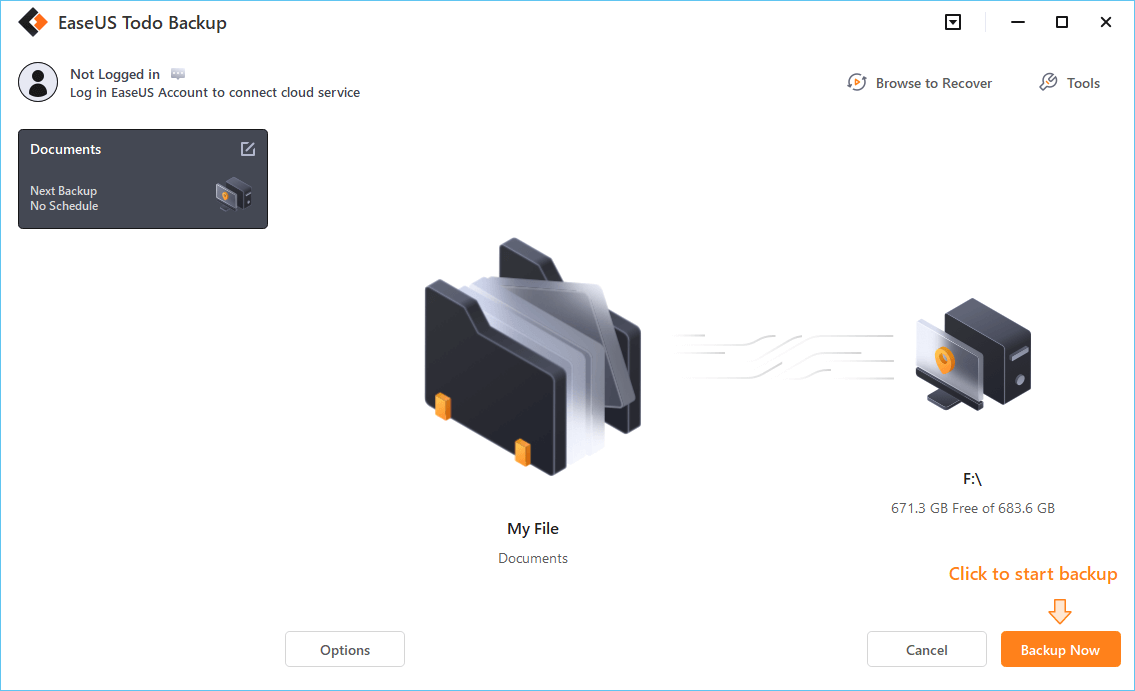 Conclusion
While backing up files, the File History doesn't recognize this drive on Windows 11 computer issue is inconvenient. This post explains why the error occurs and how to resolve it using four solutions. We hope these are useful.
However, File History has certain restrictions, including the fact that it only backups files and not systems, disks, or partitions. File History is outperformed by EaseUS Todo Backup. You can use it to protect your computer security in any way.
FAQs
1. Why Windows 11 file history does not recognize this drive?
There could be various reasons why Windows 11 File History does not detect a specific drive. Some of the most common causes are defective USB cables, outdated drivers, corrupted file systems, damaged external hard drives, or disk compatibility concerns. It is critical to troubleshoot and determine the root cause of the problem in order to resolve it.
2. How do I reconnect my drive to file history?
To reconnect your drive to file history in Windows 11, follow these steps:
Connect your external hard drive to your computer.
Open File History.
Under the Backup options, select More options.
Scroll down to the bottom of the page and click on Add a drive.
Select the external hard drive that you want to use for File History backup, and then click on OK.
Now, File History should recognize the drive, and you can start backing up your files.
3. Does file history need a dedicated drive?
No, Windows 11 does not require a dedicated drive for File History. Users can set up file history backups on any external hard disk, including USB devices. It is advised that File History backups be performed on a separate external hard drive since this can assist prevent against data loss due to system failure or inadvertent deletion. Users can also save file history backups to a network location or a shared folder on another device.
Was this page helpful? Your supoport is truly important to us!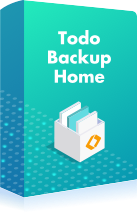 EaseUS Todo Backup
EaseUS Todo Backup is a dependable and professional data backup solution capable of backing up files, folders, drives, APP data and creating a system image. It also makes it easy to clone HDD/SSD, transfer the system to different hardware, and create bootable WinPE bootable disks.
Updated by

Larissa has rich experience in writing technical articles. After joining EaseUS, she frantically learned about data recovery, disk partitioning, data backup, and other related knowledge. Now she is able to master the relevant content proficiently and write effective step-by-step guides on computer issues.…

Read full bio