All solutions to stop Windows 10 from automatically update:
Windows 10 Forces Me to Update
"Every time I try to shut down my computer, I was forced to update my Windows 10. But I really don't want to update my operating system because the automatic update might take up the system and network resources. Is there anybody can help me solve this problem and disable Windows 10 update? Thanks in advance."
Windows 10 is a service, which means automatic updates are turned on by default and your PC always has the latest and best features. But some users will not want automatic updates as it might take up the system and network resources when they are doing critical work. So, how to stop Windows 10 from Automatically update?
Read on to know the solutions on how to turn off automatic updates in Windows 10
How to Stop Windows 10 from Automatically Update
Whenever you are faced with Windows 10's automatic update notification like:
Install updates automatically
Download Updates but choose when to install them
Check for updates but let me choose whether to download and install them
Never check for updates
What would you do? Here, we have the following solutions.
Notice

Any of the following operations may cause data loss, do remember to backup your data and the details will be shown in the extra tips section.
Solution 1. Disable Windows Update Service
The most effective way to stop Windows update is to disable it. Windows Update service can detect, download and install the Windows updates and programs. Here are the directions:
1. Press the Windows logo key + R at the same time to invoke the Run box.
2. Type services.msc and press Enter.
3. Scroll down to Windows Update, and double-click it.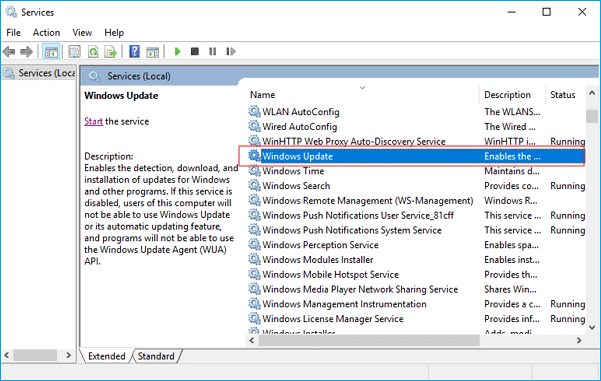 4. In Startup type, select Disabled. Then click Apply and OK to save the settings.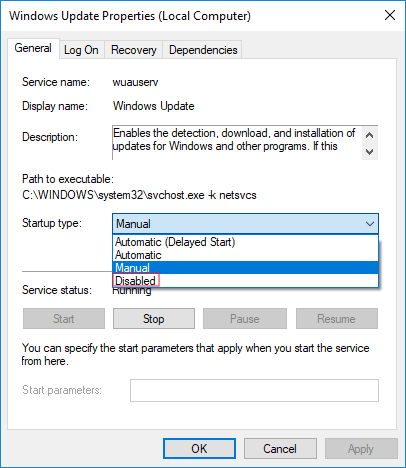 Tips: Once disabled, you can not use the Windows automatic update feature, and programs will not be able to automatically download and install. So if you want to update your Windows 10, you can go to the Windows Update service, and select Automatic to enable the service. Then you will be able to update your Windows.
Solution 2. Change the Setting of the Group Policy Editor
You can also use the Group Policy Editor to change the settings to prevent Windows 10 from automatically updating. The group policy editor will notify you of new updates without automatically installing them.
Press the Windows logo key + R then type gpedit.msc and click OK.
Go to Computer Configuration > Administrative Templates > Windows Components > Windows Update.
Double-click Configure Automatic Updates.
Select Disabled in Configured Automatic Updates on the left, and click Apply and OK to disable the Windows automatic update feature.
Note: If you need to update your Windows version later, you can repeat the steps above, then select Enabled to turn on this feature, so that you can continue to download the updates.
Solution 3. Change Device Installation Settings
If you don't want to automatically update your device drivers on your computer, you can try these steps:
Step 1. Type control panel in the search box, and click Control Panel.
Step 2. Click System.
Step 3. Click Advanced system settings.
Step 4. Click the Hardware tab, then click Device Installation Settings.
Step 5. Select No (your device might not work as expected) and click Save changes.
Step 6. Click OK to finish the settings. Then your device drivers will not automatically download from the manufacturers.
Solution 4. Meter Your Network Connection
If your computer is connected to WiFi, you can try this to stop Windows 10 automatic updates.
1. Click the Start button at the bottom left on your desktop, then click the Settings app.
2. Click Network & Internet.
3. Click WiF in the left pane, then click the name of your Wi-Fi connection.
4. Click to turn on Set as metered connection.
Extra Tips: To avoid the data loss that will be caused by the operations above, you'd better backup your data before you make any changes. All you need to do is use this free backup software to back up your data in three steps:
Step 1. Launch EaseUS Todo Backup and then choose the backup option you want.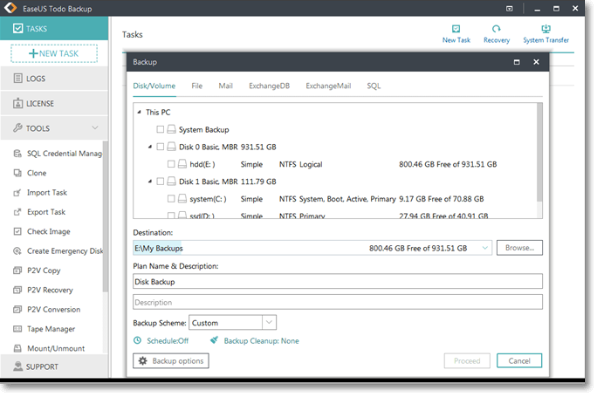 Step 2. Choose the system, hard drive, files or apps that you want to backup, and then select a destination where you want to store the backup file.
Step 3. Click "Proceed" to backup data from hard drive.