Quick navigation:
| Recommended Softwares | Features and Pricing |
| --- | --- |
| 1. Windows Defender     | Real-time protection; firewall ; free...Full steps |
| 2. Norton Antivirus | Password Manager; $19.99 or $39.99 per year...Full steps |
| 3. Avira Antivirus | Regularly updated; free and pro: $30.99...Full steps |
| 4. McAfee Total Protection | Vulnerability Scanner;  $34.99 per person...Full steps |
| 5. AVG Antivirus | Webcam Security; Free and $59.99...Full steps |
| 6. Beyond Antivirus: Backup | It's a two-layer security solution for your device...Full steps |
New malware, ransomware, and viruses are created every day, so it's critical to keep your antivirus program running in the background at all times. Also, it's a smart idea to keep your Windows and antivirus software up to date.
Most Windows 11 antivirus software includes Virus Protection, Rootkit Protection, Bot Protection, Worm Protection, Trojan Horses, Spyware Protection, and Messaging Protection.
What is antivirus software? 
Malware detection, prevention and removal software is designed to assist in the detection, prevention and removal of malicious software (malware).
Antivirus software scans detect and remove viruses from your computer. Most antivirus software runs in the background after installation, providing real-time virus protection.
Virus protection software protects your files and hardware from malware such as worms, Trojans, and spyware, and may also include features such as customizable firewalls and website blocking.
Antivirus and computer security software examine data such as web pages, files, software, and applications to quickly detect and remove malware.
Most offer real-time protection that protects your device from incoming threats, regularly scans your entire computer for known risks and provides automatic updates. They also help identify, block and remove dangerous code and software.
With so much activity happening online now, and new threats appearing regularly, it's more important than ever to install a protective antivirus program. Fortunately, today's market offers a plethora of great products to choose from.

Remove Shortcut Virus from USB, Pen Drive, SD Card, Hard Drive
When the shortcut virus infects a device, all saved files would become inaccessible. To access your files, you can remove the shortcut virus from your USB drive, pen drive, or SD card using cmd, shortcut virus removal tool and other manual methods.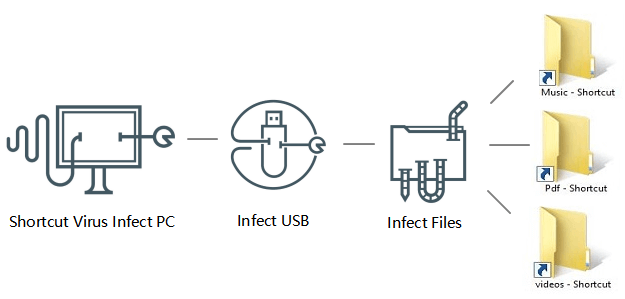 What are the benefits of antivirus software?
It's not just laptops, desktops, phones, and tablets that are protected by antivirus software. They protect personal memories, music and photo collections, and important files from infection. Check your security to see if it can defend against recent attacks.
Antivirus software today can do the following:
Detect, prevent and remove viruses, malware and ransomware.
Defend against phishing and fraud, and prevent identity theft.
Please be warned about risky websites and links before you click.
Check the dark web to see if email accounts have been hacked.
Encrypt passwords for online accounts to keep them safe.
Provides easy-to-understand training to teach you and your family how to stay safe online.
Keep your PC in top shape and run like new.
The 5 best antivirus software worth your download.
If you have malware, one of the tools mentioned in this article should be able to remove it.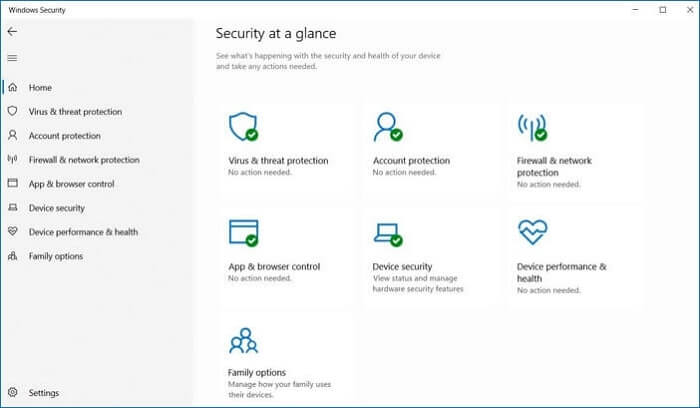 Microsoft Defender Antivirus has been significantly improved. It's much better than its predecessor, Microsoft Security Essentials. As a preinstalled free antivirus, Microsoft Defender seems like a great choice for your PC.
Microsoft Defender is your PC's default antivirus, protecting you from viruses, Trojans and worms, and other malware. Even if you don't have any other antivirus software installed, your Windows 11 PC comes with some basic security.
Microsoft Defender protects against dangerous threats in real time, but it falls short of other top antivirus software. Even with Microsoft Defender's real-time malware protection, the false positive detection rate is much higher than typical. Additionally, Microsoft's own antivirus software provides only basic protection against identity theft and malware.
Microsoft Defender also fails to detect low-risk malware such as adware. This can make the condition worse and may prevent your computer from working properly. More importantly, it puts your computer at risk of being infected with ransomware or even hijacked.
√ Feature
Microsoft Defender Antivirus is included in Windows Security in Windows 11. Real-time malware detection, firewalls, and parental controls are just a few of the complexities. Microsoft has put a lot of effort into upgrading its flagship antivirus software, which now keeps you safer than ever.
real-time protection
firewall
parental shelter
cyber security
User-friendliness
√ Price
Microsoft Defender quickly rose to the top 10 when compared to the competition from free and premium antivirus software. However, as free antivirus software, it has its limitations and can expose your computer to dangerous infections.
If you need more advanced protection, a premium antivirus that offers more comprehensive malware protection might be worth considering.
√ Who is this product suitable for?
Microsoft has finally included a pre-installed, highly effective antivirus program that you can use at no extra cost. On the other hand, its conservation skills are in dire need of development.
Your PC is at risk due to a lack of security against low-level malware and ransomware. On the other hand, nifty features like SmartScreen, firewall, and parental controls help boost its overall standing. Microsoft Defender is part of the Microsoft 365 suite that provides enhanced security features for business and residential customers.
Don't get us wrong: it's still a great antivirus, but you shouldn't rely entirely on it. To further protect yourself from malware, we recommend using Microsoft Defender in combination with other free antivirus programs such as Avira or AVG.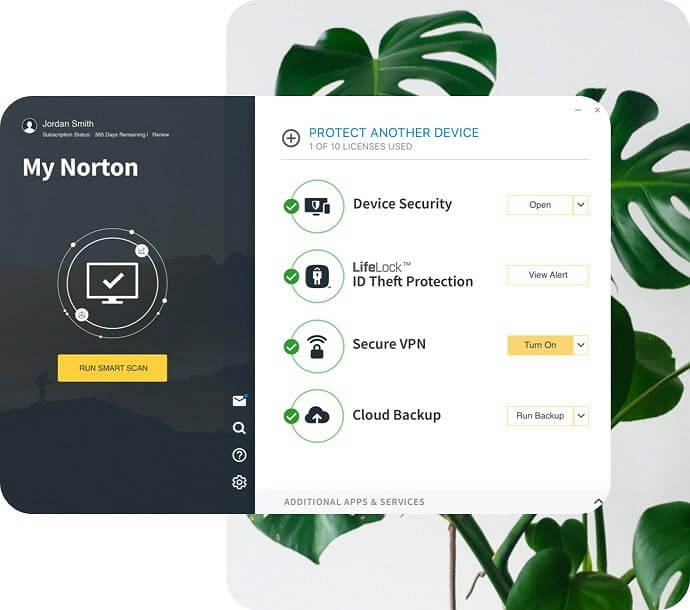 Norton 360 offers unparalleled antivirus and antimalware protection. It's a well-made and well-maintained internet security suite that ensures all data is safe, private and protected - it works on all operating systems (especially Windows + Android).
Norton's antivirus software features a unique scanning engine that uses heuristic analysis and machine learning to scan, detect and remove a wide range of malware, including the latest and most sophisticated threats. It earned a 100% protection rating in all of my independent tests, and was generally better than built-in antivirus software (like Windows Defender) in terms of detection and threat evasion. One of my favorite features of Norton 360, especially the Windows version, is that it's both easy to use and has lots of complex settings for those who want to customize their security defenses.
√ Feature
Secure firewall.
password manager.
Webcam security.
A VPN (Virtual Private Network) is a network that allows you to connect anonymously to the Internet (with unlimited data).
Monitor the dark web.
Use of cloud storage.
Anti-ransomware.
there are more...
√ Price
Its entry-level AntiVirus Plus plan costs $19.99 a year and doesn't have many features, but it does include real-time malware protection, a firewall, a password manager, and 2 GB of encrypted cloud storage. Norton 360 Standard for $39.99 per year includes unlimited VPN access, 10 GB of secure cloud storage, and dark web monitoring.
Upgrade to Norton 360 Deluxe for $39.99 per year and get more licenses (up to 5), more storage (up to 50 GB), and some of the most powerful parental controls available. Norton 360 with LifeLock starts at $99.48 per year and also includes identity theft protection and credit monitoring through Norton's sibling company LifeLock, but these premium plans are only available to US users.
√ Who is this product suitable for?
Norton 360 is an excellent antivirus that is powerful, affordable, reliable, and easy to use. It's ideal for home consumers looking for a comprehensive, user-friendly antivirus with some of the best cybersecurity features available, all for a low annual fee.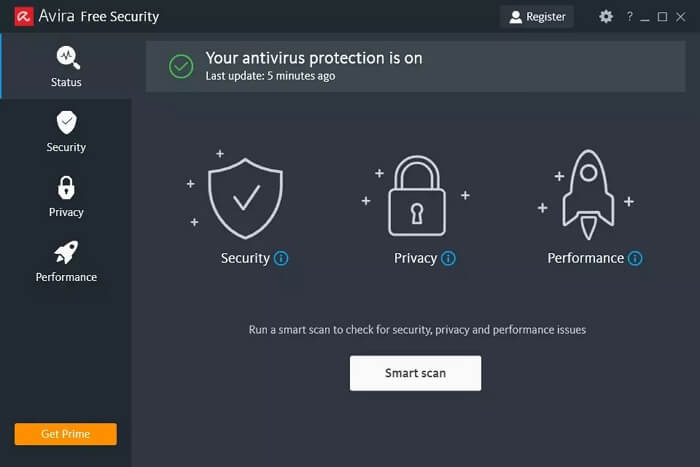 Avira is a lightweight, versatile security program that goes a long way in protecting your system. Avira had previously topped the AV Test and the AV-Comparatives test, although its rating dropped slightly in subsequent runs.
It includes a powerful anti-malware engine that can detect and analyze malware in the cloud. There is no noticeable delay during scanning as the process does not take place on the PC. It uses real-time protection and includes extensive security features such as firewall, privacy protection and speed optimization. Avira now includes a secure shopping browser experience that protects users' financial information when shopping online.
A significant benefit of this tool is that it can be downloaded and installed without your email address. Avira has a strict policy of not using any user's personal information.
√ Feature
Real-time antivirus protection
Windows, Android, iOS and Mac operating systems are supported.
Regularly updated
Protection against ransomware
Anti-adware protection
Free and paid versions
cloud security
Repair damaged files
Easy to use and set up
Personal firewall
parental authority
Virtual Private Network (VPN)
Smartphone Optimizer
Equipment optimization
Customer service via phone and email
Play mode
30-day money-back guarantee
√ Reliability and safety
Thankfully, there are third-party labs that test antivirus software and make the results available to the public. Some third-party testers have this to say about Avira:
In the 2018 AV-Test, Avira received perfect scores in the zero-day, internet and email threat tests. It scored 99.9% in malware detection tests, where it scored 6 out of 6 for protection level, usability, and overall performance.
From September 2018, Avira achieved a score of 99.5% in AV-Comparatives' practical protection test. The detection rate of offline threats is 96.6%, and the detection rate of online threats is 99.9%.
The results of these tests are excellent, and they give us confidence that this antivirus is reliable and safe.
√ Price
While the Avira may seem a bit pricey at first glance, it's actually worth the money when you consider all the extra features that come with it.
On the other hand, you can just use the free version of Avira Antivirus. It includes a password manager and a Safe Shopping extension, as well as some basic features to make your computer more secure.
If you want unlimited VPN access, web security, ransomware protection, and advanced mobile apps, you should consider purchasing one of the comprehensive packages below.
Remember, Avira Antivirus Pro is an add-on option for US users. It's the cheapest of the three paid versions, and it's an excellent budget option for those who want to feel safe but don't want to spend a lot of money.
Avira Antivirus Free Edition: Free
Avira Antivirus Pro is $30.99.
Avira Internet Security is priced at $40.99.
Avira Prime starts at $59.99.
√ Who is this product suitable for?
Avira is undoubtedly one of the most powerful antivirus programs. While antivirus software is excellent, security features make this solution even more powerful. This cybersecurity system is very good at detecting ransomware and malware, making it ideal for large businesses or organizations.
Avira Antivirus got our thumbs up!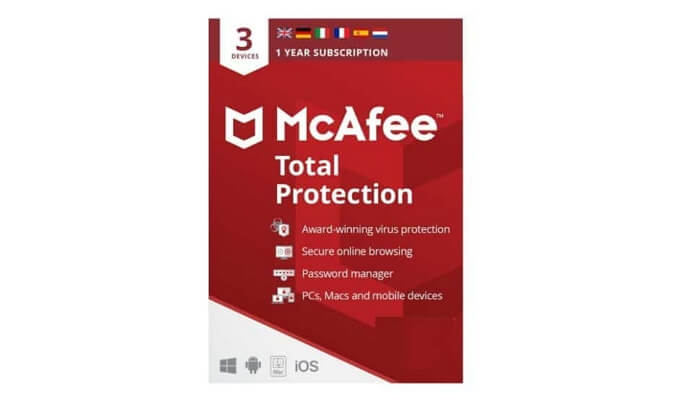 McAfee Total Protection is a security package that includes features such as antivirus, antispyware, firewall, and parental controls. McAfee Total Protection provides powerful protection for your home computers, including one-click system scans to keep them running at top speed. You can use new parental controls to manage materials on every device in your home and set time limits so kids don't use their gadgets when they should be sleeping or studying!
Like other leading antivirus software for Windows 11, McAfee's membership options include a VPN and a password manager. The latter is one of the strongest encryption techniques. As part of the deal, you'll also get a web extension called the McAfee WebAdvisor suite. This includes McAfee's Speed ​​Up, Web Boost and App Boost features, all of which keep you safe while browsing.
McAfee offers 24/7 live chat, community forums, and a customer helpline. For simpler questions, there's also a McAfee Virtual Assistant.
The good news is that McAfee's cost matches its quality. I believe it's worth the money as it comes with secure storage, VPN and password manager.
√ Feature
Protection against ransomware
quick cleaning
Shredder
Vulnerability Scanner
McAfee Network Advisor (McAfee)
McAfee's Password Manager
√ Price
$84.99 for a single device
$34.99 per person
$39.99 for the whole family
LiveSafe $34.99
√ Who is this product suitable for?
Independent labs don't always give high results for McAfee AntiVirus Plus, but it is steadily improving. It passed our phishing prevention and malicious URL blocking tests with flying colors. When you install it on Windows, you get the most comprehensive protection.
The Android antivirus version is also extremely feature-rich, but macOS users get less protection, and iOS users get much less protection. McAfee remains an Editors' Choice winner as a multi-featured Windows antivirus.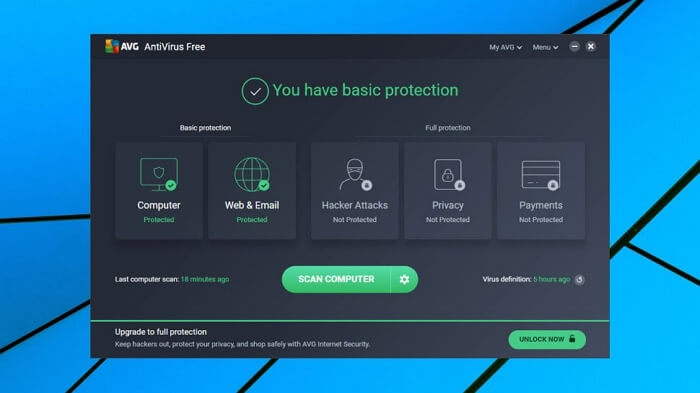 AVG Antivirus is a solid anti-malware program. It has unique features like a phone tracker, excels in malware detection tests, and even protects you from ransomware. AVG Antivirus even has a free version, but it's just virus protection, so you'll need to upgrade to a commercial subscription to get all the features.
Everyone should use AVG Antivirus because it's a safe bet. On the contrary, it will not have harmful effects on your system. This is because AVG is an excellent tool for detecting existing infections and preventing new ones from invading the system.
It uses the same engine as Avast, which was acquired in 2016. In a lab test conducted by AV-Comparatives in March 2021, AVG Antivirus outperformed Avira and ESET with 99.99% malware protection. However, it did detect 20 false positives, which is on the upper end of the scale.
√ Feature
Data masking of sensitive information
Artificial Intelligence-Based Phishing Threat Detection
webcam security
Improved firewall
reliability and safety
anti-malware
Anti-ransomware protection
Anti-phishing measures
Scan with Real-ti System
I am protected
A third-party security audit has been completed.
User-friendly interface
Numerous functions
Reasonable price (including the free version)
Customer service via phone and chat
√ Price
This antivirus software is available for free on Android, PC and Mac. The premium version of AVG Internet Security costs $46.68 for the first year to cover a Mac or PC. Since AVG promises 43% savings, the renewal price should be closer to $69.99. The AVG application does not work with Ubuntu or other Linux distributions.
AVG AntiVirus Free: AVG AntiVirus Free is a free antivirus program.
AVG Internet Security $59.99
AVG Ultimate $59.99
√ Who is this product suitable for?
Although AVG Antivirus is free software, I recommend you purchase a commercial membership. That's because the free version can only fight malware - it can't do anything else.
However, if you upgrade to the paid version, you'll get a bunch of important security features. Your online life will be more secure with Sensitive Data Shield, phishing protection, camera protection, and an upgraded firewall that protects you from ransomware.
Beyond Antivirus - Everyone Needs Backups
As we adjust to our new work mix at the office and at home, many of us are trying to figure out how to protect the work we perform on our home devices. But what kind of defense do you need? Does antivirus software still work? Do you need antivirus software if you have backups? These are good questions, and we have responses.
Backups protect your important files, images, and other items from theft, accidental deletion, damage, or loss due to hardware failure. On the other hand, are you properly protected against online security risks like ransomware and other viruses?
Your first line of defense against cyberattacks is antivirus software. Also, your machine may already have antivirus software installed. However, it may not be as effective as you think. The reason for this is that if you don't have the latest version of the program, or if you forget to update your software license, you're not immune to the latest dangers. This is critical because fraudsters are constantly tweaking malware and viruses to avoid detection.
In addition, new risks emerge frequently. So, which is safer: antivirus or backup? Antivirus and backup are complementary layers in a more complete approach to cyber resilience, so the solution is a mix of both. Viruses can wreak havoc on your computer and take hours to fix. A modern cloud-based antivirus solution can save you a lot of time and work compared to having no protection at all. However, if a virus manages to breach your first layer of defense, a backup might save you time and money. If you're attacked by ransomware, having a backup copy of your data can mean the difference between paying hundreds or thousands of dollars to restore your files and restoring everything without paying the ransom.
Cyber-resilient companies need automated cloud-based virus, malware and identity theft protection. EaseUS Todo Backup Free is a great way to improve your network resiliency right now. It's a two-layer security solution for your device.
Watch the video guide to know the top 5 free backup software for protecting Windows PCs and laptops. 
Was this page helpful? Your supoport is truly important to us!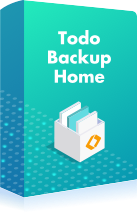 EaseUS Todo Backup
EaseUS Todo Backup is a dependable and professional data backup solution capable of backing up files, folders, drives, APP data and creating a system image. It also makes it easy to clone HDD/SSD, transfer the system to different hardware, and create bootable WinPE bootable disks.
Updated by

Larissa has rich experience in writing technical articles. After joining EaseUS, she frantically learned about data recovery, disk partitioning, data backup, and other related knowledge. Now she is able to master the relevant content proficiently and write effective step-by-step guides on computer issues.…

Read full bio

Written by

Jean is recognized as one of the most professional writers in EaseUS. She has kept improving her writing skills over the past 10 years and helped millions of her readers solve their tech problems on PC, Mac, and iOS devices. …

Read full bio