Why Do We Clone Disk?
We don't want to take much time or power to copy the folder one by one from one disk to another, or waste time to reinstall the operating system and software after a disk upgrade. You also may experience the below situations: don't know how to make a copy of the source disk as backup via sector level or file level, make a copy of damaged hard disk via sector level and recover lost data from the copied disk. If you have the above trouble or plan to migrate data, programs, system to the new hard drive, you need EaseUS Todo Backup to clone the disk.
How to Clone a Hard Drive or SSD?
There are some tips we should notice during disk cloning process.
1. This clone disk needs to have more space (at least equal) than the source drive. If it doesn't, it won't be able to store the clone.
2. Please shut down the computer after the clone if the source disk contains the system partition.
3. We need to remove either the source disk or destination disk from the computer to make the computer boot normally if the source disk contains boot partition.
4. If you want to boot from the destination disk, we recommend you to replace the source disk with the destination disk.
Step 1. Launch EaseUS Todo Backup and click Clone. And it will pop up the below window and choose the source disk and destination disk.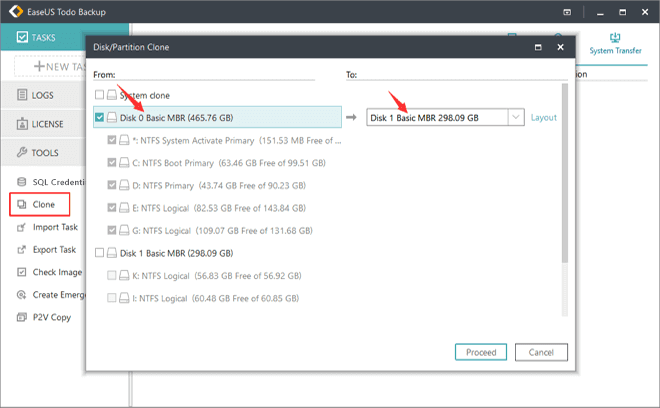 Step 2. "Sector by sector clone" will clone all sectors from source disk to the destination disk. We can preview the disk map in advance by clicking Layout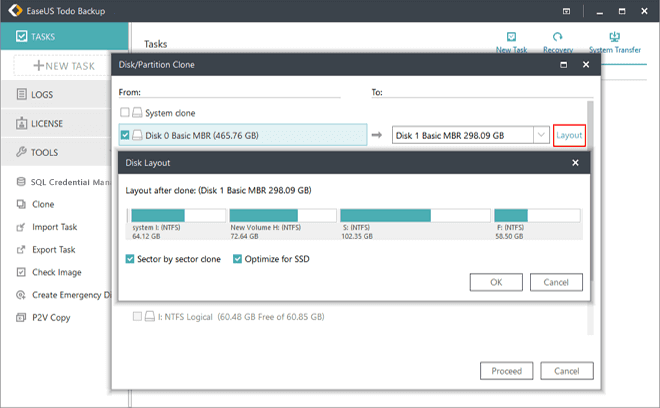 Note:
1. If the computer fails to boot from the destination disk after the clone, we suggest you clone the source disk to another disk with the same HDD interface.
2. If you choose to clone a hidden partition, the cloned one will be un-hidden.