Hard drives do not perform their entire life, just like every hardware component, even if they have an expiry. Generally, hard drives tend to show signs of failing after three years. This can be much faster if it is exposed to various issues. However, a hard drive is a vital component whose failure affects the entire computer.
You can see this through symptoms like the computer slowing down, low performance, bad sectors, or various abnormal functions. Now, This article from EaseUS will tell you what to do if your hard drive fails. Find the solutions below.
How to Tell If Your Hard Drive Is Failing
One of the major things we often notice is our computer slowing down if the hard drive is failing. But, that can be due to various reasons and is not entirely associated with hard drive failure. But, we need to know what signs a failing hard drive exhibits to fix it in time. Here are a few signs your hard drive is failing:
Undetectable hard drive. If your PC cannot detect the hard drive, it is not showing up in the BIOS process. If you are facing issues while reading the contents or cannot access programs, it could be due to drive or SSD (solid state drives) failure.
The computer slows down, freezes, and shows a black or blue screen of death. While these may happen due to various other reasons, they also indicate the drive failure.
Strange computer sounds. If you are hearing strange sounds from your hard drive, the drive is suffering. If the sounds are repetitive, known as the click of death, they are emitted when the drive tries to write data, failing, returning, and trying again.
Corrupt data and increasing bad sectors. You cannot access the data if it is corrupt, leading to data corruption. The bad sectors do not follow data integrity, and the corrupt data spreads like a virus.
What Are the Causes of Hard Drive Failure
If the hard drive fails after its shelf life, it is definitely normal, as the hardware parts tend to get old. But, if it is happening faster, there could be some other reasons. So, to fix a hard drive, you should also make note of causes not to repeat them with the new one.
Firmware malfunction: Most of the firmware faults are due to the manufacturer, except for a few. The firmware issues tend to show right from the start.
Faulty acts: The majority of the users shut down the computer abruptly and corrupt the files by following unethical downloads or cracks on their computers.
Electric shocks: Power fluctuations are another major reason for hard drives. If the UPS is unable to deliver a full-power supply or constant voltage, it affects the drives with shocks.
Post this article on your social platforms to help more people.
What to Do When Your Hard Drive Fails
Now, what to do if you see any of the symptoms of a hard drive failing? Nothing to worry about if you can recover the data in time. Look at what to do if your hard drive fails.
Backup Data on Hard Drive
If your hard drive is failing, the first thing anyone should do is backup data on a hard drive. This will save you data as you cannot recover data from bad sectors. Get a second drive and save the backup there. Except for the cases of natural disasters, two drives likely fail simultaneously.
For backing up your data, you can use Windows utilities, OneDrive, and Google Drive. Microsoft Office 365 also can be very helpful, as the premium subscription gives you 1T storage. However, the best solution is to use a backup management tool like EaseUS Todo Backup to save your backup to the cloud.
If you want to know how to create a backup of your hard drive without using any software. You can refer to the following article for help.
How to Backup an External Hard Drive Without Any Software
An external drive is usually used to store your files for data security. But how to backup an external hard drive without any software? This article will describe how to back up an external drive without software. Read more >>
Fix Hard Drive Failure
The next thing you need to do is repair the hard drive to fix it. This is viable for Windows users, as the operating system can check and repair the drives.
Step 1. Close all the programs, apps, and functions on the device.
Step 2. Open My Computer, and right-click on the drive you suspect is failing. Choose properties from the drop-down.
Step 3. Navigate to the Tools tab in the properties window. Click on Check and fill in the password to move ahead.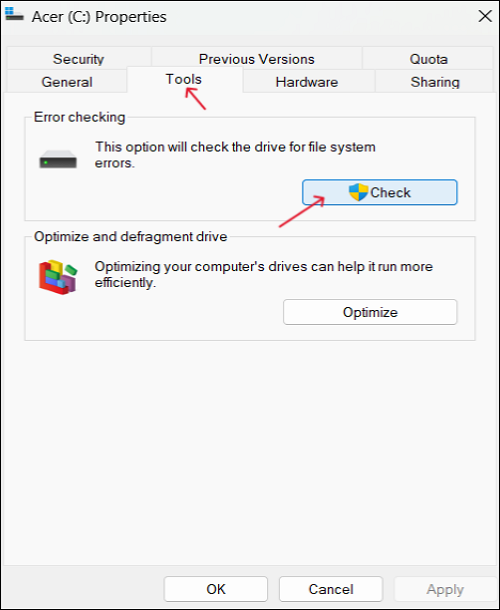 Step 4. The OS will scan the drive and show you the results. You can see the Scan and Repair drive if your drive has any error messages. Click on it to fix the issues.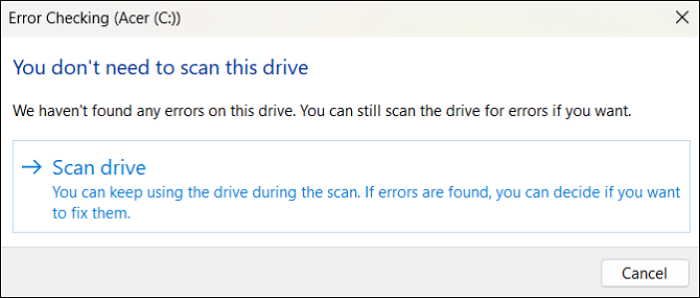 Another check you can do to determine whether the hard drive is correctly connected is to restore the BIOS. Ensure you review this before replacing the entire hard drive, as the issues can be fixed.
Step 1. Restart your PC, and press the BIOS key to enter the BIOS Setup while loading.
Note: A BIOS key is a key to enter the BIOS setup and is different for various computers, but it is usually F12.
Step 2. Check if the BIOS is showing your hard drive; if not, you have to replace it immediately.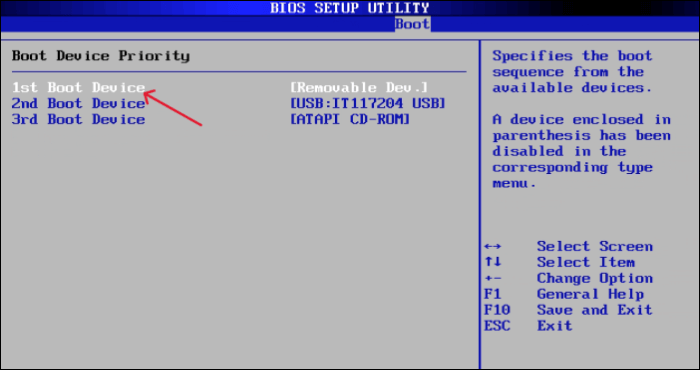 Replace the Hard Disk That Is Failing
If all the checks fail, you need a new hard drive to replace it with the bad one. If you want the data from the old one, the most important thing is to clone the old hard drive to the new one. For this, you need a reliable and secure disk cloning tool to copy the contents of the failing hard drive to a new one. EaseUS Disk Copy can suit you well in this regard.
EaseUS Disk Copy is disk cloning software for Windows with excellent features for cloning, upgrading, and transferring or copying data from one hard drive to another. With flexible options, you can clone your source drive to a new drive with just 3 steps. The tool is a complete backup and recovery solution with clones, images, and bootable USB drives.
Key Features of EaseUS Disk Copy:
Get the tool now, and clone your failing drive to save your data. Here is how to clone your old drive to a new drive with EaseUS Disk Copy:
Prior Notice:
The "Sector by sector copy" asks the size of your destination disk to be at least equal to or larger than that of the source disk. Leave this feature unchecked if you wish to clone a larger hard disk to a smaller hard disk.
All data on the destination disk will be completely erased, so take care.
Step 1. To start copying/cloning an entire disk to another, choose this disk as the source disk under "Disk Mode" and click "Next".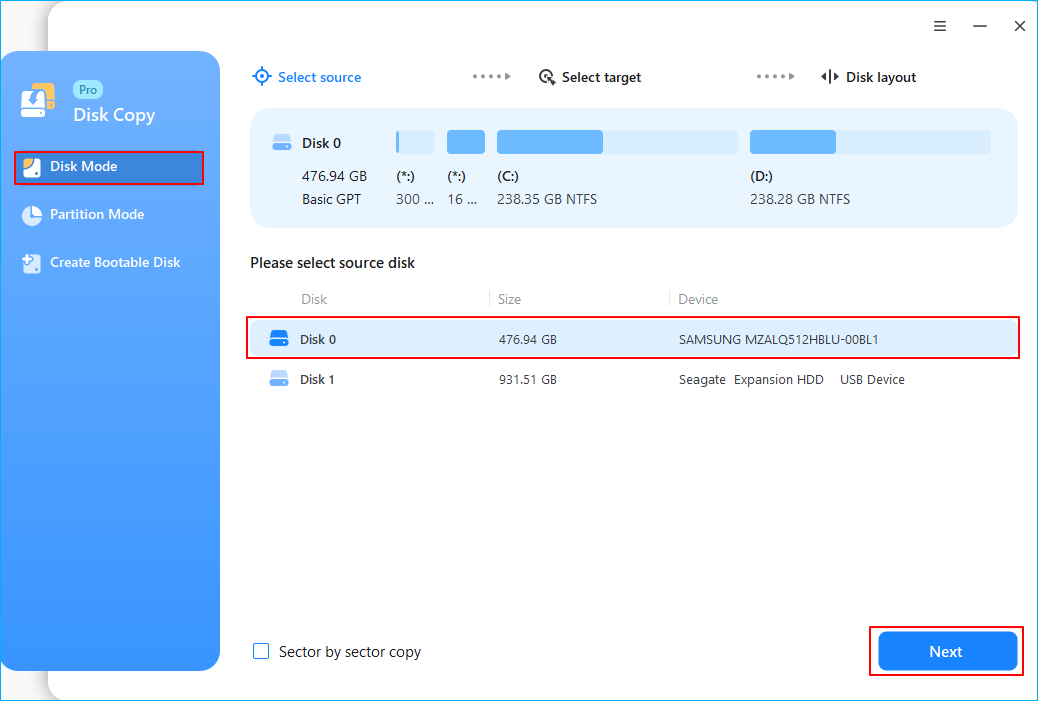 Step 2. Choose the other disk as the destination disk.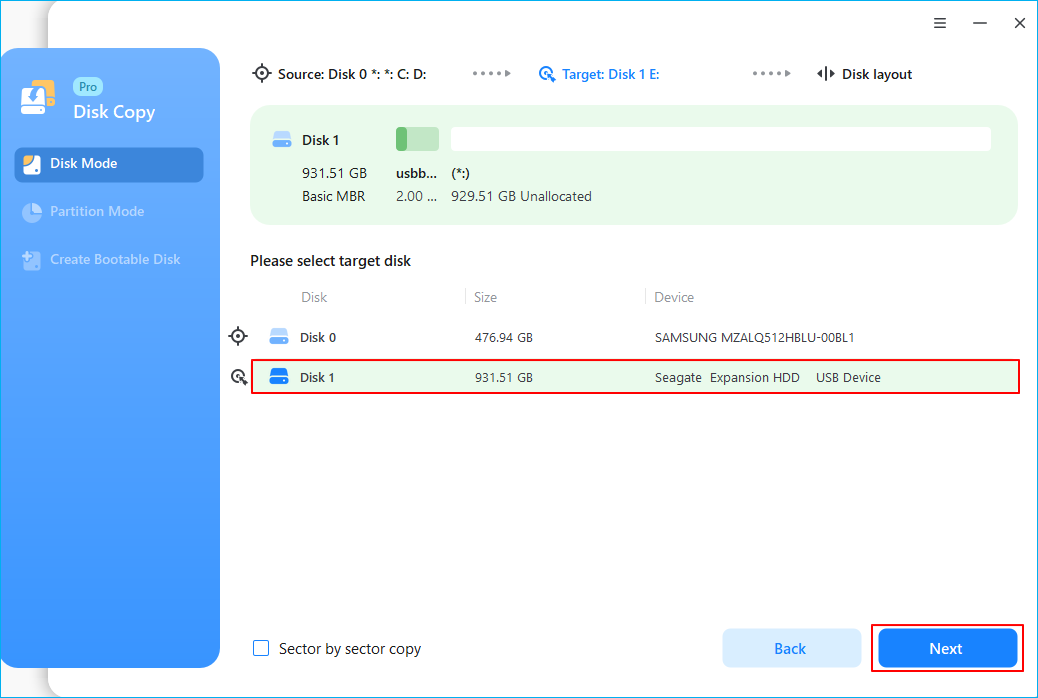 Step 3. Check the disk layout of the two disks. You can manage the disk layout of the destination disk by selecting "Autofit the disk", "Copy as the source" or "Edit disk layout".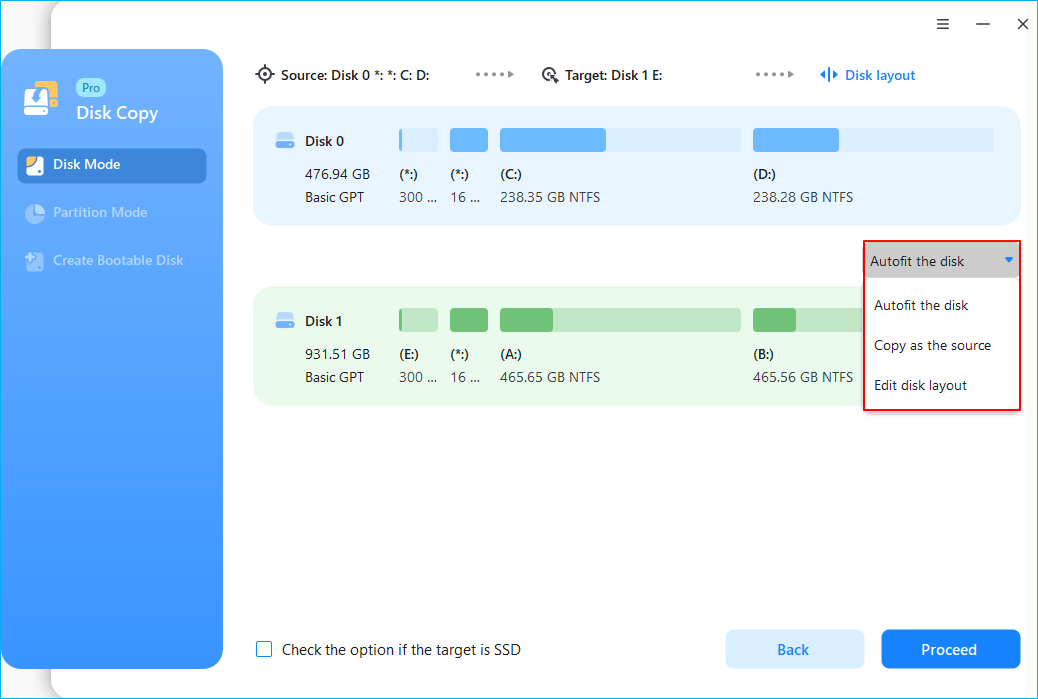 "Autofit the disk" makes some changes by default on the destination disk layout so that it can work at its best status.
"Copy as the source"does not change anything on destination disk and the layout is the same as source disk.
"Edit disk layout" allows you to manually resize/move partition layout on this destination disk.
Tick the "Check the option if the target is SSD" option to put your SSD in its best performance.
A message now appears, warning you that data will be lost. Please confirm this message by clicking "OK" and then click "Next".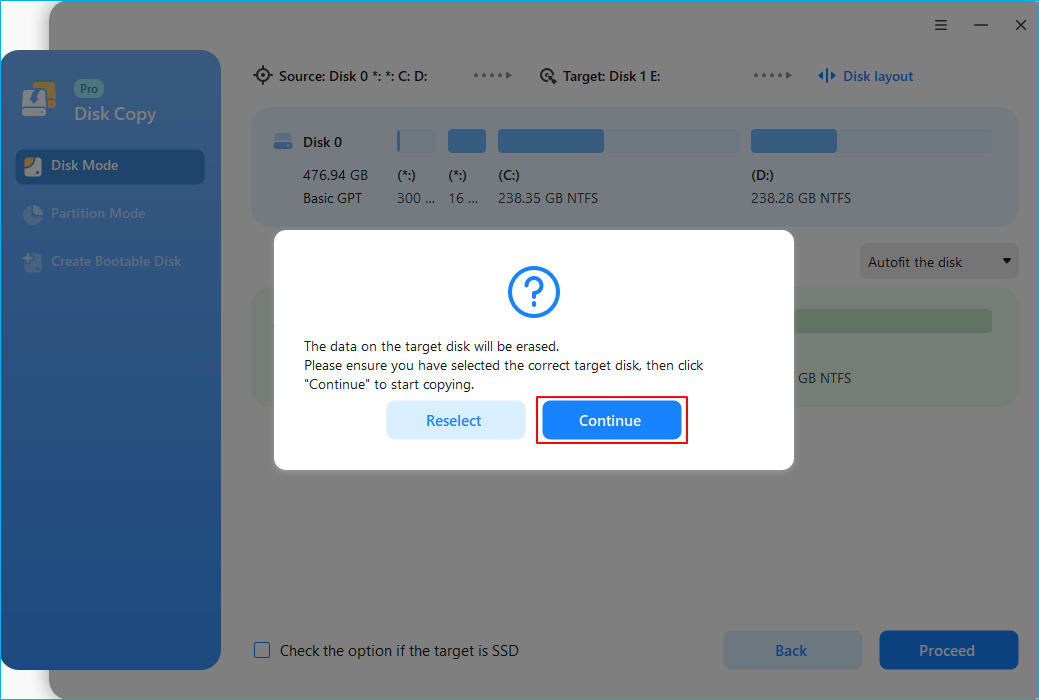 Step 4. Click "Proceed" to officially execute the task.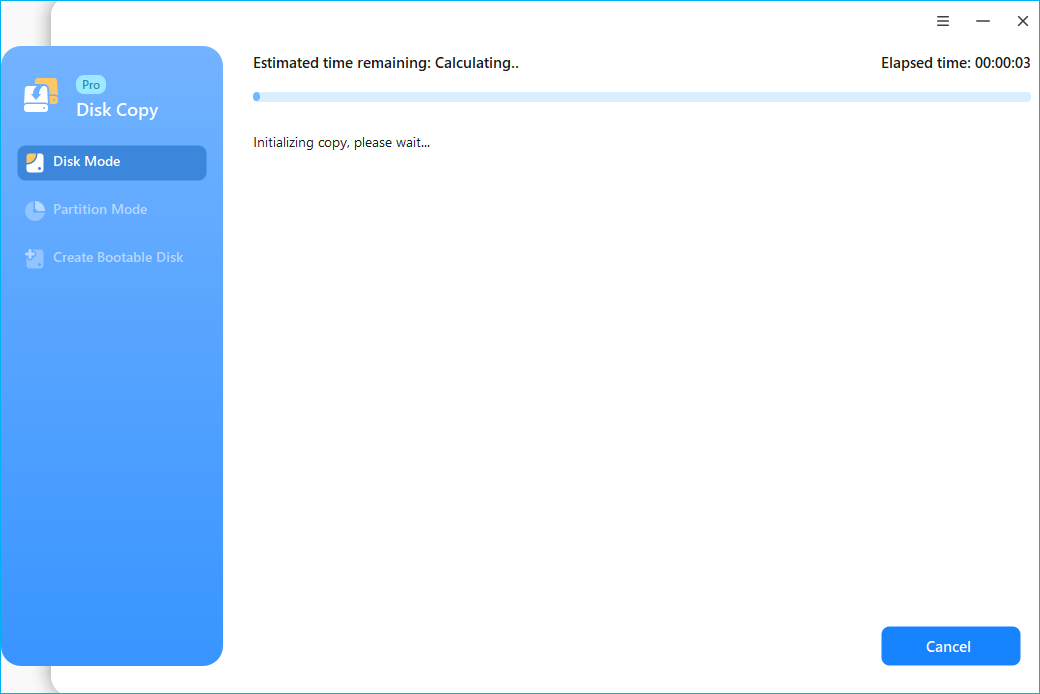 After cloning your old drive to the new one, you must carefully replace the hard drive on the PC. Follow this guide to replace the new drive safely:
Step 1. Unplug all the external peripherals of your CPU and safely open the lid of the CPU.
Step 2. Find the hard drive case and know about the existing connection and connectors.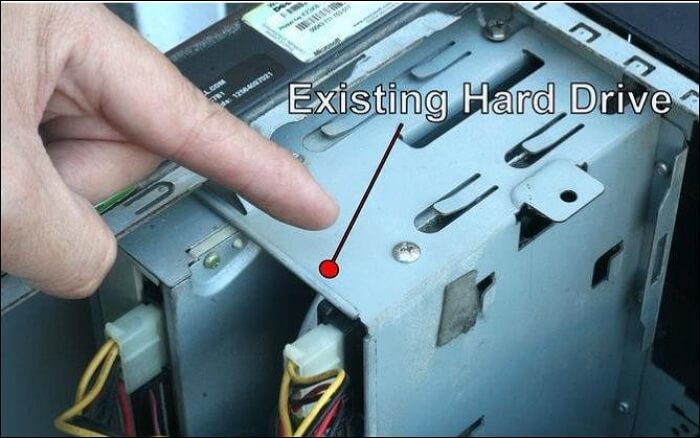 Step 3. Remove the case properly with the help of the hand, slide out the old drive, and slide in the new one.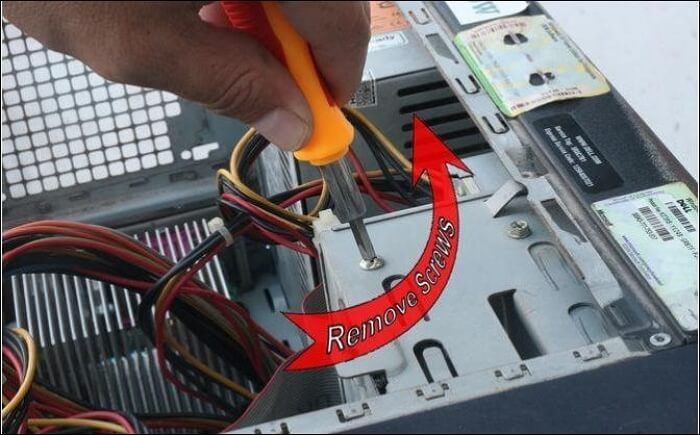 Step 4. Keep the screws back, and make the connections with the connectors. Close the CPU lid, and the PC is ready with the new hard drive.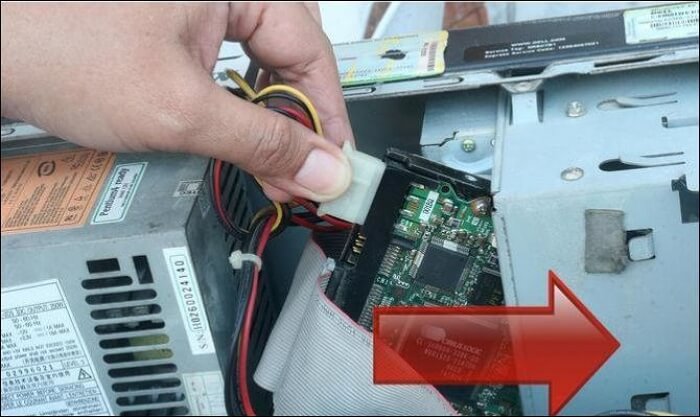 To Sum Up
Whether or not you suspect the signs of the hard drive failure, it is viable to do constant hard drive checks so that you do not have to worry about what to do if your hard drive fails. Though you may not save the faulty drive, taking measures helps you avoid data loss. The best way to save data from a hard drive failure is to clone the hard drive.
EaseUS Disk Copy allows you to make a sector-by-sector clone of your SSD to create exact replicas in case of failing drives. With just three steps, your new drive will be ready with the data. Download the tool now to save your data from the hard drive failure.
FAQs on What to Do If Your Hard Drive Fails
Here are some of the most frequent FAQs about what to do if your hard drive fails. I hope you find these queries helpful. 
1. What happens if your hard drive fails?
When your hard drive fails, initially, you will encounter boot errors or constant error messages. Further, you will hear strange noises or clicking noises and are unable to read the files from the disk and physical signs of disk failure.
2. How will you know surely that the hard drive has failed?
If the hard drive fails, you cannot boot your computer if it contains the boot files. For other drives, you cannot read, write, or do anything using the drive.
3. Is it common for hard drives to fail?
Every electronic device has a shelf life, and after that, they tend to show signs of hard drive failure. Along with time and physical damage, they are bound to fail or not work at some or the other time.
Was this page helpful? Your supoport is truly important to us!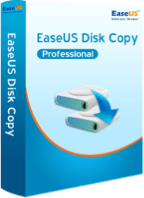 EaseUS Disk Copy
EaseUS Disk Copy is a well designed and very easy-to-use HDD/SSD cloning and migration tool, a tool which should be ideal for anyone wanting to quickly and easily migrate an existing system disk to a new disk (or newly installed SSD drive) with the minimal of configuration required.
Updated by

"I hope my articles can help solve your technical problems. If you are interested in other articles, you can check the articles at the bottom of this page, and you can also check my Facebook to get additional help."…

Read full bio