Updated by
Larissa
on Sep 28, 2022
PAGE CONTENT:
Is It Possible to Clone Hard Drive Automatically
When it comes to cloning a hard drive, it means you are copying the entire contents of one hard drive to another. This can be useful if you want to upgrade to a bigger hard drive. You can clone your current hard drive to the new one and then switch to using the new drive. 
Cloning can also be helpful as a backup strategy. If you clone your hard drive, you will have an exact copy of it that you can use if your hard drive crashes or is otherwise corrupted. 
Here comes the question: Since most backups can be set scheduled, is it possible to automatic cloning the hard drive?
"I'm going to be running an SSD RAID0 for my boot drive on my next build, but I want to schedule a weekly clone to an HDD as a backup. In this way, I can have zero downtime in the event of raid failure. I want to be able to just switch the boot device and go until I'm able to replace the failed drive. Does anyone know of a piece of software for Windows that can erase a partition and clone a bootable drive on a schedule?"
This is a question from a Reddit user who wants to set a scheduled hard disk clone. Actually, this requirement can be fulfilled. Keep reading; this post covers reliable planned disk cloning software, EaseUS Todo Backup, and how to automatically clone a hard drive as a backup for PC. 
The Advantages of Automatic Clone
Saves time & energy: Once the schedule cloning is set, it will automatically clone the hard drive without any manual operation. If the hard drive you are using is corrupted, you can use the cloned one to replace it with zero computer downtime.
Easy to use: No need to have too much technical knowledge. You can efficiently complete the automatic disk clone with simple operations. 
Prevent data loss: Data loss may happen due to mistaken deletion, virus attack, hard drive failure, system crash, etc. If you have an automatic backup plan, you no longer need to worry about data loss. 
Free up space: With the increased files and data, your hard drive has less free space. An automatic clone can help to solve this problem by cloning the entire hard drive to another larger one. 
Keep system & applications: When you reinstall Windows or upgrade to a new version, all your files, data, settings, and applications will be erased. But if you have a disk image file, you can restore everything. 
Professional & Reliable Automatic Disk Clone Tool - EaseUS Todo Backup
If you want to clone a hard drive automatically, a reliable disk cloning tool is necessary and helps you save a lot of hassles. 
As a matter of fact, most cloning software on the market today does not have the function of scheduled cloning, and only a few tools can help you to clone a hard disk automatically. Fortunately, we have helped you find a reliable and secure scheduled backup software - EaseUS Todo Backup Enterprise.
EaseUS Todo Backup Enterprise is professional backup and restore software, and the Enterprise version of it is designed for business use and owns the function of scheduling feature. It is the best software to automatically clone hard drive, and will help you easily and quickly clone your hard drive without any data loss. 
Main features of this tool:
Automatically clone a hard drive to another one on a schedule
Disk clone, migrate OS to SSD/HDD
Full backup, incremental backup, and differential backup are available
Disk/partition backup, file backup, and system backup are included
Backup to external hard drive, USB flash drive, NAS devices, CD/DVDs, Cloud(Google Drive, OneDrive, EaseUS Cloud), etc. 
Restore data from the backup with simple clicks 
SQL and Exchange backup and recovery
Support Windows 11/10/8.1/8/7 and Windows Server 2022/201/SBS 2008

3 Best Scheduled Disk Cloning Software for Windows
With scheduled cloning software, you can easily create scheduled disk clone backups and protect your data. If anything goes wrong with your computer's hard drive, you can use a cloned hard drive to replace it right away. Compared with backup, the steps of data restoration are omitted.
In this article, we will introduce the four best scheduled disk cloning software for Windows to help you clone hard drives and keep your data safe.
Steps to Automatically Clone A Hard Drive as A Backup for A PC
Preparations You Need to Do: 
Prepare a new disk to store the cloned data, and connect it to your computer with a SATA or USB cable. If the PC has another slot, you can install the new dive in it.
Download and install EaseUS Todo Backup on your computer. It won't take a long time or large storage space.
 Warning

Each cloning process will overwrite and erase the data that existed before. So make sure your new hard drive is brand new or the existing data has been backed up.
Step 1. Launch EaseUS Todo Backup, and click "Schedule Clone" option from the left column.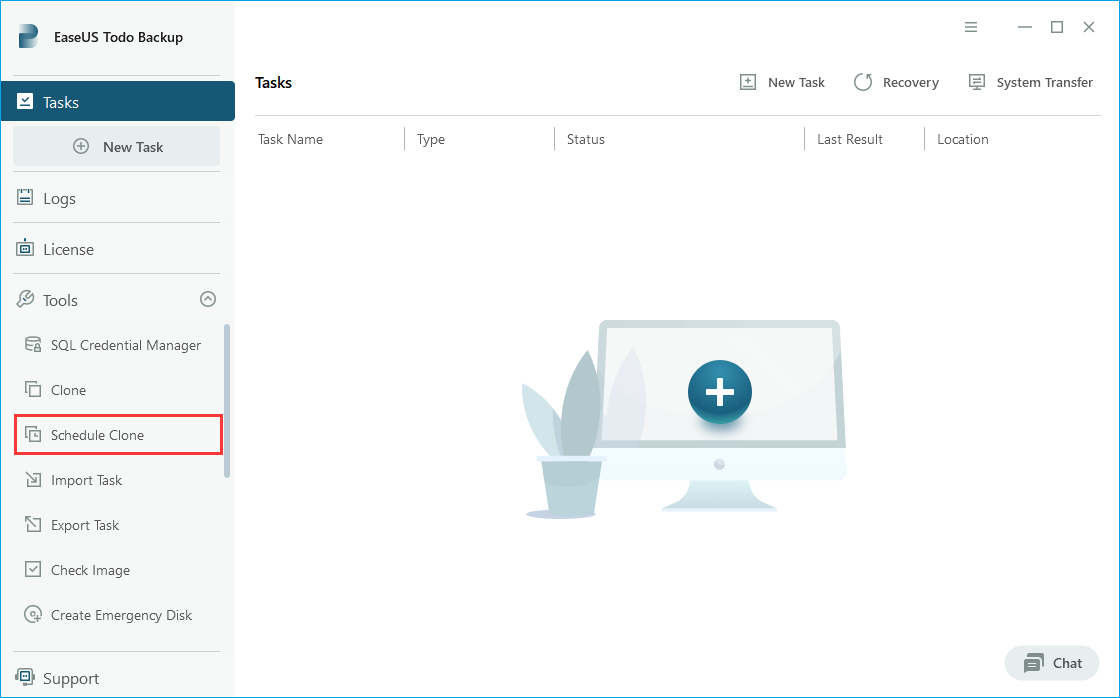 Step 2. Choose the disk you want to scheduled clone on the left. (It also allows you to schedule clone system.)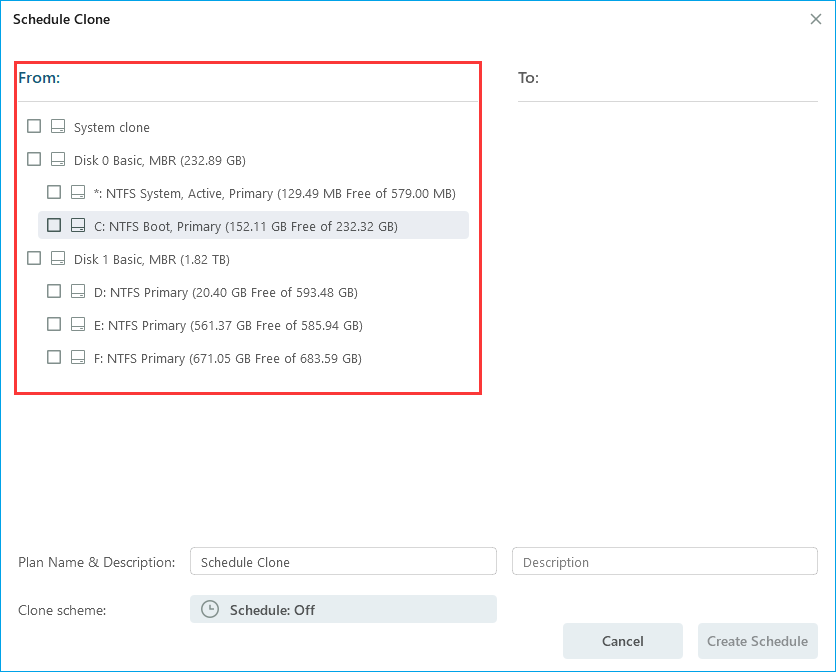 Step 3. Then select a new disk as the destination to store the cloned files on the right side.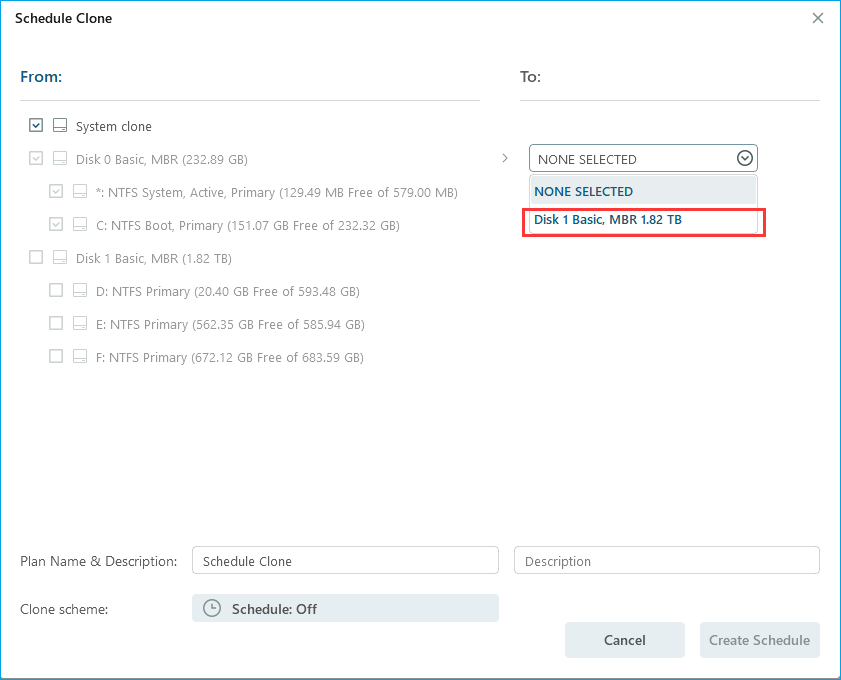 Note: While perform cloning, all data on target disk will be erased,. So, you'd better prepare a new disk as the target.
Step 4. Click "Scheduled: off" at the bottom of this page to set scheduling disk clone.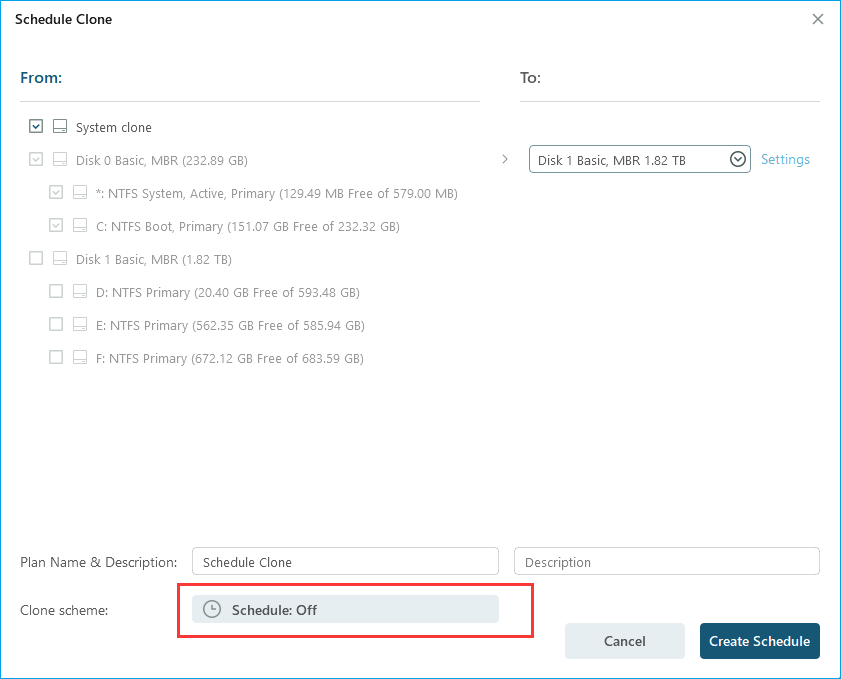 Step 5. Tap "New…" under the "Schedule".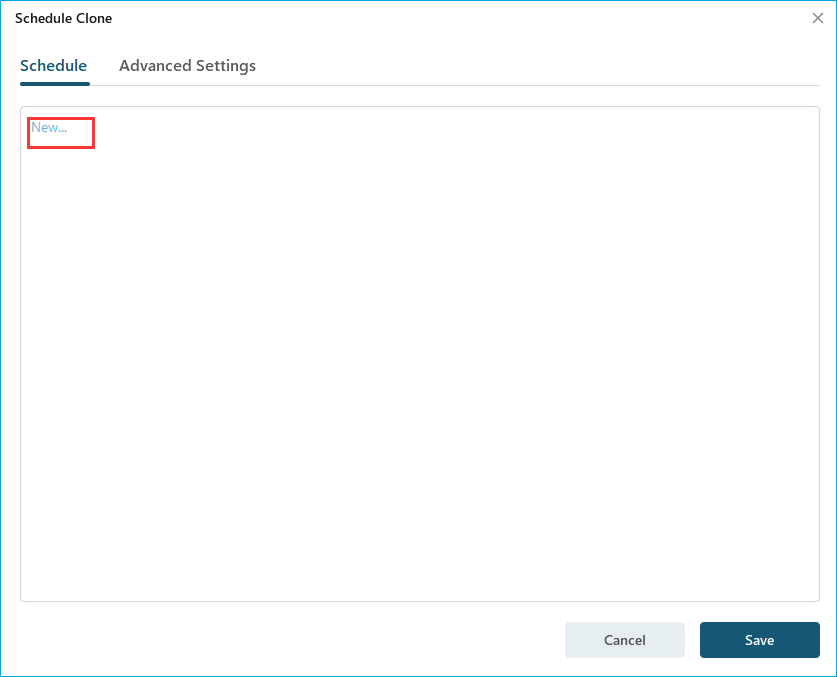 Step 6. Set automatic clone time based on your needs. You have the "One-time", "Daily", "Weekly", "Monthly" and "Upon Event" options to choose. After complete the setup, click "Add" to exit.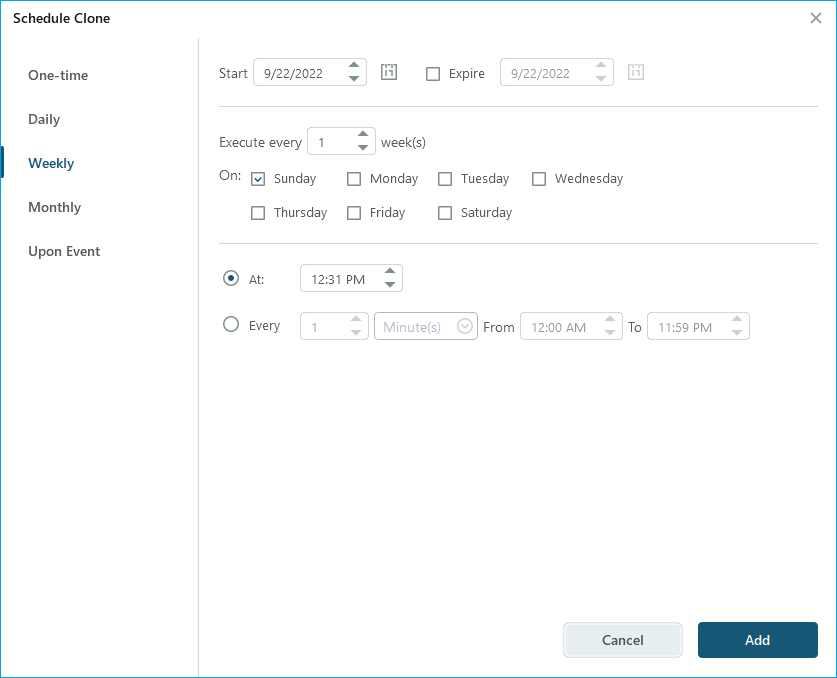 Step 7. Tap "Create Schedule" to finish the scheduled clone setting. EaseUS Todo Backup will clone your disk automatically as the set time.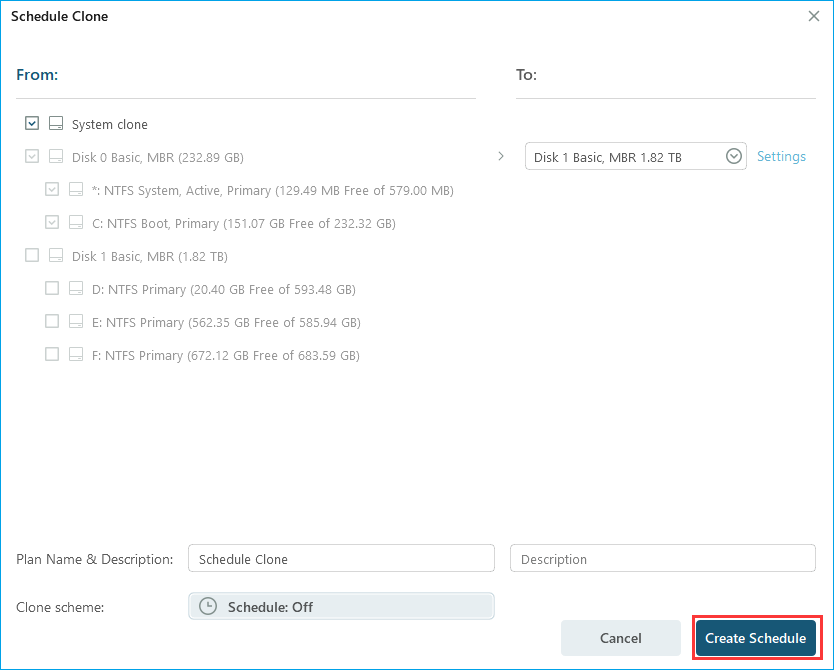 Conclusion
Now you know how to clone a hard drive automatically as a backup for PC. EaseUS Todo Backup Enterprise is the reliable and scheduled disk clone software you need, which could help you protect your data and business all the time. 
Besides, we also recommend that you back up your computer with file backup or system backup regularly, which can ensure that you can restore your computer to an earlier state if something goes wrong. 
FAQ on Automatically Clone A Hard Drive as A Backup for A PC
1. Does Windows have built-in cloning software?
It is a pity that Windows doesn't have a built-in cloning feature or software that can be used to clone data. But you can use third-party software like EaseUS Todo Backup to perform files, folders, systems, and disk cloning.
2. Can you clone a hard drive to a new computer?
Cloning a hard drive to a new computer is easy if you use EaseUS Todo Backup. Download and launch it on your computer. Then select the source disk and target disk and click next. Finally, check or edit your disk layout and click next. For detailed steps, please refer to another post on how to clone Windows 10 hard drive to new computer. 
3. Is cloning the same as backing up?
Theoretically, cloning is the same as making an image of a disk or partition. But in practice, they are used for different purposes. Cloning is often used to upgrade a smaller hard drive to a larger one without losing any data while backing up is used to create an image file for disaster recovery.
4. Does cloning a hard drive copy the OS?
Yes, cloning copies everything on the hard drive, including the operating system, programs, settings, and files. But you must ensure the target disk is large enough to store all the data.

Updated by Larissa
Larissa has rich experience in writing technical articles. After joining EaseUS, she frantically learned about data recovery, disk partitioning, data backup, and other related knowledge. Now she is able to master the relevant content proficiently and write effective step-by-step guides on computer issues.
Taking everything into consideration, we can say that EaseUS Todo Backup Home can offer you a little extra sense of security with a set of advanced tools. The interface provides quick adaptation, every process guiding you all the way through so you don't get stuck or further damage your system rather than keeping it safe.

 Read More

EaseUS Todo Backup Free lets you create backups of your important files or your entire computer through its streamlined interface. Just choose the backup type you'd like to get started, and let the program do the reset.

 Read More

EaseUS includes all the features I expect from backup software like versioning, incremental backups, and scheduling. For more advanced users, EaseUS allows you to install a pre-boot environment onto your hard drive so you can use it to restore files without burning a CD or putting it on an external USB drive.

 Read More

EaseUS Todo Backup
Smart backup tool for your files and entire computer in Windows 10/8/7.
Install Windows on Multiple Computers at Once? No Problem!
Learn how to install Windows 11/10/7 and special programs/software on a batch of computers. Use 10 minutes to do the 10 hours work without making a single mistake!
Get Free Solution!