How to Format Verbatim to FAT32 with SmartDisk FAT32 Format Utility Software?
Under some circumstances, you need to format or reformat your Verbatim hard drives, USB flash disks or memory cards. For example, Verbatim HDD sends a not formatted error in Windows, Verbatim memory sd card not showing full capacity, Verbatim SD card corrupted, unreadable or not detected by Windows, or Verbatim USB drive is write protected, etc.
Fortunately, Verbatim enables its users to format Verbatim HDD, USB drive and memory card to FAT32 easily with the SmartDisk FAT32 Format Utility. It's an SMDK_FAT32.zip file, in which the SmartDisk_FAT32_Tool.exe is what helps format Verbatim product to FAT32 file system.
Step 1. Select the Verbatim drive you want to format from the drop-down box at the top of the screen.
Step 2. Enter a Volume Label name.
Step 3. Click the "Format Drive" button to start formatting.
Download Verbatim Format Tool to Free Format Verbatim Drive to FAT32/NTFS/EXT
After some trial, you'll soon find some noticeable limitations on the SmartDisk FAT32 format utility tool. It can only format NTFS to FAT32 or format exFAT to FAT32, however, with no other options. It's useless for Verbatim users who want to format FAT32 Verbatim drive to NTFS.
Moreover, from the SmartDisk FAT32 format tool screenshot, you can see that this tool seems out of date, it can hardly support Windows 10 operating system, which loses quite a large number of Windows 10 users.
To ease all worries we mentioned here, try EaseUS Partition Master instead. It's a free partition manager that supports to format any disk drive including Verbatim, SanDisk, Samsung, Kingston and Toshiba to file system types like FAT32, NTFS, EXT2 and EXT3 without any hassle in all Windows platforms.
Guide: How to format Verbatim HDD, USB & memory card with EaseUS Verbatim format tool
Step 1. Connect the Verbatim drive to a Windows computer, launch EaseUS Verbatim format tool, right-click the disk partition you want to format and choose "Format partition".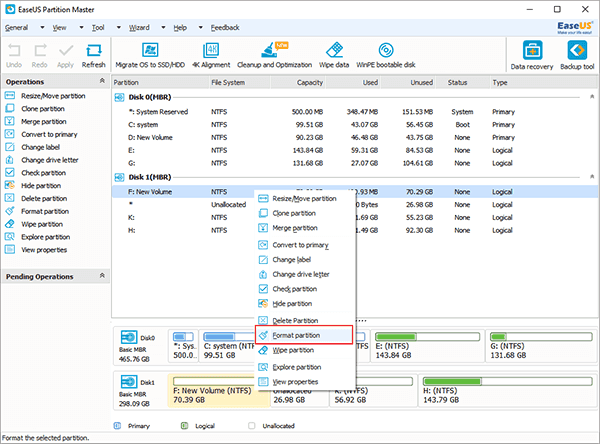 Step 2. A mini window pops out, on which you can edit the partition label and choose a file system such as FAT32, NTFS, EXT2 and EXT3.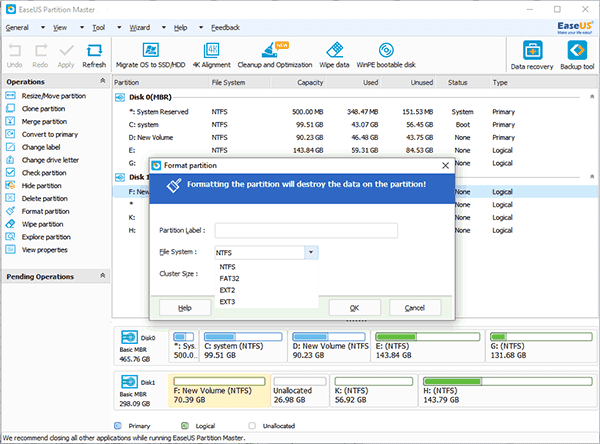 Step 3. Click "Apply" to confirm to format Verbatim HDD, USB or memory card with EaseUS Verbatim format tool.