Download Free FAT32 Formatter Tool
When I insert a Toshiba USB flash drive into Windows 10 computer and choose "Format", I got the dialogue box in the below. I learned that my Toshiba USB drive is allowed to format to NTFS, FAT32 (Default) and exFAT. Many people would have the question about how to choose the proper file system, and next I'll give the explanation.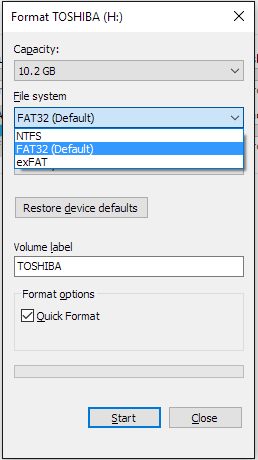 NTFS works with all versions of Windows, but read-only with Mac OS X by default. It's mostly used for Windows system drive and other internal drives that will just be used with Windows.
FAT32 works with all versions of Windows, Mac OS X and Linux. Practically, most USB drives are pre-formatted with FAT32. And most game consoles, such as PlayStation, require external USB drive FAT32 format.
FAT32 has a limit that files larger than 4GB can't be stored on a FAT32 drive. It supports file size no larger than 4GB and a maximum partition size 8TB.
exFAT is an ideal file system for USB flash drives and other external drives. It's more compatible with Windows and Mac OS X than NTFS, and has no file size limit as FAT32. However, exFAT is a newer file system that was introduced in 2006, some older devices may not support this mode.
Understand the difference among NTFS, FAT32 and exFAT now? Whenever you need to format USB flash drive to FAT32, even reformat a drive to FAT32, you can download free FAT32 formatter tool to perform the task. Also, FAT32 formatter can help convert NTFS to FAT32.
Effectively Apply FAT32 Formatter in Two Ways
1. Windows Disk Management
As I've said, when you plug in a USB drive in a Windows computer, you can directly format the drive to FAT32 file system by using the built-in Windows Disk Management. However, once your drive's default file system is not preformatted as FAT32, You can only be allowed to format it to NTFS, the default file system in Windows OS. So, the first attempt sometimes may fail your intention. In this case, move on to the second option of FAT32 formatter tool.
2. EaseUS Partition Master
EaseUS Partition Master is an all-in-one internal drive and external USB, SD, memory stick FAT32 formatting/reformatting solution in Windows 10/8.1/8/7/XP/Vista. The hard problem about FAT32 that you cannot solve in Windows Disk Management shall be easily overcome by EaseUS free partition manager. People seeking for a powerful, easy-to-use and Windows 10-compatible disk and partition management have chosen it as the best free FAT32 formatter. Use the software to format new drive as FAT32. Also, convert NTFS to FAT32 without losing data.
Step 1. Correctly connect your external USB drive to a Windows computer. After Windows has detected the drive, Launch EaseUS Partition Master.
Step 2. Right-click the external drive and choose "Format partition".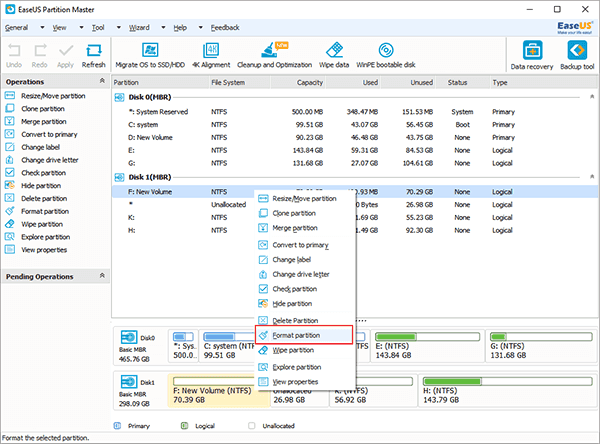 Step 3. A mini window pops out, on which you can edit the partition label and choose a file system. Here you should choose FAT32. Click "OK".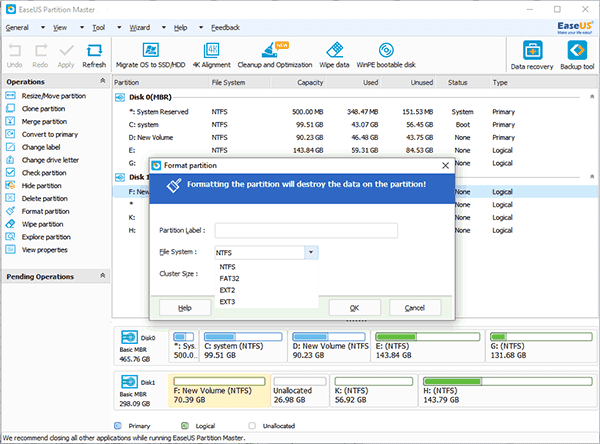 Step 4. Apply the changes you've made by turning back to the main window.