eMMC and SSD storage share many things in common as they both adopt the technology of NAND flash memory for example, and you can find some laptops using either eMMC storage or SSD storage. Nonetheless, do you have a general concept of eMMC and SSD? If by chance, your computer or laptop storage needs expanding or altering, which storage drive are you going to invest money?
Here you go. To present you with the remarkable differences between eMMC and SSD storage, we reviewed eMMC vs. SSD in several critical aspects, such as storage components, capacity, price, speed, application, performance, etc.
eMMC vs. SSD FAQs:
1. What Is eMMC
2. What Is SSD
3. eMMC vs. SSD: Which Is Better
4. Can eMMC Be Upgraded
5. How to Replace eMMC with SSD
What Is eMMC
eMMC stands for embedded MultiMediaCard. If you got previous knowledge about Secure Digital (SD) devices, you should know that eMMC derives from MMC, while MMC is the precursor of SD devices. MMC still exists but we're supposed to hear of eMMC more often.
Technically speaking, eMMC consists of a controller and NAND flash memory, both of which are located in one integrated circuit. Since it's flash memory-based, it requires little to no power to retain data. Meanwhile, the "embedded" means that eMMC storage chips are directly soldered on a device's motherboard, just like fastened to a body part.
The eMMC is characterized by cheap, small, power-efficient, quiet and durable, so it is widely used on phones, tablet PCs or some budget laptops, notebooks or 2-in-1s.
What Is SSD
Whereas SSD, which refers to Solid-State Drive, is the other type of NAND flash memory product. Yet adopting the NAND flash memory, SSD and eMMC serve for quite different purposes, as the core technology is far from the same.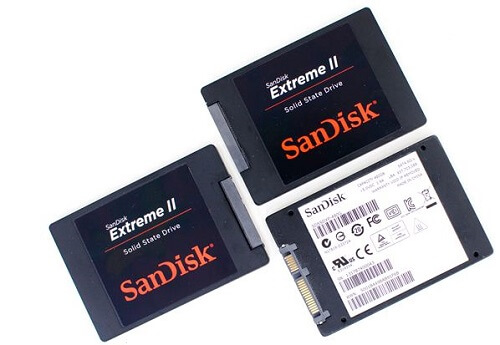 First of all, the key components make up an SSD include a flash controller, a number of NAND flash memory chips and a circuit board; second, it is functioning as removable/secondary storage in a hierarchy of computer storage by connecting via closure or SATA power cable.
Even SSD boasts itself smaller, thinner and lighter than a Hard-Disk Drive (HDD), it's still bigger than eMMC in volume size and heavier in weight. And most of all, it comes with a larger capacity. Therefore, SSDs are usually found in rich-featured laptops and desktop computers.
eMMC vs. SSD: Which Is Better
By viewing the broad introduction of each term, we know that eMMC and SSD flash memory storage are developed for particular markets. When it becomes to choosing one for your own storage device, you should be aware of three substantial differences, including speed, capacity, and price. And in point of fact, nothing compares to match your own demand.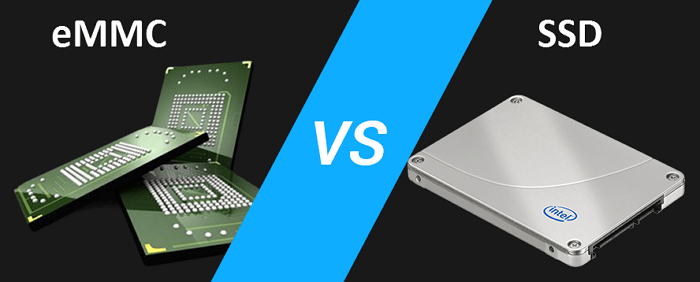 1. Transmission Speed
SSD stands out from many storage drives including eMMC. It's de facto the fattest compared with HDD, fusion drive and other storage forms under the same specification.
The data transfer speed of eMMC has been improving all the time but almost reaches the upper limit due to the 1,4,8 bit bus width it defines. It doesn't have to say that eMMC is slow, but it is indeed lack of potential to be faster than 400MB/s, whereas SSD does.
eMMC data transfer speed:
eMMC 4.41 104MB/s
eMMC 4.5 200MB/s
eMMC 5.0 400MB/s
Higher-performance SSD data transfer speed:
Read speeds are ranging from 500MB/s to over 3,000MB/s
Write speeds vary from 300MB/s to over 3,000MB/s
2. Data Capacity
eMMC packages the NAND flash chip and control chip into one chip so as to simplify the memory design and further reduce the components. That's not hard to tell why it's mainly applied in mobile devices and compact notebooks. In accordance with the exclusive design, it is usually not that big enough for large size files or bulk storage.
eMMC capacity:
Popular capacity 32 GB and 64 GB
Available capacity 128GB and 256 GB
* Larger size over 128 GB are rarely seen these days
* eMMC supports a microSD card connection as an expandable storage
Since SSD is intended to replace the role of HDD by offering greater performance in boot time, and opening files or programs, it cannot lag too far behind regarding the storage capacity. Even less larger than that of HDD, the most common operational storage of SSD starts from 128GB.
SSD capacity:
Between 128 GB and 1 TB
3. Price
If you've read reviews on websites, you'll learn about one truth of the SSD value. Better performance but higher cost. It seems to be a unified label putting on a Solid-State Drive. So how costly is it?
Roughly $0.20 per gigabyte. Taking the same amount of money, if you buy a 1TB SSD, it's enough to buy a 4TB HDD or even bigger.
By contrast, due to the unit price and the total capacity, the money you spend on an eMMC device would be dramatically dropped. It's undeniably inexpensive even for that of 128 GB and 256 GB.
Can eMMC Be Upgraded
According to all the primary perspectives by viewing eMMC vs. SSD, eMMC provides a budget laptop with a favorable price, which would be capable enough to let you surf the internet or watch some streaming videos. Is eMMC better than SSD now? The truth is eMMC doesn't have the firmware, multiple flash memory chips, high-quality hardware, and fast interface, it's restricted within the application on ultra-portable and consumer digital devices, perhaps will last for a long time.
Anyway, SSDs come with relatively bigger volumes and faster transmission speed, it's the exceptional choice for fully-featured laptops and desktops that provides the best user experience for booting the operating system, playing games, handling extremely large files or retaining a bulk storage.
What if eMMC has currently run out of your needs on your PC? Can you upgrade eMMC with SSD without making an effort? If that's what you want right now, go to find an accomplished disk cloning tool.
How to Replace eMMC with SSD
Once you set your mind to replace the eMMC storage with a Solid-State Drive, of which the price has been decreased year by year, do not hesitate to download EaseUS Partition Master on your laptop. It's a versatile disk & partition management tool that enables Windows 10/8.1/8/7/Vista/XP users to manage a variety of hard drives in every way.
Let it be HDD, SSD, eMMC, USB thumb drives, memory cards or whatever devices that can be correctly recognized by Windows operating system, you can take a full control of the storage by resizing/moving a partition, formatting, deleting, wiping data, migrating OS, copying/cloning a disk or partition, etc.
Now the point is, you're going to utilize the "Clone" feature to swap the present eMMC with an additional SSD. It won't take extra time and energy to get the whole process done as long as you follow the user guide carefully.
Step 1. Select the source disk - eMMC
Open EaseUS Partition Master. Right-click the eMMC storage drive that you want to copy or clone. Then, select "Clone".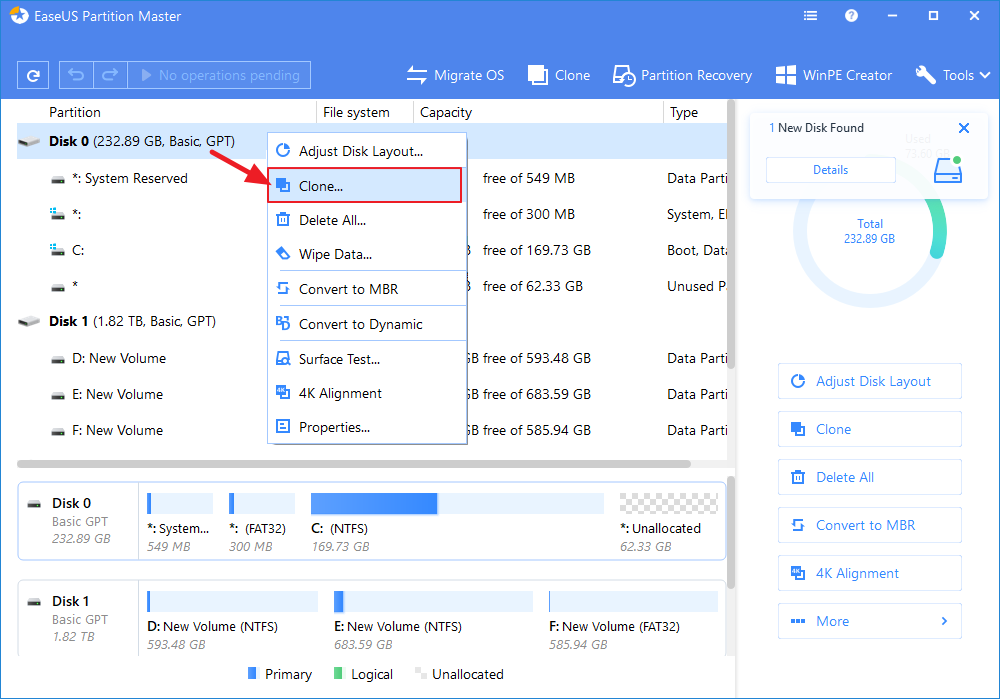 Step 2. Select the target disk - SSD
Choose the connected SSD as your destination and click "Next" to continue.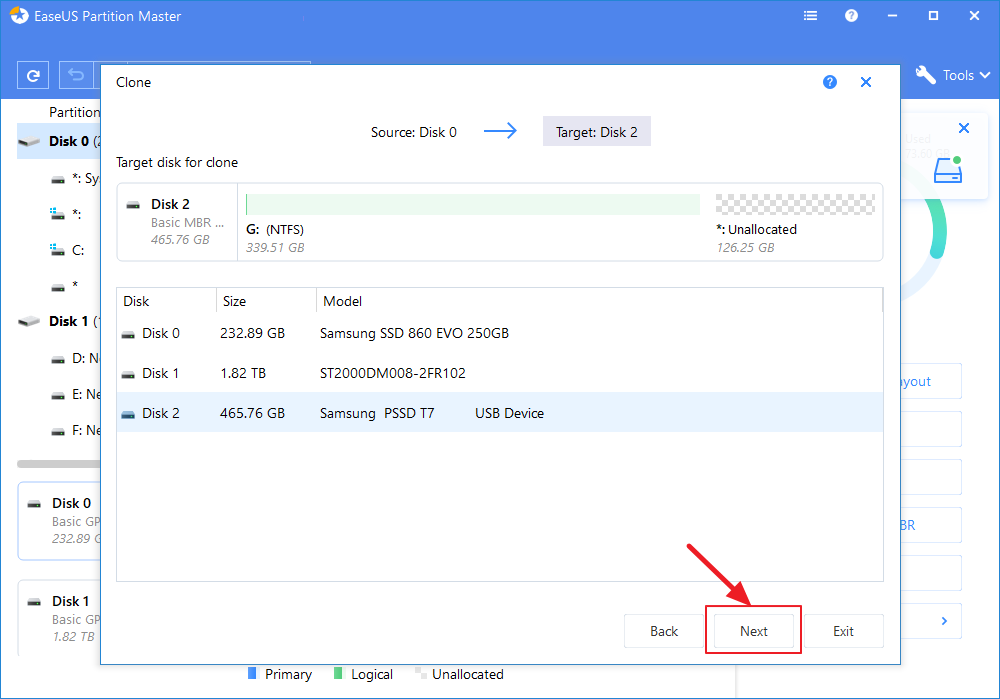 Step 3. View the disk layout and edit the target disk partition size
Click "Continue" when the program warns that it will wipe out all data on the target disk. (If you have valuable data on the target disk, back up it in advance.)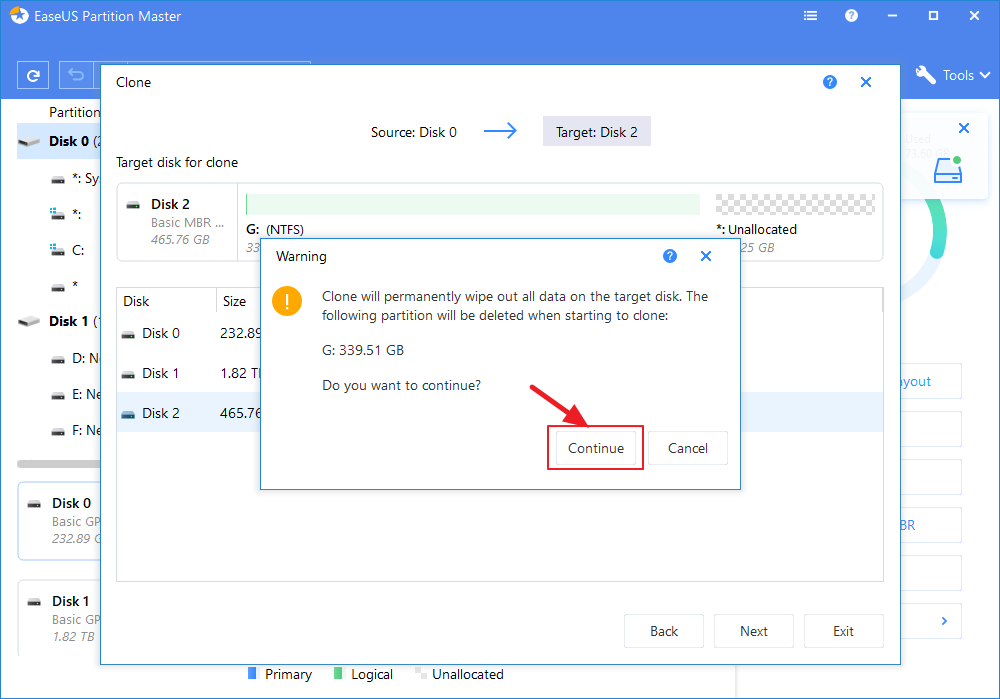 You can select "Autofit the disk", "Clone as the source" or "Edit disk layout" to customize your disk layout. (Select the last one if you want to leave more space for C drive.)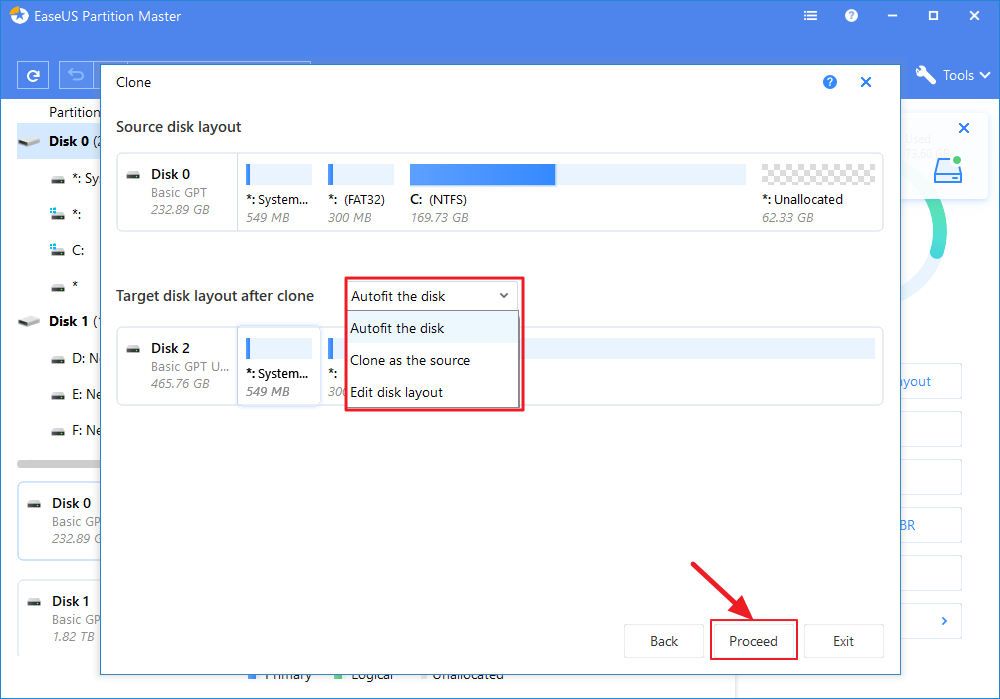 Step 4. Execute the operation
Click the "Execute the operation" option and click "Apply" to start the eMMC to SSD disk cloning process.
To make full use of the SSD in the future and give upon the eMMC, remember to keep only one storage drive (the new SSD) on your laptop. Otherwise, one drive will be marked as offline automatically by Windows.
100% of people found this article helpful.
Frequently Asked Questions
Why Choose EaseUS Partition Master?

"I've used Partition Master Professional many times to create, delete, format, move, rename, and resize partitions." —PCWorld

"Partitioning tools have come a very long since the days of complicated command line utilities and EASEUS Partition Master is one of the most advanced programs available." —TECH ADVISOR

"I love that the changes you make with EaseUS Partition Master Free aren't immediately applied to the disks. It makes it way easier to play out what will happen after you've made all the changes." —Lifewire
Will the "Migrate OS" feature transfer the Windows system files only or the whole C drive?

To ensure that the migrated system will boot normally, the Migrate OS feature will transfer all the files in the system and the boot partitions. Generally, the boot partition is the C drive so the transfer will include all the files in C.
Does EaseUS Partition Master license apply to multiple computers?

The license of Partition Master Professional and Server editions can be used on 1 computer only, while that for for the Technician and Unlimited editions can be used on multiple machines.
What is the difference between EaseUS Partition Master Trial version and the Free version?

Free is for home users only, with most basic functions available such as partition resize and clone. While trial can help you understand how this product works and test what a full license can do on a business or server OS machine.
Will it cause any data loss after resizing the partition in EaseUS Partition Master?

Generally, it will not cause any data loss or boot issue by resizing a partition. However, in order to protect your data, we suggest that you backup the partition before resizing, in case of any unexpected situations such as power outages, computer hardware failures, etc. You can use EaseUS Todo Backup to backup the partition and its trial version is fully functioned for 30 days.
What should I prepare before resizing the partition?

On the partition that is going to be operated, there might be some files being occupied by other programs. To ensure a successful operation, we suggest that you close all the unnecessary software before resizing that partition. Otherwise, EaseUS Partition Master will detect the partition being locked by the other software and require a reboot to resize the partition under boot mode.
About EaseUS Partition Master
All-round disk & partition management software for personal and commercial use. Let it manage your storage drive: resize, format, delete, clone, convert, etc.