
About the Author
Hot Topics in 2022
How to Format HDD/External Hard Drive to FAT32 [Your Step-by-Step Guide Is Here]
Follow the Windows 11/10 FAT32 format tutorial to format HDD to FAT32 or format an external hard drive to FAT32 in Windows 11/10. You can apply either the Windows CMD or the third-party partition manager to format FAT32 in Windows 11/10 even when there is no FAT32 option in Windows 11/10 File Explorer or Disk Management.
#1. Format HDD to FAT32 in Windows 11/10 with Third-party partition manager
#2. Format HDD to FAT32 in Windows 11/10 with Command Prompt
Why Do You Want to Format External Hard to FAT32
File System Name: File Allocation Table 32 (FAT32)
Description: The oldest file system among the popular three (FAT32, exFAT, and NTFS); Commonly used on removable storage drives and external HDDs.
Advantages: Great compatibility with all kinds of storage devices; both Windows OS and macOS can read a FAT32 device.
Disadvantages: Support maximum individual file size is no more than 4GB; Windows offers no FAT32 option for an external hard drive over 32GB.
It is no doubt that you want to make full use of your external hard drive. Why do I say it like this? Because each operating system reads a specific file system. If you got an NTFS hard drive, then you can only apply it on a Windows computer other than on a Mac. However, the thing turns entirely different if you got a FAT32 external storage drive, either Windows OS or Mac OS X would easily recognize it. 
In addition, PlayStation console players should know that the format of an external USB drive has to be FAT32, too. To add an external USB drive to the console, they have to format PS hard drive to FAT32. And here is an example from Twitter that claims needing to format external disk to FAT32:
ps4 hard drive failed yesterday and I am very pleased at how easy a fix it was. most annoying part was having to format my external hard drive to FAT32 in order to reinstall the OS because apparently that's all the thing will read

— enormous homosexual nosferatu 🏳️‍🌈 (@mister_smiley) March 30, 2022
So in any case where the FAT32 file system is required, you can apply EaseUS partition manager software or command prompt in the following to format the external hard drive to FAT32 in Windows 11/10/8/7 at once.
#1. Format HDD or External Hard Drive to FAT32 in Windows 11/10 with Partition Manager
If you're afraid of making a mess by using the command prompt, try this more straightforward method. EaseUS free partition manager is a third-party HDD format utility that can help format an external hard drive, USB drive, SD card, and any other removable storage device to FAT32 easily and quickly, which should be the primary choice for average computer users.
Guide: How to Format External Hard Drive FAT32 Using EaseUS FAT32 Formatter
Connect your storage device to your computer correctly and learn how to format the external hard drive to FAT32 in Windows 11/10 with EaseUS Partition Master from the steps below.
Step 1. Launch EaseUS Partition Master, right-click the partition you intend to format and choose "Format".
Step 2. In the new window, enter the Partition label, choose the FAT32/EXT2/EXT3/EXT4 file system, and set the cluster size according to your needs, then click "OK".
Step 3. Then you will see a warning window, click "Yes" in it to continue.
Step 4. Click the "Execute 1 Task(s)" button in the top-left corner to review the changes, then click "Apply" to start formatting the partition to FAT32/EXT2/EXT3/EXT4.
Aside from formatting the internal or external hard drives to FAT32, it also allows you to switch device file system format between NTFS and FAT32 without formatting:
#2. Format HDD/External Hard Drive to FAT32 with Command Prompt
By learning the FAT32 disadvantages, you should know that Windows File Explorer and Windows Disk Management cannot format FAT32 on an external HDD, of which the partition size is larger than 32GB. When your hard drive partition's capacity is more than 32GB, you won't see a FAT32 option in the drop-down list in both native programs. Hence, to provide you with an all-around solution to format FAT32 in Windows 11/10, you need some alternative disk formatting tools to break the 32GB limit and format any-size external hard drive or USB flash drive to FAT32 without a hitch.
Windows Command Prompt is a comprehensive computer troubleshooting program for most Windows issues. If you are reluctant to download any third-party software, try to start formatting the disk via Command Prompt.
Guide: How to Format HDD to FAT32 Using CMD
Step 1. Plug-in your external hard drive to your computer. Search for Command Prompt in Windows Search, right-click on it, and select Run as administrator.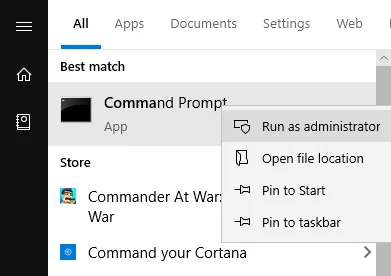 Step 2. Type diskpart into the Command Prompt window and hit Enter.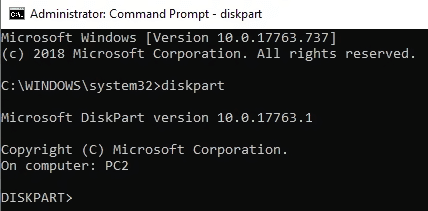 Step 3. Type list disk and hit Enter. Note down the number of your external hard drive.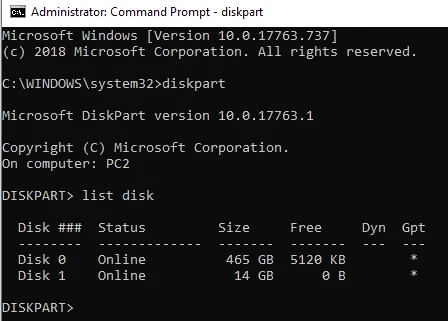 Step 4. Type select disk N and hit Enter. You should replace N with your exact external hard drive number.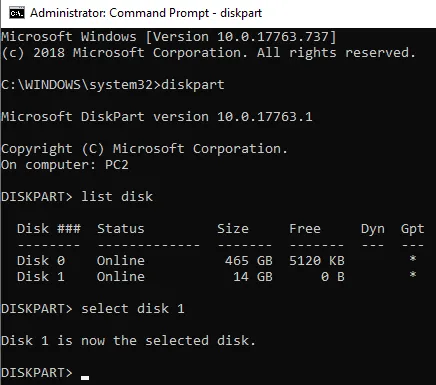 Step 5. Go on typing each of the following commands and press Enter after each line.
list volume
select volume 7
format fs=fat32 quick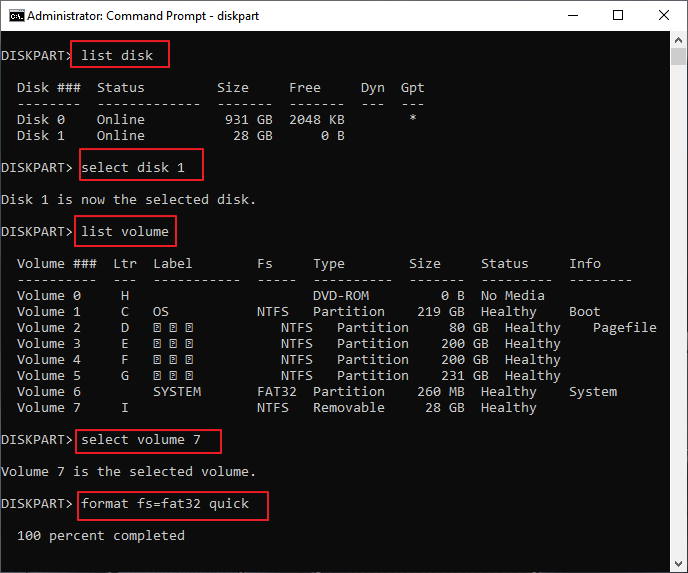 Step 5. Type exit to close diskpart.
Your hard drive should now be formatted to FAT32. 
EaseUS FAT32 Format vs. Comand Prompt, Which Is Easier for External Disk Formatting
As you see, EaseUS Partition Master combines the highlights of both Windows command lines and Windows Disk Management.
Be able to format any drive to FAT32, as well as other popular file formats (exFAT, NTFS, EXT2, EXT3, EXT4, etc.)
Offer graphic interface and even more logical and informative disk info, like the file system, capacity, partition table, etc.
In contrast, the third-party free partition manager empowers customers to effortlessly handle more disk and partition management jobs, and those standalone functions are much more intelligent and practical than others.
All in all, there are so many attainable yet useful features waiting for you to explorer. Compared with the CMD which requires somewhat high-level computer skills, EaseUS Partition Master shall be the second-to-none choice to efficiently manage a hard disk drive or any removable storage drive on your PC!
Format FAT32 Windows 11/10 FAQs
If you have further questions about formatting external hard drive to FAT32 in Windows PCs, follow and find answers below:
1. Are FAT32 and exFAT the same?
FAT32 is compatible with more very old operating systems. However, FAT32 has limits on single file size and partition size, while exFAT does not. Compared with FAT32, exFAT is an optimized FAT32 file system that can be widely used for removable devices of large capacity.
2. Can a 64gb USB drive be formatted to FAT32?
EaseUS Partition Master is a free FAT32 formatter tool that breaks the limitation of 32GB, enabling your to format 64GB, 128GB or larger USB drive with the FAT32 file system.
3. Can you format a 500gb - 4tb hard drive to FAT32?
If you want FAT32 on a 500gb to 4tb hard drive which we do not recommend you, you can still try this way to make it. First, download EaseUS Partition Master, first convert MBR to GPT on data disks without data loss, and then format it as FAT32.
About the Author

Updated by Cici
Cici has accepted the systematic training on computers at EaseUS. Now she has a detailed understanding of common computer issues, as well as computer backups and disk formatting management solutions.
Daisy is the Senior editor of the writing team for EaseUS. She has been working in EaseUS for over ten years, starting from a technical writer to a team leader of the content group. As a professional author for over 10 years, she writes a lot to help people overcome their tech troubles.
Product Reviews
I love that the changes you make with EaseUS Partition Master Free aren't immediately applied to the disks. It makes it way easier to play out what will happen after you've made all the changes. I also think the overall look and feel of EaseUS Partition Master Free makes whatever you're doing with your computer's partitions easy.

 Read More

Partition Master Free can Resize, Move, Merge, Migrate, and Copy disks or partitions; convert to local, change label, defragment, check and explore partition; and much more. A premium upgrade adds free tech support and the ability to resize dynamic volumes.

 Read More

It won't hot image your drives or align them, but since it's coupled with a partition manager, it allows you do perform many tasks at once, instead of just cloning drives. You can move partitions around, resize them, defragment, and more, along with the other tools you'd expect from a cloning tool.

 Read More