To clone hard drive under Microsoft Operating System
Nowadays, to clone hard drive is a common case for computer users who are upgrading to a new hard disk or perhaps replacing an older disk. The Microsoft Operating Systems provides basic copy functions for these users. It is possible to copy hard drive file-by-file in simply ways, like 'copy' and 'paste' but lacks of a reliable, efficient way for cloning the entire contents of a hard drive/partition volume from one hard drive to another. Nevertheless, cloning a hard drive could solve the problem, which is unavailable under Microsoft Operating System.
Therefore, to safely copy hard drive with long file names, swap files and the Windows registry, a third-party software for clone might be a good choice.
Choosing a reliable software for hard drive clone
Generally, security and stability are the factors that users most concerned when they are choosing a good clone software. That is to say, all the data will be not changed or lost during the clone process. EaseUS Todo Backup Free is released with this feature when cloning a hard drive.
Data Security: Generally, everything will be backed up by clone hard drive utility of EaseUS Todo Backup Free. And it just clones 100% identity of the original to a new partition without changing any existing data, so everything is the same as the original data.
Time Saving: Unlike traditional disk copy software, clone hard drive utility of this free software allows you to replace the older smaller hard disk by a newer larger hard disk without reinstalling the Operating System and applications once again. It will dramatically save your time.
How to clone a hard drive with EaseUS Todo Backup Free?
Additionally, EaseUS Todo Backup Free is easy to operate. The below is the detailed steps of hard drive clone by EaseUS Todo Backup Free:
1. Launch EaseUS Todo Backup Free Edition.
2. Click Disk clone.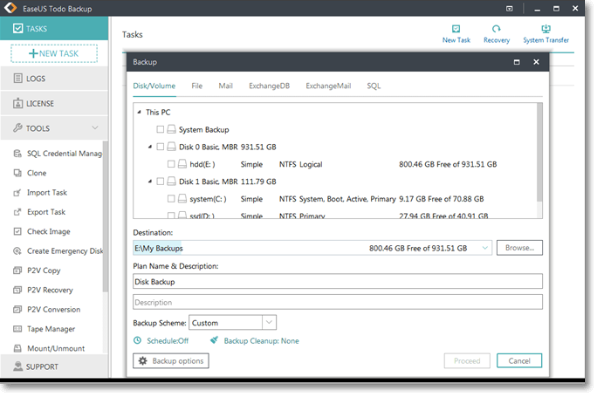 3. Follow the wizard to clone hard drive.
From the steps listed above, you will find that the operations of EaseUS Todo Backup are very easy and safe.
Besides disk & partition clone, EaseUS Todo Backup also provides file & folder backup and restore, hard drive partition backup & restore, automatic backup and incremental backup to fully protect your hard disk drive data.