Western Digital (WD) backup is an excellent tool that automatically protects your files, images, folders, documents, etc. It uses the WD drive as a primary storage disk and also saves the files in off-site cloud storage to reduce the risks of data loss. If you are a WD Backup user, you may know it is an easy-to-use backup application.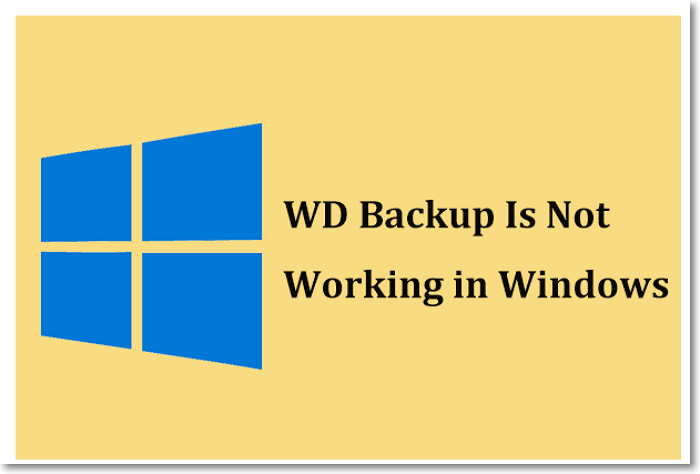 Though it is a convenient backup solution, sometimes you may encounter problems like WD Backup not working in Windows 10, while backing up your essential data. This problem creates hurdles for people, and they strive to make the WD backup but does not find any safe and quick solution to get rid of this situation. 
🚩Further Reading: WD Backup Software | Backup Hard Drive with The Best Free Software
guide will walk you through quick solutions to fix it. We will explain you to multiple reasons like "Files cannot be backed up" and "WD Backup does not see my drive". It will help you to know more about the issue and avoid any hassle from it in the future. This guide will also introduce convenient software that will help you in any way to back up your data.
Let's dive into the causes and solutions to WD Backup not Working on Windows 10.
Why WD Backup Not Working on Windows 10
Relatively speaking, before knowing the methods to fix WD Backup Not Working on Windows 10, it is better to learn the causes of why this happens. Well, in this case, there is no specific reason which causes this issue. There are two situations, including WD Backup Files cannot be back, and WD Backup does not see the drive you may be facing. 
You may encounter with WD Backup not working issue after installing the WD Backup application. However, it can also suddenly stop working after using the WD backup app. 
Scenario 1. Files Cannot Be Backed Up
It is the first scenario where you can experience an error while using WD backup. Here are some reasons why this happens: 
There is a high chance of WD Backup errors occurring if your Windows computer has disk fragmentation. Therefore, before starting back up your files, see the disk status by running a disk check.
Sometimes, the computer gets infected with a virus or malware that prevents the operating system from employing the backup files. Thus, WD backup cannot function on the system smoothly until you remove the virus. As a result, it fails to back up the data. 
The windows operating system operates under a set of rules. Therefore, it is necessary to provide the proper permission for files and folders to save in a specific place. It can lead to a WD backup operation error if you have not provided the needed permissions. 
WD backup operation error rarely happens due to this reason. Nevertheless, if the file name is too long can cause an issue while creating the WD backup.
You can also face WD backup problems if you have long folder paths. It stops the system from reading the file path and can cause backup errors.
Scenario 2. WD Backup Does Not See My Drive
The second scenario of this issue is WD backup does not see my drive. There can be the following reasons behind it;
If you are using Local PC security in your windows system, you can face the problem of WD backup does not see the drive.
The anti-virus software can also cause the WD backup not to see my drive problem due to the restrictions it makes to your computer. It also affects the task efficiency of your computer system.
Like any anti-virus application, a malware protection system can also stop WD backup operations. It causes the problem of the WD backup does not see the drive.
An endpoint protection software program on your computer system can prevent you from conducting WD backups freely. 
Try Alternative Software Before Fixing WD Backup Not Working
Before fixing the WD Backup not working issue, you should use alternative software to prevent any data loss. If any crash happens to your computer, it will save everything by effectively backing up files, folders, disk, partition, and Windows operating system. To do so, utilize the most advanced backup tool EaseUS Todo Backup, available on the market. Moreover, it delivers complete and reliable PC backup and restores solutions for any Windows version. 
It is also worthwhile to save multiple backups to USB drives, external and internal hard drives, and many more. The best thing about this software is its cutting-edge features are available for free. Its user-friendly interface makes it easy to use without having any prior experience. When using this software, all your clean and tidy backup options are just a few clicks away. This software facilitates users with different rich features to schedule backup after a time interval and automatic backup.
In case, you have lost your crucial data, EaseUS Todo Backup can also help you to recover your files for free. This certified software is leading the worldwide industry for its reliable and developed backup and restores features. You can also download the trial version of this software and employ its effortless functionality to get quick restore and backup results.
Three more articles are given below so that you can read them to get more information about EaseUS Todo Backup.
Here are the guiding steps to use this great software:
Step 1. Launch EaseUS Todo Backup on your computer, and click Create Backup on the home screen and then hit the big question mark to select backup contents.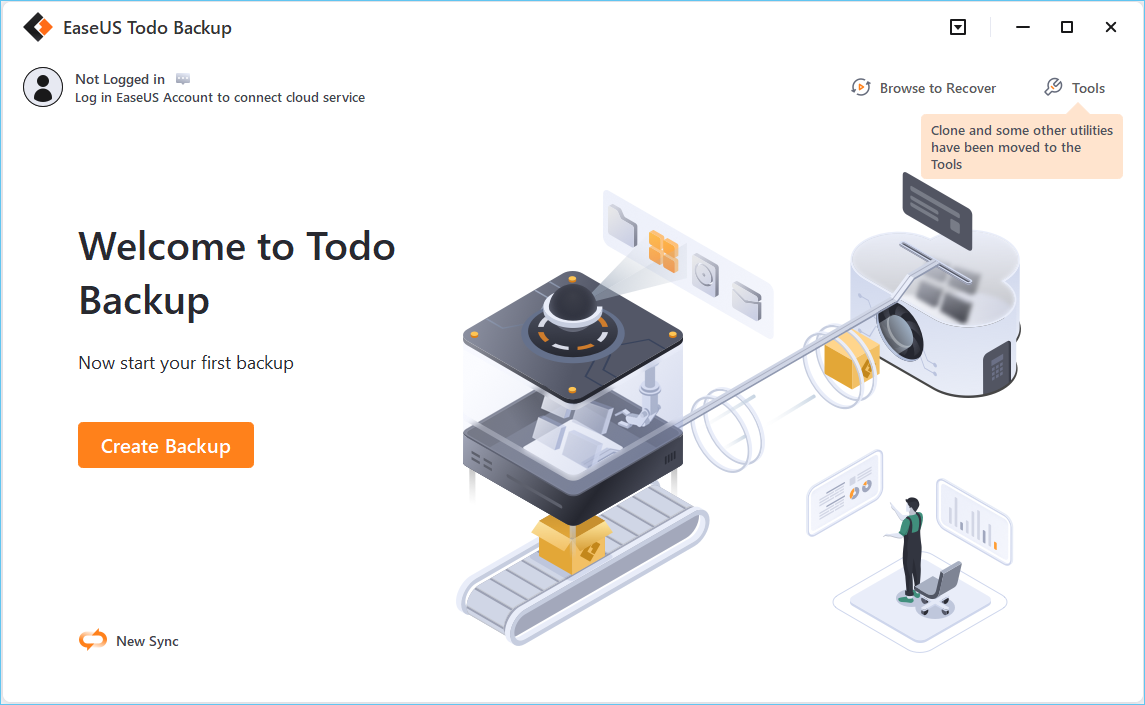 Step 2. To back up your Windows operating system, click "OS" to begin the backup task.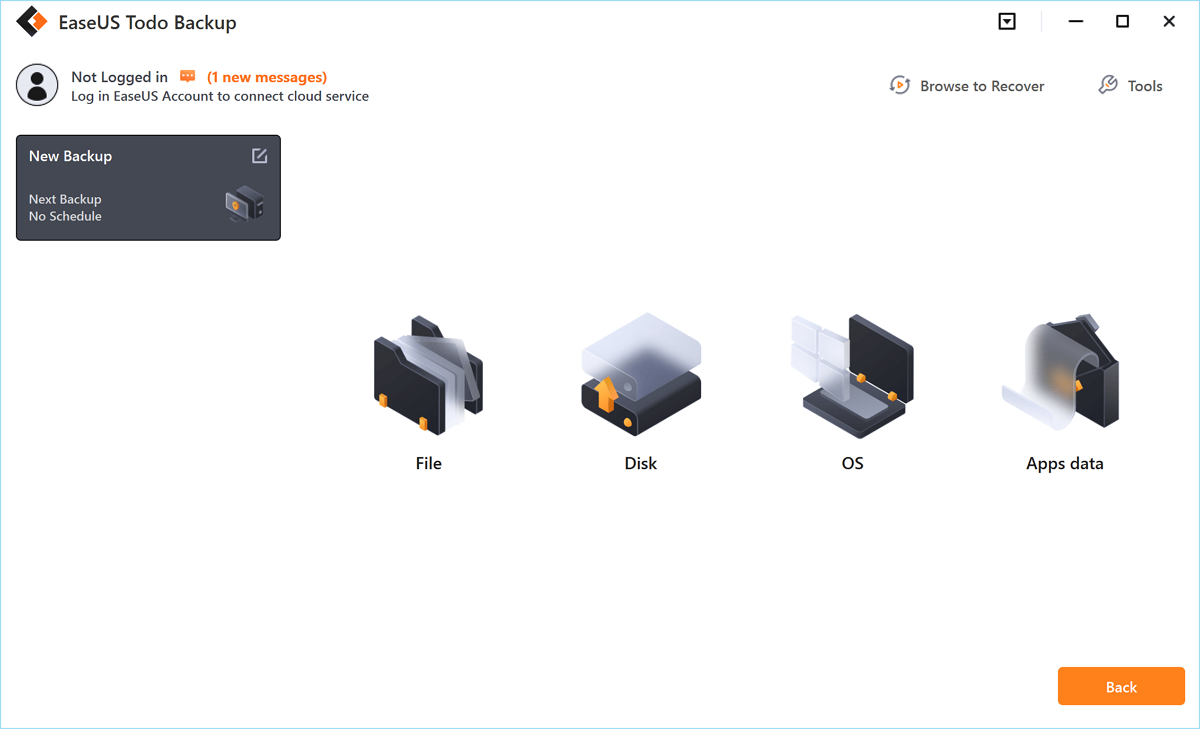 Step 3. Your Windows operating system information and all system related files and partitions will be automatically selected so you don't need to do any manual selection at this step. Next, you'll need to choose a location to save the system image backup by clicking the illustrated area.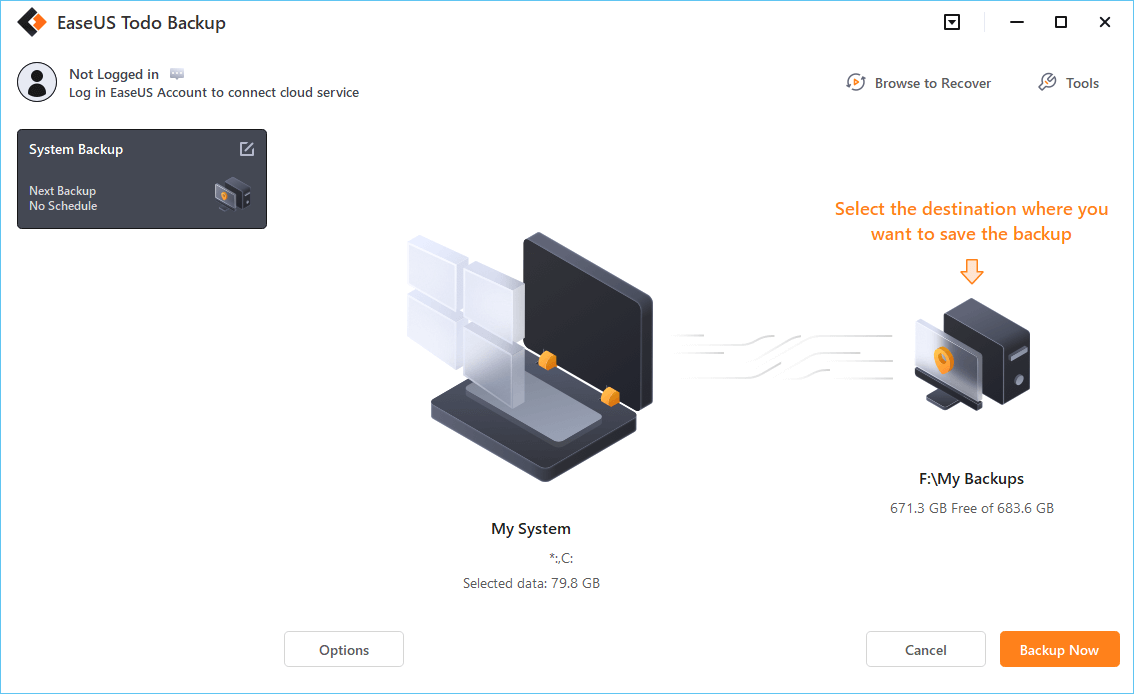 Step 4. The backup location can be another local drive on your computer, an external hard drive, network, cloud or NAS. Generally, we recommend you use an external physical drive or cloud to preserve the system backup files.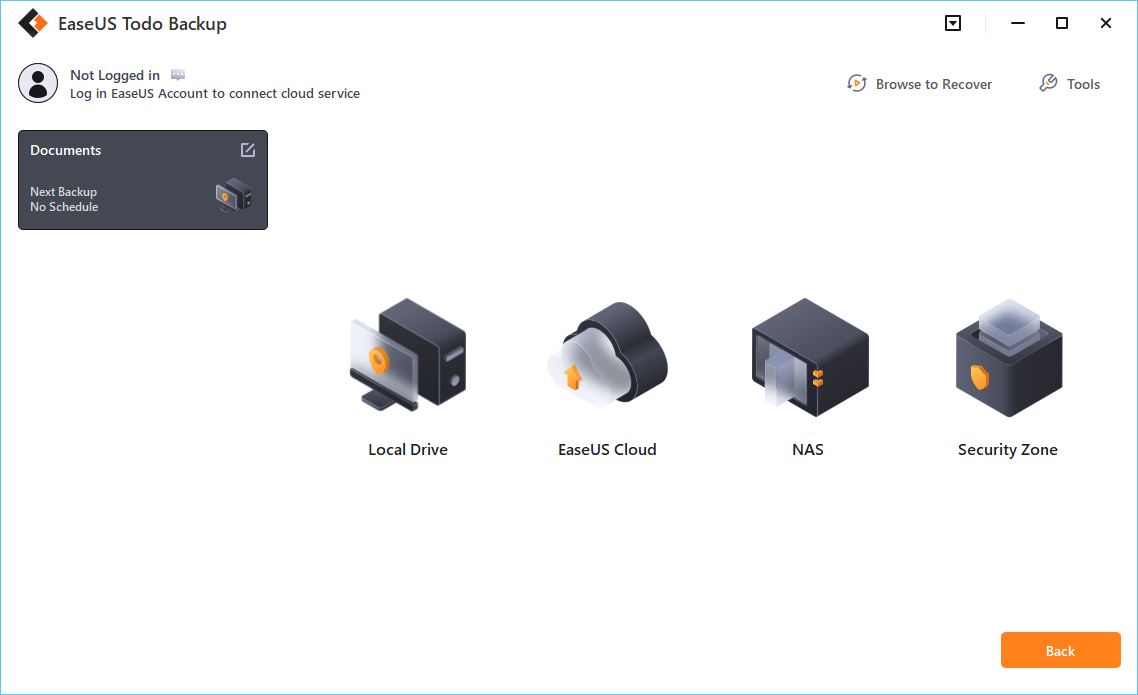 Step 5. Customiztion settings like enabling an automatic backup schedule in daily, weekly, monthly, or upon an event, and making a differential and incremental backup are available in the Options button if you're interested. Click "Backup Now", and the Windows system backup process will begin. The completed backup task will display on the left side in a card style.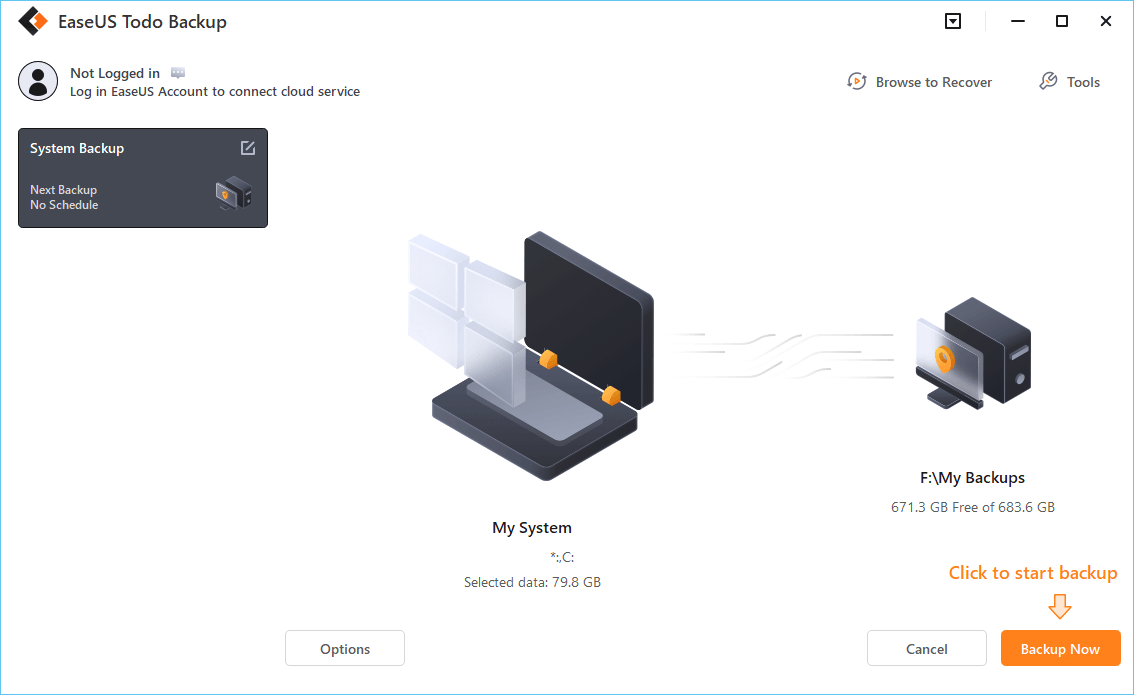 After successfully backing up all your vital data with EaseUS Todo Backup, you can go for the given methods to Fix WD Backup Not Working on Windows 10.
Fix WD Backup Not Working on Windows 10 Without Software
In the above section, we have introduced the best solution to get rid of any windows backup and WD Backup problems. If you want a solution where you can fix WD Backup errors without using software, we have come up with two convenient ways. You can choose and apply the solution depending on your conditions and needs. 
Method 1. Enable File History Service and Windows Search
Enabling File History Service and Windows Search is a common but efficient solution to fir WD backup issues. Here are the steps: 
Step 1: Go to the search bar or press Windows + S, type Service, and click to open it.
Step 2: In the list of results, find File History Service and Windows Search, double-click on them, and change the Startup type to Automatic.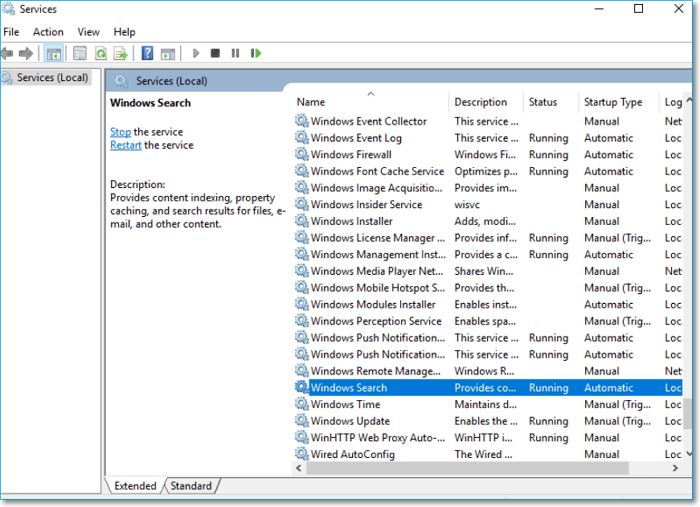 Now restart the system and try to back up your data again.
Method 2. Re-enable System Protection 
If the issue is still not solved you can go with another method to re-enable system protection for your computer system.
To do so, follow these steps:
Step 1: Go to the Search bar and type Control Panel, and click to open it.
Step 2: Open System and Security, select System, then System protection. 
Step 3: Select a drive and click on "Configure".
Step 4: Click on "Disable system protection", and select Apply. Now, select the turn-on system protection option and click "Apply", then "OK".
 Note:

We recommend you update your Windows system to the latest version and try WD Backup in your system. You can use another hard drive to fix the issue of WD Backup Not Working on Windows 10.
Final Verdict
The issue of WD backup not working may bother you. We have mentioned the different scenarios and solutions for this issue. By following the given methods, you can easily fix this problem. However, you should create a regular backup by using EaseUS Todo Backup to avoid any backup failure in the future. This tool is an efficient backup solution for all your needs if the Windows WD backup is not working on Windows 10.
FAQs about WD Backup Not Working on Windows 10
If you still have any quarry, feel free to contact us, or you can go through these frequently asked questions 
1. What to do if WD backup not working on Windows 7?
If you are facing this problem in windows 7, please check if: 
There is any Fragmented disk on your computer. You can run a disk check and fix a fragmented disk.
If the system is infected with the virus, then run a scan.
Essential file permissions are enabled.
Long Filename/Folder Paths Too Long.
2. Why is WD backup not backing up all files and how to fix it?
When WD Backup is opened, verify that the WD Backup Drive Helper service starts.
Make sure your anti-virus software doesn't block WD Backup.
WD drives should be connected directly to computers.
Update the firmware on the drive if it is not up to date.
3. Why won't my WD Passport work on my PC?
If you are having a problem like WD My Passport is not working or showing up on your Windows PC, you can try the following tips to get quick results. 
Reconnect WD my Passport to the system
Format WD password on your PC
Change WD Passport drive letter
Remount WD Passport to Mac
Update WD Passport drive driver and USB controller 
Was this page helpful? Your supoport is truly important to us!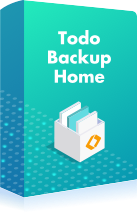 EaseUS Todo Backup
EaseUS Todo Backup is a dependable and professional data backup solution capable of backing up files, folders, drives, APP data and creating a system image. It also makes it easy to clone HDD/SSD, transfer the system to different hardware, and create bootable WinPE bootable disks.
Updated by

Larissa has rich experience in writing technical articles. After joining EaseUS, she frantically learned about data recovery, disk partitioning, data backup, and other related knowledge. Now she is able to master the relevant content proficiently and write effective step-by-step guides on computer issues.…

Read full bio