PAGE CONTENT:
Being a computer user, facing technical issues is a common problem. Many users claim they lose data when their computers face technical issues like system boot failure. Keep yourself safe in such conditions and use eMachines recovery disk.
It is a special program launched to be used in such conditions. Using this program, you can create recovery points. In turn, you will be able to restore the system at those points and get your data back.
Simply, you can say that your system will be restored to a previous version where it was working finely. Isn't it good to get a system back with that data instead of restoring to factory default?
This blog will elaborate on the process of downloading, creating, and restoring the eMachines recovery disk. Let's get started and learn more!
Before eMachines Recovery Disk Download
Undoubtedly, you may have decided to download an eMachines recovery management system by reading the above sections. But you need to make some preparations before moving to the download steps.
First of all, you need a USB flash drive and format it to get the space. Make sure you have backed up the important data from your USB and save it somewhere else.
Along with a blank USB, you need to ensure that it has enough capacity to store the recovered data from the disk. The last thing you need to check is Windows, which is compatible with Windows 7, 8, and later.
If you have made sure you have everything, go on and download this recovery system to your eMachines computer.
Download eMachine Recovery Image Disk
There is no doubt that downloading system recovery software is pretty simple. But, you may need to follow multiple steps to download and install it. Here, we have written how to do so for eMachines recovery management software.
Step 1. Download emachines recovery from the official website. Download here. 
Step 2. Tap on the downloaded folder to install it.
Step 3. Burn the software on a CD, DVD, or USB drive.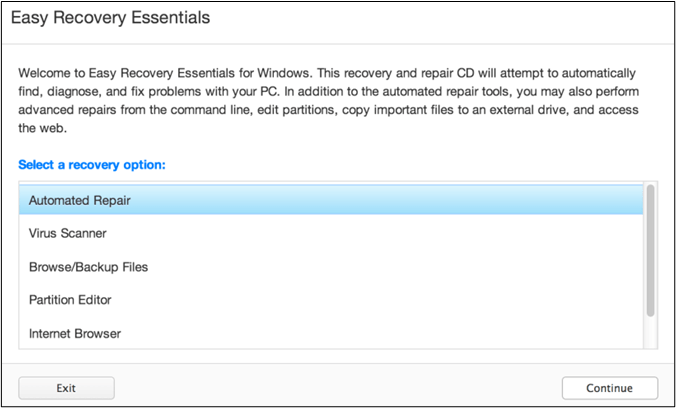 Step 4. It will automatically start working without manual efforts and find the errors.
Is the post helpful? Don't forget to share it with those who need it:
Create eMachines Bootable Recovery Disk
Alternatively, if you don't want to download the eMachines recovery file, you also have the option of creating an eMachines recovery disk on Windows 11/10/8/7 by yourselves. Now, it is time to learn the process of creating a bootable recovery disk. We have discussed two methods to get the task done nicely without facing any issues.
1️⃣. Use EaseUS Todo Backup
EaseUS Todo Backup is an easy and flexible tool that enables you to create an eMachines recovery disk with a few clicks. It is also compatible with other brands of computers and works effectively as compared to standard or even original backup programs.
Instead of restoring to a previous point, this backup software enables you to get your system backup without losing any data. Unlike other programs, you can use it for Windows 7, 8, 10, and 11.
No need to worry when you have this program to restore Windows instead of seeing a blue screen. It will keep your data safe even if the operating system has crashed. It will copy your data to a disk and make an image to let you get it back whenever your system creates an issue.
We recommend downloading this program and keeping everything safe on another disk instead of relying on one. It is not only good for professional use but also for personal data backup without missing a single file. Now follow the step below to create an eMachines bootable recovery disk to restore your eMachines to a normal state:
💾Please prepare an available USB, CD, or DVD to create a bootable media, and then save the backup to a safe location.
Step 1. Prepare a USB drive which can be written and read.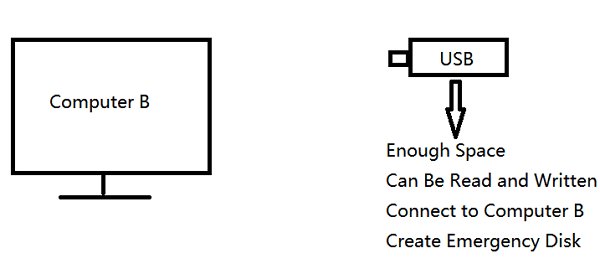 Step 2. Launch and install EaseUS Todo Backup on the Computer B.
Step 3. Find and click "Tools" and choose "Create Emergency Disk".
Step 4. Choose the Boot disk location. You can create an ISO file, a bootable USB or CD/DVD disc.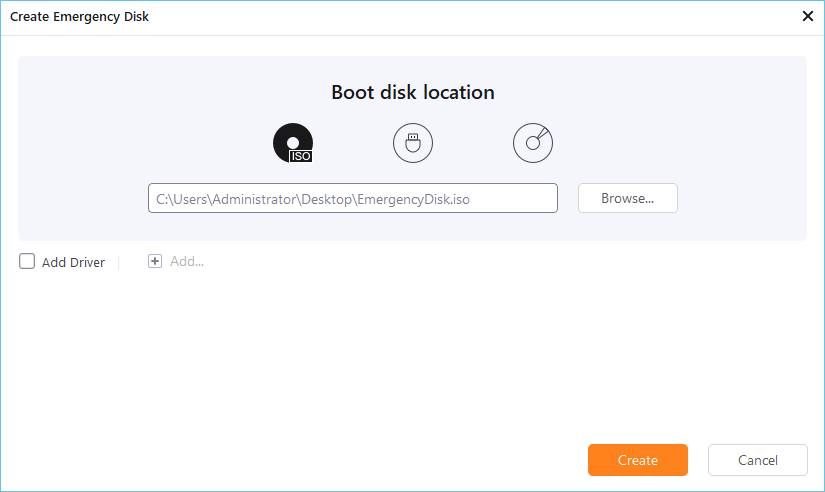 Step 5. Then click "Create" to start.
2️⃣. Use eMachines Recovery Management
You can also use eMachines recovery management without involving any additional tools. With this option, it will be pretty simple to create an image of the default disk on a CD, DVD, or USB. Windows has launched this feature only to help users keep their data safe. However, according to some users' feedback, they have encountered issues, like eMachines Recovery Management not working, stuck during the process, or the Restore option greyed out, etc. To avoid these errors, you'd better try a professional backup and restore tool - EaseUS Todo Backup.
Here are the steps you must follow to create an eMachines recovery disk.
Step 1. Launch emachines recovery management in your system. Look for the Backup option and click on that.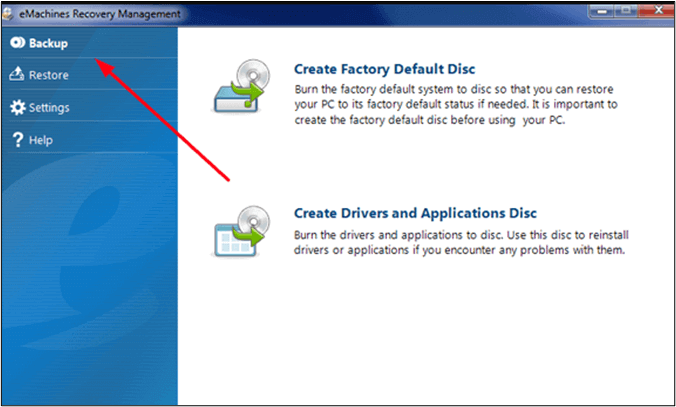 Step 2. Tap on Create Factory Default Disc.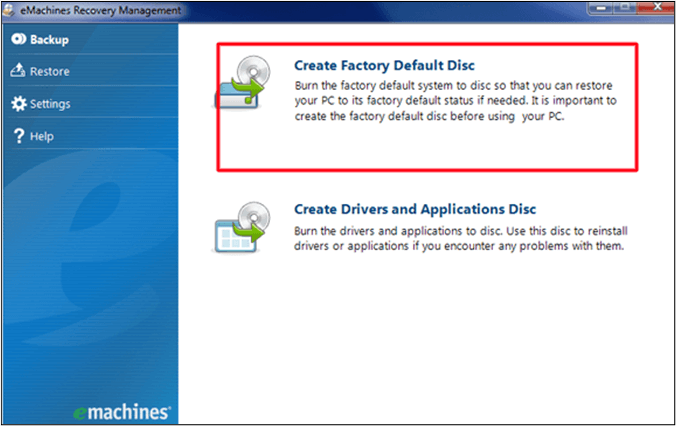 Step 3. Insert a CD, DVD, or USB flash on which you want a copy of your disk. Tap on the "Start" button.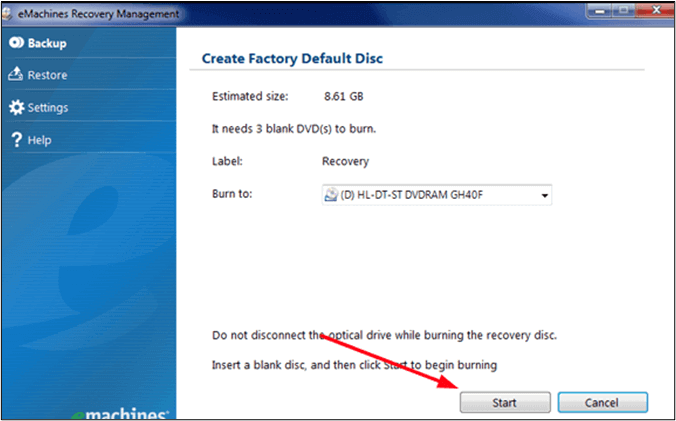 Sometimes, the disc may be unable to copy the entire data if its capacity is lower than the data stored on the default disc. In this case, the computer will eject the CD once it is filled. Then, you have to insert another disc and use the same procedure to copy the remaining data.
🚩Note: Your version of Recovery Management may look a bit different depending on the eMachines computer you use, but the option of creating your recovery disk is the same and available.
Restore eMachines with Recovery Disk
By reading the above sections, you have learned how to copy the entire disk and get an eMachines replica on a USB flash drive or CD. If your machine has experienced an error and you want to restore data from that recovery disc, follow these steps.
Step 1. Launch eMachines Recovery Management. Look for the Restore option and click on it.
Step 2. Choose "Completely Restore System to Factor Defaults."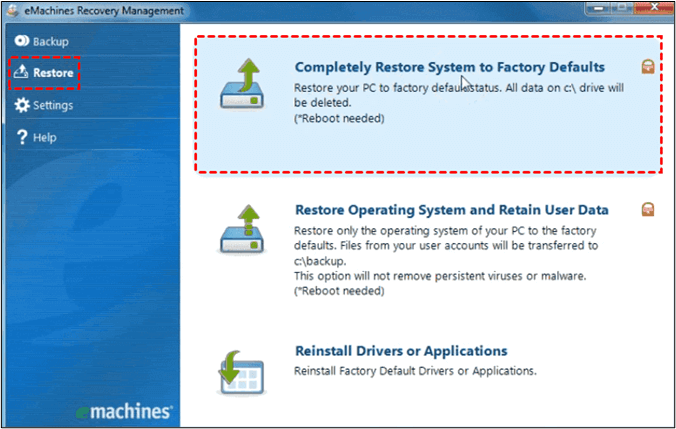 It will restore your system to the previous version and backup data in your system.
With these steps, you can restore your data to a point where you have created a backup point. It will provide you with all those files that were accessible at that time. But you won't be getting the most recent files back, unfortunately, as the restore point was created previously.
📖Read Also: Create Windows 7 Recovery Disk from Another Computer | Surface Recovery Image
Sum Up
In the above blog, you have learned about eMachines recovery disk. We have shared a comprehensive guide on how to download it, create a backup point, and restore it. The process will be simple for you to back up data and restore it.
Unfortunately, it won't backup your most recent files, which may be harmful. If you want everything backed up, you should use EaseUS Todo backup software. It has a specific feature of the emergency bootable disk that can backup and restore everything available on your local disk.
In simple words, you won't lose anything if your system is facing technical issues, operating system crashes, etc. You must download this program from the EaseUS official page and use it for at least one.
Is the post helpful? Don't forget to share it with those who need it:
FAQs on eMachines Recovery Disk
1. How do I factory reset my eMachines computer?
It will be pretty simple to factory reset your eMachines computer. But, we recommend saving a backup file to any external device before doing so. If you have done so, follow these steps to factory reset your computer.
Shut down your system and turn it on again.
Press F10 simultaneously.
Wait until you see the Windows boot screen.
Press the Enter key.
Look and click on the Restore Operating System to Factory Defaults.
A warning will pop up.
Click on the Next button for confirmation.
Tap on the OK button to get the process started.
2. What is the recovery key for eMachines Windows 7?
The recovery key for eMachines Windows 7 is Alt + F10. Alternatively, you can also find this recovery option through the settings of your device if you are already in it.
3. How to repair startup Windows 7 without disk?
If you don't have a CD for system repair of Windows 7, you should use external software like EaseUS Todo Backup. This software can help you replicate the entire disk completely and save it for system repair later.
Was this page helpful? Your supoport is truly important to us!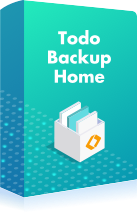 EaseUS Todo Backup
EaseUS Todo Backup is a dependable and professional data backup solution capable of backing up files, folders, drives, APP data and creating a system image. It also makes it easy to clone HDD/SSD, transfer the system to different hardware, and create bootable WinPE bootable disks.
Updated by

Larissa has rich experience in writing technical articles. After joining EaseUS, she frantically learned about data recovery, disk partitioning, data backup, and other related knowledge. Now she is able to master the relevant content proficiently and write effective step-by-step guides on computer issues.…

Read full bio