When Microsoft released Windows 10 in July 2015, Edge officially replaced the classic Internet Explorer browser. In addition to an entirely new user interface design and some additional features, such as the reading mode or the application to add notes on web pages. Microsoft Edge offers the typical functions of the previous browser; For example, the option to bookmark favorite links, which allows you to reopen them at any time without the need to type the address or search for it on Google.
The Necessity of Microsoft Edge Favorites Backup
Suppose you've created an extensive favorites list in Microsoft Edge. In that case, you'll probably need to move all of those links when you want to use Microsoft Edge on another device or if you decide to switch to another web browser. You may want to reset your Microsoft Edge or your entire system. It's a good idea to back up or export Microsoft Edge browser favorites before resetting your Edge browser, resetting your Windows 10 installation, or reinstalling your Windows 10 operating system to fix some annoying issues.
3 Easy Ways to Back up Favorites Microsoft Edge
Here, we will introduce three practical ways to back up Microsoft Edge favorites. Here's how to back up your Edge favorites so all your favorites list permanently remains in your hands.
Method 1. Export Microsoft Edge Favorites to HTML File
Exporting Microsoft Edge browser favorites to a file is relatively easy and can be done in less than a minute. Follow the instructions below to back up or export your Microsoft Edge favorites in an HTML file on Windows 10.
Step 1. Open the Microsoft Edge browser, click on three little dots from the top right, and click "Favorites." Or simply use the short key press Ctrl+Shift+O.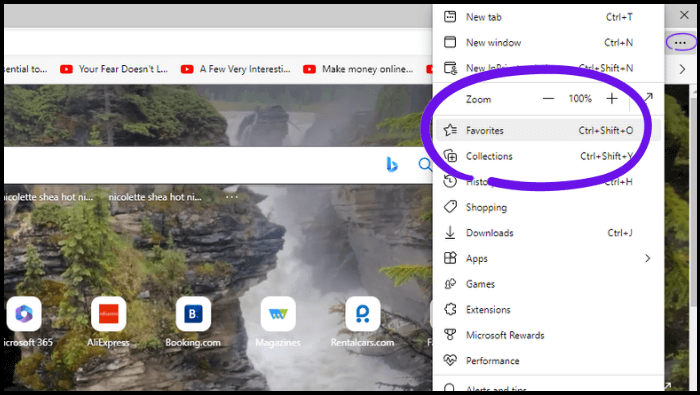 Step 2. Click on three little dots in the (Favorites) popup.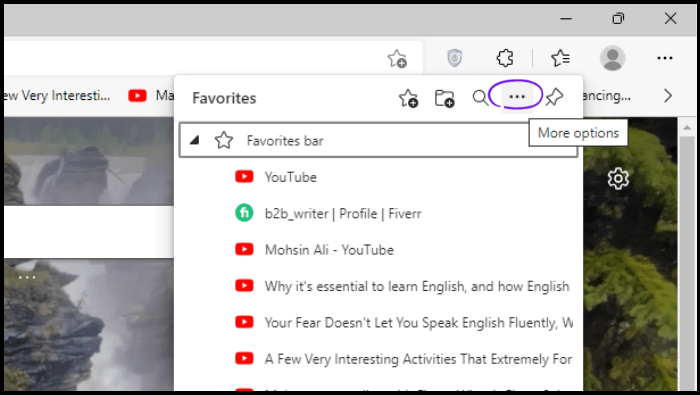 Step 3. Click "Export favorites."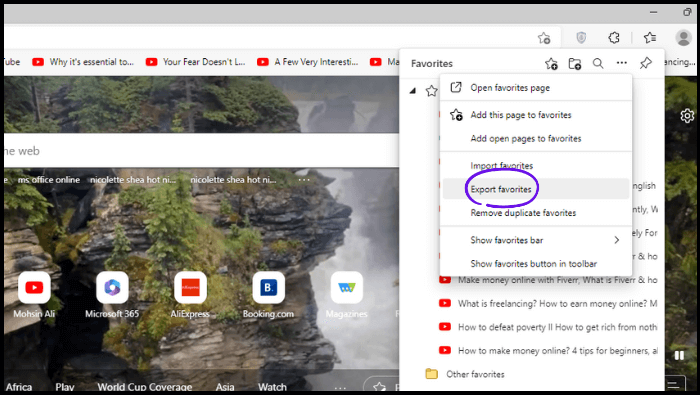 Step 4. Save the file in your system wherever you want.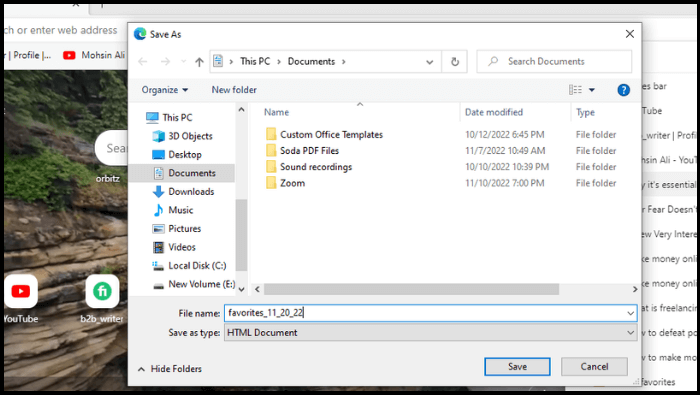 Method 2. Sync Microsoft Edge Favorites to Cloud
Syncing to the cloud is also a great option to preserve your data, whether your Microsoft Edge favorite or your other valuable data. Follow the below steps to sync your favorites successfully:
Step 1. Go to the Microsoft Edge settings.
Step 2. Click "Sync."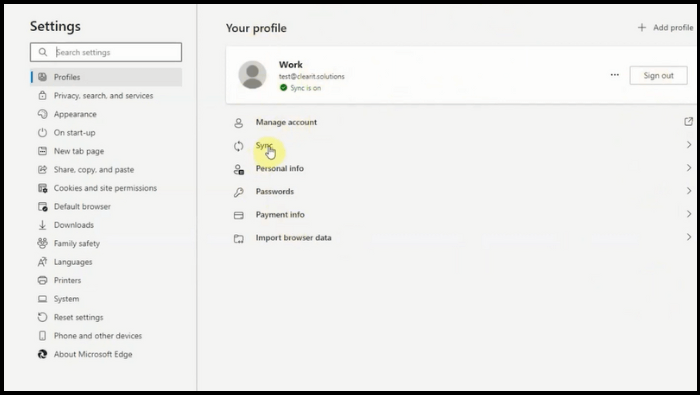 Step 3. You'll see several features for syncing; just turn on (Favorites) to sync if it's turned off.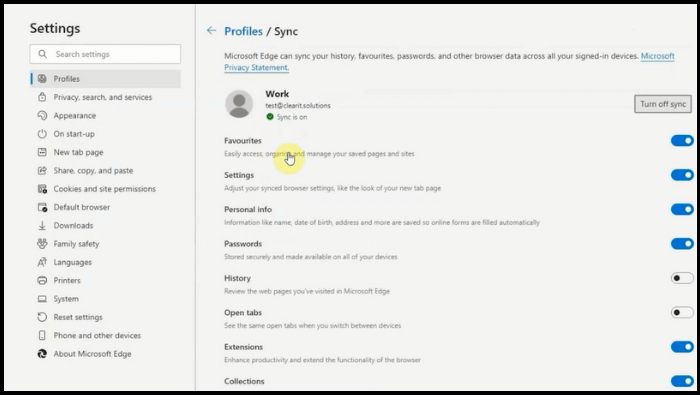 Note: Ensure to sign in to your Microsoft account before performing this.
Method 3. Backup Microsoft Edge Favorites via Professional Backup Tool
Another way to back up your Microsoft Edge favorites is using professional backup software.  If you want relief from annoyance regarding the Microsoft Edge favorites list, backup or export all your bookmarks to a file. You can use third-party backup software called EaseUS Todo Backup to back up Edge favorites lists.
EaseUS Todo Backup Home allows you to back up different contents on your computer, such as files, systems, disks, partitions, etc. It can help you create various types of backups and save them to more than one location, thus meeting the 3-2-1 backup rule. Besides, it lets you create an iso image from your operating system. Let's see other valuable features of this marked backup software.
Security zone to protect essential data.
Create a system image on a USB drive.
250GB free cloud storage.
Detailed steps are as follows:
Step 1. To begin the backup process, click the Select backup contents button.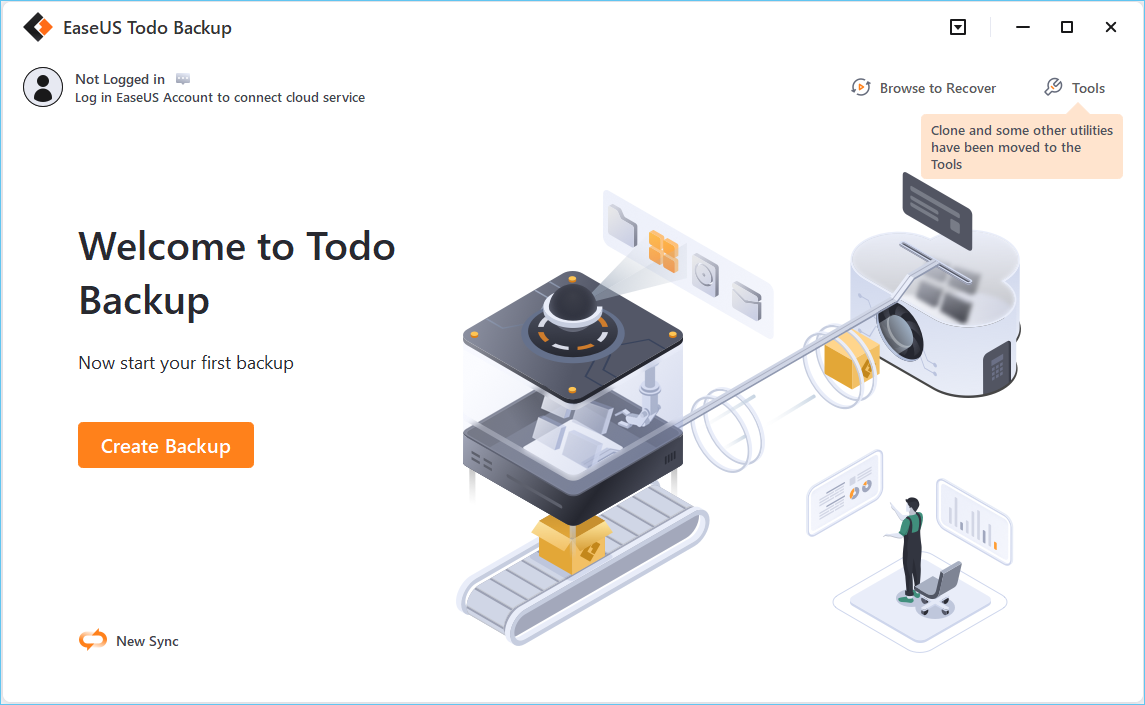 Step 2. Four data backup categories are listed: File, Disk, OS, and Mail.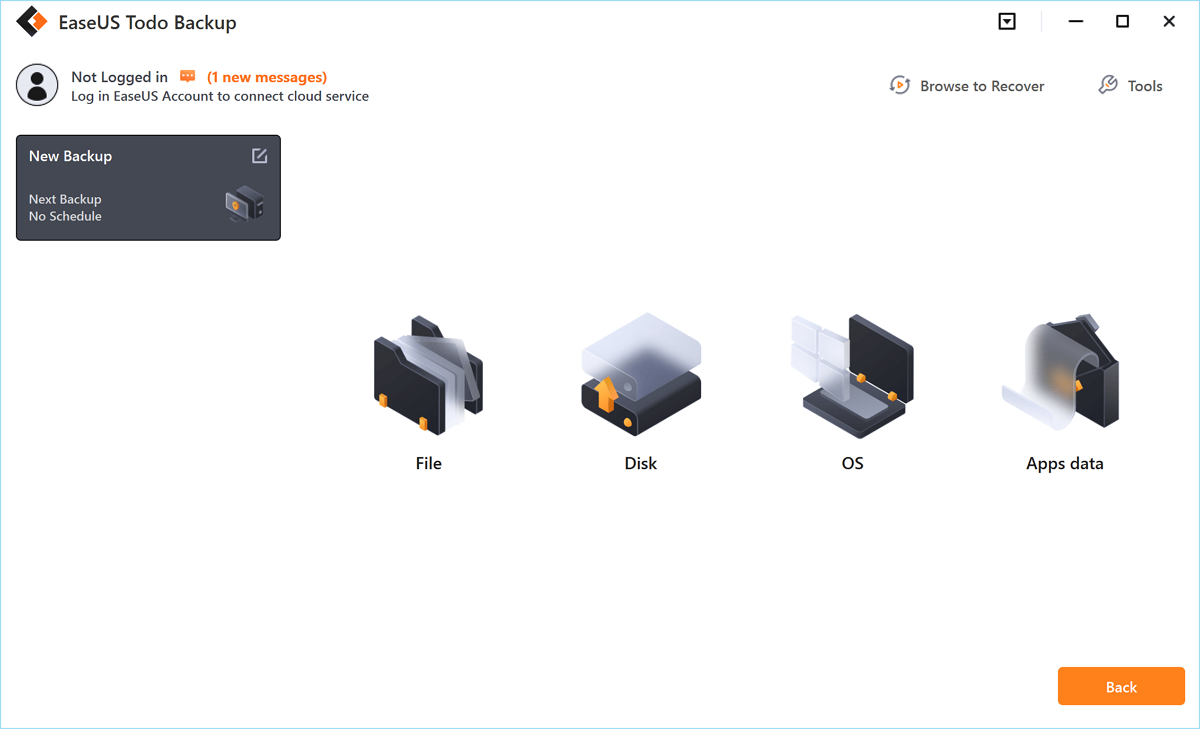 Step 3. Lists of both local and network files are shown on the left-hand side of the screen. Expanding the directory so that you can choose the files to back up.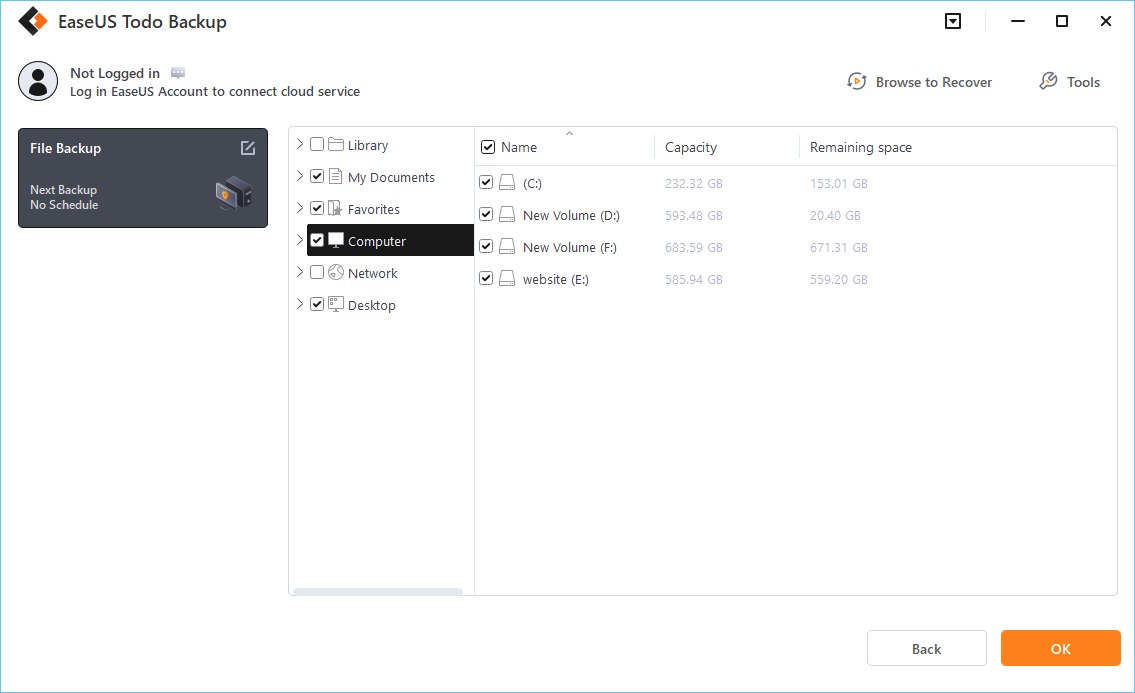 Step 4. Follow the guidance on the screen and choose the place where you want to store the back up.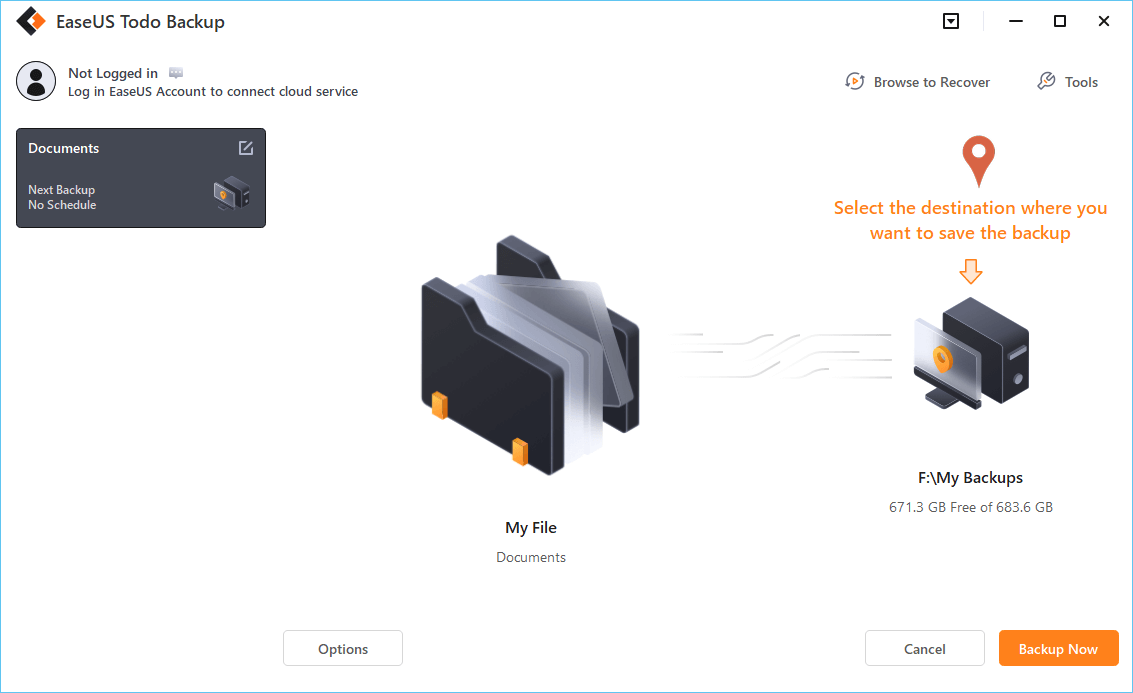 Make sure that the backup is encrypted and set the backup schedule by clicking Options in Backup Options. You can also choose to start the backup at a certain time in Backup Scheme by clicking Options. There are many other customizable options that you can look into.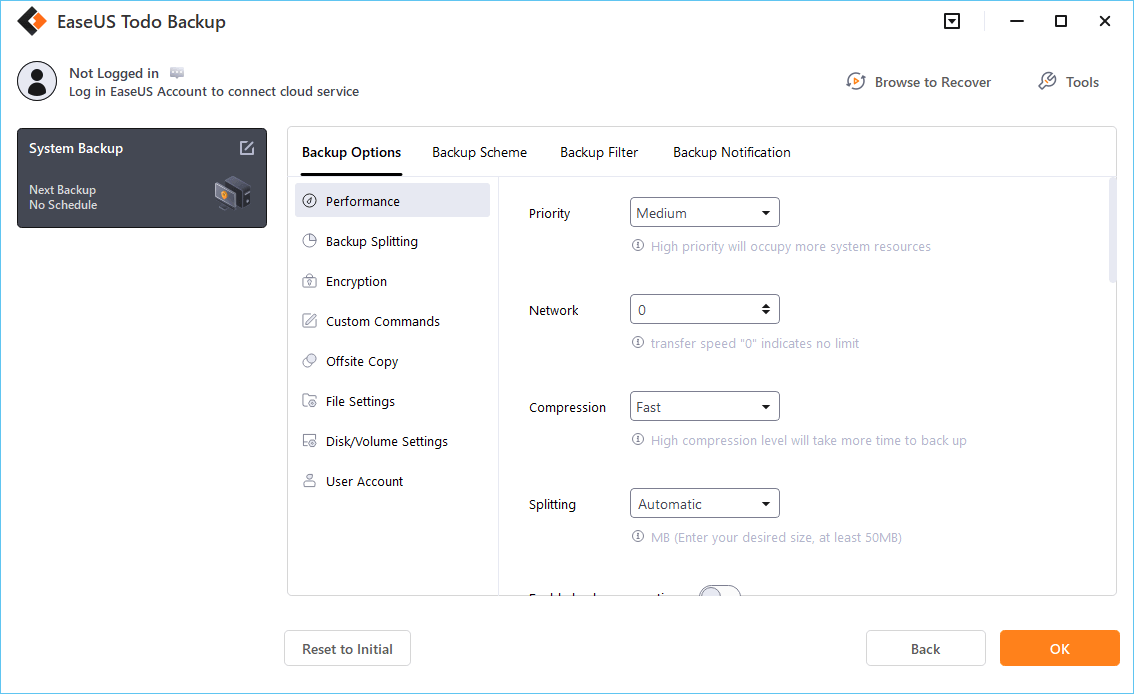 Step 5. You can store the backup file either on your computer, in EaseUS's cloud service, or on a network-attached storage device (NAS).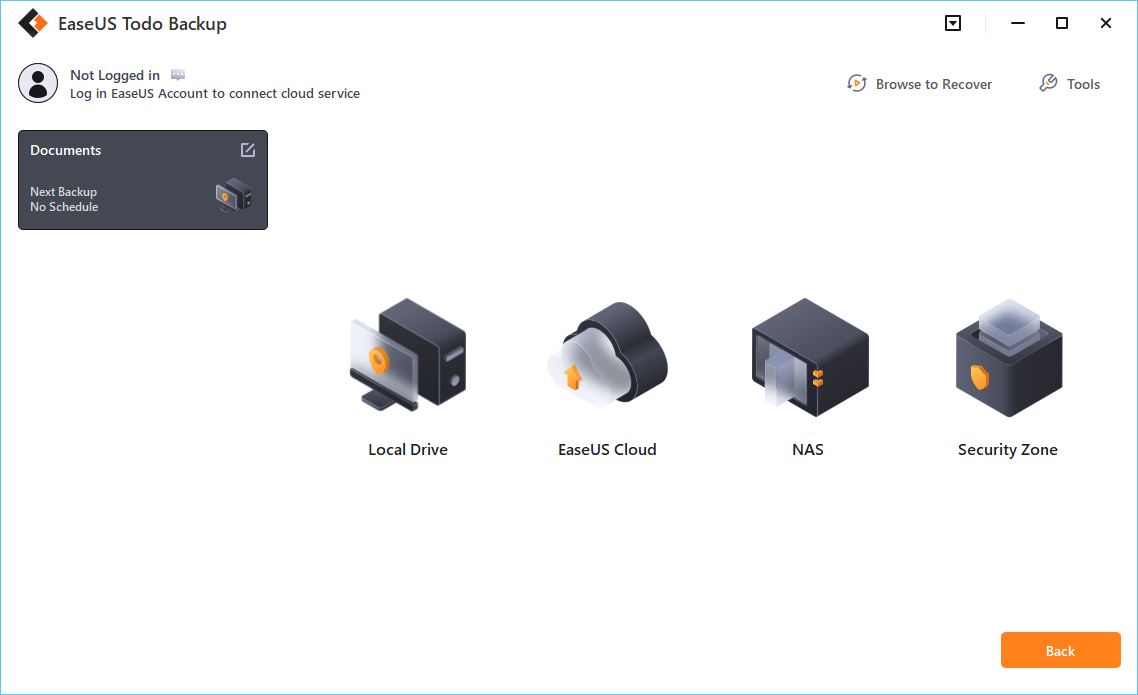 Step 6. EaseUS Todo Backup enables customers store backup copies of their files on a third-party cloud drive or on the company's own cloud storage.
If you want to back up your data on a third-party cloud drive, select Local Drive and scroll down to add Cloud Device. Then fill in your account information.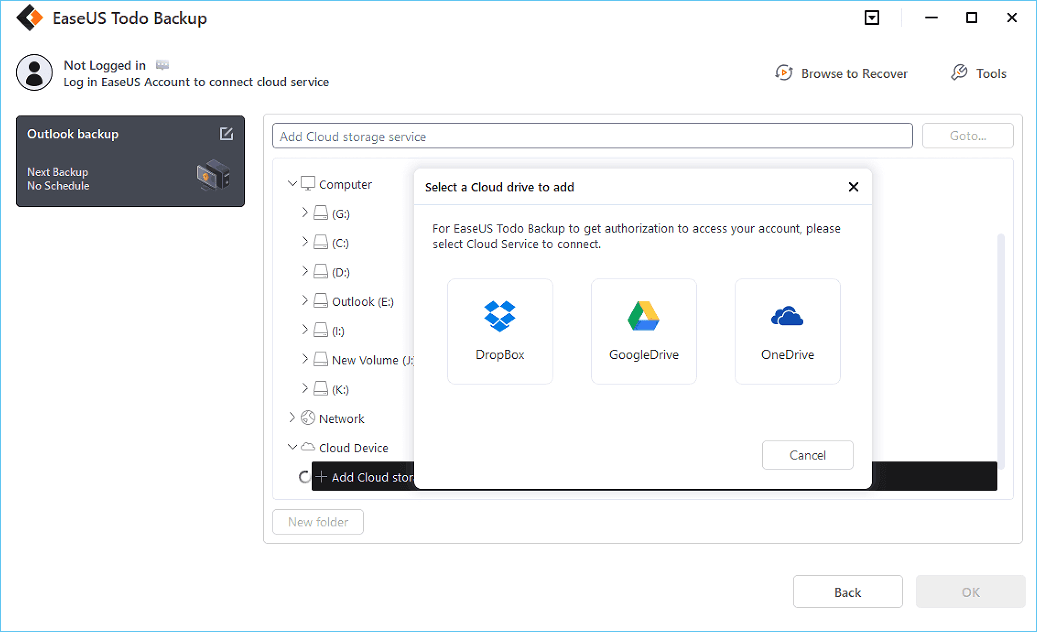 Click EaseUS Cloud, then sign up and log in with your EaseUS account if you wish to store backup files to EaseUS' own cloud storage service.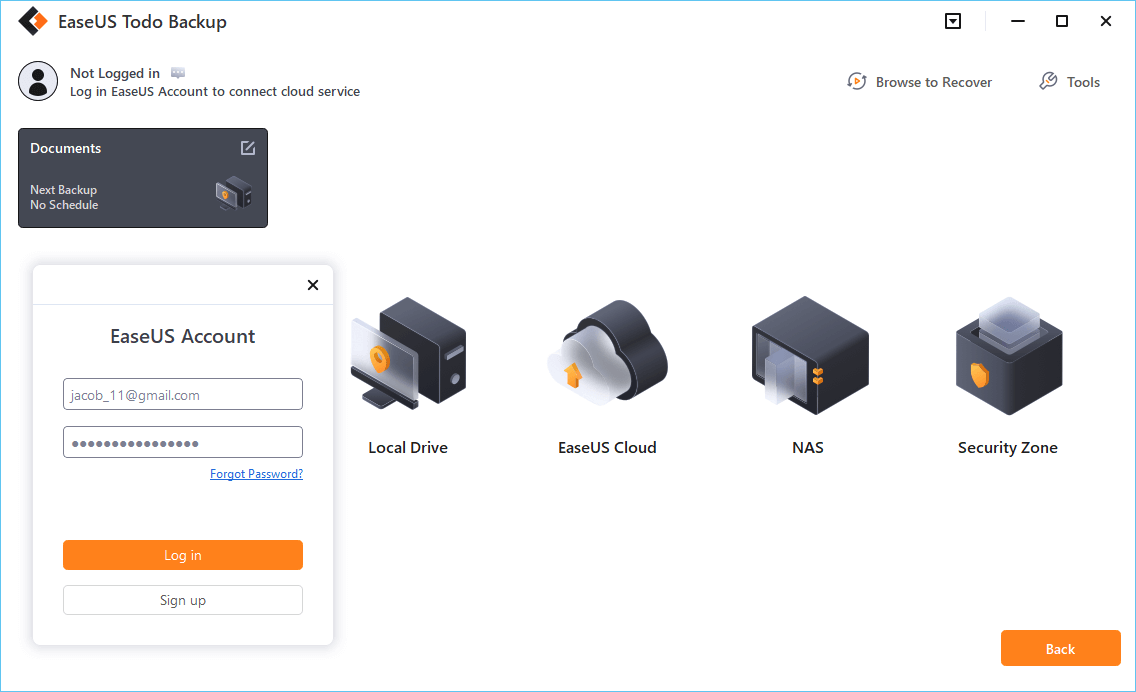 Step 7. Click on Backup Now to start a backup.  When the backup process is done, it will display as a card on the left-hand side of the screen. A right-click will let you see more about how to handle the backup job in more depth.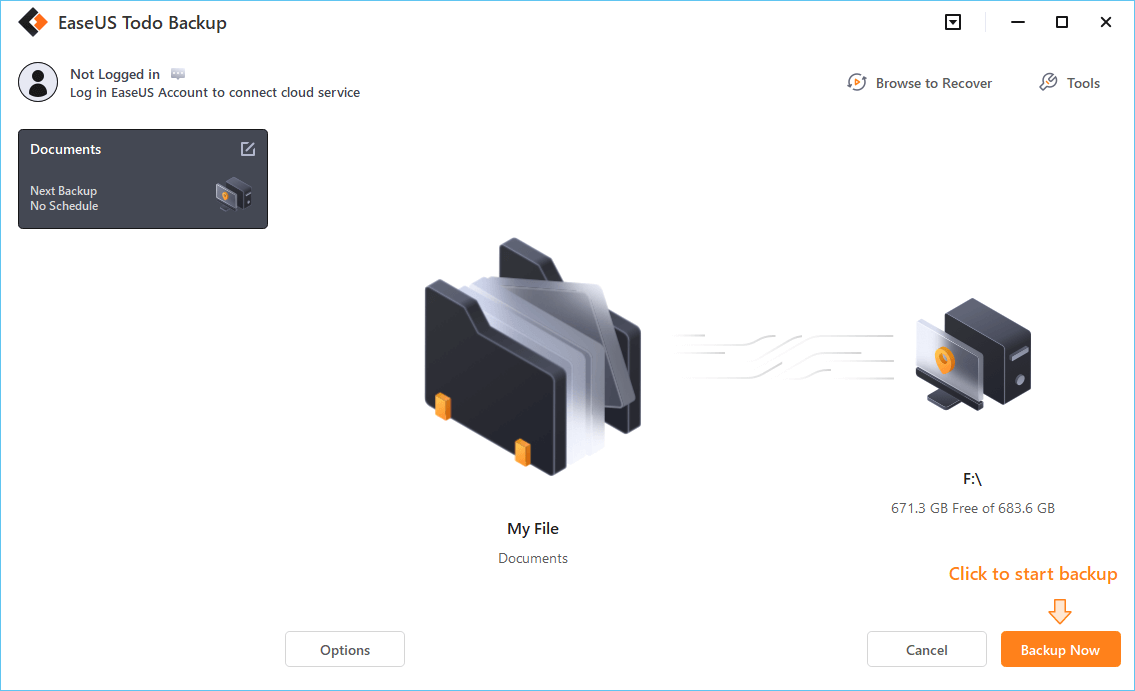 The Bottom Line
How to back up Microsoft Edge favorites? Have you gotten your answer? Microsoft has added the feature to Export and Import your Microsoft Edge Browser Favorites list in HTML file format, as we discussed above, with complete steps. But, it could be a bit tricky job for you, so if you want to avoid any annoying situation, you can use EaseUS Todo Backup Home, which allows you to back up Microsoft Edge favorites and preserve your other valuable data.
FAQs
1. What is the difference between favorites and collections?
Both features are different, but the purpose is the same. Regarding the favorites feature, you can save website links during visits that are important to you or whatever reasons you want to save any specific website using favorites with just one click. You can save as many as you wish web addresses in your favorites list. However, if we talk about the collections feature. Using this feature, you can save content for later, whether an image, text or an entire webpage, directly in the Microsoft Edge browser.
2. Where are Ms Edge Favourites stored?
Go to the file explorer. You can simply use the keyboard shortcut and press the Windows logo key + E to open it. Then, go to the following address.
C:\Users\username\AppData\Local\Microsoft\Edge\User Data\Default\Bookmarks.
You'll find the Microsoft Edge bookmarks/favorites over there.
3. Why did my favorites disappear from Microsoft edge?
There are different causes; maybe due to system setting changes, your favorites would be disappeared. But don't worry; you can recover disappeared favorites using EaseUS Todo Backup.
4. Can I recover deleted favorites?
Open "File Explorer" > go to the following address.
C:\User\UserName\AppData\Local\Packages\Microsoft.MicrosoftEdge_8wekyb3d8bbwe\AC\MicrosoftEdge\User\Default.
Copy the backed-up DataStore folder you preserved in the "Default" folder.
Click "Replace the files in the destination." Now you can restore Microsoft Edge and get Favorites back.

Updated by Larissa
Larissa has rich experience in writing technical articles. After joining EaseUS, she frantically learned about data recovery, disk partitioning, data backup, and other related knowledge. Now she is able to master the relevant content proficiently and write effective step-by-step guides on computer issues.
"I hope my articles can help solve your technical problems. If you are interested in other articles, you can check the articles at the bottom of this page, and you can also check my Facebook to get additional help."
Taking everything into consideration, we can say that EaseUS Todo Backup Home can offer you a little extra sense of security with a set of advanced tools. The interface provides quick adaptation, every process guiding you all the way through so you don't get stuck or further damage your system rather than keeping it safe.

 Read More

EaseUS Todo Backup Free lets you create backups of your important files or your entire computer through its streamlined interface. Just choose the backup type you'd like to get started, and let the program do the reset.

 Read More

EaseUS includes all the features I expect from backup software like versioning, incremental backups, and scheduling. For more advanced users, EaseUS allows you to install a pre-boot environment onto your hard drive so you can use it to restore files without burning a CD or putting it on an external USB drive.

 Read More

EaseUS Todo Backup
Smart backup tool for your files and entire computer in Windows 10/8/7.
Install Windows on Multiple Computers at Once? No Problem!
Learn how to install Windows 11/10/7 and special programs/software on a batch of computers. Use 10 minutes to do the 10 hours work without making a single mistake!
Get Free Solution!