
About the Author
Hot Topics in 2022
How to Combine Multiple Hard Drives into One Volume [Two Tricks for You]
How much time have you wasted scrolling on your computer trying to track down an important file or document? You check folder upon folder, drive upon the drive, but to no avail. What if we tell you there is an easy way to avoid wasting your time by keeping track of the location of all your files? Well, all you need to do is combine all your hard drives related to a topic into one huge volume! You may also want to combine multiple hard drives into one volume if you are on a budget and don't want to spend on getting a bigger sized drive, want to save terabytes of movies and TV shows on a single drive, need to increase the space of a specific drive, transfer free space from one drive to another or want to save all your games on a single volume.
The process of combining many hard drives is very simple and can be done in a variety of ways. We've broken down each method into easy-to-follow steps that you can simply follow and get lots of free storage space. Keep on reading to find out how to combine multiple hard drives into one volume.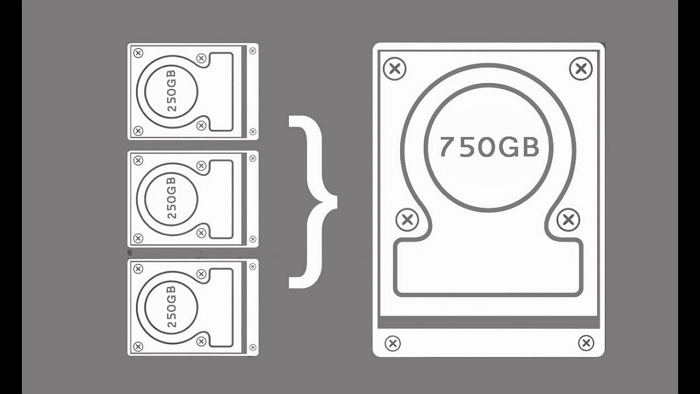 Essential Tips for You to Successfully Merge Hard Drives
Now before we get into the details of each step, there are a few tips that you need to know.
Increasing the C drive across two disks is not possible.
Conversion of both HDDs/SSDs into dynamic disks is mandatory for combining them. (See how to convert basic to dynamic)
Back up your new volume regularly as a corruption of one of the drives will lead to failure of the whole volume.
Method #1- Combine Multiple Hard Drives into One with EaseUS Partition Master
EaseUS Partition Master is a comprehensive partition manager that enables users to create partitions as well as resize, merge, clone, and format them. It basically helps you to manage Windows partitions without losing any data. It can even create, format, and delete USBs, SSD, HDD, and SD cards. 
You can use this partition magic software to merge your multiple hard drives into a single volume. Simply follow the steps given below to achieve your target.
Step 1. Convert Basic into Dynamic
Click "Disk Converter" and select "Convert Basic to Dynamic". Click "Convert" to continue.
Confirm the disk conversion from the Basic to Dynamic.
Select the other disk (with at least 1M free space at the end of the disk) and convert it to a dynamic disk in the same way.
When both of the disks have been converted into dynamic disks, as shown below, you can follow Step 2 to merge free space from one disk to another now.
Step 2. Merge Two Disks into One Disk
Note: The other dynamic must be unallocated space. If it's not, use EaseUS Partition Master to delete all the partitions on it. What's more, you cannot merge a system partition even if you have converted it to dynamic.
Select the full disk, right-click on it and choose "Resize/Move".
Use your mouse to drag the partition panel rightward or leftward to extend partition size.
Sometimes, the unallocated space is on the left of the partition you want to extend. If you want to move unallocated space, just drag the left partition handle leftwards to the size you want.
Click "Execute 1 Task(s)" and "Apply".
Method #2- How to Combine Two Hard Drives/SSD Drives with Disk Management
You can create two different types of volumes with Disk Management: Spanned and Stripped. Spanned Volume is used when you want to combine files having different sizes while Stripped Volume can only be used to combine files having the same size. Another difference between the two is that spanned volume utilizes drives sequentially which means it will not use the second drive until you fill up the first one while stripped volume uses both drives simultaneously which increases read and write performances. Choose the volume that suits your needs best. i.e., if you want to combine two drives with different volumes, create a new spanned volume. But if you want faster performance, opt for a new striped volume.
Mentioned below are the steps to combine two hard drives or two SSD drives using Disk Management.
Go to Start.
Type diskmgmt.msc into the search box to launch the Disk Management Tool.
Before proceeding, make sure that both drives are unformatted and do not have any partitions. Also, make sure they are dynamic by right clicking them and selecting convert to a dynamic disk. 
Right click on the drive that you want to combine. Now select New Spanned Volume or New Stripped Volume from the drop-down menu.
The New Spanned/Stripped Volume wizard will pop up. Click next once it appears.
Add the second drive (you can add multiple). 
Select a letter for your new drive, format the new volume and complete the wizard.
The Windows Disk Management Tool will now show this new volume that you created listed at the top. The two drives that you combined will be highlighted in purple.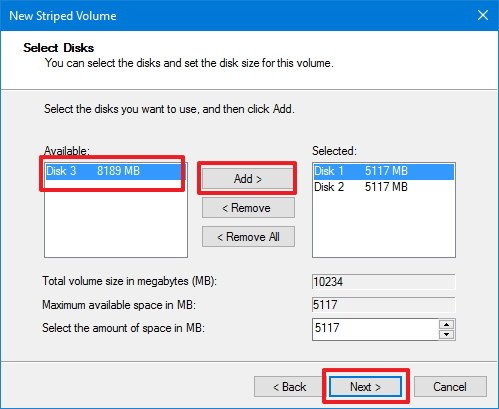 Conclusion
Combining hard drives is an efficient way to save up some of your hard earned money. Plus, it is a relatively simple process that won't take up much of your time so there is really no reason why you shouldn't opt for it. However, be sure to follow our tips and backup your data regularly for an easy stress-free drive merging experience.
EaseUS Partition Master can let you copy partition for a full and identical backup on a drive. Why not have a try?
About the Author

Author Jean has been writing tech articles since she was graduated from university. She has been part of the EaseUS team for over 5 years. Her special focuses are data recovery, disk partitioning, data space optimization, data backup and Mac OS. By the way, she's an aviation fan!
Product Reviews
I love that the changes you make with EaseUS Partition Master Free aren't immediately applied to the disks. It makes it way easier to play out what will happen after you've made all the changes. I also think the overall look and feel of EaseUS Partition Master Free makes whatever you're doing with your computer's partitions easy.

 Read More

Partition Master Free can Resize, Move, Merge, Migrate, and Copy disks or partitions; convert to local, change label, defragment, check and explore partition; and much more. A premium upgrade adds free tech support and the ability to resize dynamic volumes.

 Read More

It won't hot image your drives or align them, but since it's coupled with a partition manager, it allows you do perform many tasks at once, instead of just cloning drives. You can move partitions around, resize them, defragment, and more, along with the other tools you'd expect from a cloning tool.

 Read More