What Is Dell Backup and Recovery?
Dell Backup and Recovery (DBaR) is a backup and recovery application designed to protect your important digital documents and memories. It is a safe, easy-to-use, and reliable backup and recovery solution for Dell laptops. It can help users safeguard their system files, avoid data loss, and retrieve the data whenever needed. The Dell Backup and Recovery is inbuilt into Dell laptops in Windows 7 or 8. Dell laptops in Windows 10 do not have Dell Backup and Recovery preinstalled. For Windows 10 Dell computers, only Dell Backup and Recovery version 1.9 is applicable.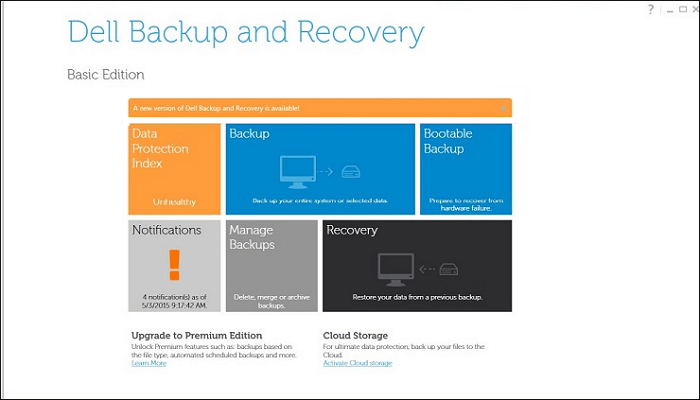 Two versions of Dell Backup and Recovery are available: Basic and Premium. Basic and Premium. The basic version comes preinstalled on some Dell computer systems. However, users need to update it to the premium for advancement. You can create a system backup and make a backup of the factory-installed applications and so on. It also helps Dell users restore the computer to the factory image when an OS issue or hard drive failure occurs.
How to Use Dell Backup and Recovery to Backup Windows 10 PC
Dell Backup and Recovery is a good tool for you to back up Dell laptops in Windows 10. It can back up and restore specific files, such as videos, music, and pictures, and back up and restore the entire system. Besides, it doesn't need to be restarted to make a system image backup in the Windows recovery environment. To use this feature to back up your Windows 10 Dell laptops, you need to doanload or update it.
However, when backing up your Windows 10 computer using Dell Backup and Recovery, you should consider two major things. You'd better know what you need to backups. know what you need to backups. Further, you should have a storage device, such as an external hard drive or a USB, to store the backup. It can only be used on Dell devices, and the user-created system partition might also vanish after recovery.
Here is how to back up your Dell computer in Windows 10 via Dell Backup and Recovery:
Step 1. Connect a hard drive or USB drive to the Windows 10 Dell computer you want to back up the system.
Step 2. Launch Dell Backup and Recovery and head over to the backup section.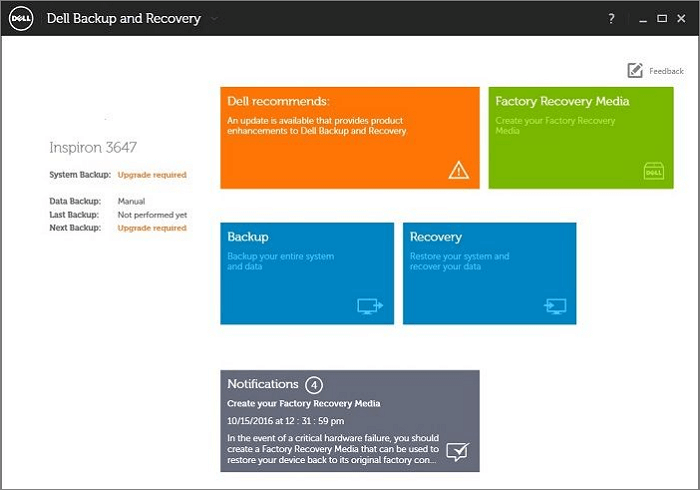 Step 3. You will be prompted to select a backup location and set up your external drive. Now, click on "Continue" to proceed.
The Best Alternative to Dell Backup and Recovery in Windows 10
Even though Dell Backup and Recovery is a good backup solution for all Dell computer users to create system backup, you cannot ignore its shortcomings. More importantly, an ideal backup solution should meet different backup requirements, such as automatic backup, incremental backup, and differential backup. Fortunately, you can find these features on third-party backup software, such as EaseUS Todo Backup. 
EaseUS Todo Backup Home is a powerful backup utility for all brands of computers. It can run smoothly on Windows 11/10/8/7 and support automatic backup, scheduled backup, incremental backup, and differential backup. You can use it to back up diverse file types and backup SSD to image. You can store your different backups in multiple locations, such as a local drive, NAS, and the Cloud. Moreover, it allows users to clone a hard drive and clone HDD to SSD. EaseUS Todo Backup offers you 250G of free cloud storage, which can satisfy your various storage needs.
Most importantly, EaseUS Todo Backup also has a restore function that can help recover systems, data, hard disks, or partitions to prevent data loss.
Step-by-step Guide: How to Create a Windows 10 Dell computer using system backup software
You can perform the following steps to back up your Dell laptop in Windows 10:
Step 1. Launch EaseUS Todo Backup on your computer, and click Create Backup on the home screen and then hit the big question mark to select backup contents.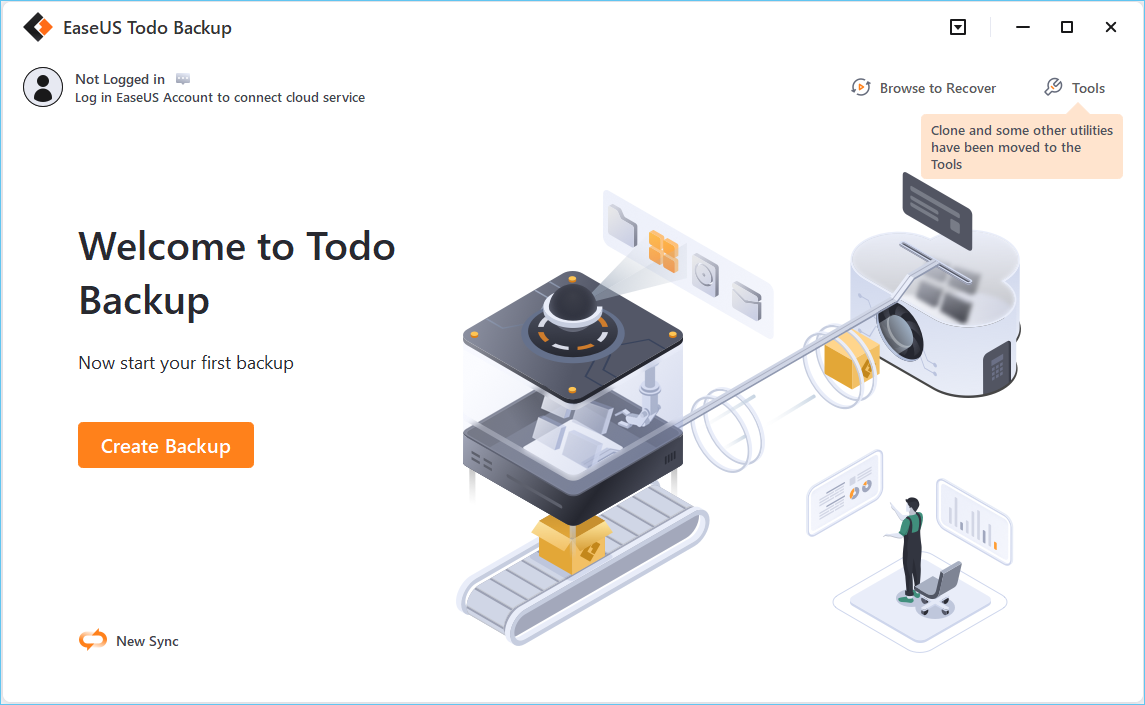 Step 2. To back up your Windows operating system, click "OS" to begin the backup task.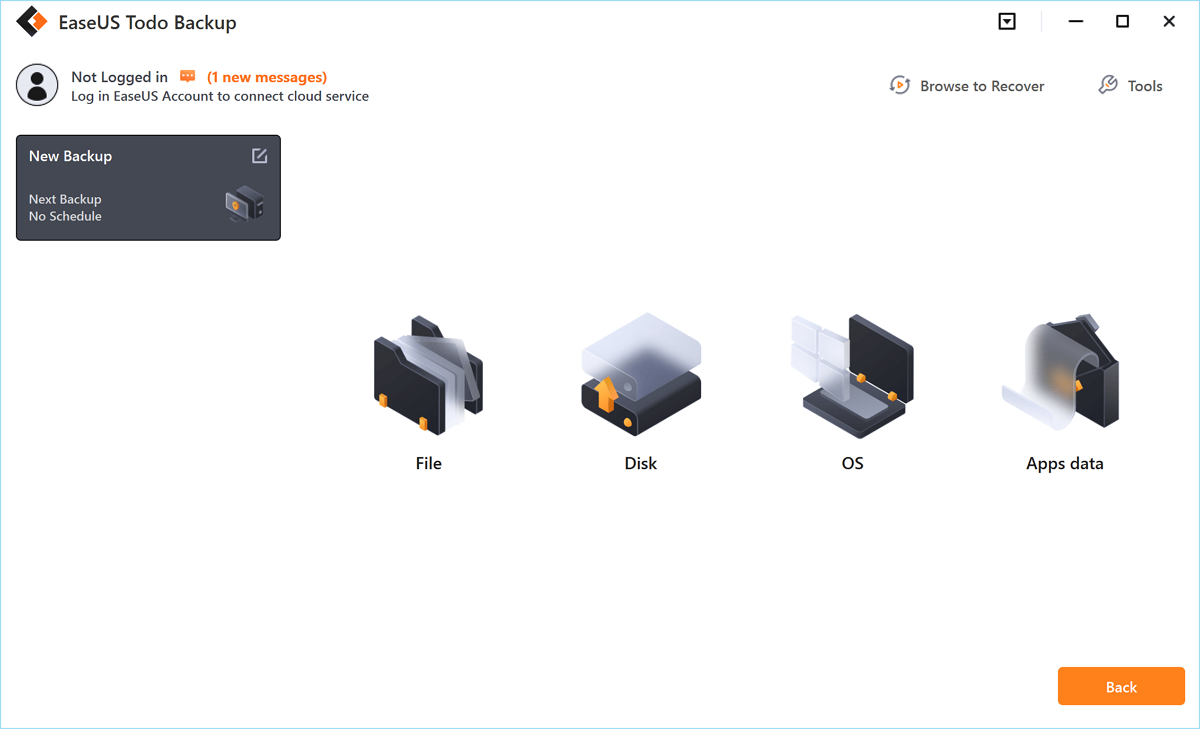 Step 3. Your Windows operating system information and all system related files and partitions will be automatically selected so you don't need to do any manual selection at this step. Next, you'll need to choose a location to save the system image backup by clicking the illustrated area.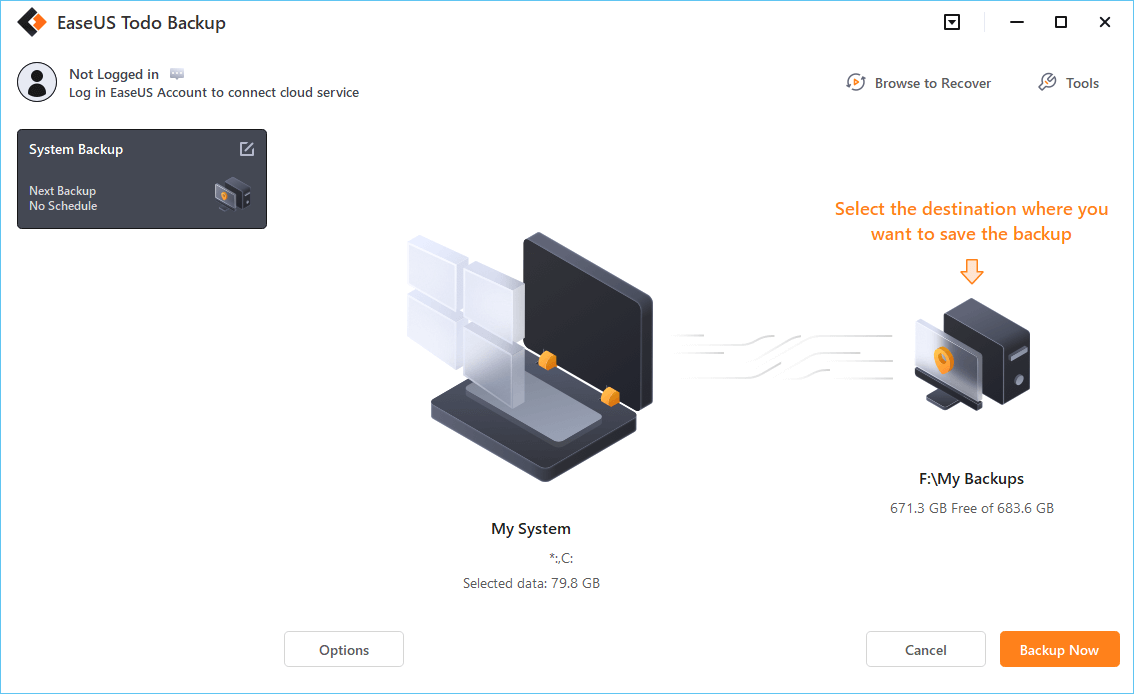 Step 4. The backup location can be another local drive on your computer, an external hard drive, network, cloud or NAS. Generally, we recommend you use an external physical drive or cloud to preserve the system backup files.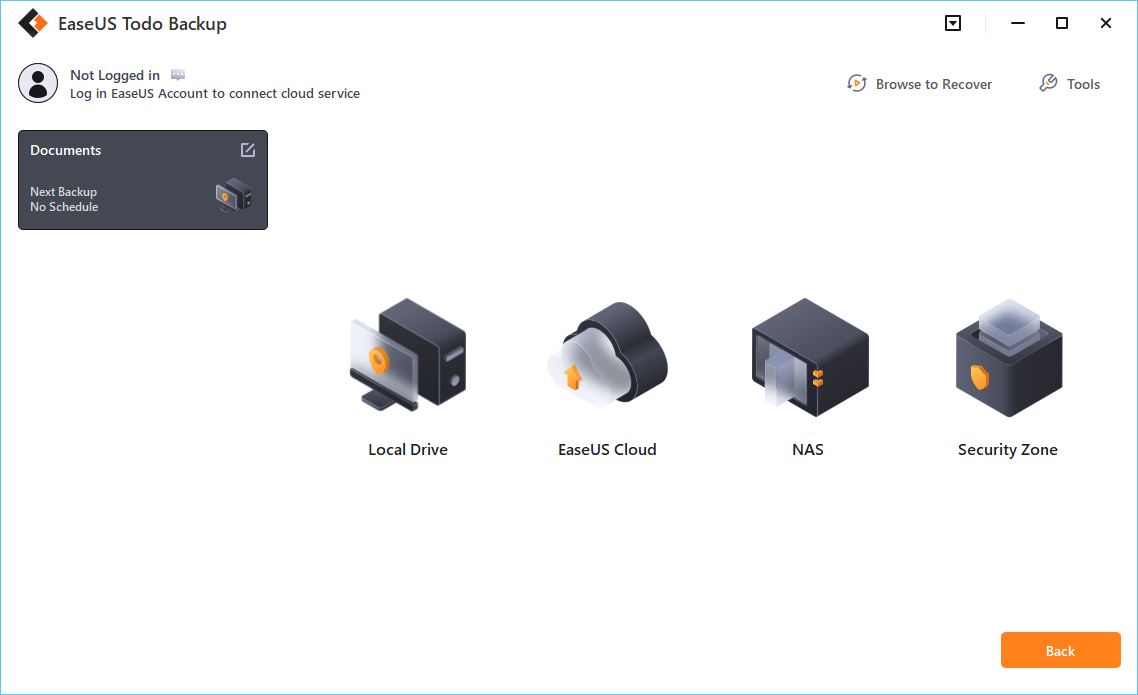 Step 5. Customiztion settings like enabling an automatic backup schedule in daily, weekly, monthly, or upon an event, and making a differential and incremental backup are available in the Options button if you're interested. Click "Backup Now", and the Windows system backup process will begin. The completed backup task will display on the left side in a card style.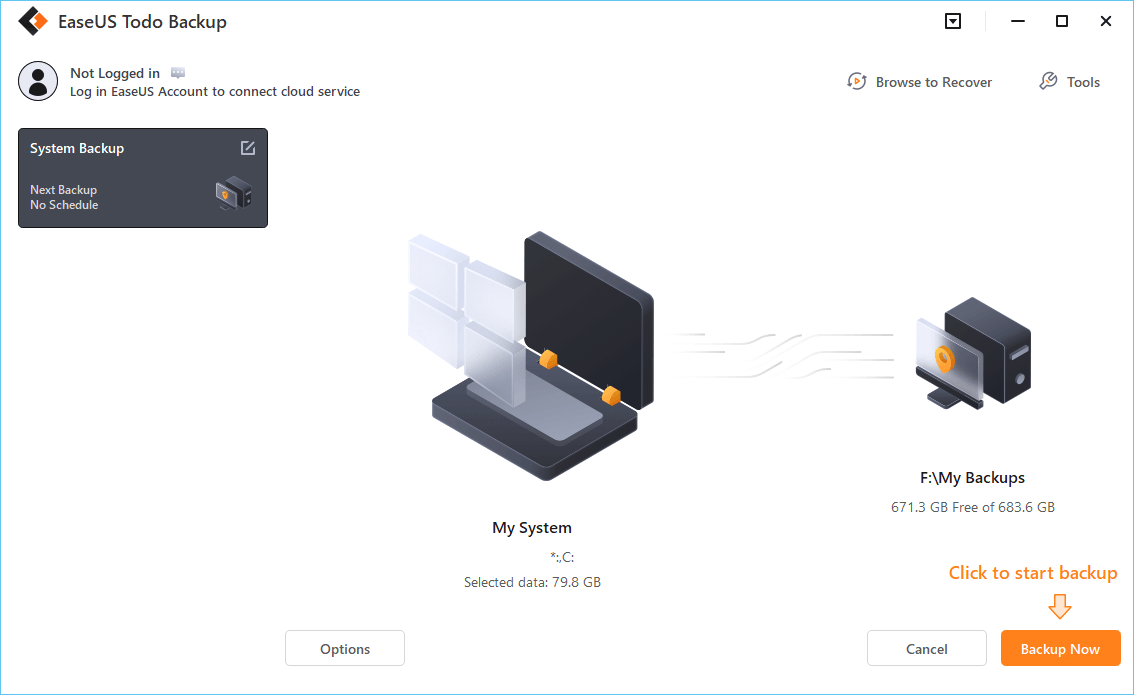 Final Thoughts
You would have found your answer if you wondered how to back up a Dell laptop in Windows 10! Both Dell Backup and Recovery and EaseUS Todo Backup can meet your needs to back up your Windows 10 Dell computer. However, not all Dell computers have the DBAR program, and the latter apparently has fewer limitations and more functions. Taking into account the backup time, complexity, reliability, and efficiency, we recommend that computer users use the EaseUS Todo Backup.
In a word, if you are looking for a more professional and multi-purpose backup utility, EaseUS Todo Backup may be a good choice.
FAQs
1. How does Dell Backup and recovery work?
Dell Backup and Recovery is a good backup and recovery tool that is designed to safeguard your essential documents and memories in just a few clicks. Backing up your data with Dell Backup and Recovery can protect against data loss resulting from virus attacks or accidental file deletion.
2. How do I run Dell Recovery?
Turn on your computer. When the Dell logo appears, press F12 on the keyboard several times to enter the computer setup screen. Using the arrow keys, select USB Storage Device and then tape Enter. The personal computer will start the Dell Recovery & Restore software on your USB drive.
3. How do I download the operating system on my Dell laptop?
If you want to download the OS on your dell laptop, you can follow the steps:
Go to the Dell Recovery Image website.
Enter the Service Tag of the Dell laptop and the verification code, and click on Check Availability.
Choose Windows, Ubuntu, or Linux operating system, and click on Download Selected Files.
Review the Terms and Conditions, and then click on Continue to download the file.
4. Is Dell Backup and recovery any good?
Dell Backup and Recovery is a safe, easy-to-use, and reliable backup and recovery tool for Dell computer users. It can protect your systems, such as OS, applications, drivers, settings, and data, including music, photos, videos, documents, and other files, from data loss.
Was this page helpful? Your supoport is truly important to us!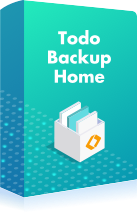 EaseUS Todo Backup
EaseUS Todo Backup is a dependable and professional data backup solution capable of backing up files, folders, drives, APP data and creating a system image. It also makes it easy to clone HDD/SSD, transfer the system to different hardware, and create bootable WinPE bootable disks.
Updated by

Jean is recognized as one of the most professional writers in EaseUS. She has kept improving her writing skills over the past 10 years and helped millions of her readers solve their tech problems on PC, Mac, and iOS devices. …

Read full bio

Written by

"I hope my articles can help solve your technical problems. If you are interested in other articles, you can check the articles at the bottom of this page, and you can also check my Facebook to get additional help."…

Read full bio