Updated by
Larissa
on Oct 17, 2022
What Is A Bootable USB Drive & Why You Need It
A bootable USB drive is a USB drive that can boot up a computer. It is very useful when we need to reinstall or repair the existing problem of the Windows operating system. Creating a bootable USB drive has many advantages. It is much faster than using an installation disc, and it is more convenient than having to download an ISO file every time.
A bootable USB drive has many uses and benefits:
Windows Installation: If you want to install Windows from a bootable USB drive, you will need a bootable USB drive creator to create the bootable USB drive. 
Boot Windows Image: Bootable USB drive can help to boot the complete Windows OS.
System Repair: If you want to repair your existing Windows installation, you can use a bootable USB drive to boot into the recovery environment and fix the problem. 
Faster Speed: Booting from a USB drive is faster than from an optical disc. 
Convenient Portable: It is more convenient to carry around a USB drive than an optical disc.
How to Choose A Good Bootable USB Drive Creator
Many bootable USB drive creator tools are available on the market. Choosing the right one can be quite confusing, especially if you don't know what to look for. 
Here are some factors you should consider when choosing a bootable USB drive creator:
The bootable USB drive creator should be compatible with all versions of Windows. 
The bootable USB drive creator should be easy to use. Even if you are not tech-savvy, you should be able to use it without any problem. 
The bootable USB drive creator should have all the features you need. For example, if you want to create a bootable USB drive for Windows 10, the bootable USB drive creator should have that option. 
The bootable USB drive creator should have good customer support if you face any problems.
Top 5 Best Bootable USB Driver Creators
Based on the above criteria, we have reviewed and collected the top 5 bootable USB driver creators for you.
 Editor's Pick

EaseUS Todo Backup is our most recommended one because it can not only meet our needs to create a removable USB drive but also carry out daily data backup and restore, which can protect our data security well.
1. EaseUS Todo Backup
Tag: Ease of use, suitable for beginners and professionals, backup and recovery 
EaseUS Todo Backup Home is a reliable bootable USB drive creator tool that can help you create a bootable USB drive or CD/DVD drive for Windows 11/10/8/7, which helps you escape from the tedious work of transferring data and programs to the new drive.
It is effortless to use, and you can create a bootable USB using the System Clone function with a few clicks. Even if you are not tech-savvy, you can use it without any problem. And if you have any questions, their customer support is always there to help you.
Moreover, it is a professional all-in-one backup and restore utility that can help you back up your data and restore it when needed. You don't need to worry about data loss anymore.
Pros
Simple interface and easy to use  
Create bootable USB/CD/DVD drives for Windows 
Backup and restore file/system/disk/mail
WinPE bootable disk
Full/differential/incremental backup
Scheduled backup
Create a system image 
250 GB of free Cloud storage
Cons
You need to register with an email account before you use it
Here is a step-by-step guide on How to use it to create a bootable USB:
USB requirements:
1. Check how much disk space is used for the system C drive. Let's assume 40GB. Then prepare a qualified USB drive, of which the disk capacity must be larger than 40GB.
2. Do you use an empty new USB drive or an old one? Make sure that all the important data has been safely transferred because the system clone will overwrite data on it completely.
3. Correctly connect the USB drive to your machine and make sure that Windows has detected it and assigned a drive letter to it.
Follow the overall process to create a portable Windows USB drive and boot from it:
Step 1. Launch EaseUS Todo Backup. Expand the Tools menu and click "System Clone".
Step 2. On the "System clone" window, the software will choose the system partition and boot partition by default. Just Choose the USB drive as the destination disk. Click on "Advanced options" and then "Create a portable windows USB Drive". Click "OK" and then "Next".
Step 3. You can preview or adjust the disk layout on the destination drive. If there is no problem, click "Proceed" and the software will start immediately cloning the default system partitions of your desktop/laptop to the USB drive. After the cloning process is over, you can safely plug the USB drive out.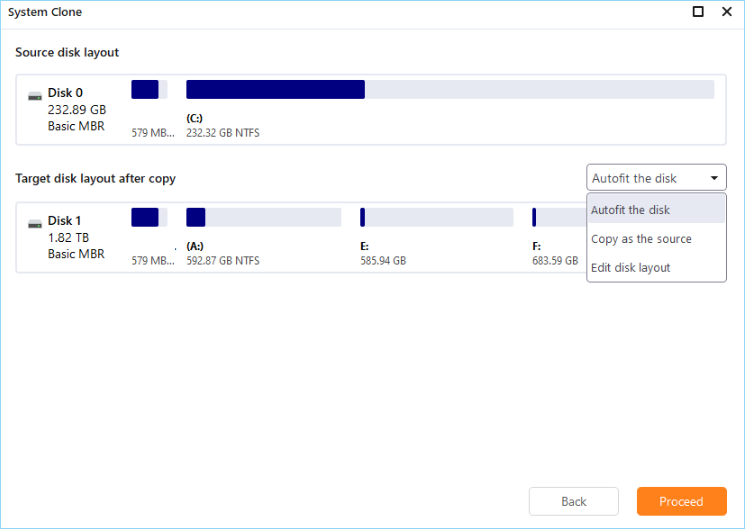 Step 4. Boot from the USB drive.
Connect your portable USB to the computer
Restart the computer and press "Del" to enter BIOS
Set the PC to boot from the portable USB by changing the boot order in BIOS under the "Boot" tab
Save changes and you'll see your system booting up from the USB drive
2. EaseUS OS2Go
Tag: Create Windows USB for Windows and Mac use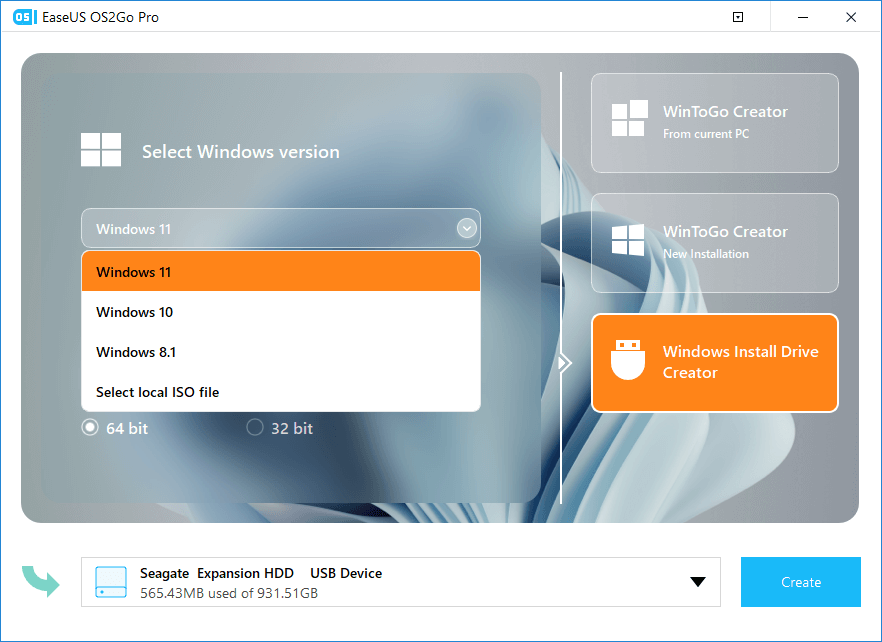 OS2Go is another utility launched by EaseUS, Which is specially designed to create Windows bootable USB drives. You can also use it to create a bootable USB on Windows 11/10/8/7. Another distinguishing feature is that you can use it to create a Windows USB for Mac use. It may be the best choice if you want to run Windows systems on MacBook, iMac, or Mac mini.
After connection, you can access all the features of cloned Windows OS, the user data, and apps on the same USB drive on multiple computers. It supports all USB drives and sticks from various brands.
Pros
Ease of use
Create bootable and portable USB drives
Run Windows OS on Mac PC 
Create Windows To Go with Non-certified USB Drive
Seamless Integration
Cons
The function is relatively simple and can only meet the needs of creating a bootable USB drive.
Email registration
3. Rufus
Tag: Free to use, suitable for those who have some knowledge of computer technology, create bootable USB for Windows and Linux
Rufus(Secured URL: https://rufus.ie.) is one of the most popular bootable USB creators because it provides a workaround without downloading software. Workable on Windows and Linux, it will detect the USB drive automatically, and create a bootable drive with ISO, MSDOSand DD images. It supports multiple file systems like FAT, FAT32, UDF, NTFS, etc. 
However, unlike other software, you need to have a particular knowledge of the tool and computer technology while using this tool. So it is not so friendly for those beginners.
Pros
Free to use
Support multiple file systems
No software installation
Detect bad sectors in the drive before writing files to a USB drive
Cons
Not suitable for beginners 
A bit complicated to use
Unintuitive interface
4. UUByte ISO Editor
Tag: Create bootable USB from Windows ISO image
UUByte ISO Editor(Secured URL: https://uubyte-iso-editor.en.softonic.com/) is another option for creating a bootable USB or DVD from Windows ISO image on Windows 10 and macOS Big Sur. With a fast writing speed, it can help you create a Windows bootable USB or DVD in minutes. It also comes with an ISO extractor that can help you extract files from bootable ISO images and burn them to bootable USB drives or DVDs.
Pros
Create a bootable USB from Windows ISO image 
Fast writing speed
Easy interface
Edit, extract and copy the Windows ISO file
Cons
Relatively simple functions
Unable to boot from UEFI 
5. Passcape ISO Burner
Tag: Free to use, no software installation, simple interface
Passcape ISO Burner(Secured URL: https://www.passcape.com/passcape_iso_burner) is a utility developed to write ISO images to CD/DVD/USB, create bootable disks from ISO images, and extract ISO images to disk. 
With a straightforward interface, you can create a bootable USB drive by clicking the "Create bootable USB disk" option and then choosing the USB that you need to make bootable. 
Pros
Compatible with Windows XP to Windows 10
Simple interface
Can work even if no other CD/DVD burners are installed in your system
Free technical support
Cons
Administrative privileges are required to run some features properly
The created USB doesn't work on macOS
Concluding Thoughts
Creating a bootable USB drive is necessary for computer technicians and power users. It comes in handy when installing a new operating system or troubleshooting errors in the current one. And an excellent bootable USB creator tool can help you solve this problem with ease. 
After testing and comparing the top 5 bootable USB drive creator tools for Windows, we strongly recommend EaseUS Todo Backup. It is easy to use and has powerful features such as creating bootable media from ISO, cloning system drive to bootable USB, making a portable Windows 10 on USB drive, etc. Moreover, it has a well-designed interface suitable for beginners and advanced users.
We hope this article helped you find the best bootable USB drive creator tool for your needs. If you have any questions or suggestions, please feel free to contact us. Also, don't forget to share this article with your friends if you found it helpful!
FAQ on Bootable USB Drive Creator Tool
1. How do I make a bootable USB tool?
You can use EaseUS Todo Backup to create a bootable USB tool by following the steps: Tools - System Clone - choose the destination USB - Create a portable Windows USB drive - OK - Next - Proceed.
2. What is the best program to make a USB bootable?
All five programs we mentioned above are excellent bootable USB drive creators. However, we recommend EaseUS Todo Backup as it is easy to use and has powerful features.
3. Does media creation tool make bootable USB?
Yes, Media Creation Tool from Microsoft can help you download an ISO image and create a bootable USB drive for Windows installation. 

Updated by Larissa
Larissa has rich experience in writing technical articles. After joining EaseUS, she frantically learned about data recovery, disk partitioning, data backup, and other related knowledge. Now she is able to master the relevant content proficiently and write effective step-by-step guides on computer issues.
Taking everything into consideration, we can say that EaseUS Todo Backup Home can offer you a little extra sense of security with a set of advanced tools. The interface provides quick adaptation, every process guiding you all the way through so you don't get stuck or further damage your system rather than keeping it safe.

 Read More

EaseUS Todo Backup Free lets you create backups of your important files or your entire computer through its streamlined interface. Just choose the backup type you'd like to get started, and let the program do the reset.

 Read More

EaseUS includes all the features I expect from backup software like versioning, incremental backups, and scheduling. For more advanced users, EaseUS allows you to install a pre-boot environment onto your hard drive so you can use it to restore files without burning a CD or putting it on an external USB drive.

 Read More

EaseUS Todo Backup
Smart backup tool for your files and entire computer in Windows 10/8/7.
Install Windows on Multiple Computers at Once? No Problem!
Learn how to install Windows 11/10/7 and special programs/software on a batch of computers. Use 10 minutes to do the 10 hours work without making a single mistake!
Get Free Solution!