| Workable Solutions | Step-by-step Troubleshooting |
| --- | --- |
| Stop the OneDrive Backup in Windows 11 | |
Microsoft's OneDrive is one cloud-based service that can be created and managed by Microsoft. When you install Windows 11, you get installed file storage and syncing service, and it allows you to back up, sync, and retrieve your photos, files, and other data across all of your OneDrive-connected devices.
You can preserve your essential documents and have access to them all across your devices using the OneDrive cloud or even Windows 11 OneDrive storage technologies! The Backup & Restore, as well as File History entries in Windows 11 Settings, on the other hand, have been eliminated. You could get to them through the Settings Menu. Microsoft has replaced the backup function in Settings with OneDrive syncing.
What are the differences between OneDrive for Windows 10 and OneDrive for Windows 11? In terms of features, there isn't much of a variation between them. The only difference in terms of the rest is that with Windows 11, there's now a OneDrive entry in Settings.
Covers all types of backup content: disk/partition, system, files
Flexible personalized backup options: incremental, differential, scheduled...
Restores backup files instantly and keep all file paths for future management
How to Stop the OneDrive Backup in Windows 11
You may wish to suspend the syncing process rather than permanently remove OneDrive. You can halt the background synchronization process (which includes uploading and downloading) lasting 2, 8, or 24 hours on OneDrive.
1. Stop OneDrive from the Navigation Bar
Step 1. Select the navigation bar corner overflow icon (also known as System Tray), and then select the OneDrive button (cloud button) within that Notification/Overflow section.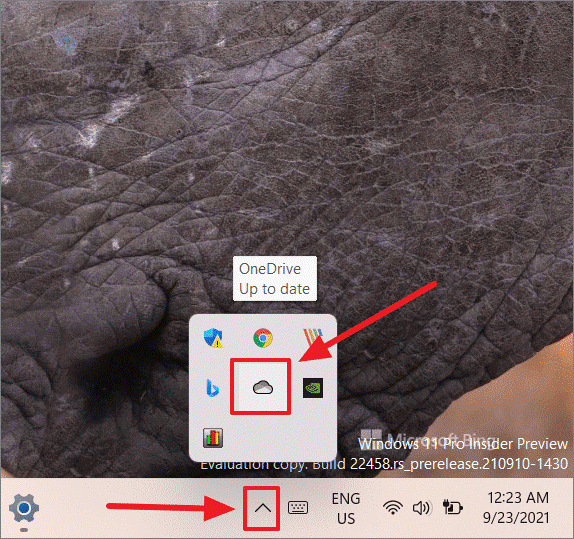 If the OneDrive symbol does not appear in the overlay area, select the Microsoft (Start) icon and type 'OneDrive' into the search box. Then, there, in results pages, click on 'OneDrive.'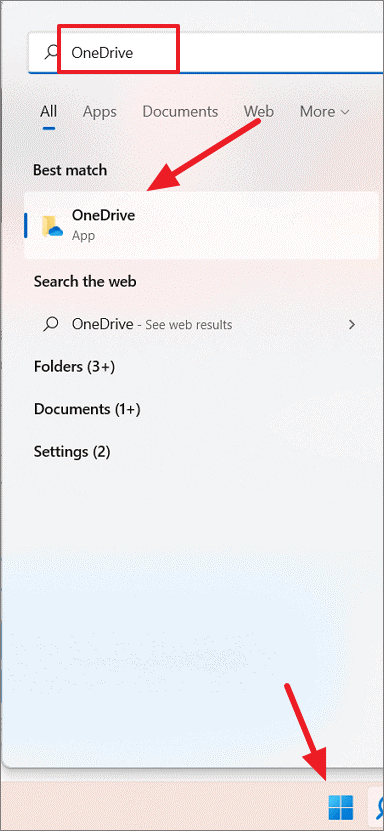 Step 2. The OneDrive directory will be opened as a result of this action. Close that directory and go to the overflow area in the navigation bar corner.
Step 3. There you'll see the Microsoft OneDrive icon, which you should click. Then, on the OneDrive window, select 'Help & Settings.'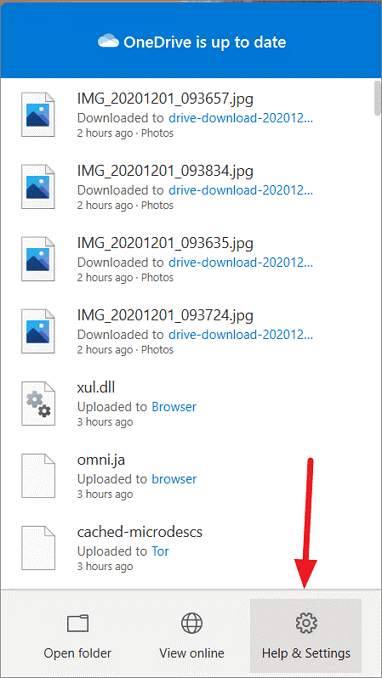 Step 4. Then select a time window for which you wish to disable sync by clicking the 'Pause syncing' menu.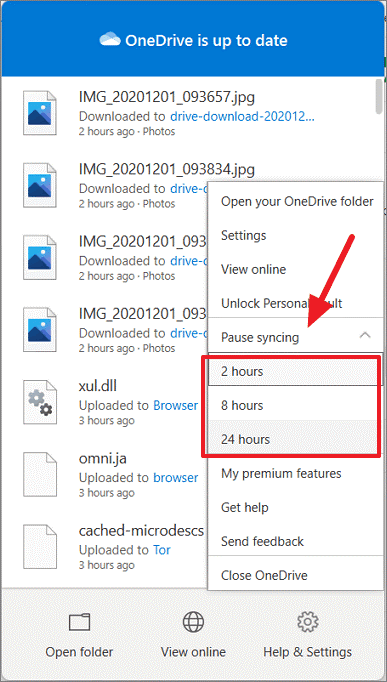 This will pause the syncing procedure for the given time, and it will resume automatically once the time has passed.
2. Stop OneDrive from Initiating Automatically
When you switch on your computer and log in to Windows 11, OneDrive instantly starts working. Using the OneDrive setting, Startup Apps, and Task Manager, you can disable OneDrive's auto-launch upon Windows 11 startup.
To stop OneDrive from automatically starting,
Step 1. Go to Overflow dialog boxes concealed icons and choose the 'OneDrive' icon.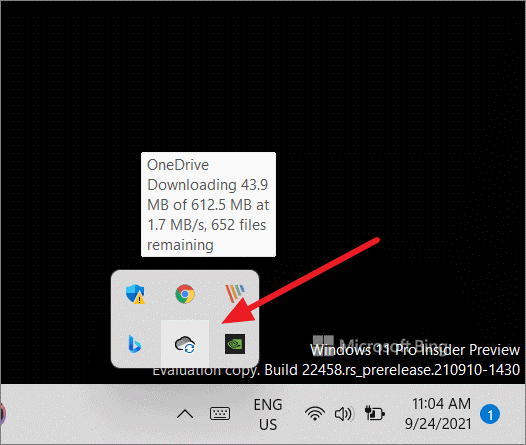 Step 2. Then, from the option that displays, choose 'Settings' from the 'Help & Settings' option.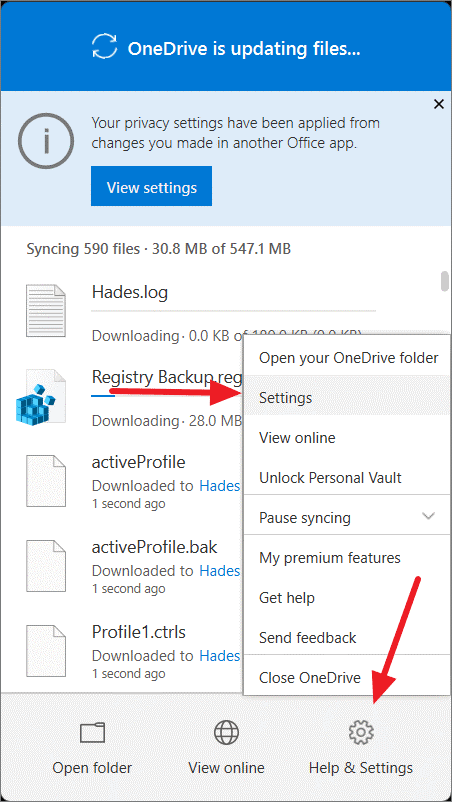 Step 3. Navigate to the 'Settings' page from the Microsoft OneDrive window, then deselect the 'Start OneDrive automatically when I sign in to Windows' choice.
Step 4. Then press the 'OK' button.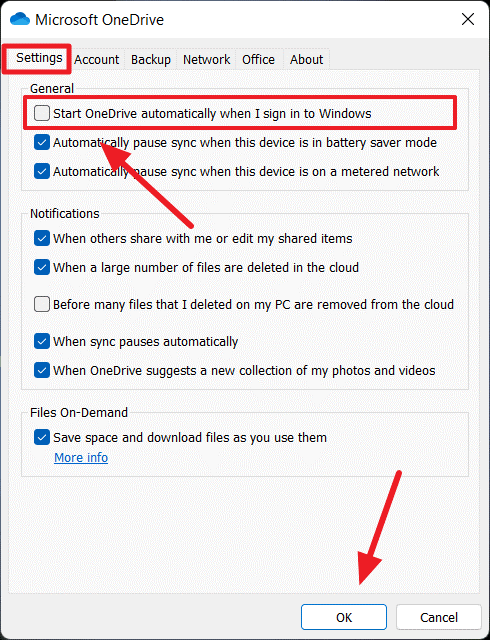 3. Using Windows Settings to Stop OneDrive
By deactivating the program from the list of launch programs in the Windows 11 settings, you could easily prevent OneDrive from automatically initiating during Windows 11 launch.
Step 1. Right-click the Windows icon and select 'Settings,' or use the Windows+I command to do so.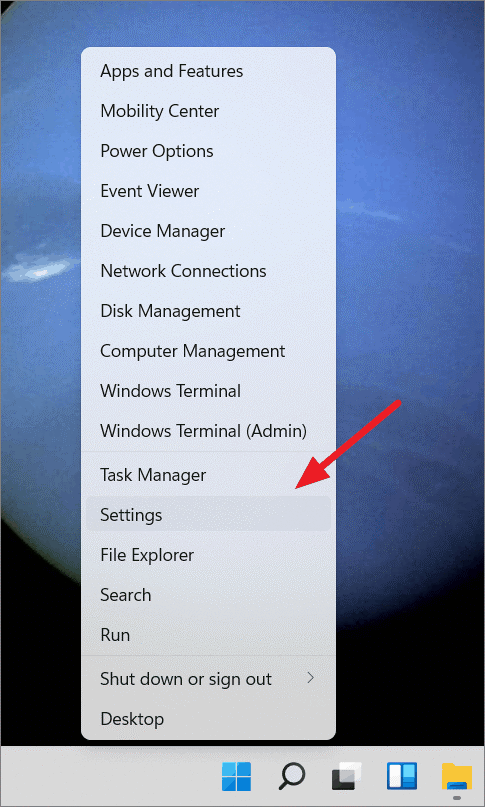 Step 2. Then choose the 'Startup' options on the right side after selecting 'Apps' in the left panel.
Step 3. Then, switch off the slider next to the 'Microsoft OneDrive' option under the column of startup programs.
4. Using Task Manager to Stop OneDrive
You may also use the Task Manager to remove OneDrive from the launch programs list. The task manager can be launched by typing 'Task Manger' into the Windows search box, holding down Ctrl+Shift+Esc, or right-clicking the Start button and selecting 'Task Manager.'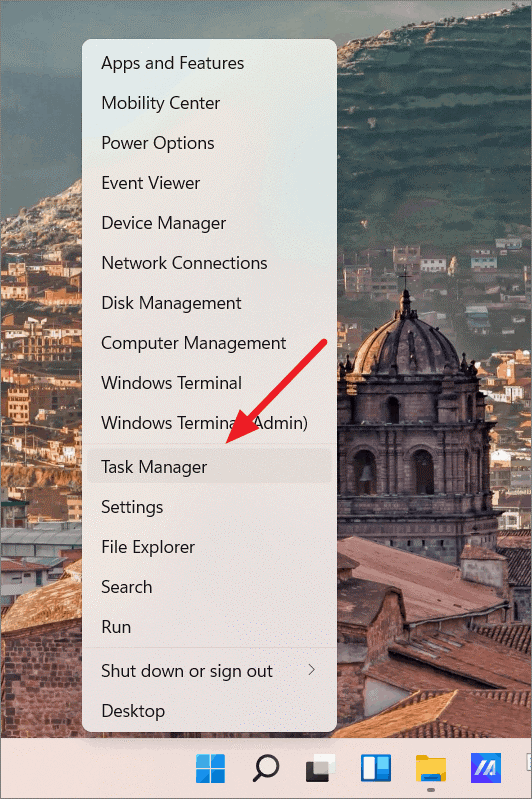 Step 1. Then select the 'Startup' option in the Task Manager interface.
Step 2. To block it from launching on System startup, right-click on 'Microsoft OneDrive' and click 'Disable,' or choose the 'Microsoft OneDrive' plugin.
Step 3. Select the 'Disable' toggle just at the lower right corner of the screen.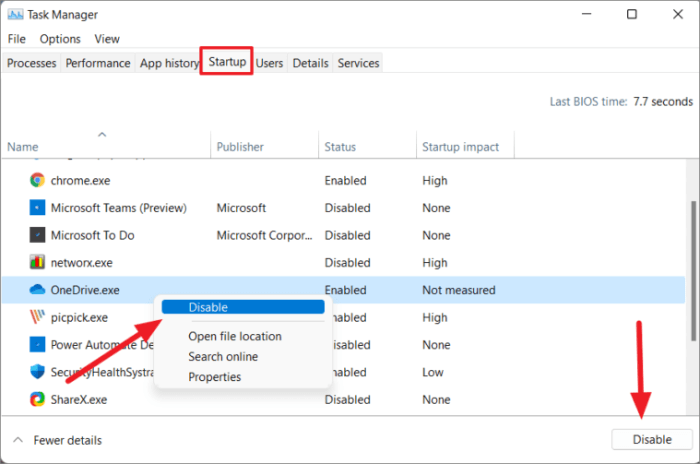 When you turn on your device again, OneDrive will no longer be present. After then, OneDrive would only launch if you explicitly start it.
Online Backup vs. Offline Backup
Offline Backup
Any data retention method that is both local and does not require an internet connection is called "offline backup." Discs, Blu-ray, disk storage, external drives, USB memory sticks, and memory cards are all examples of this. The backup type generally has its own set of advantages and disadvantages.
Advantages
Backup and restore in a flash: While downloading or retrieving 200 GB of data takes time regardless of the backup option, offline data storage has a distinct advantage. Its upload and restore speeds are nearly always quicker than online storage, which is almost totally dependent on the quality of your Internet service.
Easy to find: Almost everybody keeps a copy of their offline backup available at home or work. All you have to do is connect your drive or connect in your USB stick, and your files will begin backing up immediately.
Mobility: The bulk of offline backup devices is compact and light enough to be stashed in a bedside drawer or thrown into a handbag and transported around for added security.
Improved security: Your offline backups are safe from cyberattacks, provided they are not connected to drives with an internet connection.
Disadvantages
Easily destructible: Anything from a significant catastrophe to a spilled cup of water can ruin even the most costly and sophisticated offline data backup medium. Because of the physical weakness of CDs and external drives, it's not a good idea to rely on them solely because once they're lost, they're lost forever.
Susceptible to stealing: While most offline backups aren't worth thousands of dollars, they may be readily sold on eBay or even at thrift shops for a reasonable sum of money, making them a favorite target for petty criminals. Worse, many offline backups are unencrypted and don't require authentication, implying that a thief could easily access any personal information you put on them.
Online Backup
Online storage backup services have grown in popularity in recent years, so both individuals and organizations can choose from various cloud services and packages. Although each cloud provider's advantages and disadvantages are unique, a few apply to online storage generally.
Advantages
Encryption: Any reputable online backup service will encrypt its clients' data during data transfer with high-level encryption technology like 256-bit AES or 448-bit Blowfish, which are the same ones used chiefly by corporations and government institutions!
Easily accessible from any location: You can access your data if you have a Wi-Fi network available in almost every playground, eatery, café, and back alley nowadays. Many companies have gone above and beyond the standard web-based interfaces and client applications to build mobile applications, making viewing your files on the move easier and faster than lugging around with an external drive.
Protected from physical stealing and natural catastrophes: You can rest assured that your private details are safe somewhere on the Cloud, even if a tornado hits your house or you are a theft victim. 
Disadvantages
There is no direct control: When you transmit your data to the cloud–whether it's iCloud, JustCloud, or another service–you're putting all of your faith in the hands of your preferred provider, which might be unsettling. On a smaller scale, that implies you have much less ownership over it than you do over an external drive you keep next to your computer. On a broader scale, it implies that if their systems go down due to a calamity, your data would be lost as well.
Dependent on your Internet connection: This is a significant flop, but that is the reality. You won't back up or retrieve your files if your Internet is down. 
Conclusion
Windows 11 File History and Backup & Restore have been replaced in the Settings by OneDrive. It allows you to sync local files to online backup and vice versa simply. Online backup obviously is the new trend of data protection, while it is better to have both online and offline backup. To create an offline backup, EaseUS Todo Backup is perfect for users who don't want to spend much time learning how to use a software. It's easy, clean, safe, and powerful.
Daisy is the Senior editor of the writing team for EaseUS. She has been working in EaseUS for over ten years, starting from a technical writer to a team leader of the content group. As a professional author for over 10 years, she writes a lot to help people overcome their tech troubles.
Written by Gemma
Gemma is member of EaseUS team and has been committed to creating valuable content in fields about file recovery, partition management, and data backup etc for many years. She loves to help users solve various types of computer related issues.
Taking everything into consideration, we can say that EaseUS Todo Backup Home can offer you a little extra sense of security with a set of advanced tools. The interface provides quick adaptation, every process guiding you all the way through so you don't get stuck or further damage your system rather than keeping it safe.

 Read More

EaseUS Todo Backup Free lets you create backups of your important files or your entire computer through its streamlined interface. Just choose the backup type you'd like to get started, and let the program do the reset.

 Read More

EaseUS includes all the features I expect from backup software like versioning, incremental backups, and scheduling. For more advanced users, EaseUS allows you to install a pre-boot environment onto your hard drive so you can use it to restore files without burning a CD or putting it on an external USB drive.

 Read More

EaseUS Todo Backup
Smart backup tool for your files and entire computer in Windows 10/8/7.
Install Windows on Multiple Computers at Once? No Problem!
Learn how to install Windows 11/10/7 and special programs/software on a batch of computers. Use 10 minutes to do the 10 hours work without making a single mistake!
Get Free Solution!