Are you looking for a reliable Windows to USB cloning software so that you can clone installed Windows 11 or 10 to a USB drive?
On this page, we'll provide a complete guide to help you fully copy Windows to USB so that you can boot up your own system on any type of Windows computer. Follow through this guide to clone your Windows OS to USB now:
Can I Copy or Clone Windows 11/10 to USB Drive
"Is there any way to clone Windows 10 to a USB drive? I bought a new Dell laptop coming with Windows 10 last week and installed some prerequisite applications. Now I want to clone the system to my USB drive so that I can easily boot my Windows 10 system and installed programs on a new computer when I am on vacation or a business trip.
How can I clone Windows 10 to USB drive in a safe and easy way? Please help!"
According to many Windows users, OS crash or system failure is a normal issue that they have to deal with in their daily life. As a result, some of them come up with the idea of cloning OS, including applications, and important C drive files to an external USB drive. 
By doing so, they can boot up the PC from the USB whenever the computer is dead. If you are having the same need, or you want to create a Windows portable USB to bring your Windows OS anywhere, stay here.
Follow the full guide below, and learn how to clone Windows 10 to USB successfully on your own now.
Preparations: Getting Ready to Clone Windows 11/10 To USB Drive
To obtain a smooth Windows 10 to USB cloning process, here is a list of preparation tasks that you should get ready first:
1. Download Reliable Windows System Creator
Professional Windows System Drive creator - EaseUS OS2Go with its amazing feature makes Windows 11/10 to USB cloning an enjoyable task that anyone of you can do it.
2. Get An Empty USB External Hard Drive, Bigger than System Drive
Prepare a capacious USB drive. It must be unallocated and bigger than the used space in C drive. You can check the used system drive space through File Explorer > System Drive (C: Drive) > Properties > General > Used Space.
3. Initialize USB Drive to MBR or GPT - As The Same As The System Disk
Open Disk Management, right-click the system drive, click "Properties" to check its partition style.
Connect the USB drive to PC, and right-click on it, select "Initialize Disk". 
Set the partition style of the USB drive to MBR or GPT, the same as your OS disk.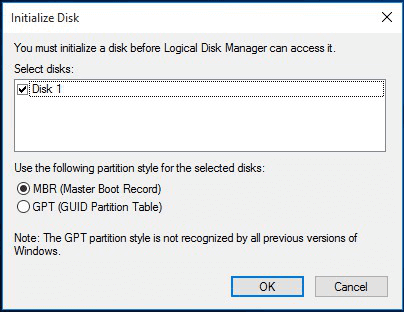 Tutorial: How to Clone Windows 11/10 to USB Drive
Let's use EaseUS Windows to Go creator to copy your installed Windows 10 to USB without any boot issues now. All the information on the OS drive, including the Windows system, installed applications, settings, and the user data will be well kept to the clone image.
Step-by-Step Guide to Cloning Windows 11/10 to USB:
Step 1. Install EaseUS OS2Go on your Windows computer, it will display your system drive's used space. Plug in a USB drive that is larger than the system drive used space. Choose the target USB drive and click Next to continue.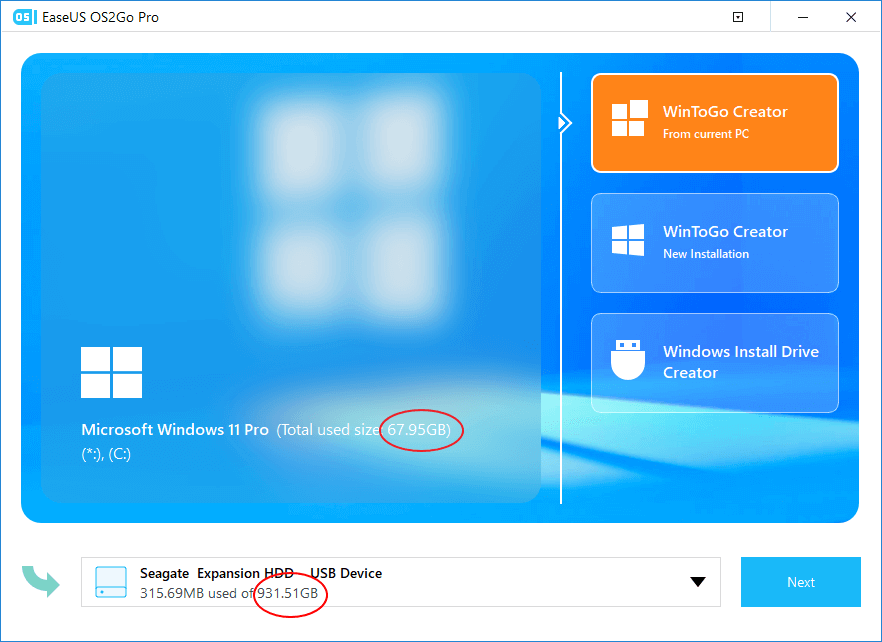 Step 2. EaseUS OS2Go will notify you that the following operation would delete all data on your drive. Make sure that you have backed up all the important data. Click the Continue button to proceed.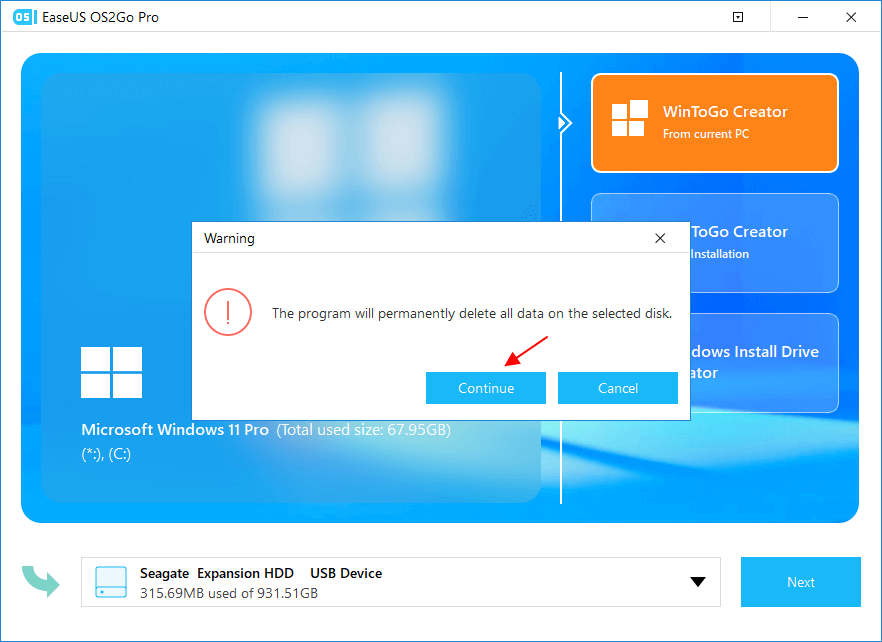 Step 3. Adjust disk layout. The default disk layout on the target drive will be exactly the same as the resource drive. You could also edit the layout according to your needs. Tick the option there if you're using a Solid State Drive as the Windows bootable drive. Next, click Proceed.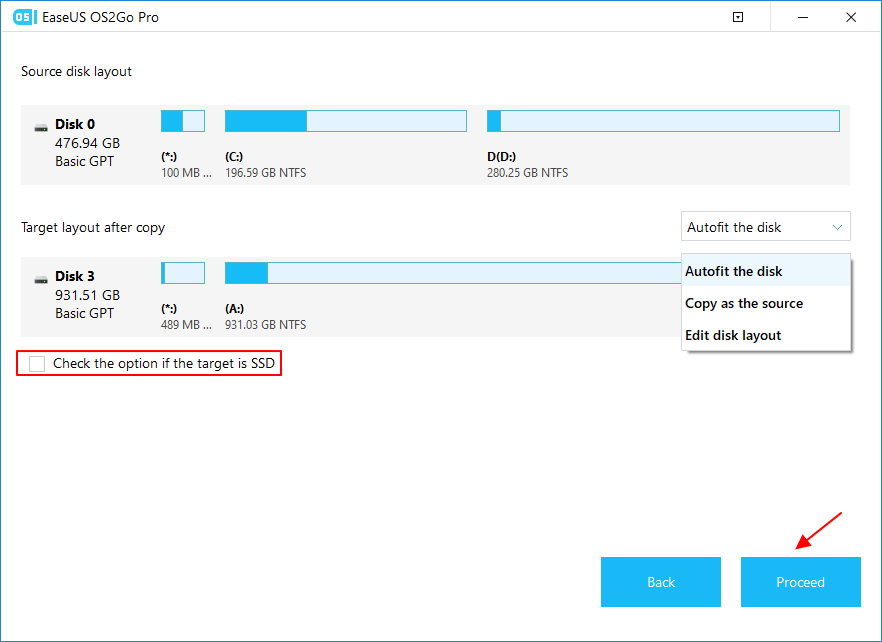 Step 4. Then EaseUS OS2Go will start to create the portable USB drive. It usually takes a while depending on your OS and Network condition. When the progress reaches 100%, the USB drive should be bootable now.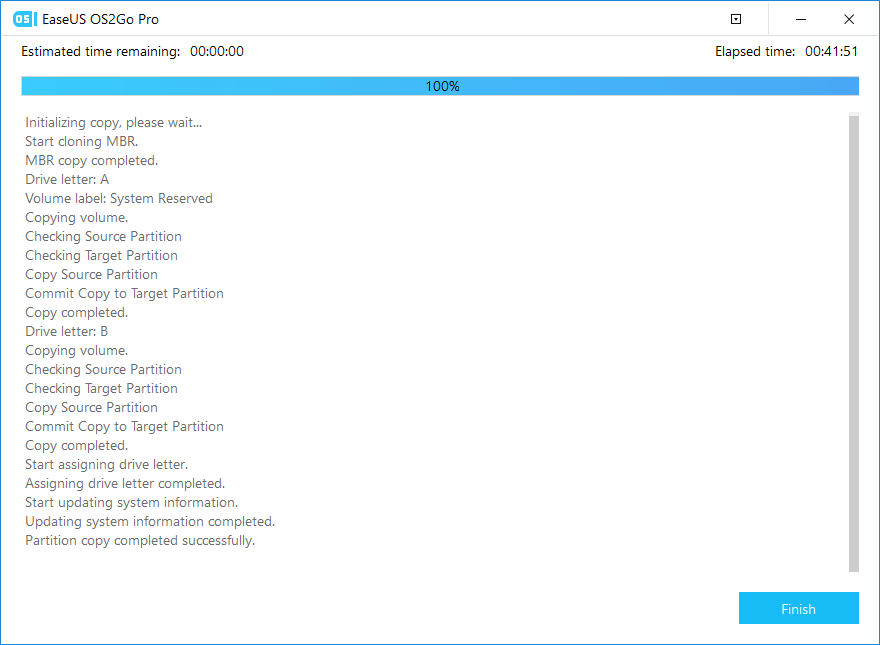 Step 5. Insert the portable Windows USB and start your computer. Press the required key (F2, DEL, F10...) to access BIOS. Choose to boot from the USB disk.
Note: Please make sure that the boot mode (UEFI or Legacy) of the portable USB and your target computer are the same, otherwise you may not be able to boot.
Follow Up: Steps to Boot Windows from Cloned USB Drive
Once you complete the Windows to USB cloning process, you can take the USB and boot your Windows 10 on any computer anytime and anywhere.
Here are the steps to boot your Windows OS on your own or a new computer:
Step 1. Connect your USB drive to a new computer.
Step 2. Restart the computer and press F2/F8/Del to enter BIOS.
Step 3. Change the boot order and set the portable USB as a boot drive.
Step 4. Save the changes, exit BIOS and restart the PC.
Step 5. Wait for the computer to boot up and log in with your own password.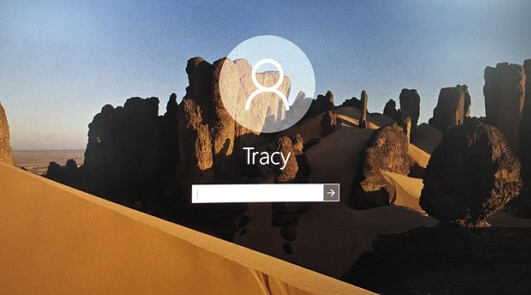 Now, you can use your own system and installed applications, even data on a new computer without any problems.
You May Also Interest In: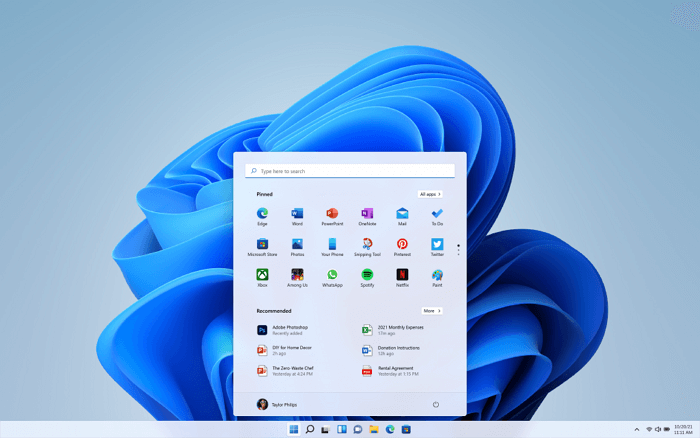 Cloning Windows 11/10 to USB Is Easy, Take Action Now
It's a great idea of cloning Windows to an external USB drive so as to take it with you anywhere. With the created Windows portable USB, you can not only boot and use your own system on a new computer. You may also be able to use your computer even when it's unbootable.
By following the tutorial on this page, you can simply clone Windows 11/10 to an external USB drive in only a few clicks. It's easy and fast. Take action and let EaseUS OS2Go help now.

Jean has been writing tech articles since she was graduated from university. She has been part of the EaseUS team for over 5 years. Her special focuses are data recovery, disk partitioning, data space optimization, data backup and Mac OS. By the way, she's an aviation fan!

Roxanne is one of the main contributors to EaseUS and has created multiple posts on digital devices like PCs, Mobile phones, tablets, Mac, etc. She loves to share ideas with people of the same interest.
Taking everything into consideration, we can say that EaseUS Todo Backup Home can offer you a little extra sense of security with a set of advanced tools. The interface provides quick adaptation, every process guiding you all the way through so you don't get stuck or further damage your system rather than keeping it safe.

 Read More

EaseUS Todo Backup Free lets you create backups of your important files or your entire computer through its streamlined interface. Just choose the backup type you'd like to get started, and let the program do the reset.

 Read More

EaseUS includes all the features I expect from backup software like versioning, incremental backups, and scheduling. For more advanced users, EaseUS allows you to install a pre-boot environment onto your hard drive so you can use it to restore files without burning a CD or putting it on an external USB drive.

 Read More

EaseUS Todo Backup
Smart backup tool for your files and entire computer in Windows 10/8/7.
Install Windows on Multiple Computers at Once? No Problem!
Learn how to install Windows 11/10/7 and special programs/software on a batch of computers. Use 10 minutes to do the 10 hours work without making a single mistake!
Get Free Solution!