Fully Ghost Windows 10 64 Bit/32 Bit with Windows 10 Ghost Software
How Do I Ghost My Computer? (Windows 10 64 Bit)
"How many of you ever know how to create a ghost image of a Windows computer? I'm looking for an easier way to ghost my Windows 10 64 bit computer system and all useful files into an external hard drive rather than creating image files with File History.
Why don't I choose File History as a backup option? I know that File History can create a backup like a file copy of all my selected file folders or disk partition and it even can backup my system. The problem is that File History backup will take up as the same space as my original files and disk. 
This will take too much space on my computer. So I'm thinking to ghost my computer with the system to an external hard drive. But how? I tried to Google ghost Windows 10 64 bit, all I get are accesses to download Windows 10 64 bit ISO files or installation packages. So how can I ghost my Windows 10 computer and create system image and files backups with ease? Please let me know if you have any useful Windows ghost image tool that can help me do the job. Thanks."
Here is a searching result of 'ghost Windows 10 64 bit' on Google Chrome: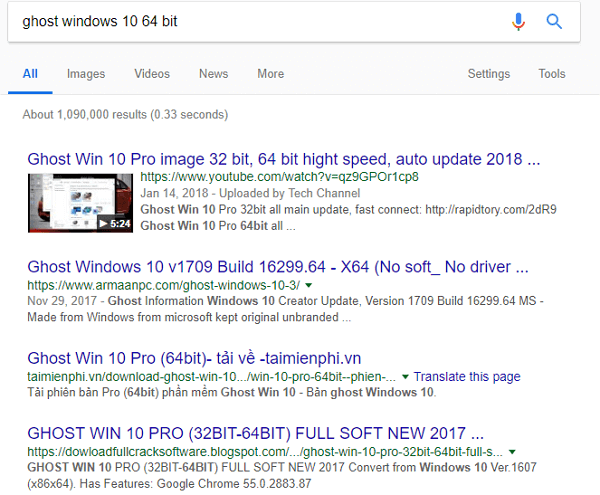 If you are having a problem with Ghost Windows 10 64 bit/32 bit, don't worry. 
Just refer to tutorial guidance here below to see how to ghost Windows 10 64 bit or 32 bit now:
How to Create a ghost image of Windows 10 64 bit/32 bit?
Note: If you prefer a simple and useful tool to ghost your computer, we'd like to recommend find solutions here for a reference. 
How to Create Ghost Image of Windows 10 64 Bit/32 Bit
Speaking of ghosting Windows, what will come up in your mind? To create a ghost image of your Windows system? Backup files and folders from computer to an external hard drive? Or to create a whole disk partition backup? These are all about ghosting Windows computers.

And if you are one of those people who need to create a ghost image of your Windows 10 64 bit, 32 bit or even older Windows system computers, relax! Let's see how can you ghost your Windows 10 64-bit or 32-bit computer on your own now:
Step 1. Download Best Windows 10 64 Bit/32 Bit Ghost Software [Recommended]
A powerful ghost image software will fully backup your computer files and data, and even the Operating System. To save your time and energy, we'd like to recommend you try the best Windows backup software - EaseUS Todo Backup as your Windows 10 64 bit or 32-bit ghost software. 
This software is 100% working for you to apply and create a ghost image of your Windows computer. File History vs. Backup software will help you better understand why choosing EaseUS Todo Backup is your wisest decision.
Just feel free to download this Windows ghost software and install it on your PC for creating a ghost image of your computer now:
Note: If you are using Windows 8/8.1/7, you can also apply EaseUS Todo Backup for help.
Step 2. Fully Ghost Windows 10 System, Disk Partition, Files in 3 Steps
The steps to ghost Windows system or disk partition, even specific files are all the same.
You may follow the guidelines below to start ghosting your Windows 10 64 bit or 32-bit system, disk partition, and files with EaseUS Todo Backup now:
Step 1. Launch EaseUS Todo Backup and click "OS". You're going to image the entire operating system and keep it on an external hard drive.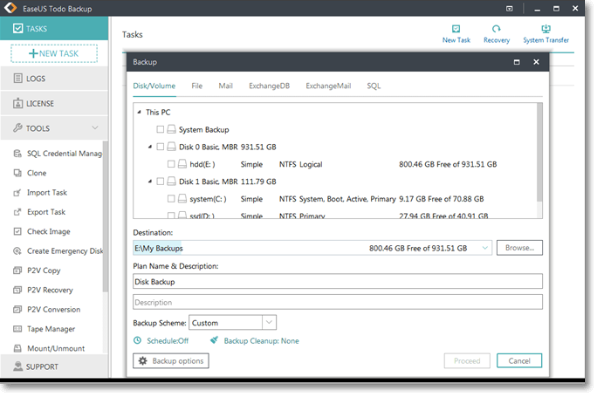 Step 2. The software detects your current operating system automatically. This way ensures that all the critical Windows system files have been selected. And all you need to do is to choose a backup location that is available.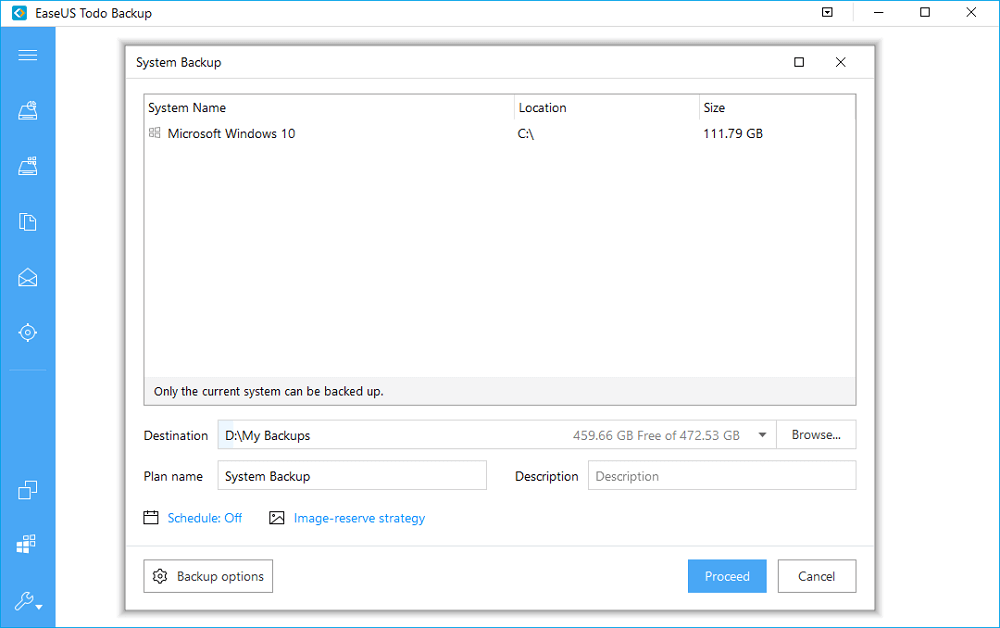 To backup Windows OS to an external hard drive, you must ensure that the drive has been correctly connected to your computer in advance. Click the "Browse" button in the "Destination" area so you can choose this external hard drive as a backup location.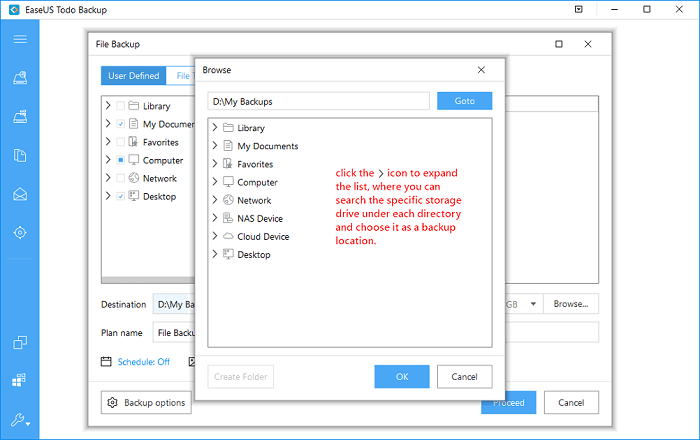 Step 3. Once the backup location is confirmed, you can set an automatic backup schedule by turning on "Schedule" and encrypt your backup by clicking the "Backup options" as well.
Click "Proceed" and the software will start immediately to backup the operating system to an external hard drive right away.
Just wait for the backup process to finish, and you should be able to get a complete backup of your Windows system and files. No Windows backup failure error would occur.
Updated by Tracy King 
Tracy joined in EaseUS in 2013 and has been working with EaseUS content team for over 7 years. Being enthusiastic in computing and technology, she writes tech how-to articles and share technical solutions about Windows & Mac data recovery, file/system backup and recovery, partition management and iOS/Android data recovery.
Taking everything into consideration, we can say that EaseUS Todo Backup Home can offer you a little extra sense of security with a set of advanced tools. The interface provides quick adaptation, every process guiding you all the way through so you don't get stuck or further damage your system rather than keeping it safe.

 Read More

EaseUS Todo Backup Free lets you create backups of your important files or your entire computer through its streamlined interface. Just choose the backup type you'd like to get started, and let the program do the reset.

 Read More

EaseUS includes all the features I expect from backup software like versioning, incremental backups, and scheduling. For more advanced users, EaseUS allows you to install a pre-boot environment onto your hard drive so you can use it to restore files without burning a CD or putting it on an external USB drive.

 Read More

EaseUS Todo Backup
Smart backup tool for your files and entire computer in Windows 10/8/7.