How to Backup SD Card to Google Photos [Everything Your Need to Know]
This page will focus on how to backup SD card to Google Photos on Android phones. If some of you find that your SD card photos are not showing Google Photos, don't worry. 
Follow fixes on this page and learn how to backup and sync or update your pictures/videos from an external SD card/micro SD card or TF card on your Android phone to Google Photos now.
Why Are My SD Card Photos Not Showing in Google Photos
"I saved my photos and videos in an external SD card on Samsung Galaxy 20. I turn on the Google Photos backup and sync feature, trying to upload my photos to Google Photos app. But nothing shows in Google Photos. My photos are still on the SD card.
Why is that? Is there a way that can back up everything on my SD card to Google Photos?"
Google Photos app, known as a cloud storage app for Android, is popular among Android users. It allows Android users to backup local photos and videos (16Mp-1080pHD) for free. However, some Android users report that they couldn't access and see their photos on Google Photos, and they don't know why.
Basically, there are two major reasons that may stop you from backing up your SD card to Google Photos or access files in this app:
The Android version is too old, only Android 6.0 and above works.
The SD card is not mounted as internal memory.
Back up process doesn't complete or failed.
With these issues, you'll need to re-start the SD to Google Photos backup task. And follow the guides below to make it on your own.
Part 1.How to Back Up SD Card to Google Photos    
Here, we collected three reliable tools - two are from support.google.com and one is from the EaseUS support team to help you fully back up SD card photos, videos, and even everything to Google Photos.
Pick one and follow the guide to start protecting important files on your Android SD card now: 
 Tip

Note that Google Photos can only back up photos and videos on your SD card and devices.
If you tend to back up everything on your SD card to a cloud drive, take Method 3 for help.
Method 1. Use Google Photos Backup and Sync to Back Up SD Card
Before You Start: Check If SD Card Is Detected
Step 1. Open the Settings app on your phone.
Step 2. Tap Storage & USB.
Step 3. Check if you see your SD Card is under "Device storage" or "Portable storage" section.
If you see your card, continue with the steps below. If not, unplug your SD card and reinsert it to your phone, setting it as "Portable" or "Internal" storage with popup notification.
Back-Up SD Card Photos to Google Photos via Backup & Sync
Step 1. Open the Google Photos app on your Android device.
Step 2. At the top left, touch the "menu" icon with three horizontal lines.
Step 3. Select "Settings > Back up & sync".
If it's not enabled, turn on it.
Step 4. Tap "Choose folders to back up..." and select the SD card photo folder like DICM you want to back up.
Wait for the backup process to complete.
Method 2. Upload Photos to Google Photos from Computer
The other way that you can try is to connect your Android phone SD card to your computer and upload photos, videos to Google Photos.
Here are the steps:
Step 1. Safely unplug and remove the SD card from your Android phone.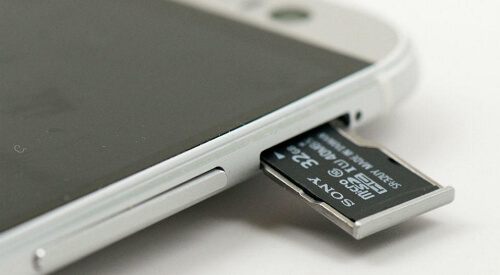 Step 2. Visit photos.google.com in a browser on your computer.
Step 3. Click "Photo", then click the Upload icon on the right-top menu.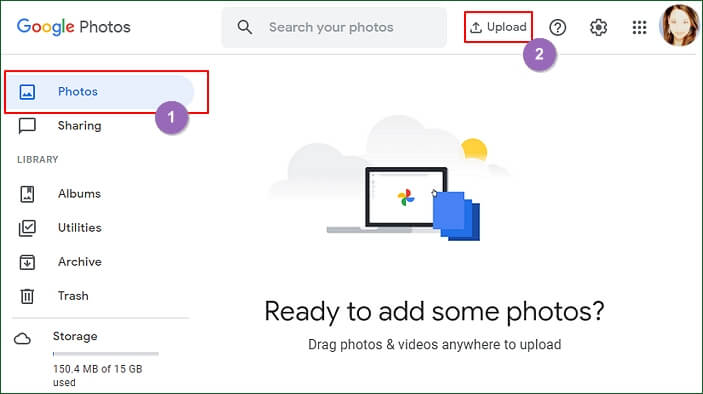 Step 4. Click "Computer" and then select photos from your SD card to upload.
Wait for the process to complete. After this, you can open the Google Photos app to check your SD card photos.   
If you tend to empty or free up space on your SD, remember to disable or turn off the Backup and Sync feature on your phone before deleting photos.  
Method 3. Back-Up Everything on SD Card to Google Drive
As Google Photos only has the Photos and Videos backup option, if you have some other important files like contacts or local documents on your card, it can't be backed up to this Cloud drive.
To back up everything on your SD card, you follow this link for help: Back Up Micro SD Card.
But if you still want to fully back up your SD card data to a Cloud, you can try Google Drive. To back up SD card to Google Drive, you have two ways out:
1. Manually back up Android SD card to Google Drive on your phone.
2. Back up all SD card data to Google Drive at one time. 
Here, we'll show you the latter way, which is more efficient and easy. Reliable file backup software - EaseUS Todo Backup can back up unlimited files to Google Drive at one time.
Here are the steps to back up all your SD card data to Google Drive on your computer:
Step 1. Launch EaseUS cloud backup software and choose the File option.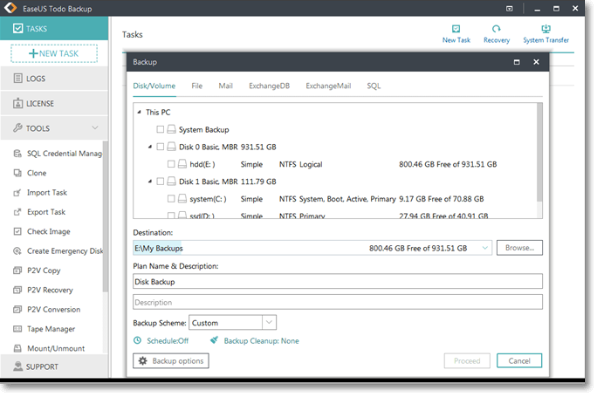 Step 2. Choose the target files you want to backup by either "User Defined" mode or "File Type" mode.
"User Defined" allows you to choose files according to their file directory, while "File Type" is much simpler if you only backup files with specific file formats of pictures, documents, videos, and so on.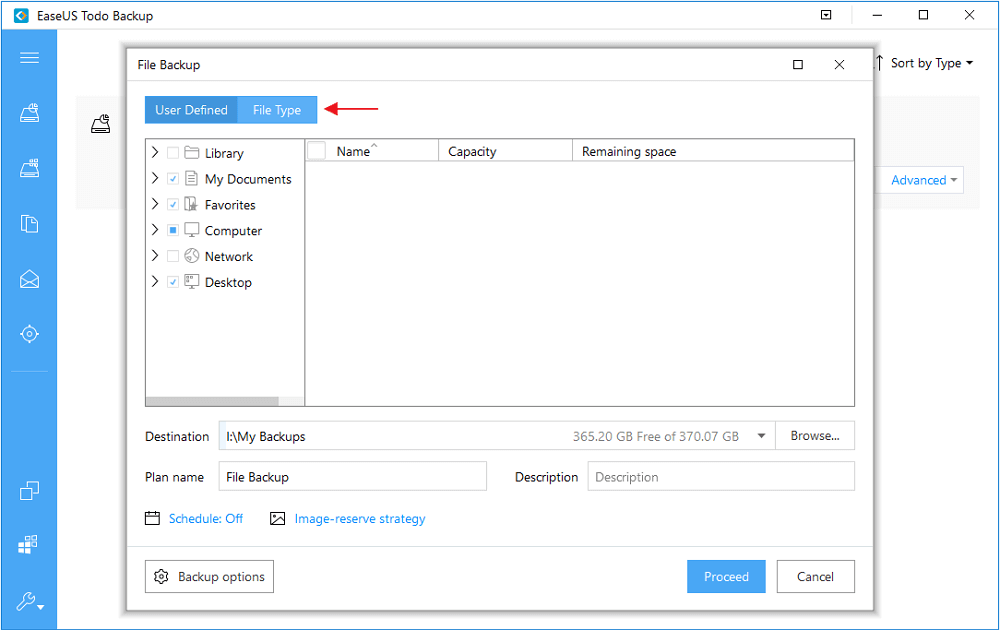 Step 3. In order to backup files to the Cloud storage, click the "Browse" button. A new window will pop out. Click "Local Drive or LAN" and choose Cloud drive, then click "+ Add Cloud storage service".
 Product News

EaseUS Todo Backup now supports users to back up files to the cloud. All you need to do is sign up with an EaseUS account, then you could enjoy a large cloud storage space. More advantages of backing up to the cloud include accessing backup files anytime and anywhere, saving file copies offsite, so you don't need to worry about virus attacks or computer failures, and easier and faster backup and recovery operations.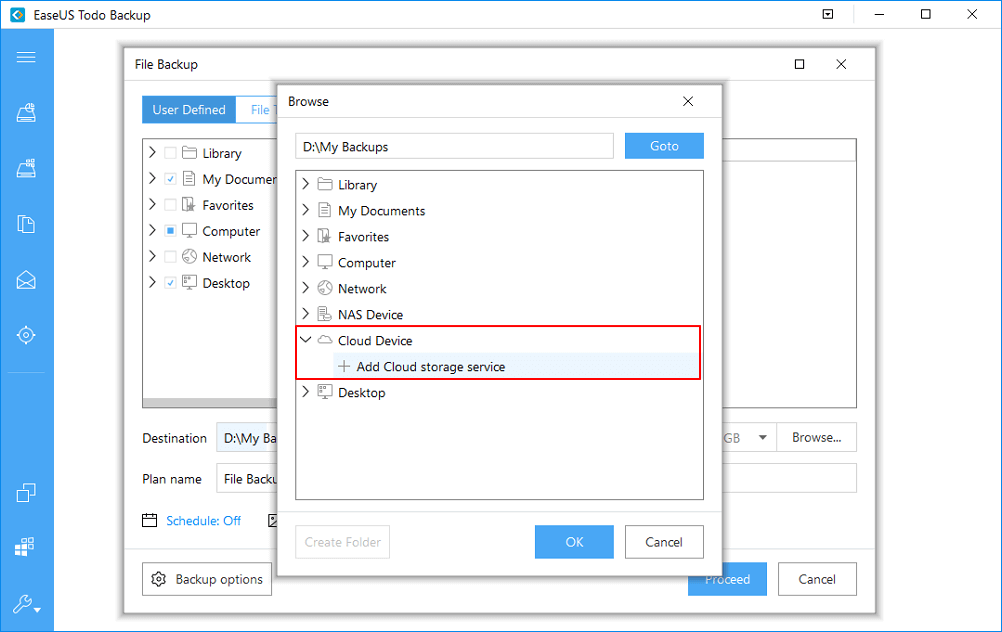 Step 4. EaseUS Todo Backup supports three popular Cloud services at present, which are Dropbox, GoogleDrive, and OneDrive.
Choose your own cloud drive that attached to your computer. Allow EaseUS Todo Backup to view and manage the files in your GoogleDrive.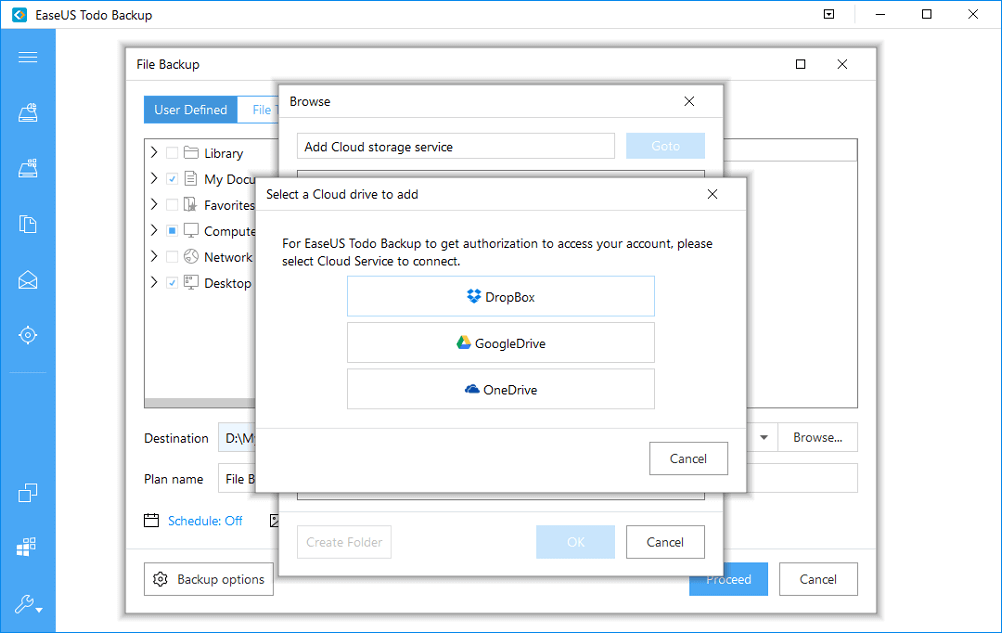 Step 5. Click "Proceed" to start backing up files to your Cloud drive at once.
Besides backing up SD card, EaseUS Todo Backup can fully protect your computer OS and data with the following features:
Automatically copy files from one folder to another
Clone and upgrade disk without reinstalling Windows
Part 2. Bonus Tip - How to Transfer Photos from Internal Memory to SD Card
Some of you may also want to learn how to move internal memory photos to an external SD card. And this is what we are going to take about there. 
Here are the steps for you to move and transfer photos from internal memory to an external SD card:
Step 1. On Android phone, tap on "My Files".
Step 2. Tap "Internal storage" and open the DCIM folder.
Step 3. Tap "Camera", long-press to select the photos or image folder in this folder.
Step 4. Tap the Move button and navigate to your files menu and tap "SD card".
Step 5. Tap the DCIM folder and tap "Done".
If there is no DCIM folder in the SD card, create one and named it "DCIM".
Conclusion
On this page, we learned why is the SD card photos not showing up in Google Photos and provided 2 reliable methods to help you fully back up Android SD card photos, videos to Google photos. 
Note that if you want to create a full backup of your SD card at one time, you can also try to back up to a cloud drive like Google Drive. EaseUS Todo Backup with its mature backup feature can help. 
No matter which way that you choose to back up SD. It's time that you take action to be a safeguard of your own files now.
Daisy is the Senior editor of the writing team for EaseUS. She has been working in EaseUS for over ten years, starting from a technical writer to a team leader of the content group. As a professional author for over 10 years, she writes a lot to help people overcome their tech troubles.

Author Jean has been writing tech articles since she was graduated from university. She has been part of the EaseUS team for over 5 years. Her special focuses are data recovery, disk partitioning, data space optimization, data backup and Mac OS. By the way, she's an aviation fan!
Taking everything into consideration, we can say that EaseUS Todo Backup Home can offer you a little extra sense of security with a set of advanced tools. The interface provides quick adaptation, every process guiding you all the way through so you don't get stuck or further damage your system rather than keeping it safe.

 Read More

EaseUS Todo Backup Free lets you create backups of your important files or your entire computer through its streamlined interface. Just choose the backup type you'd like to get started, and let the program do the reset.

 Read More

EaseUS includes all the features I expect from backup software like versioning, incremental backups, and scheduling. For more advanced users, EaseUS allows you to install a pre-boot environment onto your hard drive so you can use it to restore files without burning a CD or putting it on an external USB drive.

 Read More

EaseUS Todo Backup
Smart backup tool for your files and entire computer in Windows 10/8/7.