Help: I want to clone the Windows 10 system to a new SSD, how to do it
"Hi guys, do you know how to clone Windows 10 system to a new SSD? I bought a new SSD last Monday and I'm trying to change my system disk to a new disk so that I can have a faster Windows system with optimized computer performance. But I don't know how.
Can I just move my Windows system into the new disk with system and boot partitions? I don't want to move other partitions and data into the new SSD. If you do know how to realize this goal, please let me know. Thank you."
Are you trying to optimize your Windows system and change system disk by cloning system without re-installation? Do you need to upgrade system disk to a new disk without moving any other partitions with data? Here in the below, we'll provide you an easy and effective method to help you clone Windows 10 OS to new SSD without re-installation.
How to clone Windows 10 OS to new SSD? EaseUS Todo Backup can help!
Professional backup and recovery software - EaseUS Todo Backup supports users to free clone Windows 10 or other Windows systems into new SSD without re-installation within 30 days.
All you need is a brand new empty SSD or HDD or enough unallocated space in the destination disk to load all system and boot partition data.
 Tip

If you have partition and data in the destination disk, please delete the partition to leave enough unallocated space for loading and saving all system and boot partition data. (Unallocated space shall be bigger than the total space of system and boot partitions.)If you have already left enough unallocated space in your PC, do remember to move it in the front of all other partitions so to allow computer clone system with boot data there and ensure computer can be boot smoothly from the new disk.
So now you can free download this software and follow the offered guide below to free clone wanted Windows system such as Windows 10/8/7 etc OS to new SSD/HDD without re-installation now.
Upgrade/Clone Windows 10 OS to SSD with EaseUS Todo Backup
Besides cloning Windows system, disk, and partitions, EaseUS Todo Backup also supports you to back up disk partition, system, file, mail, ExchangeDB, ExchangeMail, SQL backup, create an Emergency disk, P2V copy/recovery, etc with ease. It's all free to execute these tasks within 30 days.
Video Tutorial:
Detail step guide to switching Windows 10 system disk:
 Notice:

If you are trying to clone Windows 10 to a new HDD or SSD disk, please do remember to empty the disk in advance.
One more thing that you can do is to convert your HDD/SSD disk to MBR or GPT - exact the same as your current system disk, which will allow you to effortlessly boot system after cloning Windows system.
Let's see how to clone your Windows 10 OS to a new HDD/SSD without reinstallation Windows OS now:
Step 1. Connect the new HDD/SSD to your PC.
Step 2. Run EaseUS Todo Backup for Windows 10 Clone.
Select "System Clone" on the left tool panel by clicking the icon at the left top corner.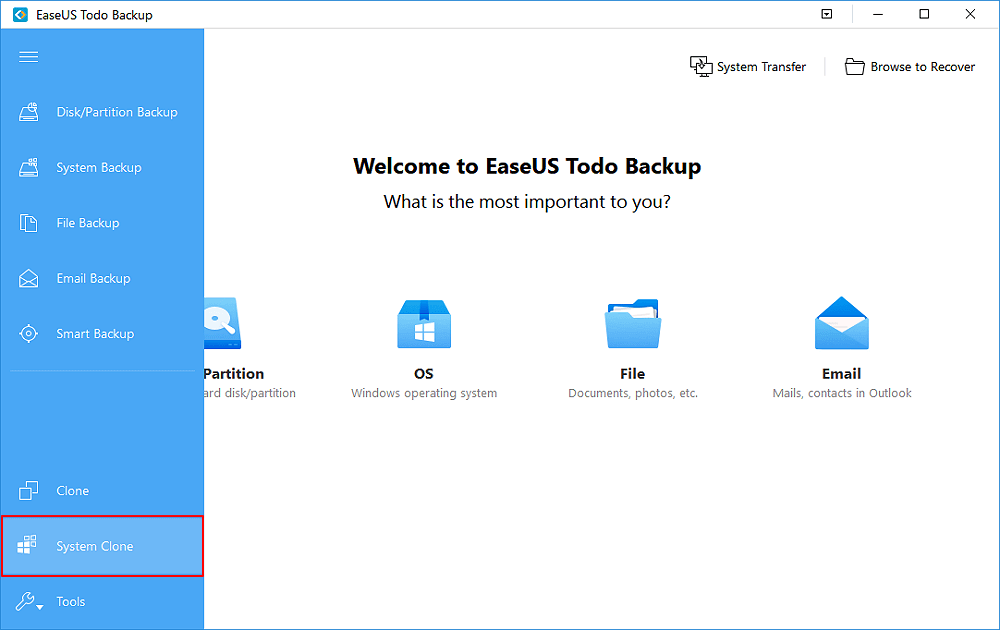 Step 3. Choose the destination disk - HDD/SSD to save Windows 10 system
Choose the new HDD or SSD as your target disk for saving the cloned Windows 10 system.
Then click "Proceed" to start cloning Windows 10 to HDD/SSD now.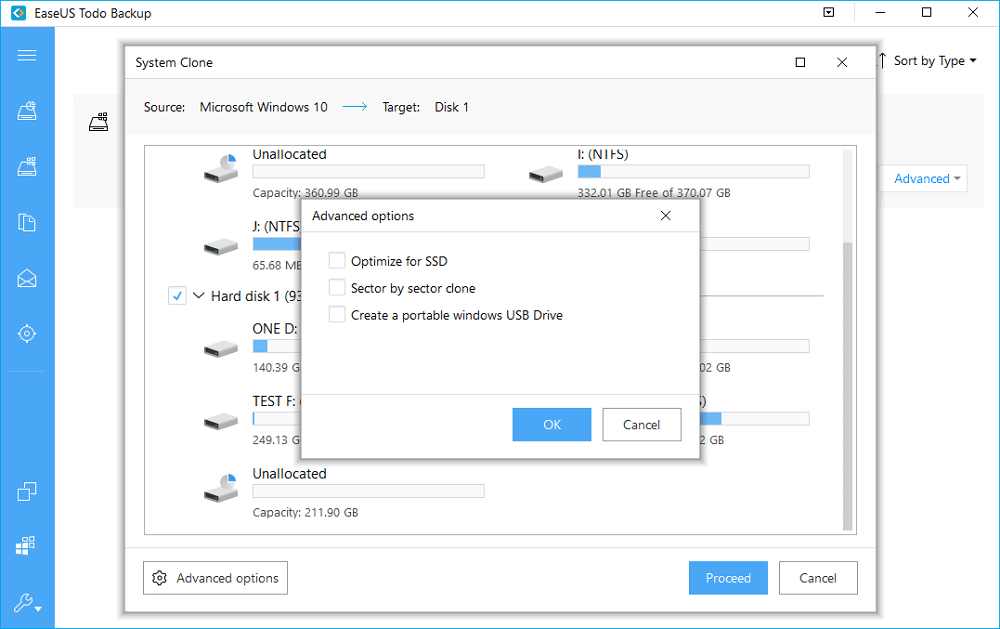 After this, insert your new HDD or SSD into your computer and reboot PC, change the boot order to set computer boot from new HDD/SSD with cloned Windows 10 system:
Restart PC and press F2 or F8 to enter BIOS settings.
In the Boot option, select new HDD/SSD as the new boot drive and save all the changes.
Exit BIOS and restart the computer, you should be able to see Windows 10 running on your new disk without any problems.
Now you can reboot the computer from new SSD drive without re-installing any programs or system. You'll get improved computer performance with a faster running speed in Windows 10 on SSD now.