
About the Author
Hot Topics in 2022
How Do I Format My SD Card on Windows, Mac, or Mobile Phone? [Your Step-by-Step Here]
Key Takeaways of how I format my SD card:
1. Remember to back up SD card before formatting. 
2. Take the best way to format SD cards according to your need.
How do I format my SD card? Follow the tutorials as shown below, and you can refer to the easiest solution to start formatting the card instantly.
Why Do I Need to Format My SD Card?
The reasons why people want to format their SD cards could be various, and here is a list of the major causes that drive people to format and clean up their SD cards by formatting:
To remove all existing data, restore SD card to its full size.
To change SD card file system format, such as format FAT32 SD card to exFAT.
To format large-size SD cards to FAT32, such as format 64GB SD card to FAT32.
To fix corrupted file system errors and repair bad sectors in malfunctioning SD cards.
To set a new SD card ready for mobile phones, cameras, or other purposes.
To format corrupted or unreadable SD card and repair them to work normally.
So how do I format my SD card? Continue reading, and you'll get answers in the next part.
How Do I Format My SD Card? 4 Best Ways to Format SD Card
The ways to format an SD card or other storage devices may vary according to the different platforms. Here in this part, we collected 4 of the easiest ways, and you may follow to start formatting your SD card successfully:
Which way to pick? Here is a checklist that you can take:
The easiest way to format SD cards for Windows, Mac, or mobile phone is using SD card formatter software - EaseUS Partition Master in Method 1 for help.
To format SD card on a PC, use Method 2. 
To format SD card on Mac, use Method 3.
To format SD card for Android, try Method 4. 
#Method 1. Format SD Card with Third-Party SD Card Formatting Software
EaseUS Partition Master Free provides the easiest solution for SD card formatting. Any user can simply apply this SD card formatting software to efficiently change SD card file system format, clear the SD card, and set it as fresh as new in only a few simple clicks.
Step 1. Find your SD card and right-click the partition you want to format and choose "Format".
Step 2. Set a new partition label, file system (NTFS/FAT32/EXT2/EXT3/EXT4/exFAT), and cluster size to the selected partition, then click "OK".
Step 3. Click "Yes" on the pop-up window to continue.
Step 4. Click the "Execute 1 Task(s)" button on the toolbar, then click "Apply" to start formatting your SD card.
Alongside formatting SD card, you can even apply its file system conversion feature to change the file system on SD card without losing any data via the next two features:
Convert NTFS to FAT32, Convert FAT32 to NTFS.
#Method 2. Format SD Card on PC with File Explorer
If you need to format SD card on PC, Windows File Explorer is the first tool that we'd like to recommend you apply. It enables you to format SD cards on Windows 11, Windows 10, Windows 7, and other Windows systems for free. 
Step 1. Connect the SD card to your PC via an SD card reader.
Step 2. Press Windows + E keys to open Windows File Explorer.
Step 3. Locate and find the SD card, right-click on it and select "Format".
Note that if your SD card is brand new and you didn't find it in File Explorer, you can create and format a partition on the SD card. 
Step 4. Set a new file system to the SD card and click "Start".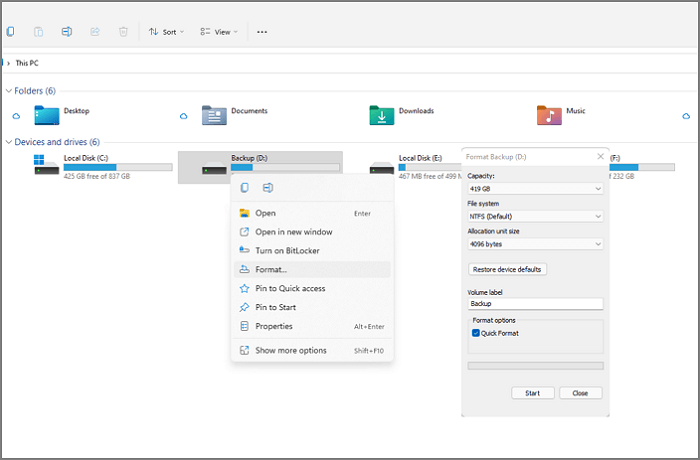 Step 5. Click "OK" when the formatting process completes.
Sometimes, you may receive an error message that claims "Windows was unable to complete the format" when your SD card contains some internal errors, in this case, you can refer to this guide for help:

SD card won't format, or SD card not formatted errors are becoming more and more popularly discussed these years. The most efficient way is to turn to a reliable formatted tool like EaseUS Partition Master Free. Follow and learn the details.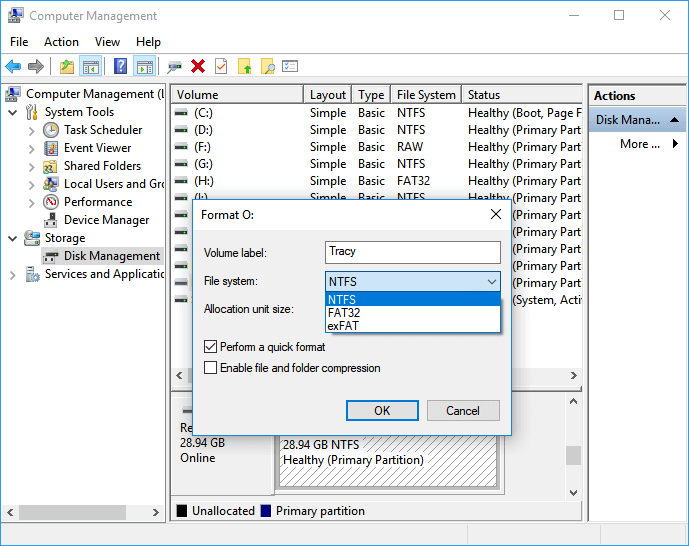 # Method 3. Format SD Card on Mac with Disk Utility
When you want to set up an SD card on a Mac computer, the formatting tool that you can rely on is Disk Utility. This tool enables you to set an SD card to DOS (FAT) for free with the following steps:
Step 1. Connect the SD card to your Mac via SD card adapter.
Step 2. Go to Finder, click "Go", and click "Utilities".
Step 3. Double-click Disk Utility to open it and select the SD card on the left pane.
Step 4. Click "Erase" on the top menu, set a new file system format to the SD card, and click "Erase".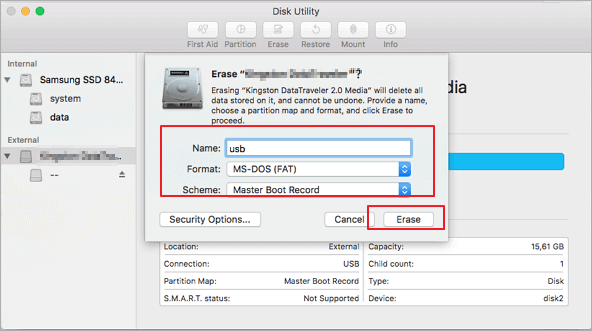 #Method 4. Format SD Card on Mobile Phone
If you plan to add a SD card to your Android mobile phone, you can follow the guide here to set up SD card for your phone:
Step 1. Insert the SD card into your phone.
Step 2. Go to settings, select "Storage" and tap "SD Card".
Step 3. Go to Storage Settings, tap "Format" and "Format SD Card". 
Once the formatting process completes, you can use an SD card as internal storage on an Android phone. If you want to know how to format SD card for adaptable storage on your phone, you can try this guide for help: How to Format SD Card for Android.
Conclusion
On this page, we provided 4 methods to assist you in formatting SD cards on Windows, Mac, and mobile phones. Among the 4 formatting solutions, EaseUS Partition Master is the easiest and most efficient way out for all ordinary SD card users and beginners.
FAQs about How Do I Format My SD Card
Here is a list of some other SD card formatting questions that you may also feel like to the answers. Follow and find answers below:
1. What does formatting an SD card mean?
Formatting a SD card means cleaning up all existing data on card and changing the file system format to NTFS, FAT32, or exFAT for other usages. It's a process of resetting the SD card as fresh as new, fixing all internal errors, and making it function normally again.
2. How do format SD card in camera?
First, insert your SD card into the target camera SD card slot.
Next, power on the camera.
Third, go to settings and select format SD card.
3. Does formatting a SD card delete everything?
Yes, the formatting SD card will remove everything. But the process is not to delete everything. Formatting is a process to remove all existing data and file entries on the SD card. It will let the operating system understand that the card is blank and completely read to store and save new files. 
About the Author
Updated by Tracy King 
Tracy joined in EaseUS in 2013 and has been working with EaseUS content team for over 7 years. Being enthusiastic in computing and technology, she writes tech how-to articles and share technical solutions about Windows & Mac data recovery, file/system backup and recovery, partition management and iOS/Android data recovery.
Product Reviews
I love that the changes you make with EaseUS Partition Master Free aren't immediately applied to the disks. It makes it way easier to play out what will happen after you've made all the changes. I also think the overall look and feel of EaseUS Partition Master Free makes whatever you're doing with your computer's partitions easy.

 Read More

Partition Master Free can Resize, Move, Merge, Migrate, and Copy disks or partitions; convert to local, change label, defragment, check and explore partition; and much more. A premium upgrade adds free tech support and the ability to resize dynamic volumes.

 Read More

It won't hot image your drives or align them, but since it's coupled with a partition manager, it allows you do perform many tasks at once, instead of just cloning drives. You can move partitions around, resize them, defragment, and more, along with the other tools you'd expect from a cloning tool.

 Read More