"How can I increase my C drive space without erasing data? Recently, a 'low disk space' pop-out balloon keeps appearing in the Systray, warning me to extend the C drive.
I can neither format the C drive nor delete other partitions as I have data saved on all my partitions. So how can I possibly increase the C drive without formatting or deleting partitions?"
In Windows 10, 8.1, 8 and 7, the running speed of an operating system largely depends on the available free space in C drive. Usually, over 90% of users adjusted the C drive space once or twice because the free space approached the threshold of 200MB, 80MB, and 50MB.
On this page, you'll learn how to effectively increase C drive with automated partition manager software.
Things You Need
Ways of Extending C Drive
Here is a list of ways that people apply to increase C drive space. You can choose one and follow through the process to make your system drive bigger:
60% Choice - Add Space to C Drive
A direct solution is to add free space to the C drive, and EaseUS Partition Master can make it happen via two methods.
First, if you've already had unallocated space on the same hard disk as the C drive, you can opt for the "Resize/Move" feature to merge the free unallocated space with the C drive.
Second, it doesn't matter even you don't have any unallocated space. You can simply use the "Allocate Space" to allocate some space from those non-system partitions to the system C drive without causing damage to saved data on your PC.
Here is a step-by-step instruction for you to follow:
Step 1. Locate the Target Partition
To start extending partition, you should first launch EaseUS Partition Master and locate the target partition which you would like to extend.
Step 2. Extend the Target Partition
If there is unallocated space left on your disk, use the Resize/Move feature to extend partition with the following tips:
1. Right-click on the target partition which you would like to extend and select "Resize/Move".
2. Drag the partition panel rightward or leftward to add unallocated space into your current partition and click "OK" to confirm.
You may also use the Partition size option to adjust and extend the target partition.
If there is no unallocated space on your disk, use the Allocate Space feature to extend the desired partition with the below tips:
1. Right-click on a partition with enough free space and select "Allocate Space" so as to allocate the free space to the target partition.
2. Select the target partition that you need to extend. And drag the partition panel rightward or leftward so as to add space allocated from the source partition to the target one. Then click "OK" to confirm.
Step 3. Execute Operations to Extend Partition
Click the Execute Operation button and click "Apply" to keep all the changes.
30% Choice - Free Up C Drive Space
There are many ways that can free up C drive space. The main idea is to clear useless junk files, move saved files and transfer installed programs to other drives so to free up space on the system partition.
Follow the following 3 stages to free up space on your system C drive:
# 1. Clear junk files
Useless junk files, outdated system data, temporary files, cache data, etc., all these files will take huge space on C drive. EaseUS Partition Master enables you to clear these junk files on C drive within 3 simple steps:
Step 1: Launch EaseUS Partition Master. Select "Tools" and click "System Optimization".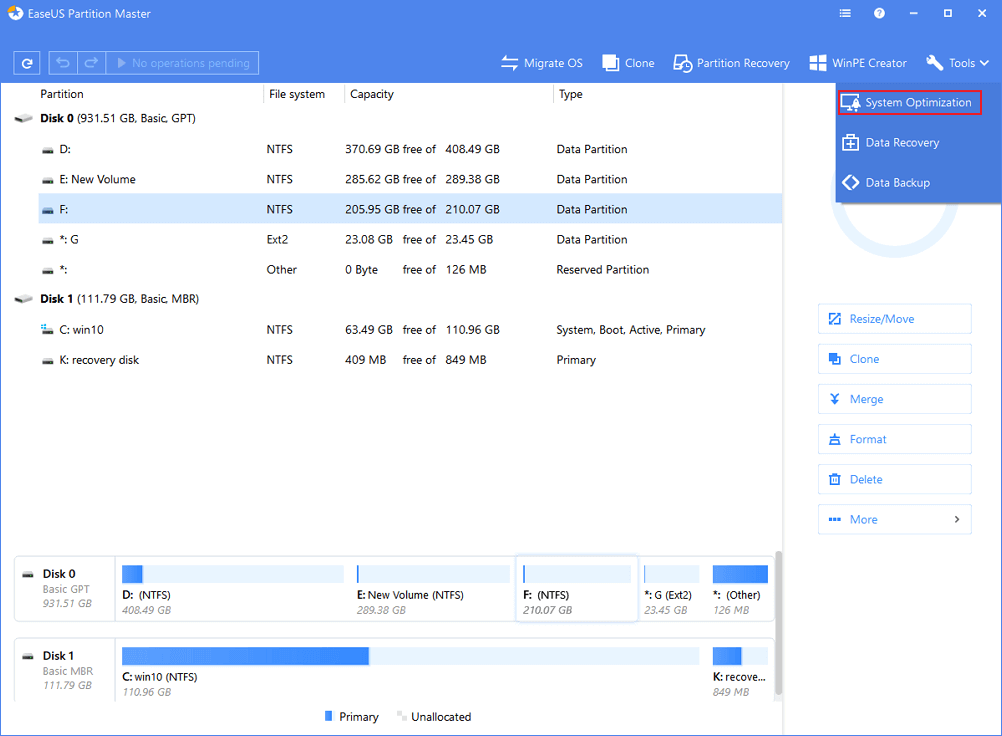 Step 2: Click "Junk File Cleanup". Then you can click "Analyze" to let EaseUS Partition Master find junk files on your PC.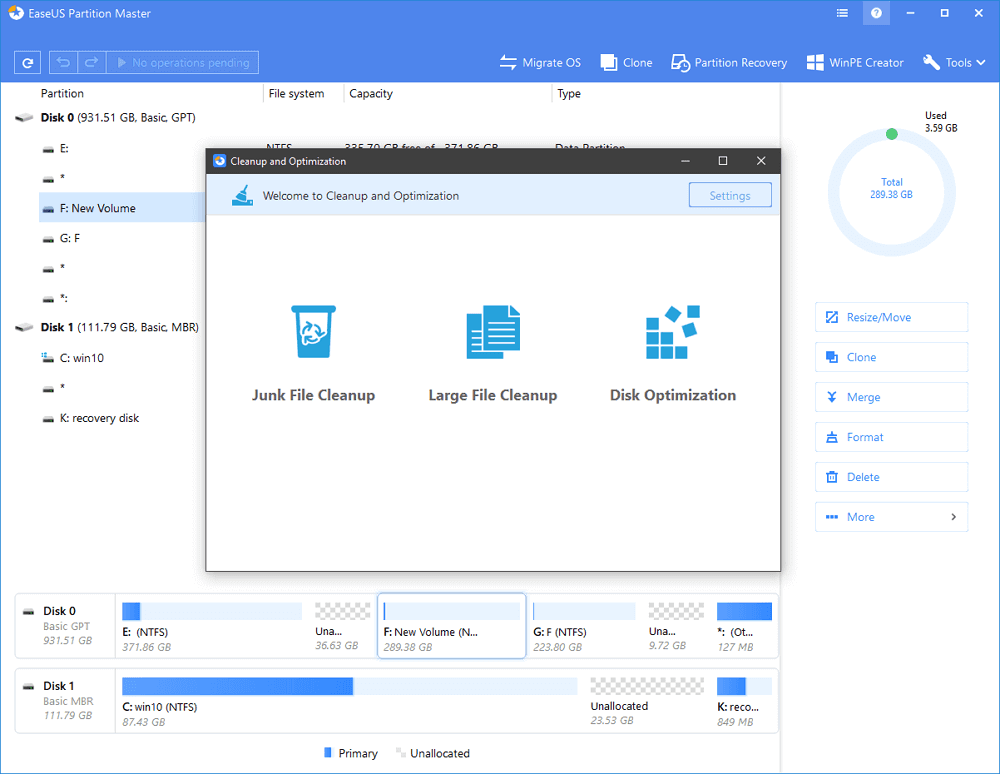 Step 3: You can check and choose junk files and click Clean up. All of the selected junk files will be cleaned and deleted from your PC. Click "Yes" to clean up junk files.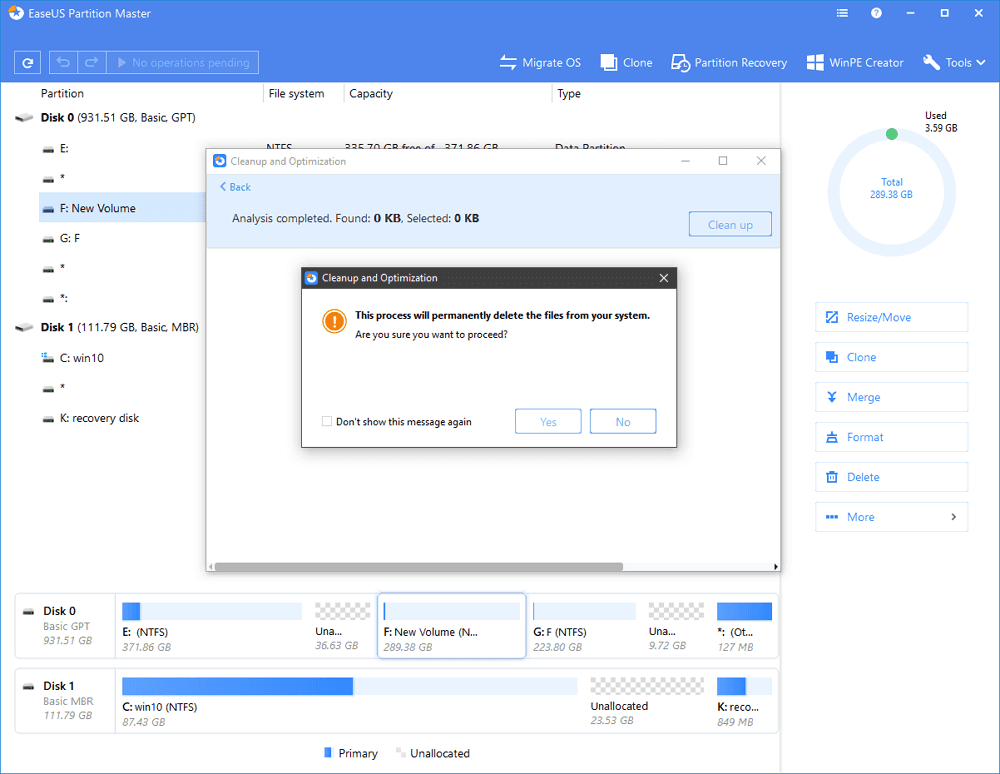 # 2. Move saved big files from C drive to other non-system partition
You can check the C partition, manually copy and paste saved big files on the C drive to other secure free partitions.
You can follow the below steps to locate and move the saved big files to other partition:
Step 1: Press "Windows + I" to open Windows Settings, click on "System" and " Storage".
Step 2: Under "Storage", select the C: drive to analyze. (Note that the "This PC" drive is the main computer's hard drive where Windows 10 is installed.)
Step 3: Click the Item name such as "Documents", Desktop, Apps & games, etc. to locate the saved big files.
Click "View" to check and copy the specific saved big files on C drive.
Step 4: Move these files to another non-system partition by "Copy & Paste". Then delete the original useless files on C drive.
# 3. Transfer installed programs, software from C drive to another drive
As you know that installed programs and software will also take huge space on the C drive. Professional PC transfer software such as EaseUS Todo PCTrans will effectively migrate your installed programs to another drive without reinstallation.
You can follow this link: transfer programs from C drive to D drive as a tutorial guide.
10% Choice - Upgrade System Disk to A Bigger Hard Drive
When the system disk gets old after using for a very long period, the C: drive will get full and the computer performance will slow down. To resolve this issue, the best way is to upgrade and replace the system disk with a bigger new hard drive.
EaseUS Partition Master enables you to effectively upgrade system disk to a bigger one by cloning disk. By doing so, you'll be able to move everything including Windows OS, saved data, installed programs to the new hard drive at one time. Also, you'll be able to get more free space for C drive.
Step 1: Select the source disk.
Open EaseUS Partition Master. Right-click the disk that you want to copy or clone. Then, select "Clone".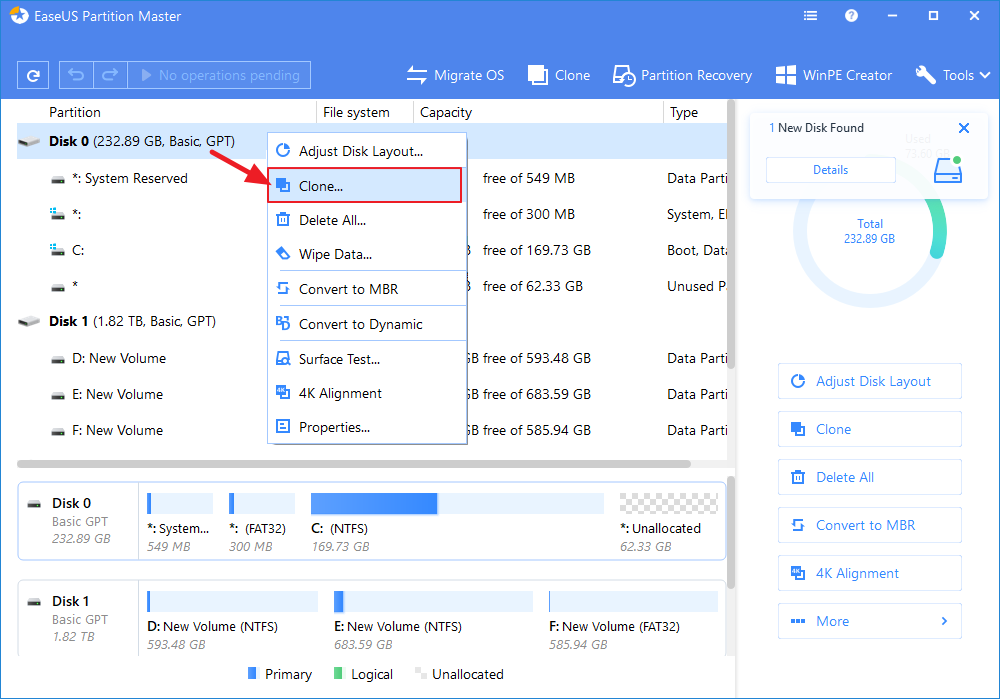 Step 2: Select the target disk.
Step 3: View the disk layout and edit the target disk partition size.
Then click "Continue" when the program warns it will wipe out all data on target disk. (Back up valuable data in advance.)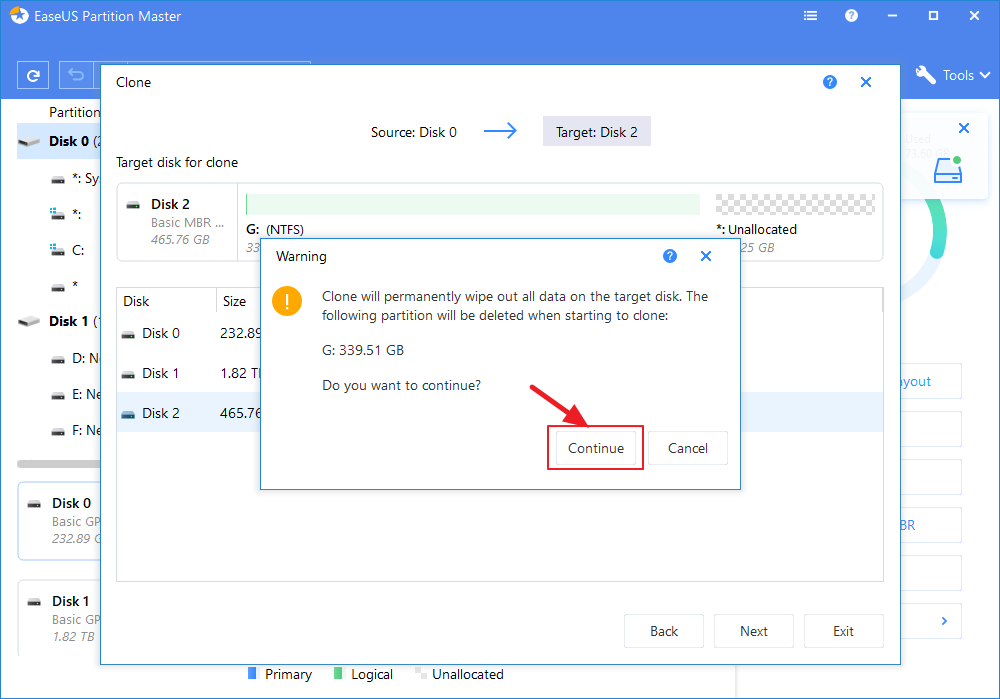 You can select "Autofit the disk", "Clone as the source" or "Edit disk layout" to customize your disk layout. (Select the last one if you want to leave more space for C drive.)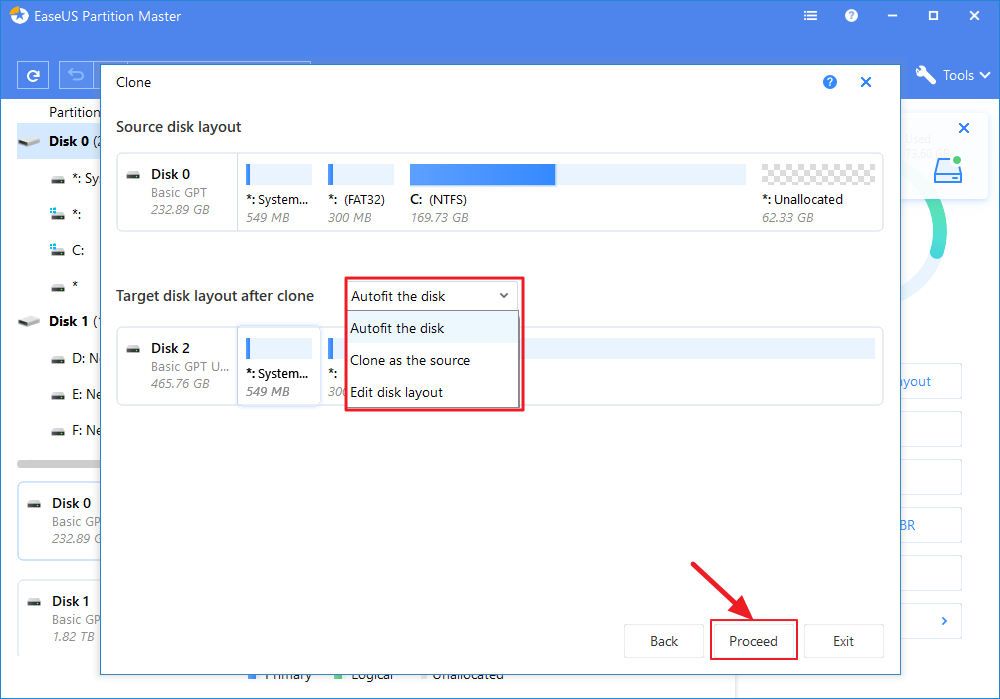 Step 4: Execute the operation.
Click the "Execute the operation" option and click "Apply" to start the disk cloning process.
100% of people found this article helpful.
Frequently Asked Questions
Why Choose EaseUS Partition Master?

"I've used Partition Master Professional many times to create, delete, format, move, rename, and resize partitions." —PCWorld

"Partitioning tools have come a very long since the days of complicated command line utilities and EASEUS Partition Master is one of the most advanced programs available." —TECH ADVISOR

"I love that the changes you make with EaseUS Partition Master Free aren't immediately applied to the disks. It makes it way easier to play out what will happen after you've made all the changes." —Lifewire
Will the "Migrate OS" feature transfer the Windows system files only or the whole C drive?

To ensure that the migrated system will boot normally, the Migrate OS feature will transfer all the files in the system and the boot partitions. Generally, the boot partition is the C drive so the transfer will include all the files in C.
Does EaseUS Partition Master license apply to multiple computers?

The license of Partition Master Professional and Server editions can be used on 1 computer only, while that for for the Technician and Unlimited editions can be used on multiple machines.
What is the difference between EaseUS Partition Master Trial version and the Free version?

Free is for home users only, with most basic functions available such as partition resize and clone. While trial can help you understand how this product works and test what a full license can do on a business or server OS machine.
Will it cause any data loss after resizing the partition in EaseUS Partition Master?

Generally, it will not cause any data loss or boot issue by resizing a partition. However, in order to protect your data, we suggest that you backup the partition before resizing, in case of any unexpected situations such as power outages, computer hardware failures, etc. You can use EaseUS Todo Backup to backup the partition and its trial version is fully functioned for 30 days.
What should I prepare before resizing the partition?

On the partition that is going to be operated, there might be some files being occupied by other programs. To ensure a successful operation, we suggest that you close all the unnecessary software before resizing that partition. Otherwise, EaseUS Partition Master will detect the partition being locked by the other software and require a reboot to resize the partition under boot mode.
About EaseUS Partition Master
All-round disk & partition management software for personal and commercial use. Let it manage your storage drive: resize, format, delete, clone, convert, etc.