4 Ways of External Hard Drive Data Recovery on Mac
Most Mac users have invested an external hard drive to expand the storage space of their MacBook or iMac. The most popular brands are usually Westen Digital, Buffalo, G-Technology, Samsung, Seagate, and Lacie. As far as we know, it's notoriously difficult for simply upgrading the internal hard drives. Somehow, the more frequently you operate a Mac computer on an external hard drive, the more likely you are subject to data loss. For example, accidental deletion, disk formatting, improper disconnection, or merely the drive itself is dying.
Basically, there are four possible ways to recover lost files from external hard drive, USB flash drive or a memory card on Mac. Each way is applicable to certain data loss scenario, and we'll explain in details.
Top 1: Restore from Trash Bin
If you lost data on the external hard drive by dragging it to the trash, always check the Trash Bin first. Right-click on the file and select Move to Trash, or use the keyboard shortcut Command-Delete. Those files were not permanently removed until you emptied the trash.
Connect your external hard drive to Mac and navigate to Trash.
Locate the abandoned file in the trash folder, and use "Copy Items" to recover the files back to their original spot. By the way, the "Put Back" command works the same way.
Top 2: Restore from a backup file
Since Mac provides users with secure protection mechanism by backing up important hard drive files to Cloud, or a backup device via Time Machine, one good way to recover deleted files is from the backup file.
For example, to restore Mac files from Time Machine, refer to the steps:
Open Time Machine by clicking on the icon in the menu bar and choose Enter Time Machine.
Find the specific file in the backup, press Space Bar to preview it and determine whether it's the one you want.
Click on the Cloud icon to download a snapshot to view it. When you do this that snapshot will be available to view even when your external drive is disconnected from the Mac.
Click Restore to restore the selected file.
Top 3: Restore with the help of data recovery software
When it comes to situations under which you are unable to access/locate files in the Trash or backup or even no backups were ever created, the only way to continue is to download a capable Mac external hard drive data recovery program and perform data recovery as soon as possible.
EaseUS Data Recovery Wizard for Mac is reputable in data recovery field, regarding the 10+ years of experience, deep scan ability, all macOS and Mac OS X compatibility, it's the top 1 choice whenever you're faced with Mac data loss issues and eager to find a simple yet effective data recovery solution.
To help you identify whether the recommended software could help recover data or not, we give you some examples.
Permanently deleted files from the external hard drive on Mac, like using Command-Shift-Delete to empty the trash, or Option-Command-Delete, known as "Delete Immediately" to bypass trash.
Format the external hard drive using Disk Utility or other third-party disk formatting tools.
Files were unknowingly hidden somewhere and you lost the entrance.
Other logical errors occur to the external hard drive, and later it becomes inaccessible.
To recover data from external hard drive on Mac with EaseUS Data Recovery Wizard:
Step 1. Select the disk location (it can be an internal HDD/SSD or a removable storage device) where you lost data and files. Click the Scan button.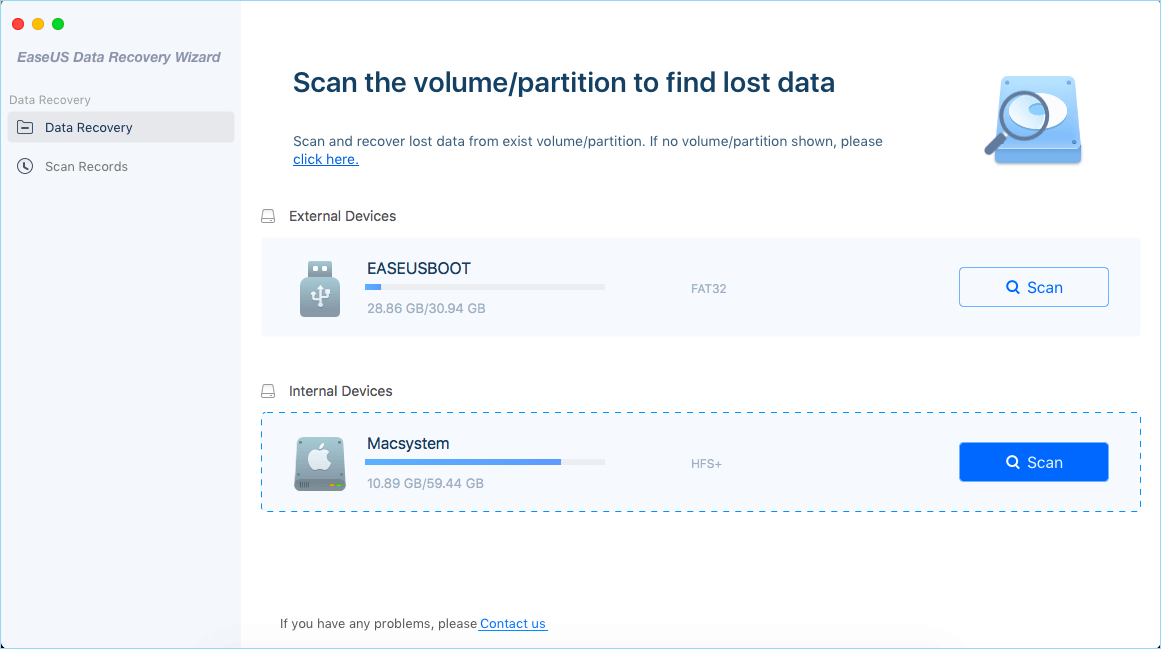 Step 2. EaseUS Data Recovery Wizard for Mac will immediately scan your selected disk volume and display the scanning results on the left pane.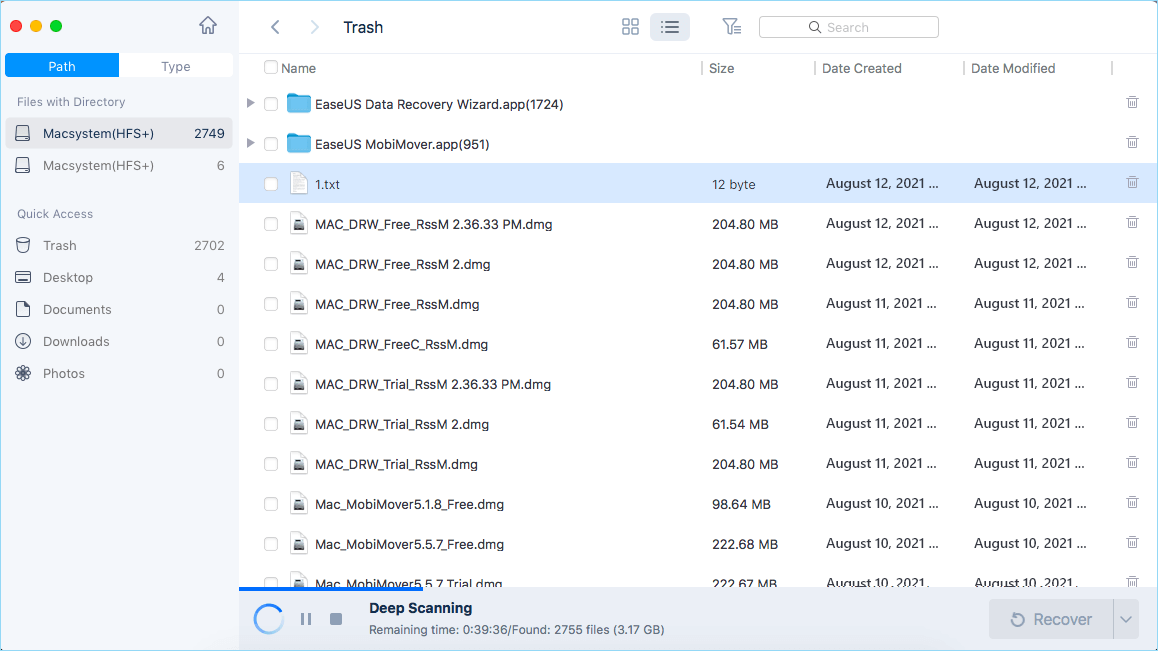 Step 3. In the scan results, select the file(s) and click Recover Now button to have them back.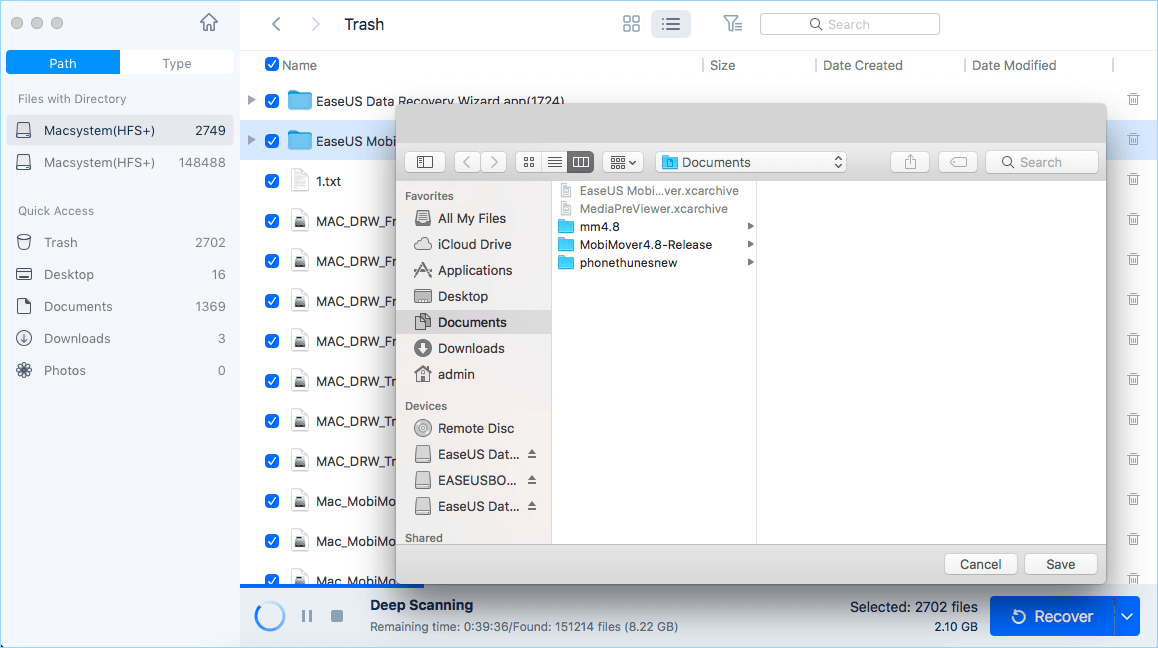 Top 4. Restore with the help of manual data recovery service
Apart from most of the logical errors that would bring data loss on an external storage device, which EaseUS Mac data recovery software can absolutely help recover, there are moments you cannot simply get data back, especially when severe issues were developed on a disk. For instance, hard drive corruption with too many bad sectors, hard drive has fallen apart, heavy clicking/beeping sound, etc.
When you got problems similar to the examples, do not try to rely on any Mac data recovery software in the market, it's time to send it to an IT expert who is good at manual data recovery (check the average hard drive data recovery cost if you're interested). Most of the time, by the local data recovery service, hard drive repair comes before data recovery.