A system image is a vital copy of your operating system. By default, it consists of the drives needed for Windows to operate, including system and Windows settings, files, and programs.
Are you wondering the reason for creating a system image? The images help restore your system to a stable state, keeping all the settings intact. If any system crashes occur or accidental deletion of crucial files because of malware attacks, it's hassle-free to use a system image to retrieve the contents of your PC in case your hard drive ever ceases working.
It's challenging to manage all the system backup data and upload those files to some drive. To make things work, OS imaging software is utilized. This article will discuss the top 10 OS imaging software free for a complete system backup. So, let's get straight to it!
Selection Criteria for OS Imaging Software
Regardless of how well you take care of your Windows 10 hardware, all devices will deteriorate at one stage. Therefore, having OS imaging software to back up your system will ensure you can go back to common operations even through a PC malfunction.
As you can backup and quickly deploy OS manually, it would be more effective to utilize an OS imaging and deployment software. However, these are the best selection criteria for choosing OS imaging software:
Affordability: The price range of the OS imaging software should fall under your budget. Moreover, you need to be sure about the vendor if he will offer a free trial to examine the software.
Compatibility: The software must be compatible with all the best Windows versions and OS for hassle-free management.
Customer support: When choosing OS imaging software, you must ensure that the software developers are readily available for last-minute assistance if any issue arises.
We have talked about the best Server backup software for Windows. You can click the link page below and find the answer yourself: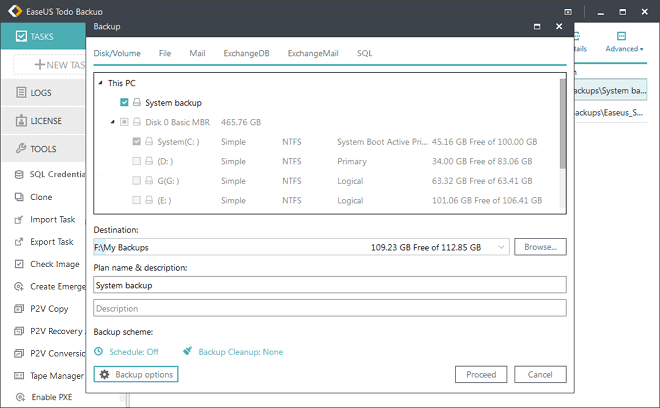 Top 10 Best OS Imaging Software for Windows
Not every OS imaging software for Windows 10 is built equal. For example, a few software only allows you to back up particular files. Therefore, for your ease, we have listed the top 10 best OS imaging software free for Windows.
EaseUS Todo Backup is a reliable OS imaging software for your Windows 10 due to its easy-to-use and safe features. It allows you to back up system files, partitions, states, folders, and disks in a few minutes with tits precise instruction wizards.  After backup, you can quickly restore your system any time you need to, with no risk of data loss.
This is how you can save a plethora of time without reinstalling Windows applications and OS to retrieve lost data from an unanticipated setback. In brief, EaseUS Todo Backup is the best overall!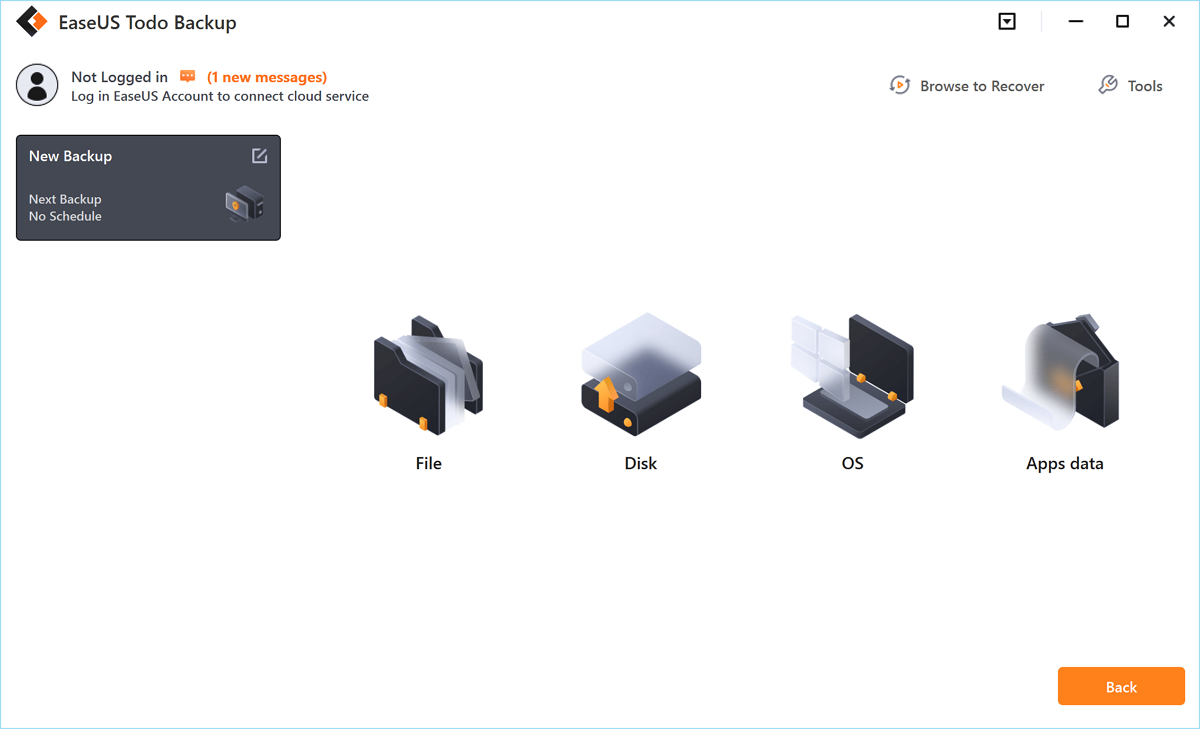 Features:
Schedule backup is allowed
Quick one-click backup and reinstate functions
It offers 250GB of free cloud space, such as an AWS-based cloud service
Support file backup, system backup, and disk or partition backup
Supported systems: Windows 11/10/8/8.1/7/XP
Final Verdict: EaseUS Todo Backup for Windows 10 lets you take a hard drive picture. It can also clone a hard drive with a few clicks. In addition, this best software has several backup options and compresses image size.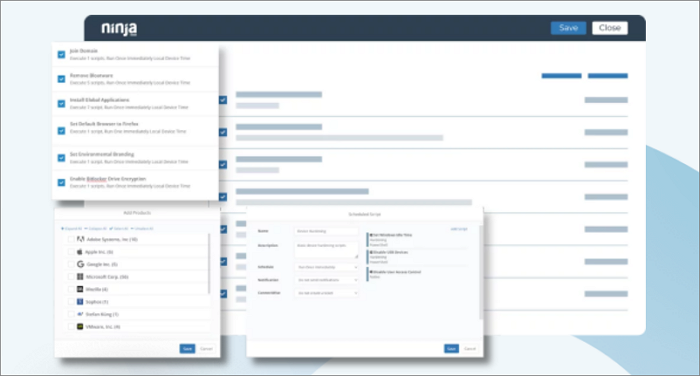 It is a cloud-based service supporting managed service providers or MSPs. The IT department uses this tool for in-house data protection. In addition, this free OS imaging software provides a wide array of strategies for backing up systems, which can be used to replicate configurations along with the recovery.
Features:
Suitable for MSPs.
A top-notch cloud-based system.
Web-based console.
It has options for automated retrieval.
Supported systems: Windows 11/10, Linux, macOS
Final Verdict:
The amalgamation of pre-backup virus scanning and antimalware services is the most vital option for a backup service.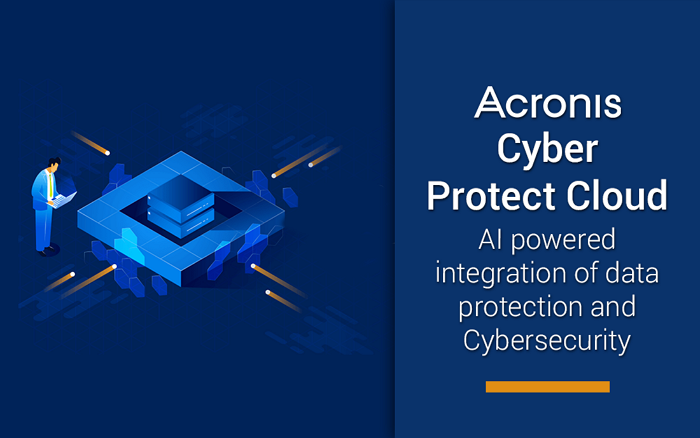 This is the best software package for PCs, and the best part is that it provides a free trial! The two leading strands of this OS imaging software are a backup & retrieval service and an antimalware system. This backup system could be used on an application basis and at the file level.
Features:
Complete protection from all cyber threats.
Effective all-in-one protection.
Hassle-free to use backup and antivirus.
Supported systems: Windows 11/10/801/8/7/Home Server 2011, Linux SWAP, and macOS. 
Final Verdict:
Avail of its 30-day free trial, which supports disk cloning and deployment. This OS imaging software has flexible backup options, and its helpful security extras are classic. In addition, it will create an amenable image of your Windows 10 while you're using it.
This is a top-notch OS imaging and deployment software to disseminate configuration files to devices. Moreover, it has a deployment scheduling feature to update your system's infrastructure daily through a web-based console.
Features: 
Library of operating system drivers.
Arranged distribution.
Deploy OS or applications.
Supported systems: Windows 10/8.1/8/7, macOS, Ubuntu, CentOS versions, Red Hat Linux AS, and ES versions.
Final Verdict: 
Automation is one of the most significant strengths of KACE systems, and this platform automatically downloads the newest drivers by PC model.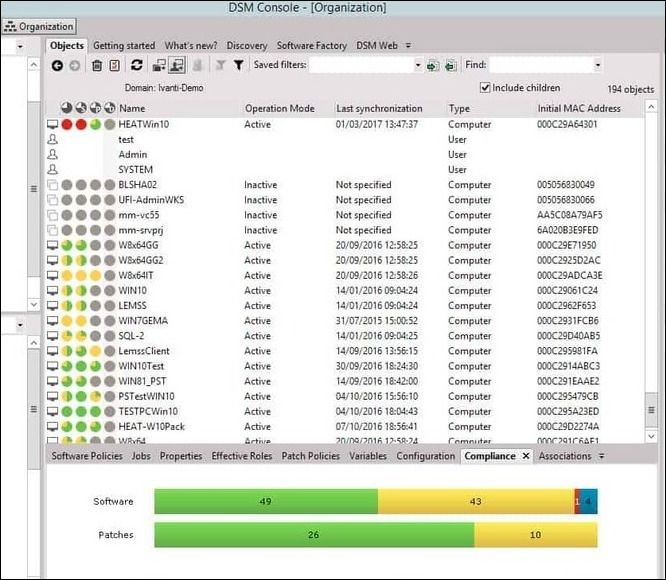 Ivanti is a top-notch automated OS imaging policy having migration and zero-touch imaging capabilities. This OS imaging software free is hassle-free to configure with a wide range of wizards to establish drivers and OSs.
Features:
Premium imaging wizards.
Complete endpoint management system.
Preference for imaging levels.
Supported systems: Windows 10/8/8.1/7, Windows Server 2008/2012/2012 R2.
Final Verdict:
Ivanti will be perfect for geographically dispersed teams who yearn for a simple OS deployment platform to work from. This OS imaging software helps you create installer packages and facilitates automated image deployment.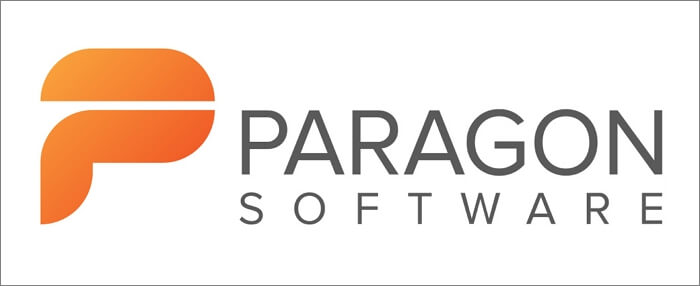 It's a leading OS deployment platform that can install systems on virtual writable devices and bare-metal. In addition, this software can be installed quickly and use a Wix-based installer, which can take you through configuring your administration backdrop.
Features:
The deployment scheduler is available.
It deploys to VMs and PCs.
Different hardware in a batch.
Supported systems: Windows 10/7 SP1 and later, Linux Ext2FS, Ext3FS, Ext4FS, Swap. 
Final Verdict:
The free version of this OS imaging software has an easy-to-use interface and features classic drive encryption to keep backups secure. In addition, to enhance efficiency, you can back up changes to master images.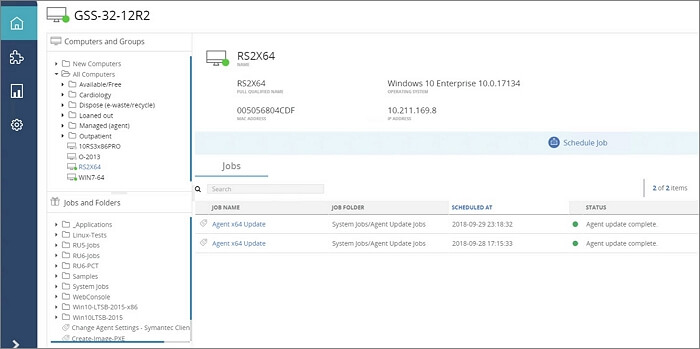 It's an OS imaging and deployment software that can deploy custom and software configurations to bare-metal devices. In addition, this software provides Guided Wizards and demonstrates how to finish specific tasks to assist new users in becoming well-acquainted with the program.
Features:
Superfast deployment.
It upholds various OS.
It can deploy OSs or software.
Supported systems: macOS, Windows, and Linux.
Final Verdict:
Symantec Ghost supports iPXE, and its wizards offer guided steps for numerous tasks. In addition, the iPXE ramps pre-boot automation and minimizes downtime during deployment.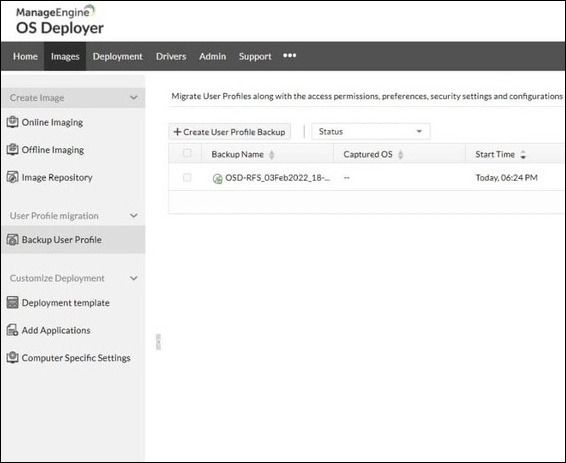 It's another deployment platform on this list, which can deploy and create default OS pictures offline or online. In addition, images can be personalized and deployed throughout different PCs with authentication passcodes.
Features:
It can be deployed throughout the internet or network.
It can create and preserve images.
Bulk configuration.
Supported systems: Windows 11/10/8.1/8/XP/Server 2003 R2.
Final Verdict:
This OS imaging software is highly comprehensive and hassle-free to use because ManageEngine configures hardware settings during deployment. To summarize, it can take care of all the major endpoint OS management hassles in one system: value for money.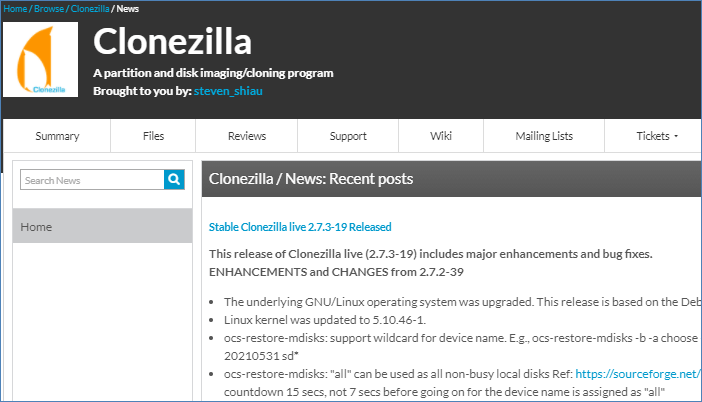 It's an open-source tool excellent for users searching for a customizable product. It offers optimum features, such as accessing pictures from various devices and numerous partition imaging at once.
Features:
It lets users save the image of one device on numerous devices.
It's encrypted with top-notch AES 256-bit encryption.
Compatibility with different OSs.
Supported systems: MS Windows, macOS, Linux, Minix, NetBSD.
Final Verdict:
It's a handy software with several features that can be discovered in the other tools in the same league. So it will be an excellent choice if you're rummaging for free software.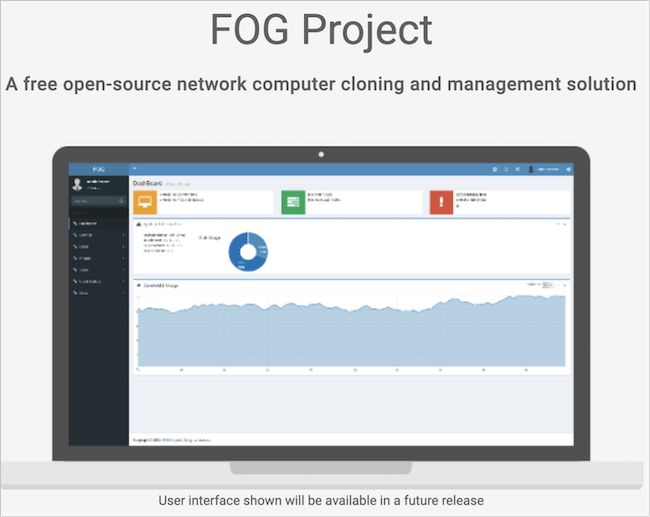 Fog is a free disk imaging software if you're looking for an open-source and free-to-use source application. It lets users personalize its source code according to the requirements as it's embedded with features like interactive UI and more.
Features:
It's compatible with all the S, making it globally usable.
It helps its users access images and data backups remotely.
It can generate hardware-independent images.
Supported systems: Windows, macOS, and Linux.
Final Verdict:
This free-to-use platform is a fantastic choice for individual usage. However, check out other available options if searching for secure and credible options.
Pro Tip: Full Guide on Using OS Imaging Software
Among all the OS imaging software mentioned above, EaseUS Todo Backup is the best one! You can keep your Windows 10 safe with its upgraded backup strategy. Being an award-winning backup solution for secured and fastest data backup and retrieval, EaseUS Todo Backup is a trusted hard disk drive cloning tool. Using this software is easy because of no involvement of hardcore steps.  
Step 1. On the main page, find and click "Tools", system clone and other utilities are here.
Step 2. EaseUS Todo Backup will automatically select the boot and system partition, choose the target disk and click "Next."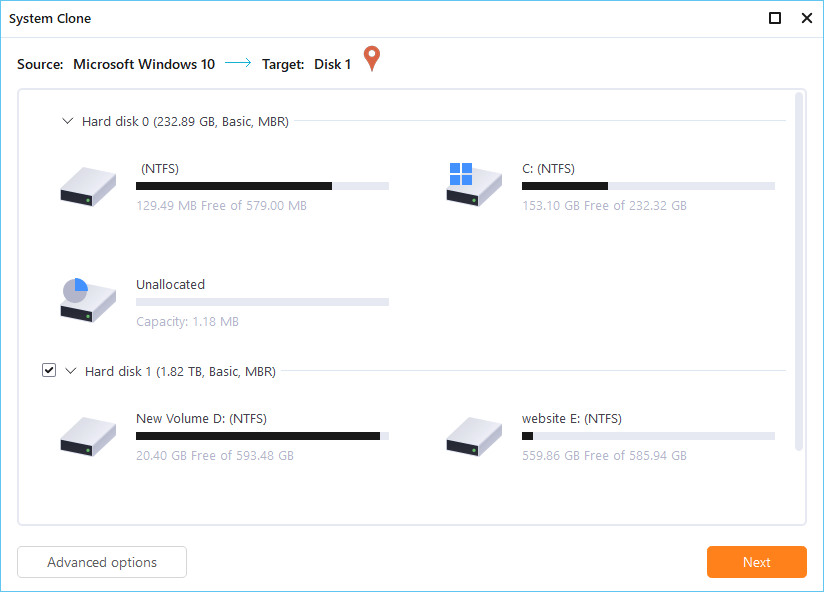 *System clone will wipe out all data and does not support cloning MBR disk to GPT or vice versa. Make sure that the partition style of the source disk and the target disk are the same.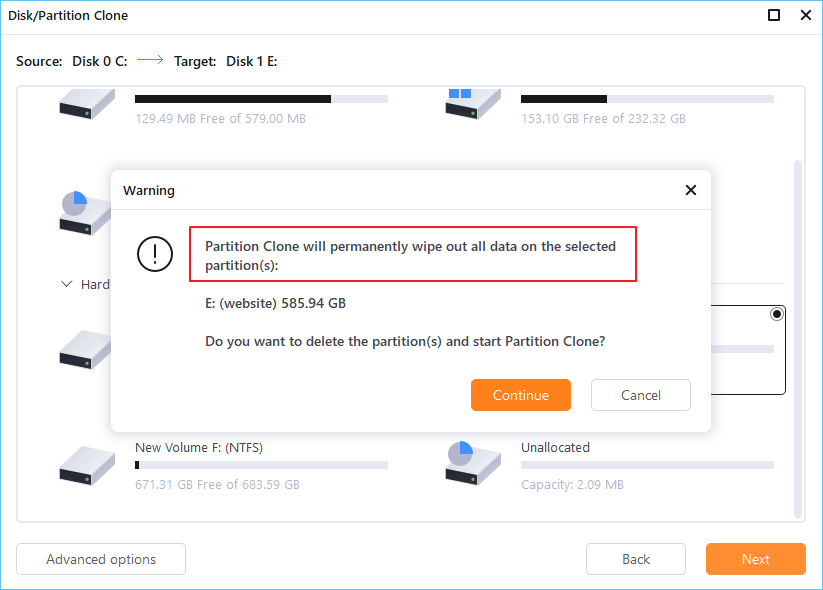 Step 3. If the target disk is a SSD, choose optimize for SSD in the advanced options.
Step 4. Click "Proceed" to start cloning.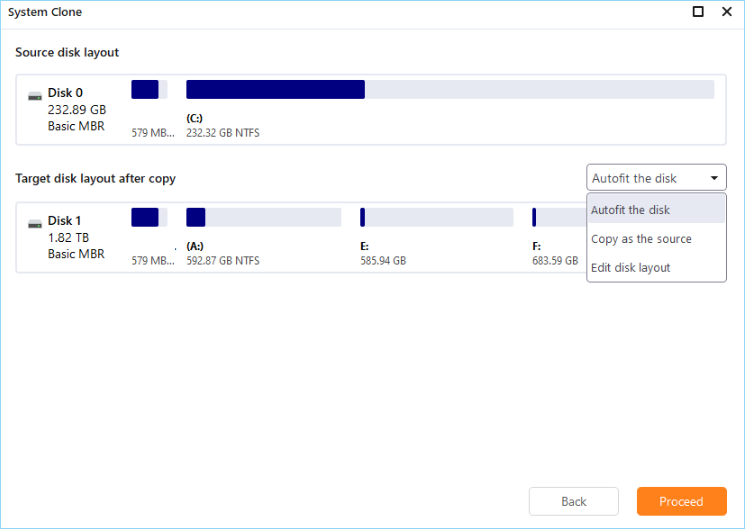 Conclusion
To summarize, EaseUS Todo Backup wins the competition because it has a WinPE bootable disk, smart backup facility, security zone backup, and hot backup, which stands out from the crowd. In addition, at only $39.95 a month, you can get partition backup/restore, universal restore, SQL/exchange backup, and more. Download EaseUS Todo Backup now!  
OS Imaging Software FAQs
See the FAQs below to understand better what OS imaging software is:
1. What is OS imaging software used for?
OS imaging software is used for OS onboarding and imaging, application-level backups, and image copies or block-level disk storing.
2. Does Windows 10 have imaging software?
Windows 10 has a tried-and-true system image tool. Once you have built a system image of the hard drive, you can utilize the system image retrieval tool from the recovery drive to recuperate the whole system during a hard disk failure.
3. Why should you use OS imaging software?
OS imaging software offers application-oriented and file-level backup strategies, along with bit-wise whole disk copies. 
4. How does OS imaging reduce the problems of total software reinstallation?
The OS imaging software starts by capturing the OS image; after that, it's deployed to the systems as and when needed.
5. How to create an OS image?
To create a customized OS image, you need to create a reference PC with the desired OS. after that, install the apps and configure settings. Finally, capturing the OS images from the reference PC is required to generate a WIM file.
Was this page helpful? Your supoport is truly important to us!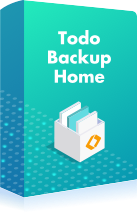 EaseUS Todo Backup
EaseUS Todo Backup is a dependable and professional data backup solution capable of backing up files, folders, drives, APP data and creating a system image. It also makes it easy to clone HDD/SSD, transfer the system to different hardware, and create bootable WinPE bootable disks.
Updated by

Jean is recognized as one of the most professional writers in EaseUS. She has kept improving her writing skills over the past 10 years and helped millions of her readers solve their tech problems on PC, Mac, and iOS devices. …

Read full bio

Written by

Cedric Grantham is a senior editor and data recovery specialist of EaseUS. He mainly writes articles and how-to tips about data recovery on PC and Mac. He has handled 10,000+ data recovery cases and is good at data recovery of NTFS, FAT (FAT32 and ExFAT) file systems, and RAID structure reorganization. …

Read full bio