Updated by
Larissa
on Sep 22, 2022
PAGE CONTENT:
Is It Possible to Move Windows 10 Installation to A New SSD/HDD
A hard drive(also called hard disk, hard disk drive, HDD) is a computer storage device that is used to store operating systems, applications, data files, etc., which is a crucial part of the computer. 
But if your hard drive space is full or unavailable, you may need to replace the old hard disk with a larger or new HDD or SSD. This means you need to reinstall the operating system and all other programs. 
This is a question from a Windows user:
"Can I just clone my old hard drive with Windows 10 installed to the new one and make it bootable? I don't want to reinstall Windows and all my programs again."
Is there any working solution to move OS and programs to another SSD or HDD without reinstalling OS and losing data?
Although the task sounds tricky and complicated for most users, it is doable as long as you find the right tool and follow the detailed steps. 
EaseUS Todo Backup enables you to move Windows 10 installation to another drive without any obstacles. 
It can help clone HDD to SSD or larger HDD and make it bootable. Or, you can use the backup function to create a system image and restore it to the new drive. 
With the above two ways, you don't need to reinstall Windows and programs, and all data won't lose. Now, let's look at the detailed guide with steps and screenshots. 
You may also be interested: 
2 Available Ways to Move Windows 10 Installation to Another Drive
Before starting to move Windows 10 Installation to another drive, you need to prepare the following issues in advance to make the process smooth. 
Preparations You Need to Do:
Prepare a new SSD or HDD and connect it to the computer. You can use a SATA or USB cable to connect it. If your computer is equipped with multiple slots, Just install the new drive to your computer. Make sure your computer can detect the new hard drive. Besides, you need to ensure that the new hard disk or SSD storage space is larger than the system space. 
Download and install the system backup and clone software to your computer. It doesn't take long to install EaseUS Todo Backup, and it takes up very little storage space.
Initialize the new HDD/SSD if it's an unallocated space. To do so, go to Disk Management and find the disk in the list. If not, restart your computer and try again. 
Method 1. Clone Windows 10 Installation to a New SSD/HDD
System cloning is an advanced feature for EaseUS Todo Backup Home, which enables you to move Windows 10 installation to another drive without reinstalling the operating system and programs. 
Follow the steps below:
Step 1. On the main page, find and click "Tools", system clone and other utilities are here.
Step 2. EaseUS Todo Backup will automatically select the boot and system partition, choose the target disk and click "Next."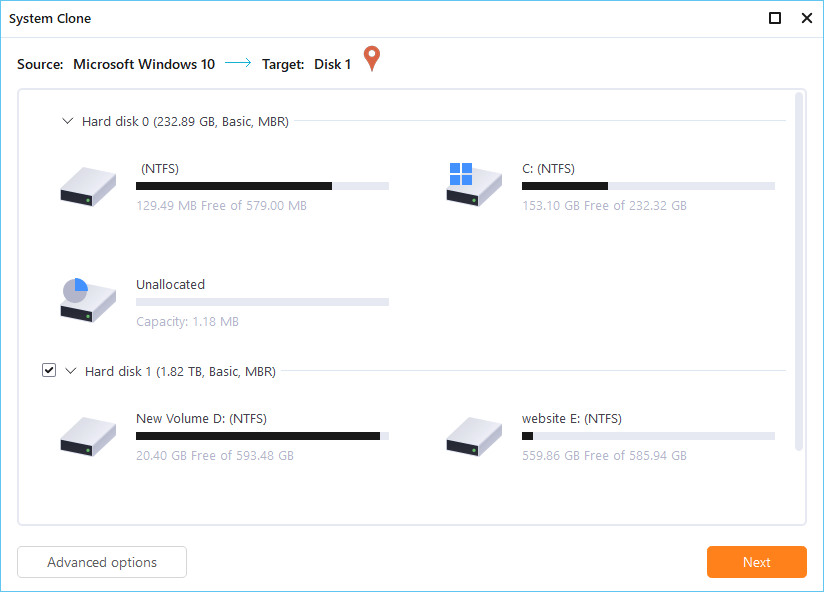 *System clone will wipe out all data and does not support cloning MBR disk to GPT or vice versa. Make sure that the partition style of the source disk and the target disk are the same.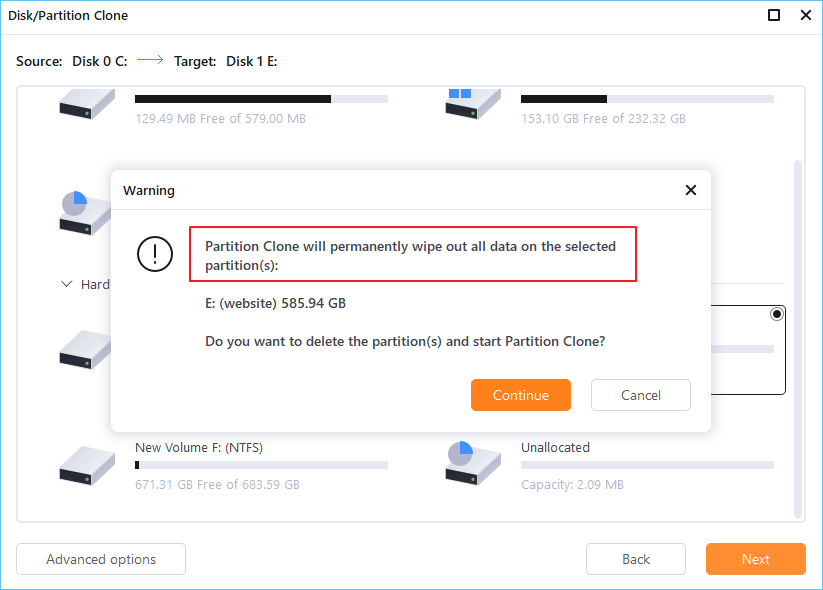 Step 3. If the target disk is a SSD, choose optimize for SSD in the advanced options.
Step 4. Click "Proceed" to start cloning.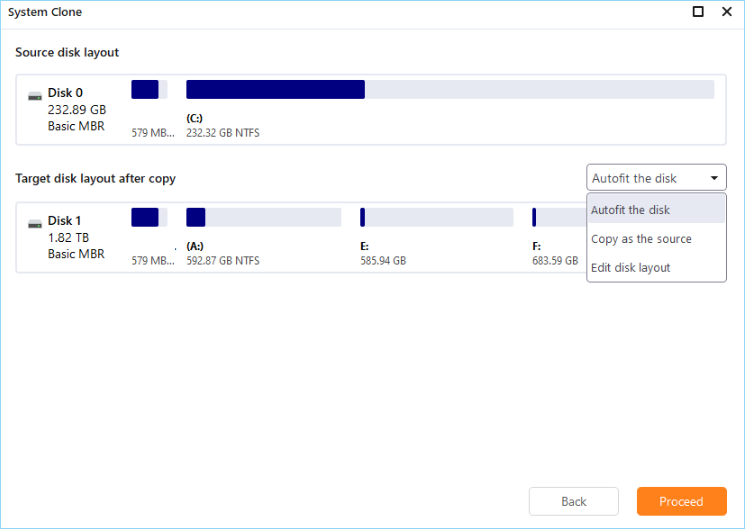 Method 2. Create A Windows 10 System Image and Restore it to New Drive
Another working solution is using the backup and restore functions, but this method is related to 2 main features. You need to backup the system first, then restore the system image to the new hard drive or SSD. 
First, create a system image of the old hard drive:
Step 1. Launch EaseUS Todo Backup on your computer, and click Create Backup on the home screen and then hit the big question mark to select backup contents.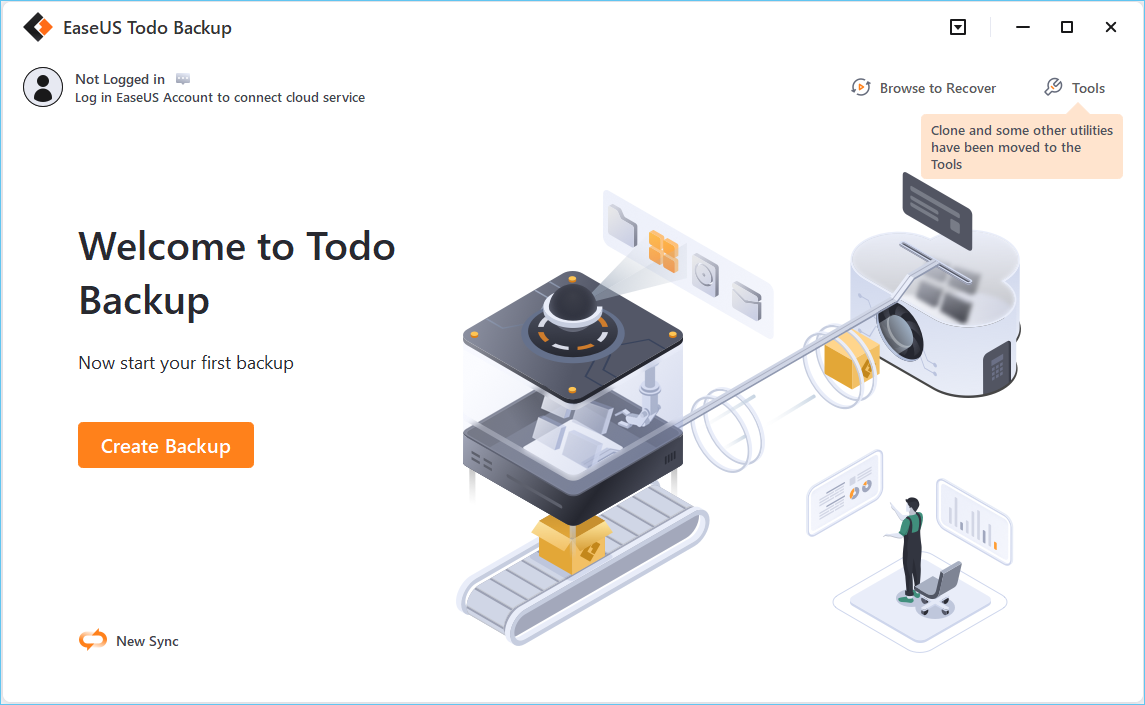 Step 2. To back up your Windows operating system, click "OS" to begin the backup task.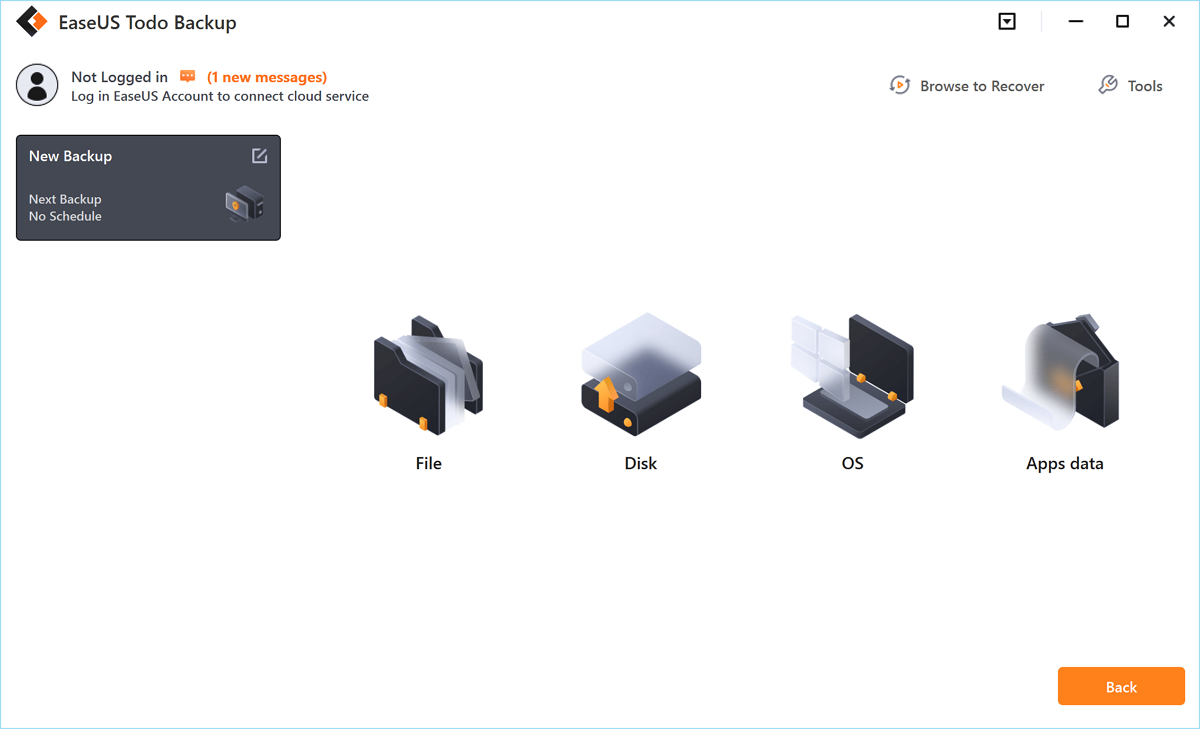 Step 3. Your Windows operating system information and all system related files and partitions will be automatically selected so you don't need to do any manual selection at this step. Next, you'll need to choose a location to save the system image backup by clicking the illustrated area.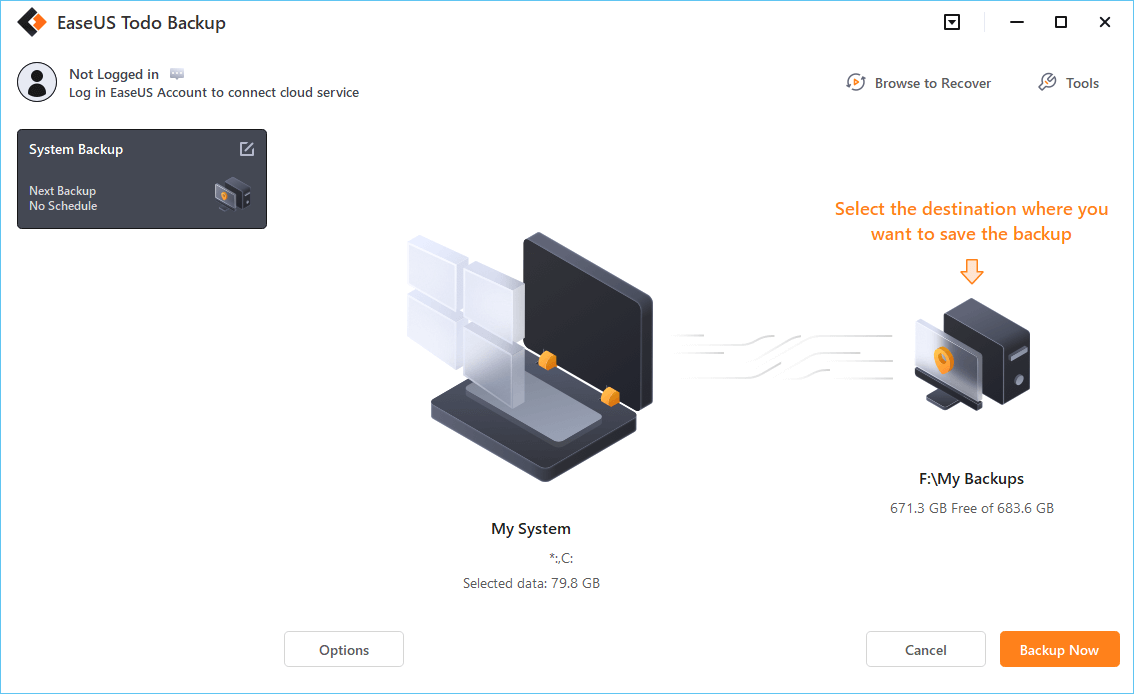 Step 4. The backup location can be another local drive on your computer, an external hard drive, network, cloud or NAS. Generally, we recommend you use an external physical drive or cloud to preserve the system backup files.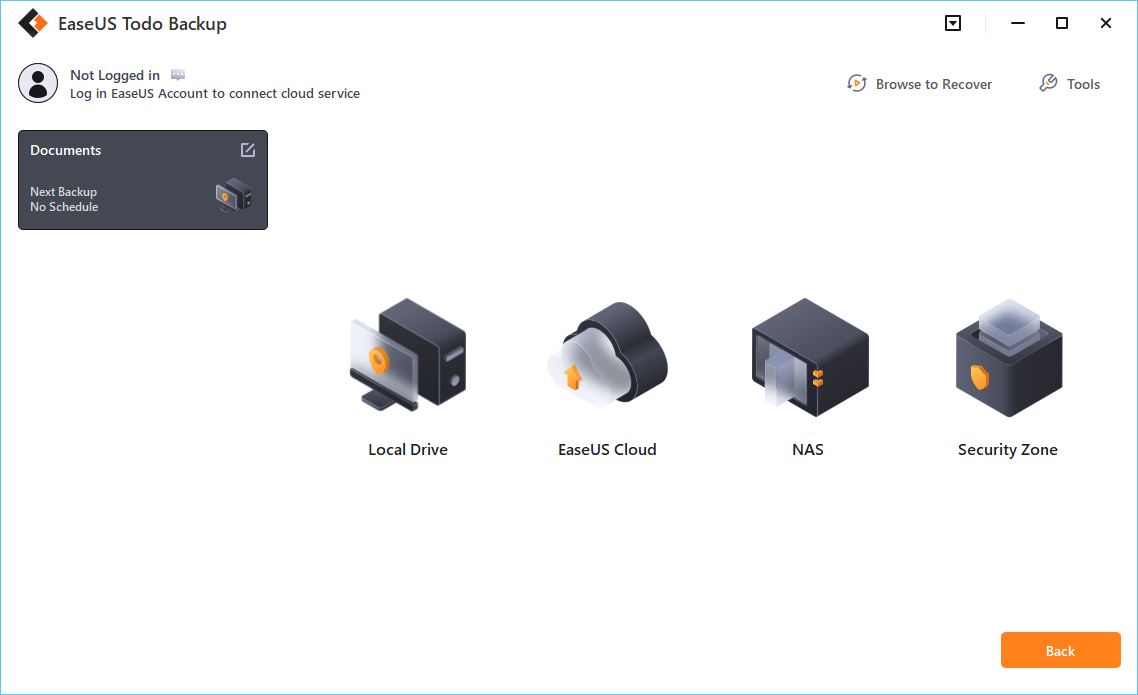 Step 5. Customiztion settings like enabling an automatic backup schedule in daily, weekly, monthly, or upon an event, and making a differential and incremental backup are available in the Options button if you're interested. Click "Backup Now", and the Windows system backup process will begin. The completed backup task will display on the left side in a card style.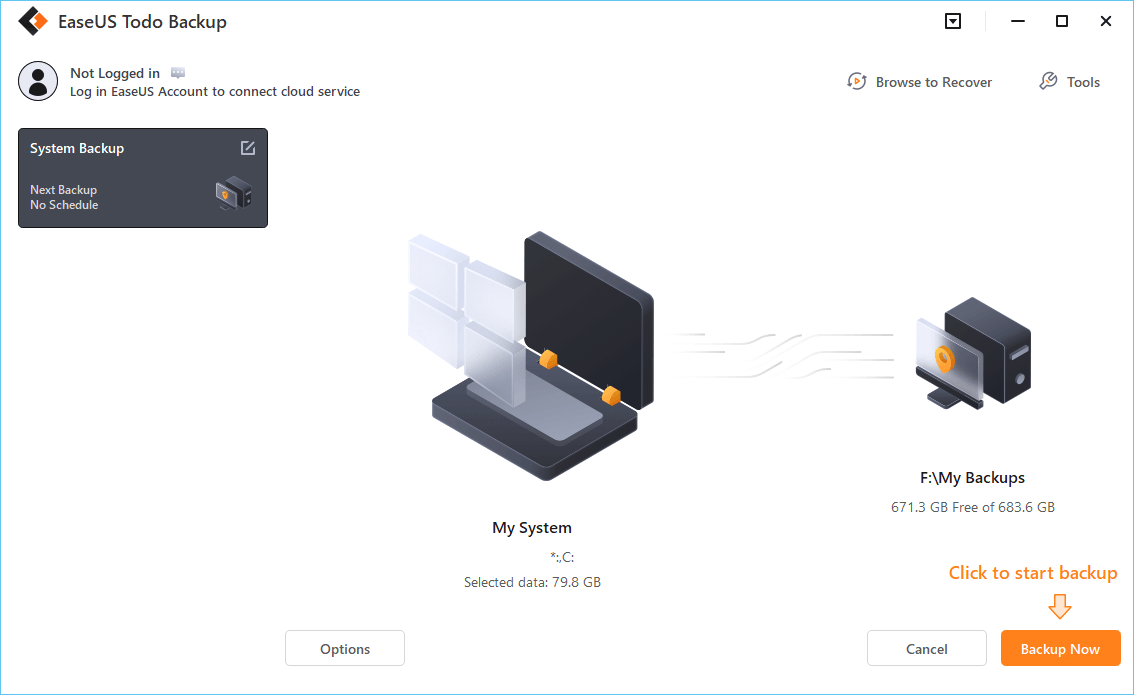 Second, restore the backup to the new drive:
*Try to boot the computer with the EaseUS Todo Backup emergency disk to accomplish system recovery on a non-bootable machine..
Step 1. Click Browse to Recover to luanch EaseUS Todo Backup.
Step 2. Navigate to the backup location, and then select the system backup file you need. (The backup file created by EaseUS Todo Backup is a pbd file.)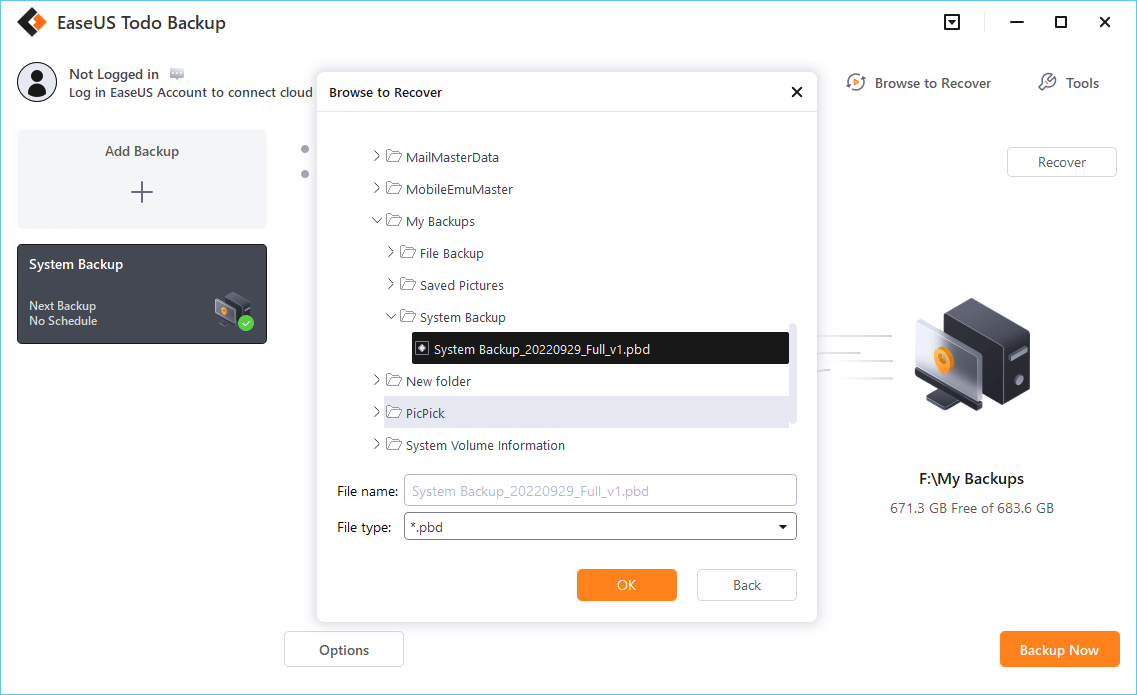 Step 3. Select a recovery disk. Verify that the partition styles on the source and recovery disks are same.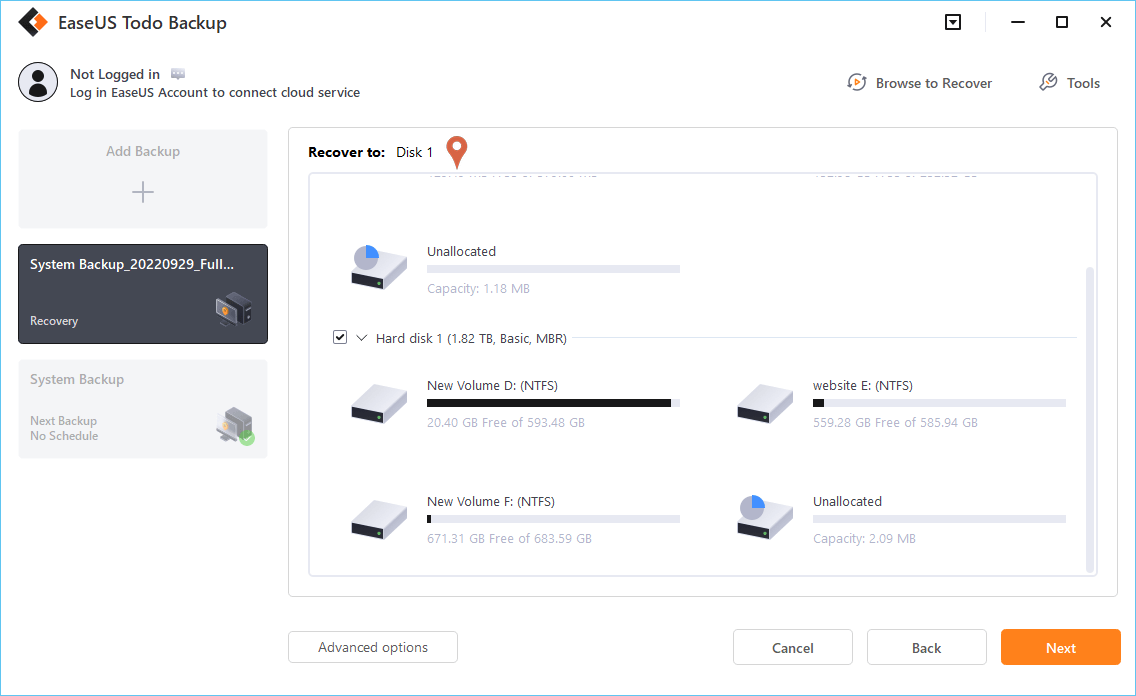 Step 4. You may change the disk layout to suit your requirements. Then, to begin system backup recovery, select Proceed.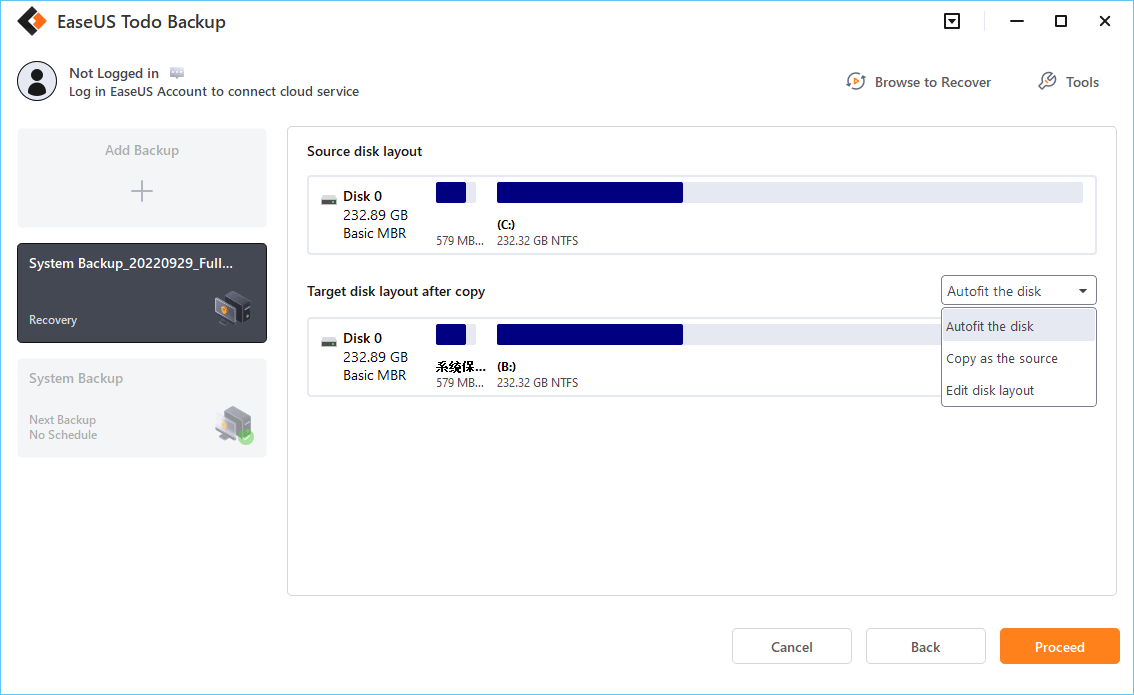 Bonus: How to Boot New Drive Successfully
After you move Windows 10 to a new hard drive, you need to change the boot order in BIOS to ensure the computer can successfully boot up from this disk later.
Step 1. Shut down your computer, and then unplug all connected devices except for the keyboard and mouse.
Step 2. Restart your computer and press "F2" or other key shown on the first screen while booting to enter BIOS.
Step 3. Find and adjust the "Boot Order" in BIOS to move your new hard drive or SSD containing Windows 10 to the top of the priority list.
Step 4. Press "F10" to save and exit BIOS, then restart computer again to check if it can successfully boot up from the new hard drive.
You can refer to the post about Clone SSD Won't Boot if you still can't boot it up.
Conclusion
There are two effective solutions to move Windows 10 installation to another drive. You can use EaseUS Todo Backup to clone Windows 10 system. Or, create a system image backup and then restore it to the new hard drive. 
No matter which method you choose, don't forget to set the boot order in BIOS correctly so that your computer can successfully boot up from the new drive.
FAQ about Move Windows 10 Installation to Another Drive
1. How do I move programs from C to D drive?
You can safely transfer programs from C drive to D drive with Apps & Features, and follow the path: Windows settings > click Apps > find the program you want to move > choose a location, here you can choose D partition > Move.
2. Does Windows 10 have Windows Easy Transfer?
Windows 10 does not have Windows Easy Transfer. However, you can use other tools to move Windows 10 from one drive to another, such as EaseUS Todo Backup.

Updated by Larissa
Larissa has rich experience in writing technical articles. After joining EaseUS, she frantically learned about data recovery, disk partitioning, data backup, and other related knowledge. Now she is able to master the relevant content proficiently and write effective step-by-step guides on computer issues.
Taking everything into consideration, we can say that EaseUS Todo Backup Home can offer you a little extra sense of security with a set of advanced tools. The interface provides quick adaptation, every process guiding you all the way through so you don't get stuck or further damage your system rather than keeping it safe.

 Read More

EaseUS Todo Backup Free lets you create backups of your important files or your entire computer through its streamlined interface. Just choose the backup type you'd like to get started, and let the program do the reset.

 Read More

EaseUS includes all the features I expect from backup software like versioning, incremental backups, and scheduling. For more advanced users, EaseUS allows you to install a pre-boot environment onto your hard drive so you can use it to restore files without burning a CD or putting it on an external USB drive.

 Read More

EaseUS Todo Backup
Smart backup tool for your files and entire computer in Windows 10/8/7.
Install Windows on Multiple Computers at Once? No Problem!
Learn how to install Windows 11/10/7 and special programs/software on a batch of computers. Use 10 minutes to do the 10 hours work without making a single mistake!
Get Free Solution!