What Is Data Corruption? Symptoms & Causes of Data Corruption
Data corruption refers to errors in computer data during writing, reading, transmission, storage, or processing, which can cause unintended changes to the original data. When data corruption occurs, if a system or application attempts to access the file, including the data, it will suffer severe consequences, ranging from minor data loss to a serious system crash.

What your computer or devices will happen when data corruption occurs? There are some common symptoms of data corruption:
The disk hangs or performs slowly.
File error comes with "invalid file format".
Files and folders are displaced or lost.
The computer regularly crashes or hangs for no apparent reason.
Disk action seems very busy, even though not many things are going on.
Data corruption will significantly damage our data on computers, so it is vital to know the causes of data corruption on Windows computers. Here are some reasons why your computer data get corrupt:
Malware attacks and computer viruses can corrupt your data.
A failing hard drive can lead to data corruption.
Data corruption may result from improperly saving files.
The data can also get corrupt when you improperly unplug storage devices from the computer.
Disk sectors sometimes go wrong, thus corrupting the files and folders.
3 Strategies to Prevent Data Corruption in Windows Computers
Data corruption has become one of the most common causes of permanent data loss. Therefore, it's essential to know how to prevent it. Here are three ways to help us avoid data corruption on our computers.
Correctly Remove External Hard Drives from your Computer
When using an external storage device, you should not just unplug it from the computer because you never know whether or not a background program is accessing a file. And doing this may lead to file corruption. In light of that, it is a good idea to eject the external drive before you unplug it from your computer. This will help prevent data loss from your external hard drive since applications will no longer use the data when unplugging.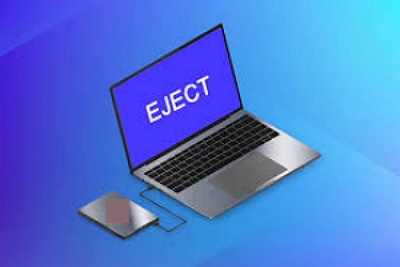 Use Antivirus Software on Windows Computer and Always Update It
There is no denying the fact that viruses and malware are constantly developing and have become an important factor in data corruption. They can change your file from its original form to another form that is different from what the app that uses or your computer can read. This is why using antivirus software on your computer is also crucial. Firstly, you require a reputable security suite, including the best antivirus software, firewall, and other multi-tiered protections. Secondly, if you use emails, you should be aware of email-borne viruses. Doing so can save your data from getting infected by viruses or malware.
Keep an Eye on Hard Drive's Health
Although it's always a good idea to regularly check your hard disk health for Errors & Bad Sectors, it is equally essential to monitor the hard disk regularly if you do not want to be caught unaware by a hard disk failure for no apparent reason. One approach is to use S.M.A.R.T (Self-Monitoring, Analysis, and Reporting Technology) to monitor the hard drive's health and send out signals if it fails. The other one is to apply the scan disk tool if you are using Windows operating system.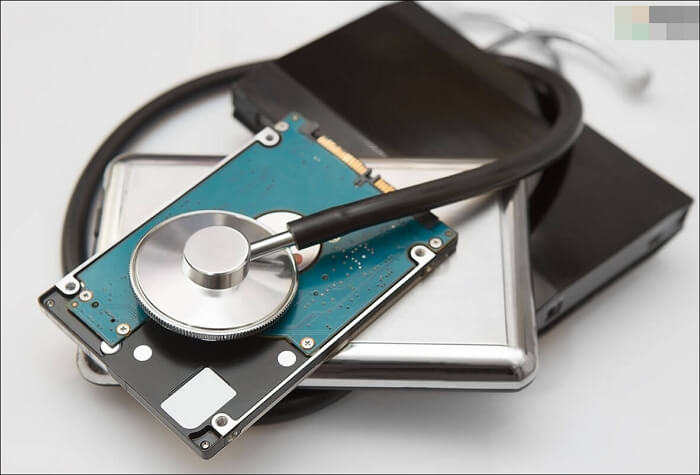 A more Comprehensive and Effective Solution for Preventing Data Corruption
The above three methods require more time and effort from computer users because users have to finish them manually. Fortunately, there is a troubleshooting method to prevent data corruption by using a third-party backup tool. Third-party backup software, like EaseUS Todo Backup, can help you easily create file or system backup to protect data security.
EaseUS Todo Backup Home is professional and easy-to-use backup software. You can use it to automatically back up a file, system, disk, partition, etc. Besides, it lets you create different types of backups, such as full, differential, incremental, and scheduled backups, and save the backups to more than one location. It can clone a hard drive and create recovery partition. More importantly, it provides 250G of free cloud storage to meet your diverse storage needs and protect your data.
Guide: How to create a file backup with professional backup software.
You can perform the following steps to make a file backup on your computer.
Step 1. To begin the backup process, click the Select backup contents button.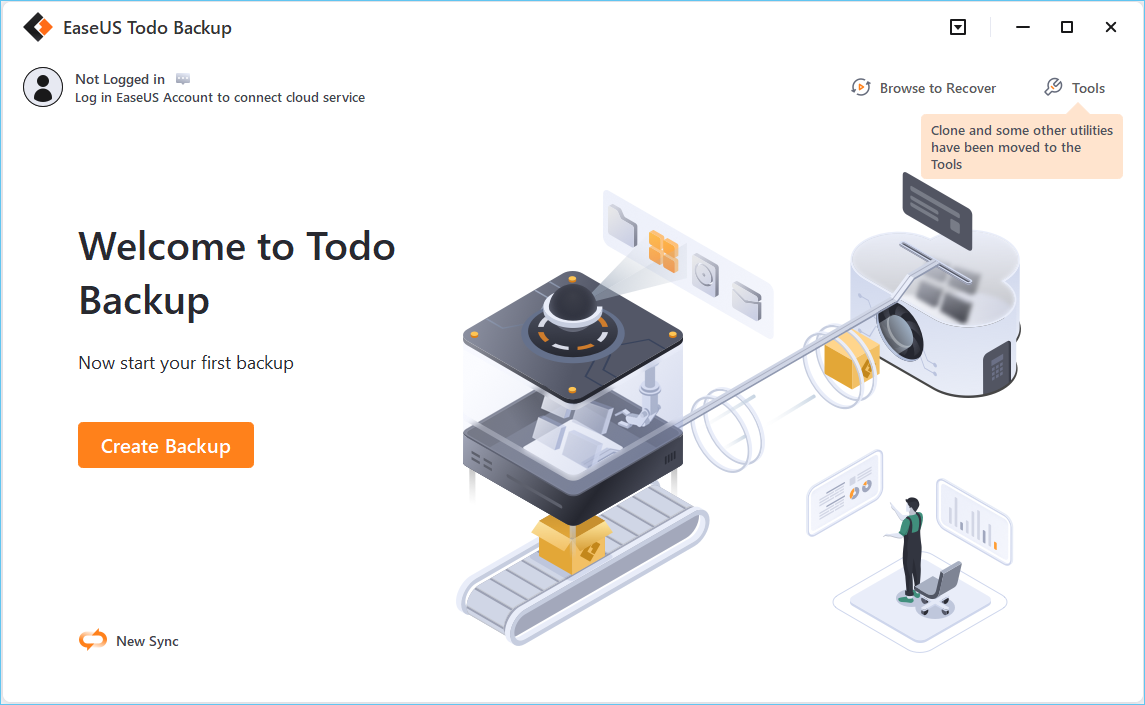 Step 2. Four data backup categories are listed: File, Disk, OS, and Mail.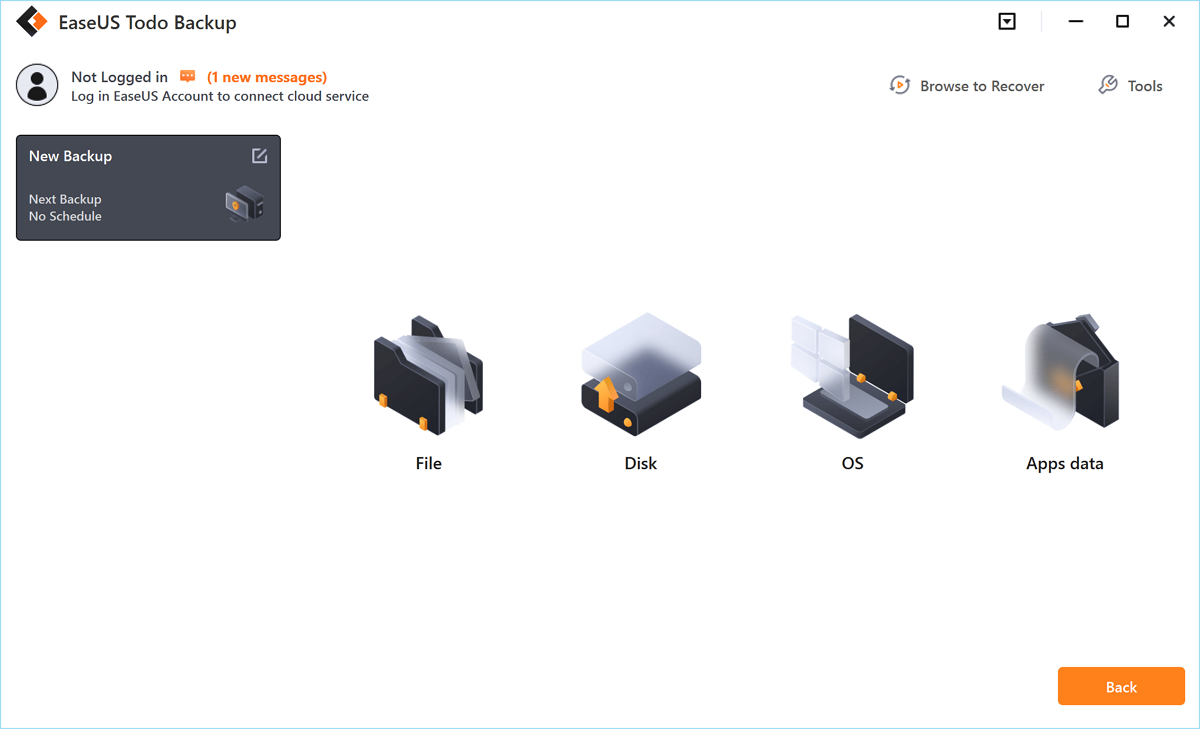 Step 3. Lists of both local and network files are shown on the left-hand side of the screen. Expanding the directory so that you can choose the files to back up.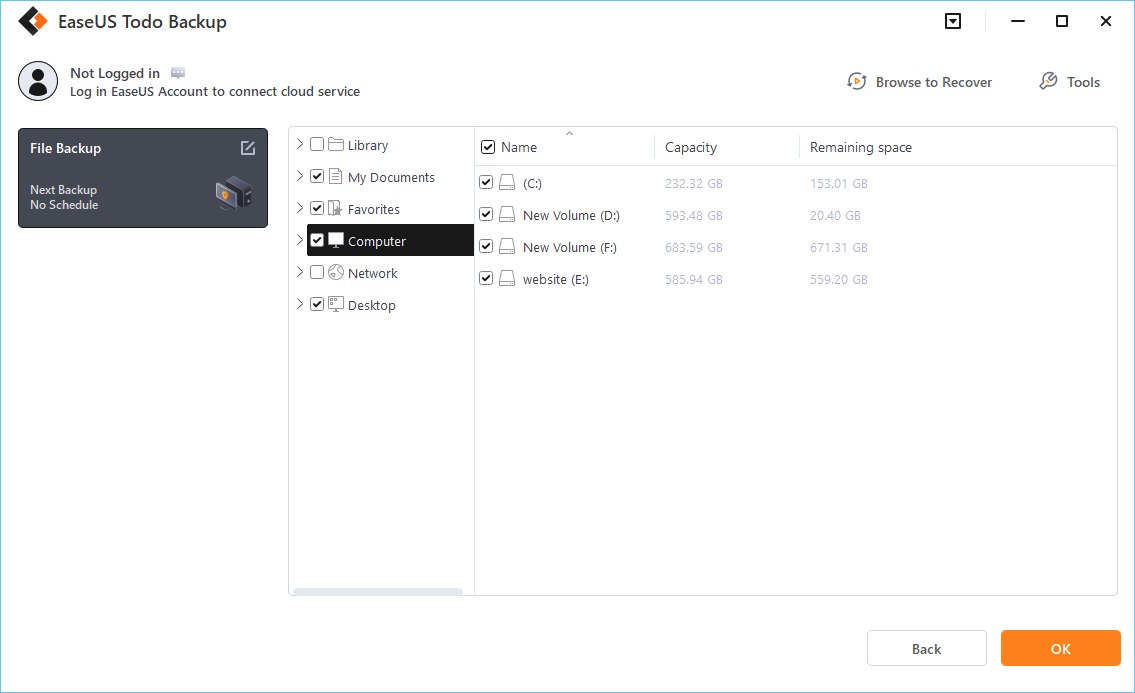 Step 4. Follow the guidance on the screen and choose the place where you want to store the back up.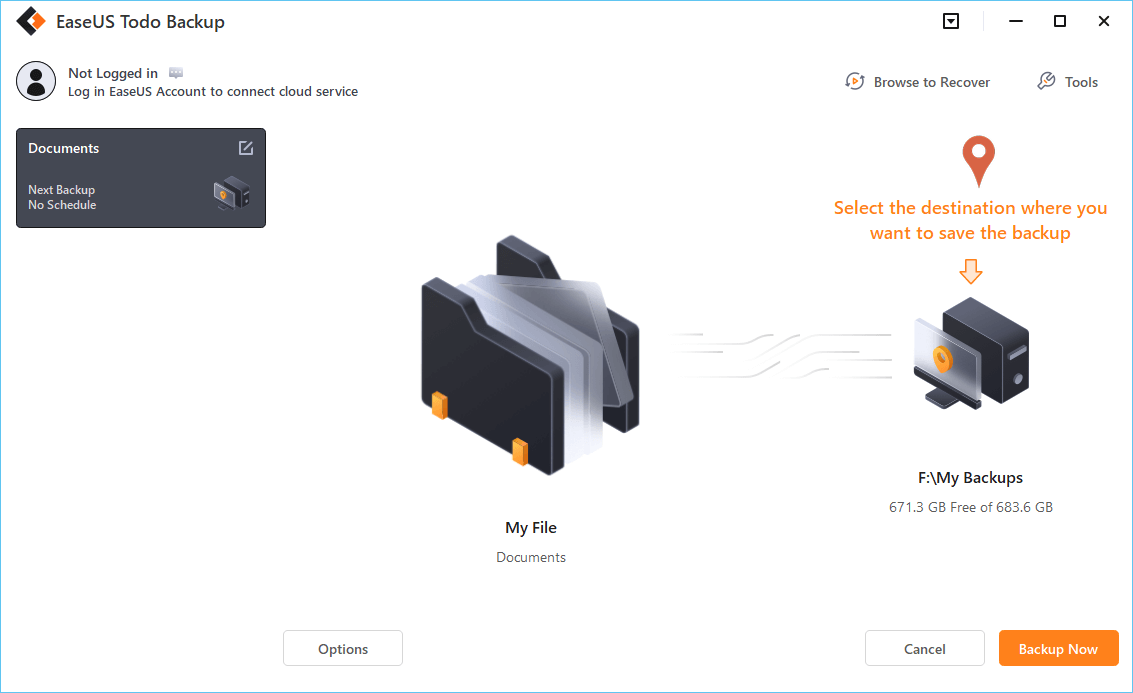 Make sure that the backup is encrypted and set the backup schedule by clicking Options in Backup Options. You can also choose to start the backup at a certain time in Backup Scheme by clicking Options. There are many other customizable options that you can look into.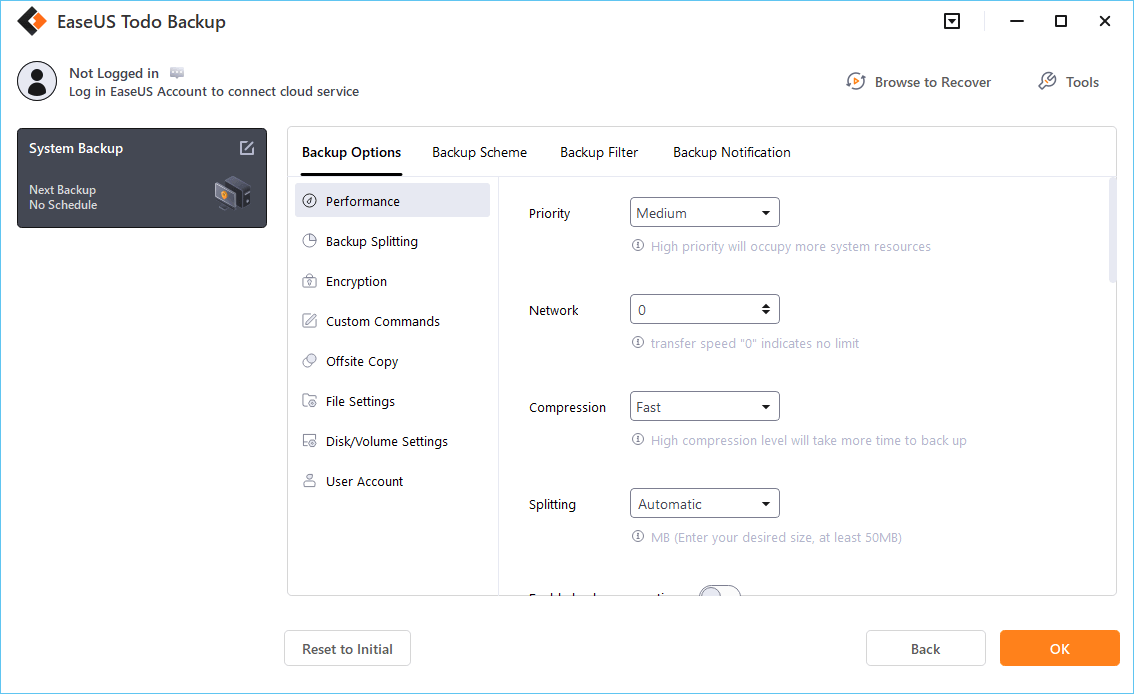 Step 5. You can store the backup file either on your computer, in EaseUS's cloud service, or on a network-attached storage device (NAS).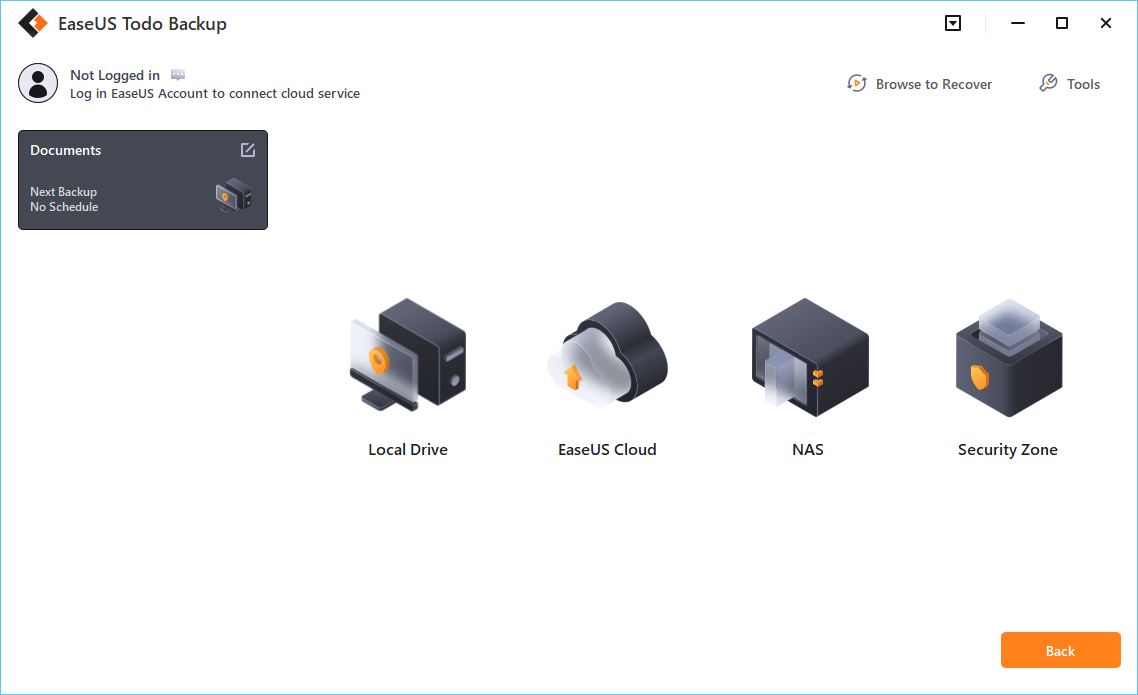 Step 6. EaseUS Todo Backup enables customers store backup copies of their files on a third-party cloud drive or on the company's own cloud storage.
If you want to back up your data on a third-party cloud drive, select Local Drive and scroll down to add Cloud Device. Then fill in your account information.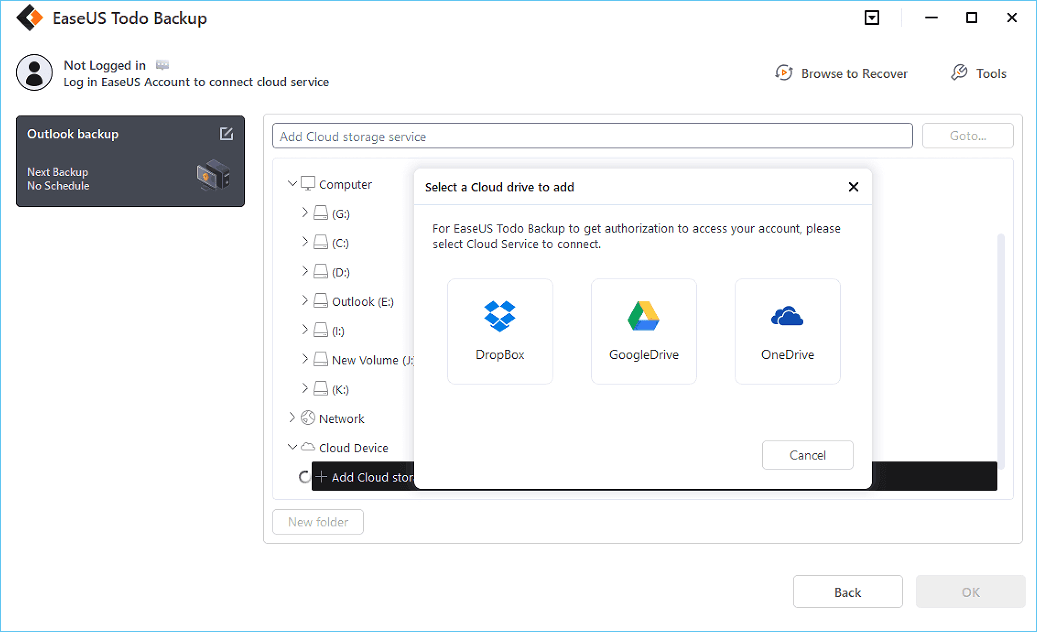 Click EaseUS Cloud, then sign up and log in with your EaseUS account if you wish to store backup files to EaseUS' own cloud storage service.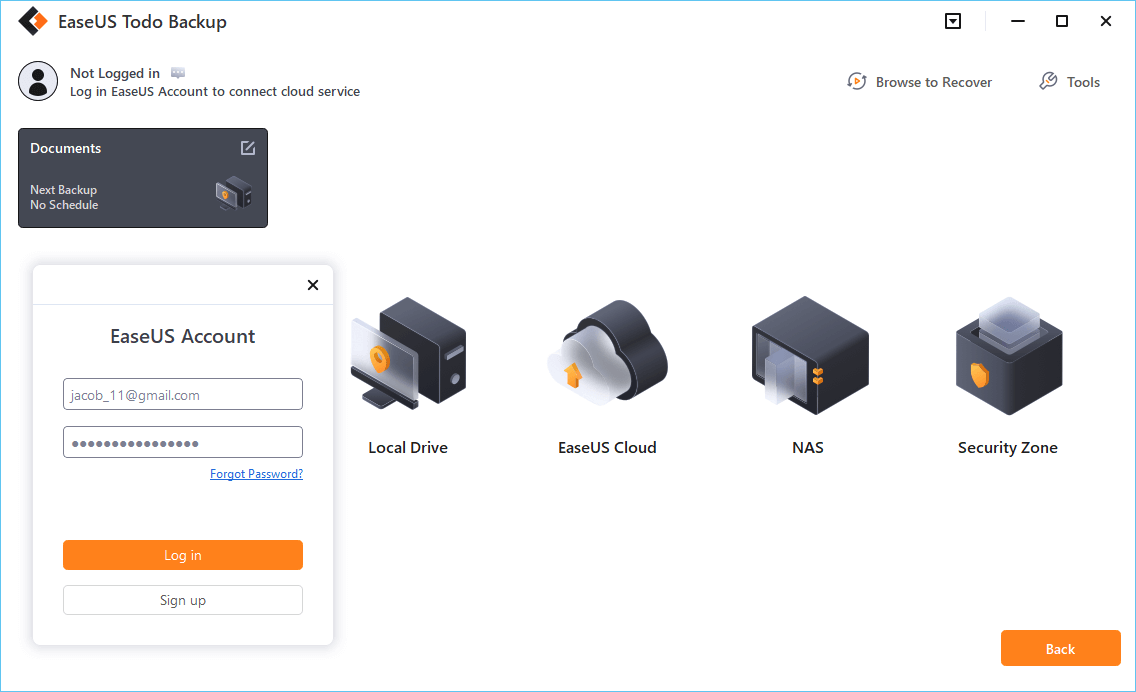 Step 7. Click on Backup Now to start a backup.  When the backup process is done, it will display as a card on the left-hand side of the screen. A right-click will let you see more about how to handle the backup job in more depth.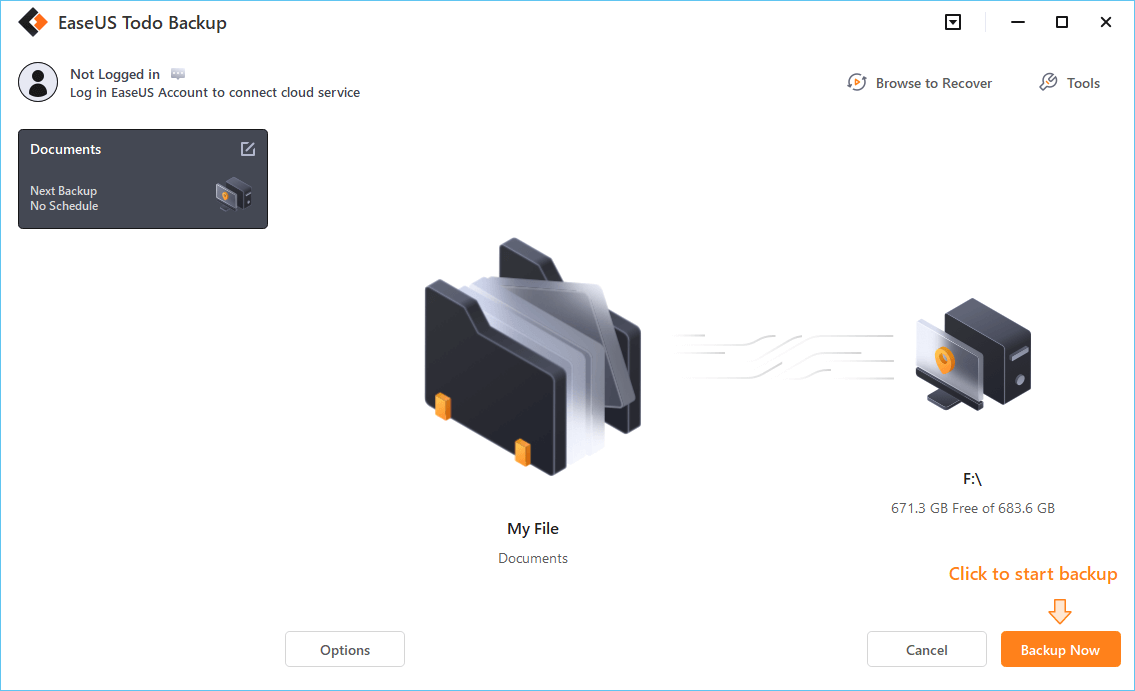 The Best Practice for Safeguarding Data Security
Data corruption represents one of the most common computer errors that can occur to all computer users. Your system and application data are critical. As you heard, prevention is much better than cure. Therefore, you should try to safeguard your data before losing everything. You can perform any method mentioned above to avoid data corruption.
We suggest you use the EaseUS Todo Backup of the four methods mentioned above to prevent data corruption. It can help you solve data corruption easily because you can use it to back up all your file on your computer and save the backups to the Cloud and other locations, which can better protect the data. Just have a try; it will not let you down!
FAQs
1. How do I check for corrupted data?
From the HOME menu, select System Settings. Then, scroll down the options on the left and select Data Management. On the right-hand side, choose Manage Software, then select the software you want to check. Finally, select Check for Corrupt Data.
2. What does a corrupted file look like?
A corrupted file may not be opened or appear scrambled and unreadable. This does not indicate that the core program is corrupted. When a Microsoft Word file cannot be opened, all other files of the same type may remain unaffected.
3. Why are my downloaded files corrupted?
Your downloaded files may corrupt due to conflicts between IDM and some other applications. For example, it can be FireWall/Antivirus/Internet security applications that control network downloading processes or writing data to disks.
4. How do I fix corrupted files in Windows 10?
Here are the steps to repair Windows 10 corrupted files. First, run the Command Prompt as Administrator by searching for it in the Start Menu by the keyword 'cmd' or 'command prompt'. Then, type the DISM /Online /Cleanup-Image /RestoreHealth command and hit ENTER. Now, you must wait for the repair process to be 100%.

Jean has been writing tech articles since she was graduated from university. She has been part of the EaseUS team for over 5 years. Her special focuses are data recovery, disk partitioning, data space optimization, data backup and Mac OS. By the way, she's an aviation fan!
"I hope my articles can help solve your technical problems. If you are interested in other articles, you can check the articles at the bottom of this page, and you can also check my Facebook to get additional help."
Taking everything into consideration, we can say that EaseUS Todo Backup Home can offer you a little extra sense of security with a set of advanced tools. The interface provides quick adaptation, every process guiding you all the way through so you don't get stuck or further damage your system rather than keeping it safe.

 Read More

EaseUS Todo Backup Free lets you create backups of your important files or your entire computer through its streamlined interface. Just choose the backup type you'd like to get started, and let the program do the reset.

 Read More

EaseUS includes all the features I expect from backup software like versioning, incremental backups, and scheduling. For more advanced users, EaseUS allows you to install a pre-boot environment onto your hard drive so you can use it to restore files without burning a CD or putting it on an external USB drive.

 Read More

EaseUS Todo Backup
Smart backup tool for your files and entire computer in Windows 10/8/7.
Install Windows on Multiple Computers at Once? No Problem!
Learn how to install Windows 11/10/7 and special programs/software on a batch of computers. Use 10 minutes to do the 10 hours work without making a single mistake!
Get Free Solution!