PAGE CONTENT: 
What Is Desktop Imaging Software
Desktop imaging software is an excellent tool to manage data backup most effectively. It is also called imaging because this software can create a mirror copy or image of the existing set of files or system. So when you restore, it will put back everything in the right place, and you will not feel a difference.
The desktop imaging software backs up and compresses the data that will be accessible in the future. Desktop Imaging Software makes the different data-related tasks much more convenient with the help of advanced services involved.
Being aware of desktop imaging, you may have more questions about how to create an image backup in Windows 10. Just click the link page below and follow the guide.
Top 10 Best Desktop Imaging Software for Windows 11/10
Finding a perfect desktop imaging software for Windows 11/10 is not as easy as it seems. The presence of so many options available in the market makes things much more complicated. Making it convenient for you, here are the leading options you can choose.
EaseUS Todo Backup is one of the leading desktop imaging software on the list that helps users backup Windows 10 Image to cloud at any time. It is a one-click backup solution that ensures users have instant recovery and high efficiency. The tool keeps your data safe throughout and offers you the freedom to access it anytime you want. The tool performs the disk imaging tasks perfectly and keeps your backups in safe conditions. It is one of the most reliable and credible tools on the list, currently used by 20,000,000 users globally.
Features:
One-click backup solution
Reliable and credible tool to use on
Absolute disk imaging
Keep backup safe throughout
250GB cloud storage
Recommendation:
EaseUS Todo Backup is the simplest way to backup files on PC and Mac. It's guaranteed to backup exactly what you want, including files, folders, disks, partitions, and email. It keeps you informed about backup status, backup space, and backup history and supports backing up to external storage.

How to Create Windows 10 Backup System Image
Sometimes, we want to create an system image backup to ensure system security, and in this way, you can restore Windows 10 easily when something goes wrong. In this post, we'll share with you professional software to deal with this trouble.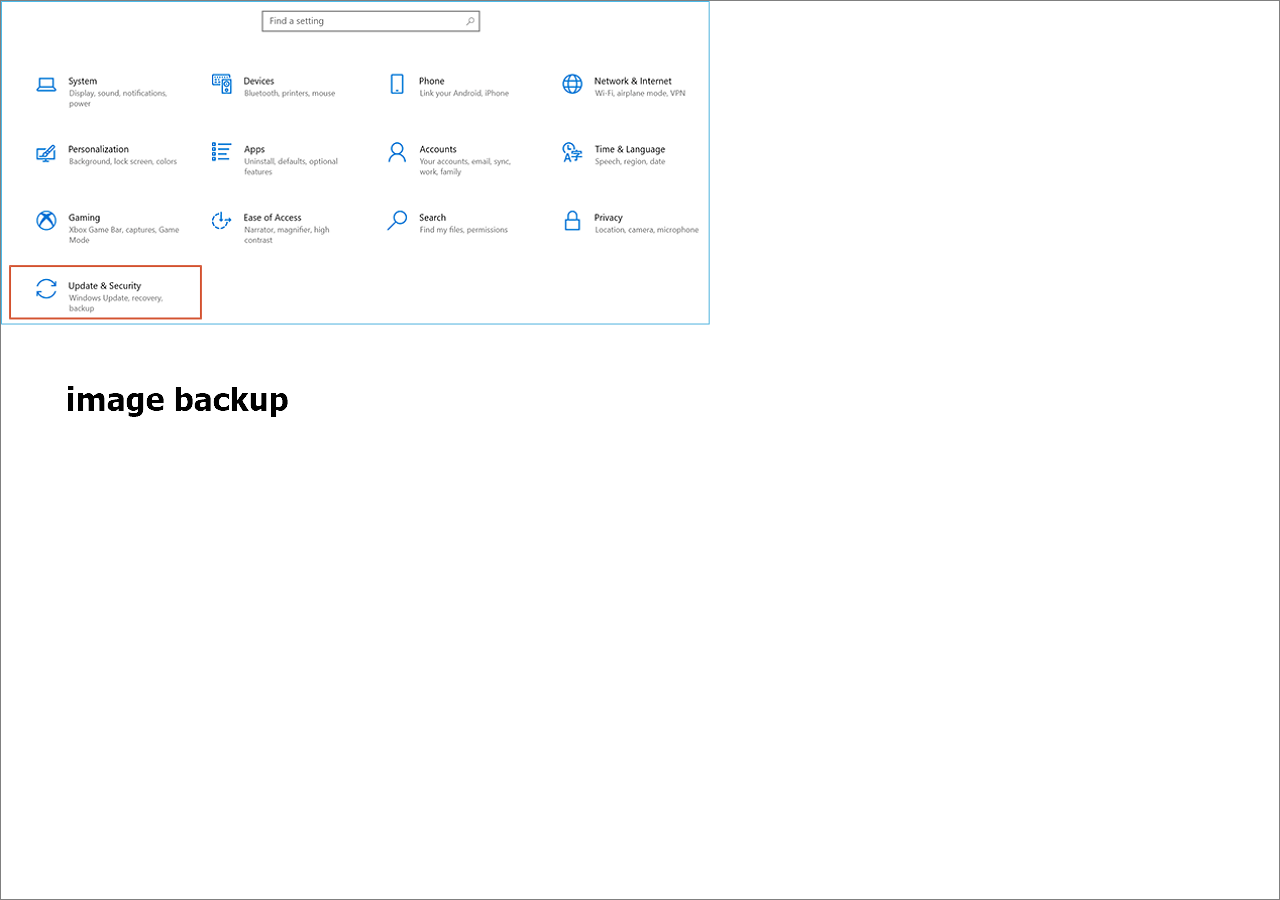 It is an excellent option for acquiring top-notch security and data privacy. The tool keeps you safe from data leaks and keeps your data safe throughout. Along with this, it also offers features backup encryption, clipboard control, and irrevocable media encryption, further securing your data perfectly.
Features:
Absolute backup security
Multiple backup types
Unique features involved
Encrypts removable media perfectly
Fast image backup solution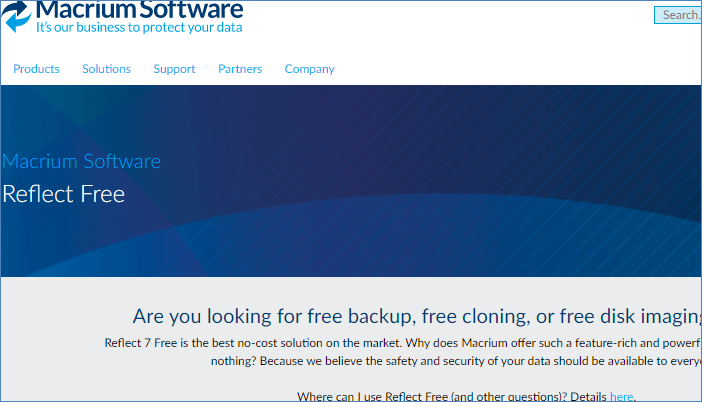 Another desktop imaging software assists you in imaging and cloning different files. The tool ensures users have speedy data imaging processes and also offers users synthetic backup support without failure. It keeps your backup secure and improves your system's performance. In addition, predefined templates are also given there to keep your data backup safe and convenient throughout.
Features:
Instant backup 
Efficient SSD trim support
Fast imaging algorithm
Predefined templates for backup data
Security against ransomware
Compressed archive file for backing up data
Recommendation:
Macrium Reflect is reliable and easy to use and offers a lot of flexibility. This comprehensive backup and recovery solution provides strong file support, flexible image management, and the broadest choice of backup destinations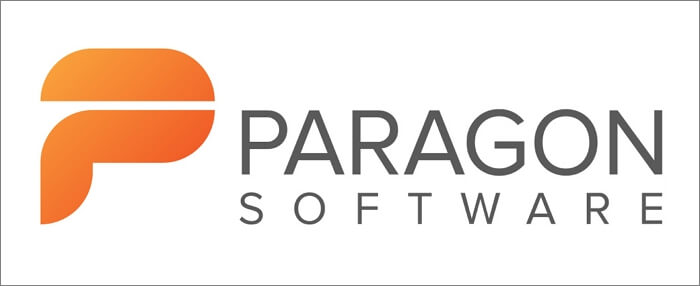 It is a wizard of disk management that features different advanced features to ease up the task of backup management. It houses a robust desktop imaging software in the list that features an easy-to-integrate interface to work on. 
The tool includes a wide range of backup or cloning and recovery options and a dedicated disk wiper for conveniently deleting some sensitive data. One can quickly recover the deleted data back without any issues. 
Features:
Easy data cloning
Supports full and incremental backup
Creates, formats, and converts partitions
Effective file transfer between storage
Great value for money option
ManageEngine OS Deployer
Recommendation:
Paragon Hard Disk Manager is a great tool for any kind of large files like movies, pictures, videos, and music. The performance of the hard disk manager is outstanding and the tool has many options you can use.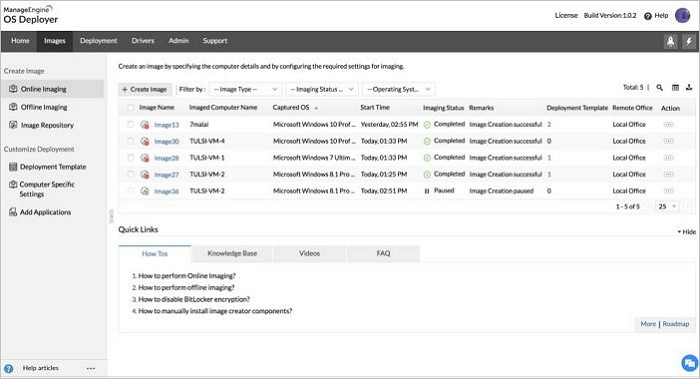 It is an excellent desktop imaging software for those looking forward to deploying the OS most efficiently. It is a handy tool that offers users the freedom to manage and deploy data quickly. The tool suits the corporate users' requirements and provides them with the utmost security and remote access. The tool features automated driver management for enhancing the backup data services effortlessly. 
Features:
Creates backups quickly
Allows profile data migration
Convenient access over the backup 
Customize deployment of OS
Convenient access
Recommendation:
OS Deployer takes you from zero automation to automated deployments in minutes. Easily deploy your applications to any server, including servers in the public cloud, with no need for expensive infrastructure.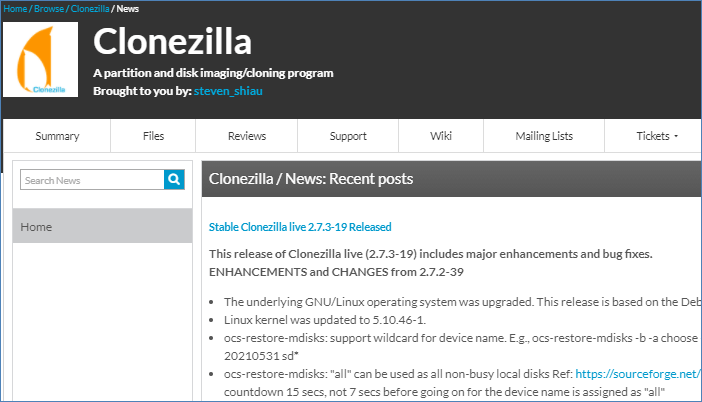 It is a free disk imaging software solution with a clunky interface. The tool is quite interesting and offers you the freedom to manage the backup files efficiently. Clonezilla is well known for its incredible performance and different advanced features alone. It helps disk cloning and is also quite efficient in providing additional functionalities such as disc partitioning and disk imaging. 
Features:
Open source disk imaging software
Provides support to solid image encryption
Can be run efficiently over 40 cloned computers parallelly
Restore one image to different devices 
High-end performance
Recommendation:
If you want a Linux-based operating system that you can use to create the bootable backup of your hard drive, Clonezilla is that solution.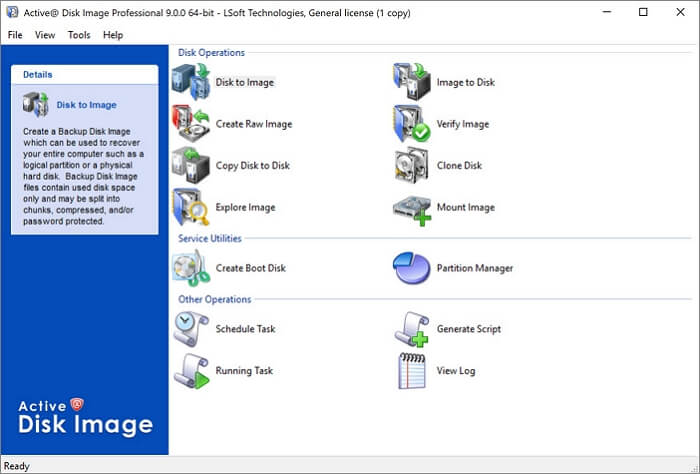 If you are looking for perfect desktop imaging software for your business, Active@ Disk Image is a perfect option to take in. The tool is featured different advanced features that make it convenient for the users to restore their preferable files on the system. It offers incremental and decremental images to the users and allows them to mount image backups effortlessly. It is an instant and effective solution that can turn up your backup experience effortlessly.
Features:
Offers cloud storage and absolute backup remotely
Provides scripting support
Features image encryption technology
Can set scheduled backups
Incremental and decremental images
Recommendation:
If you have data you'd like to keep on hand without paying for monthly cloud storage, Active@ Disk Image offers a free way to take the data off your hard drive. While it's not as robust as paid image-storing services like Carbonite or BackBlaze, it's free and works as advertised.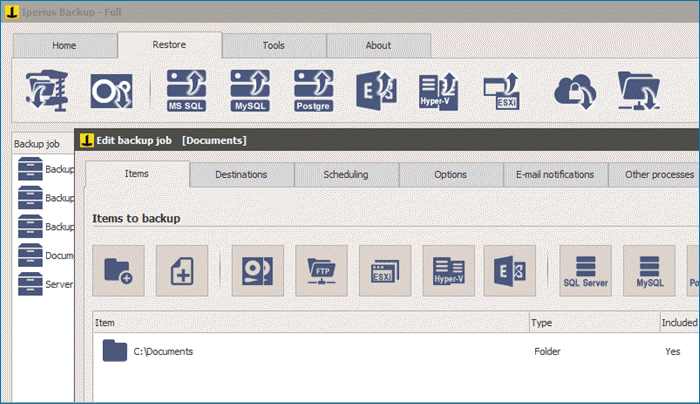 The best cloud backup management solution helps you manage cloud backup, disk imaging, and data restoration. Not only are the users free to sync their backup to multiple clouds, but the tool is also quite efficient in improving your overall working efficiency.
Features:
Cloud backup solution
Hard disk cloning and instant restoration
Easy sync among different cloud storage solutions
Incremental backup to network attached storage
Regular backup-related updates
Recommendation:
Iperius Backup provides all the functions you'd expect from a backup program, but the key is that it's so easy. It's fast: It copies your files in the background, and it's convenient.

It is another one of the leading names in the list of desktop imaging software that is free to use. Users here can easily create images, and it also supports the goal of direct disk imaging. It is a feature-loaded option that helps restore the non-booting systems effectively. Users can schedule backups here and create live images of running Windows OS.
Features:
Supports faster incremental and differential backups
Clone drives and partitions
Great customer care
Backup scheduling
Ensured data encryption and reporting
Recommendation:
Despite their popularity, the Barracuda Intronis Backup drives are not perfect. They suffer from slow performance, which puts them near the bottom of our rankings. Overall, they're great drives for backing up files, but if you're looking for something fast for your gaming PC, they're too slow. However, their incremental backup is very fast.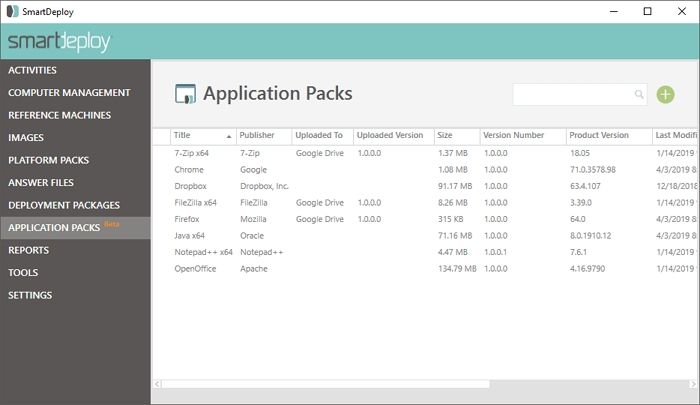 It is the best desktop imaging software for both enterprises and beginners. The tool features an easy-to-manage dashboard and includes terrific features like data migration making it convenient to manage and share data effectively. The customer support of this tool is excellent and makes sure to resolve the different queries and concert effectively.
Features:
Interactive dashboard
Inbuilt computer imaging feature
Multicast feature
Works quickly with dropbox, drive, and one drive
Integrates backups effectively
Recommendation:
SmartDeploy is an enterprise backup solution designed for organizations with limited resources. It's not for everyone, but for those organizations that back up, it's an excellent option. It offers an easy-to-use interface, rich features, and enterprise-class backup and recovery features.
Use Desktop Imaging Software Step by Step
EaseUS Todo Backup is a definitive backup solution and imaging software to keep your data safe in different conditions. It is one of the most reliable tools that offer free 250GB of cloud storage. The tool is designed to navigate smoothly and ensures users have one-click backup and instant recovery with higher efficiency. 
Here is a full guide on how to use EaseUS Todo Backup to backup your data. Just follow the steps listed below to complete your backup. 
Step 1. On the main page, find and click "Tools", system clone and other utilities are here.
Step 2. EaseUS Todo Backup will automatically select the boot and system partition, choose the target disk and click "Next."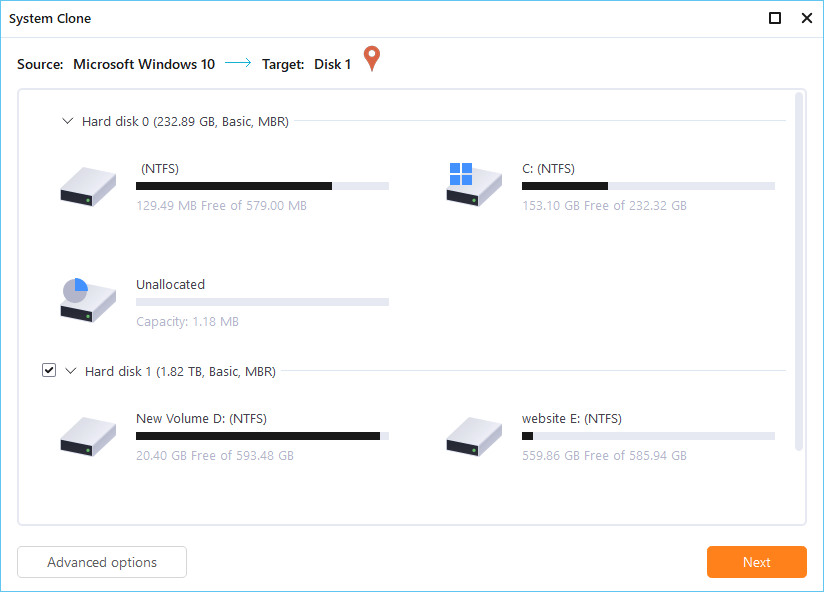 *System clone will wipe out all data and does not support cloning MBR disk to GPT or vice versa. Make sure that the partition style of the source disk and the target disk are the same.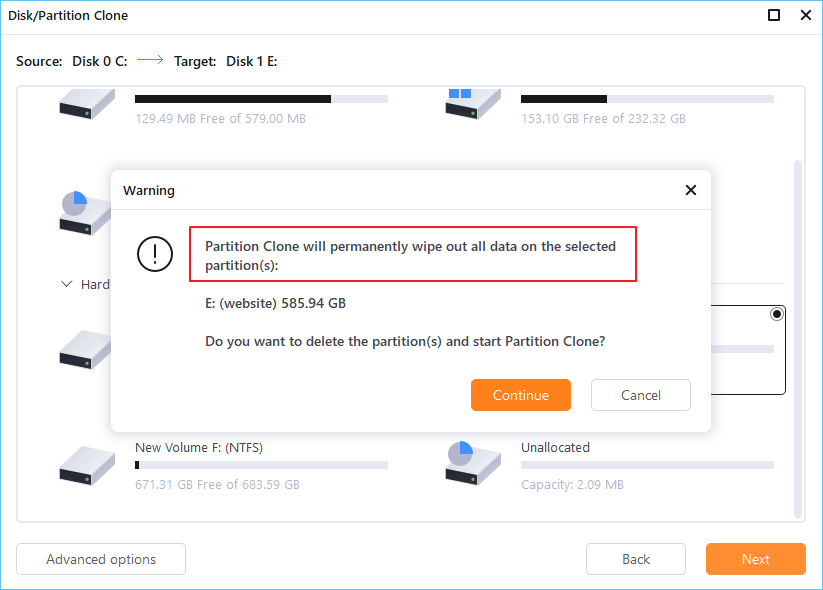 Step 3. If the target disk is a SSD, choose optimize for SSD in the advanced options.
Step 4. Click "Proceed" to start cloning.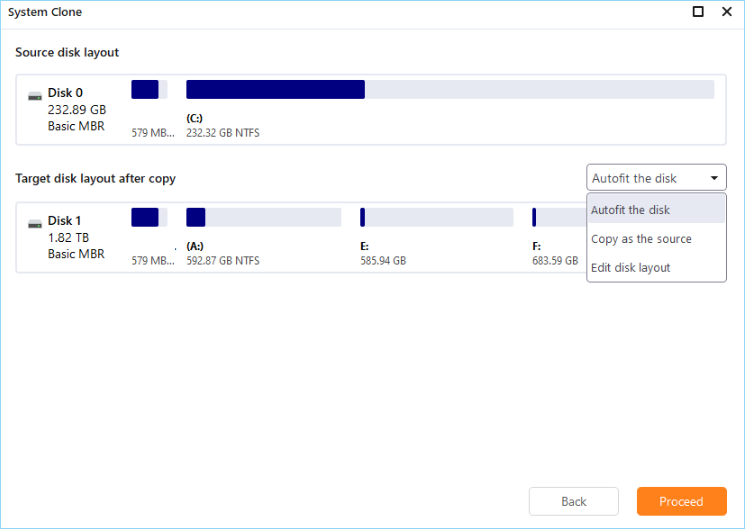 Final Verdicts
So, Guys! These are one of the best desktop imaging software you can rely on conveniently. All of the options above are high quality and ensure high performance and productivity without any failure.
Desktop Imaging Software FAQs
We have tried to resolve different queries of the desktop imaging software. If you are still confused about access, here are the most asked queries in the segment. 
1. Does Windows 10 have imaging software?
Yes, Windows 10 features a tried and true system image tool that conveniently makes data backup and management. It is called "Backup and Restore" and can create system images on an external drive.
2. What is the best disc imaging software?
Depending upon the features and user's requirements, the best desktop imaging software is available in the market. We would try here to go with the EaseUS Todo Backup as it offers you 250GB of cloud storage and is trusted by billions of customers globally.
See the best disk imaging software for Windows 11 here: The Best Disk Imaging Software for Windows 11
3. What is computer imaging software for business?
Businesses need to ensure that they can restore any failed system almost instantly. That means a lot of data needs to be backed up. Imaging Software for any business needs to be good enough to handle a vast amount of data. 
That said, the imaging software business should have the following features:
Reliable and guarantees restoration.
Data backup encryption.
Easy for administrators to manage and set up.
Support for large data size as the business grows.
Logging, so the IT admins know if there is an error.
Different levels of backup.
Storage space management.
Historical data backup.
4. What is the best free imaging software?
There are many free backup software that you can use for imaging. The list includes:
Was this page helpful? Your supoport is truly important to us!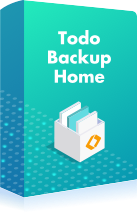 EaseUS Todo Backup
EaseUS Todo Backup is a dependable and professional data backup solution capable of backing up files, folders, drives, APP data and creating a system image. It also makes it easy to clone HDD/SSD, transfer the system to different hardware, and create bootable WinPE bootable disks.
Updated by

Jean is recognized as one of the most professional writers in EaseUS. She has kept improving her writing skills over the past 10 years and helped millions of her readers solve their tech problems on PC, Mac, and iOS devices. …

Read full bio

Written by

Cedric Grantham is a senior editor and data recovery specialist of EaseUS. He mainly writes articles and how-to tips about data recovery on PC and Mac. He has handled 10,000+ data recovery cases and is good at data recovery of NTFS, FAT (FAT32 and ExFAT) file systems, and RAID structure reorganization. …

Read full bio