Offsite backup is one of the popular backup types for data protection. So, do you know how to do an offsite backup? It may not sound easy to make an offsite backup by using FTP. But don't worry. This guide will provide three simple solutions to offsite backup. I hope it will significantly help you!
Everything You Should Know About How to Do Offsite Backup
Offsite backup is a different backup type from local backup. Before we understand how to do an offsite backup, let's figure out its definition, advantages, and disadvantages.
Offsite Backup Meaning: What is Offsite Backup?
In computing, off-site data protection, or vaulting, is the strategy of sending critical data out of the main location (off the main site) as part of a disaster recovery plan. - by 
Wikipedia
You back up your data to other devices through the internet or the network transfer protocol. And then, you can access the data on another computer. And if there is data corruption, you can execute the disaster recovery plan.
And there usually exist two ways for offsite backup:
1. Backing up to an external device, such as tape, and then it can be transferred and stored on another device via network transfer protocol.
2. Backing up to the cloud and then opening it on another computer by logging into the cloud account.
Offsite Backup Advantages and Disadvantages
Offsite backup is an excellent way to protect data from disaster, but you also need to pay attention to its drawbacks.
Advantages
1. Protect data from disaster
The data is not located in the same location as the system. It is well protected from data destruction in case of natural disasters, such as fires and floods.
2. Access and manage data
Data is transferred through the network, so it can be accessed and managed at any time elsewhere using the network or FTP.
3. Expandability
Cloud storage could be expanded according to your needs. And it can save the storage space of the local disk.   
Disadvantages
1. Transfer speed
Because offsite backup depends on the internet, the transfer speed may be affected. And it takes some time to complete the full recovery.
2. Cyberattacks
Off-site backup requires the use of the network and may be subject to network attacks.
Despite the drawbacks of offsite backup, its convenience makes it worthwhile as a backup option. Next, I will introduce three ways to perform an offsite backup.
How to Do Offsite Backup: Easy Offsite Backup Solutions
Doing an offsite backup is not a difficult thing. There exist three solutions. You can make an offsite backup automatically or manually. And I will detail their steps with the simplest method.  
Method 1: Do Offsite Backup with EaseUS Todo Backup
EaseUS Todo Backup Home is a powerful software to perform backups easily and restores. You can perform file, system, disk, and partition backups. If you want to use it to do an offsite backup, it also has these offsite backup benefits:
EaseUS Todo Backup is a very convenient tool for making offsite backups. You can choose whether to back up to an FTP server or the cloud. Next is the step of doing an offsite backup.
Step 1. To begin the backup process, click the Select backup contents button.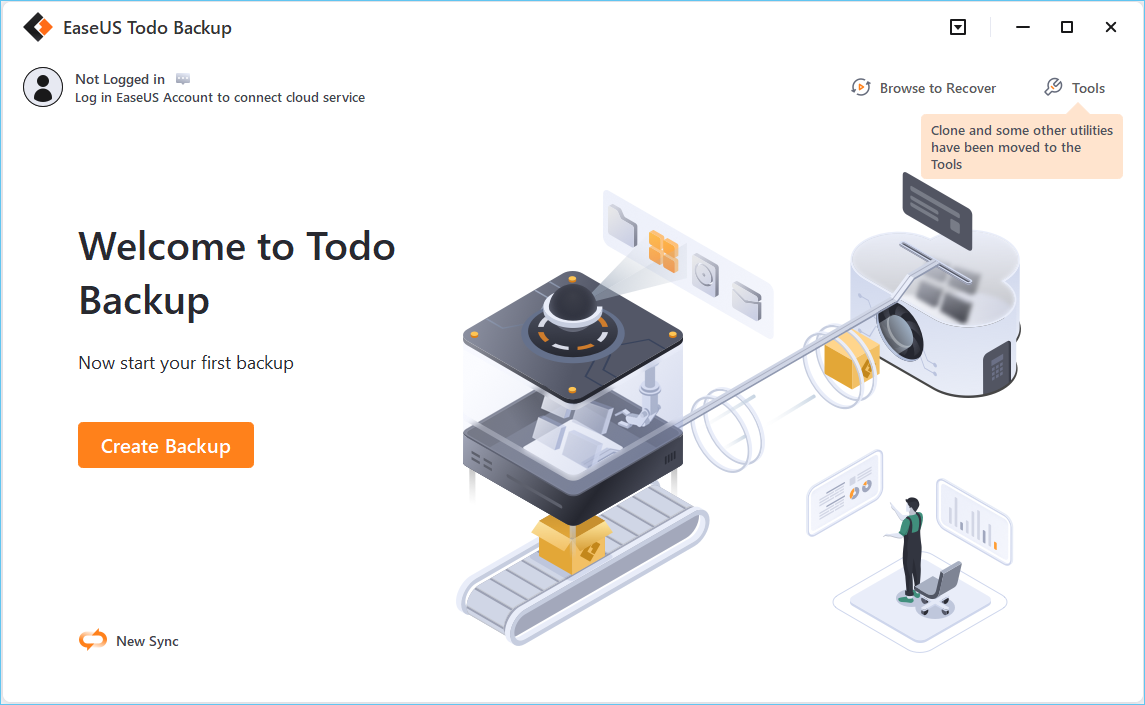 Step 2. Four data backup categories are listed: File, Disk, OS, and Mail.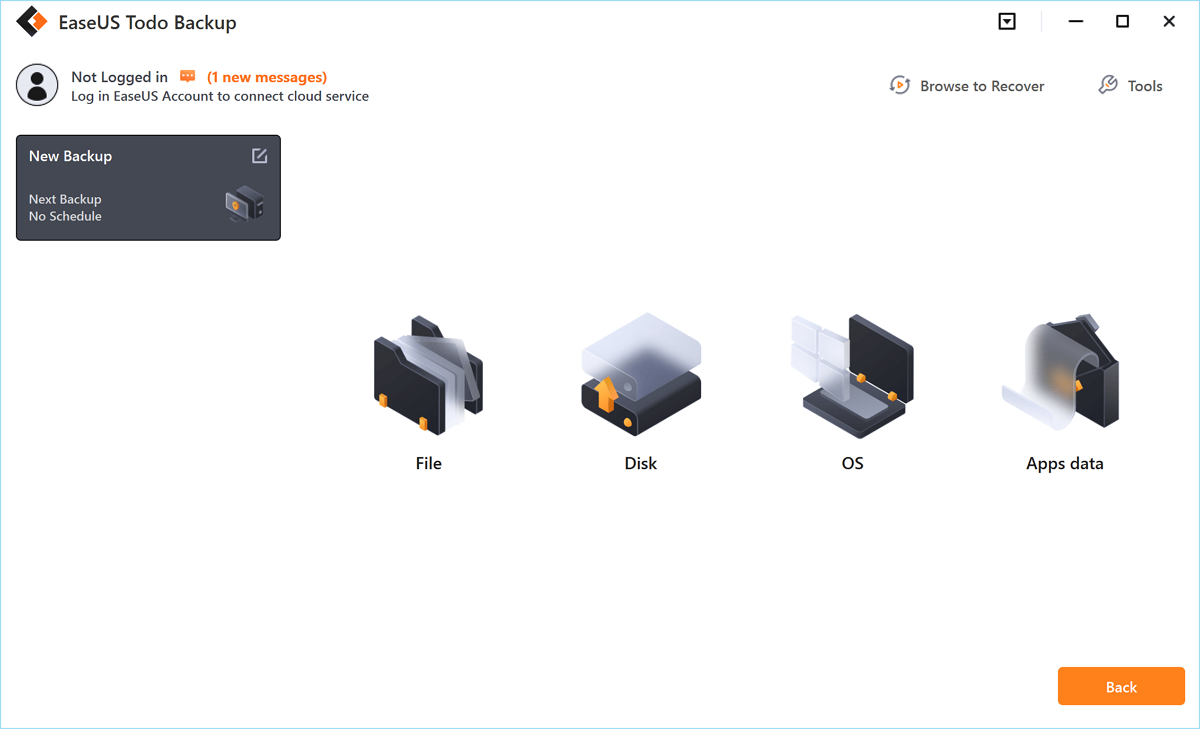 Step 3. Lists of both local and network files are shown on the left-hand side of the screen. Expanding the directory so that you can choose the files to back up.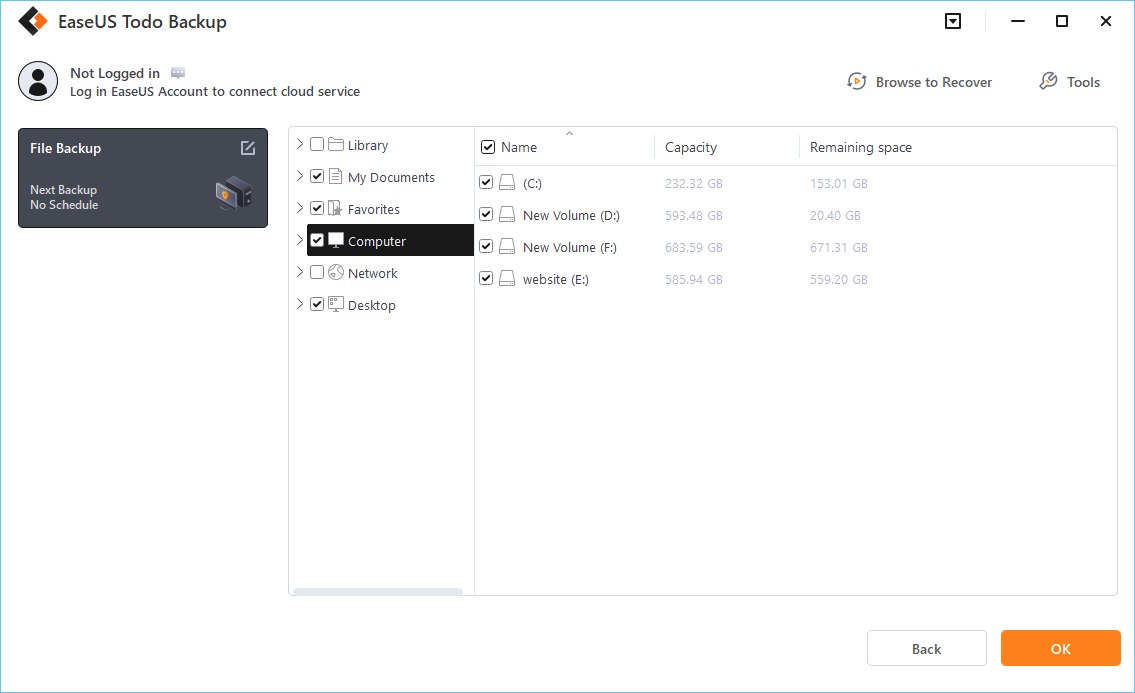 Step 4. Follow the guidance on the screen and choose the place where you want to store the back up.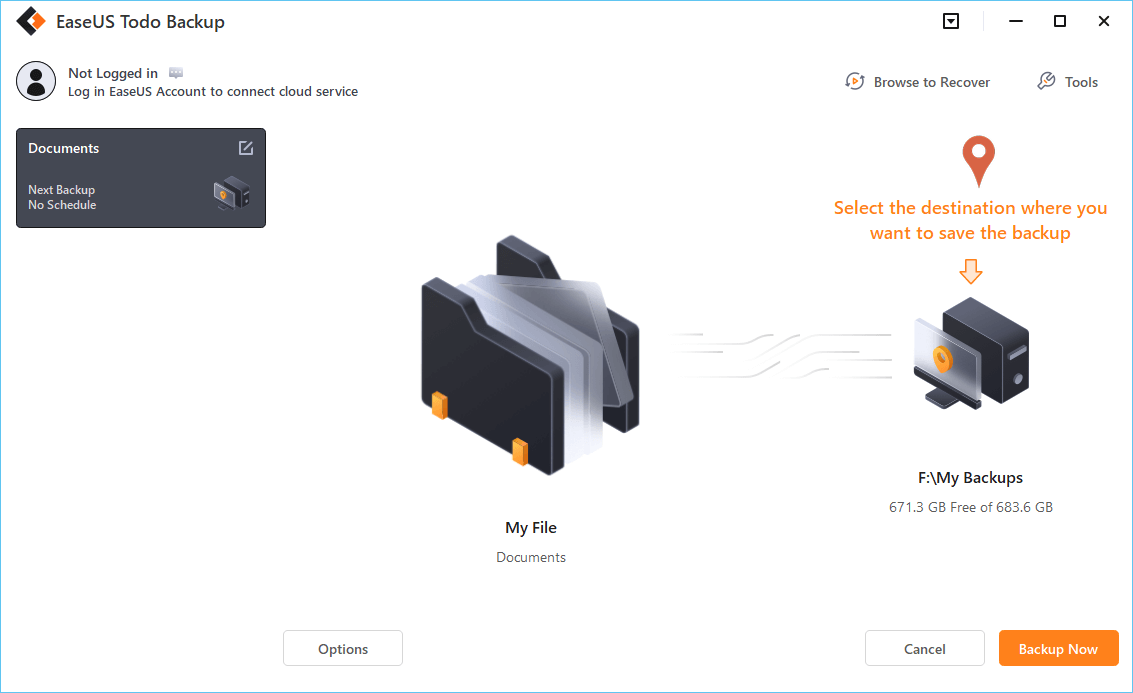 Make sure that the backup is encrypted and set the backup schedule by clicking Options in Backup Options. You can also choose to start the backup at a certain time in Backup Scheme by clicking Options. There are many other customizable options that you can look into.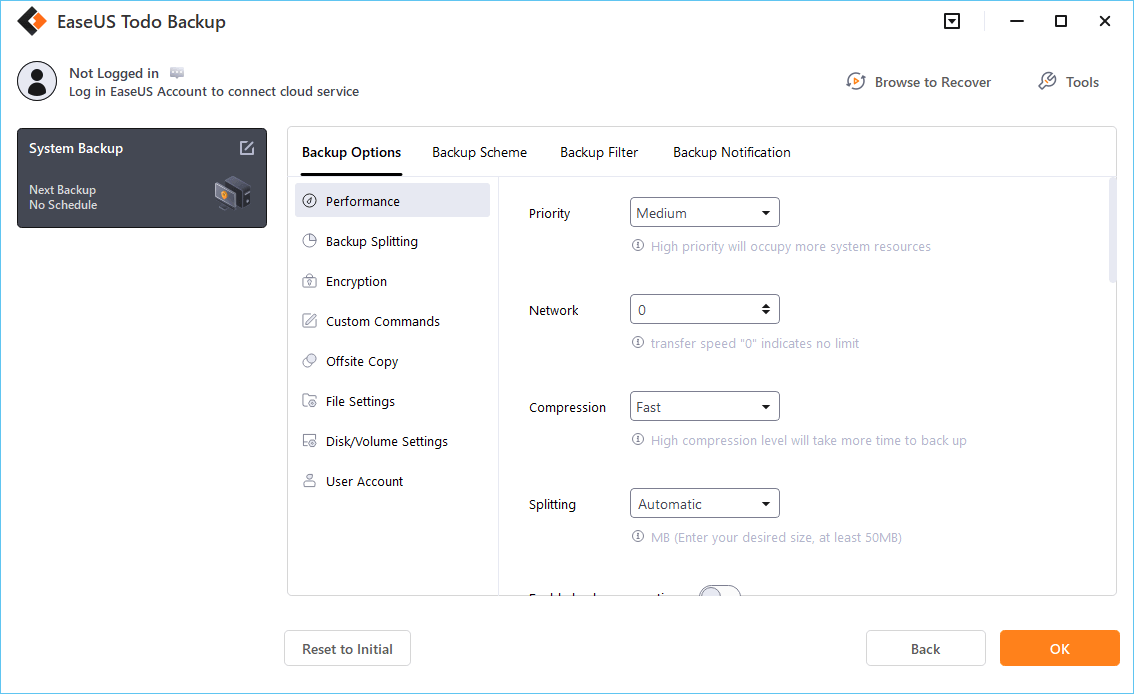 Step 5. You can store the backup file either on your computer, in EaseUS's cloud service, or on a network-attached storage device (NAS).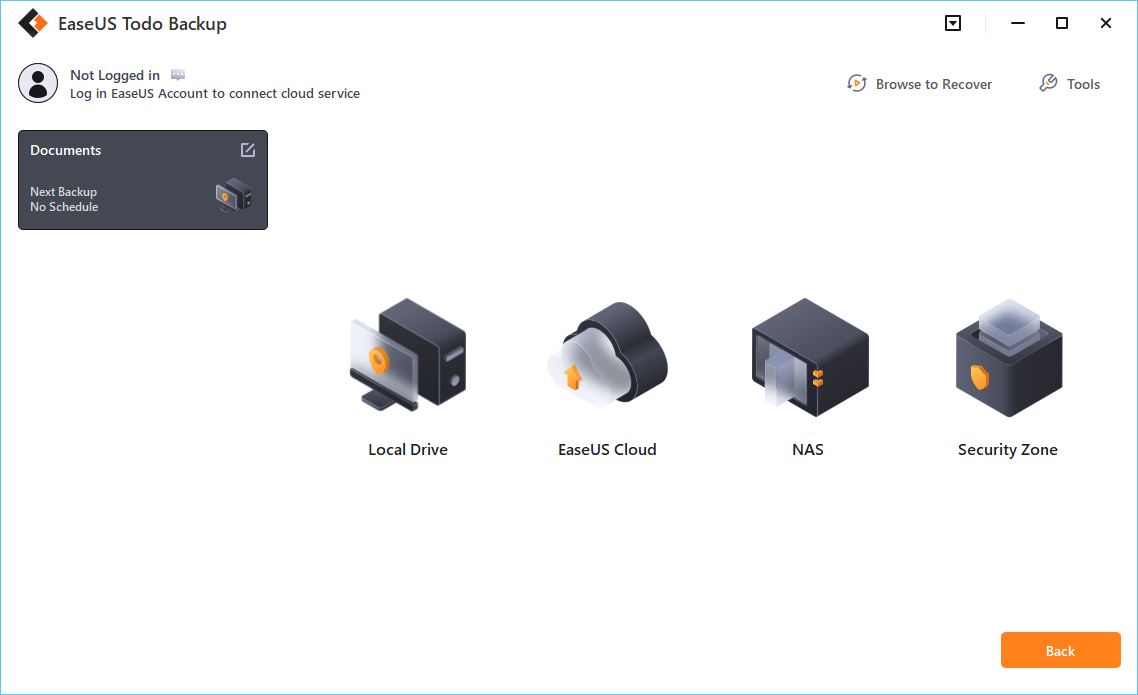 Step 6. EaseUS Todo Backup enables customers store backup copies of their files on a third-party cloud drive or on the company's own cloud storage.
If you want to back up your data on a third-party cloud drive, select Local Drive and scroll down to add Cloud Device. Then fill in your account information.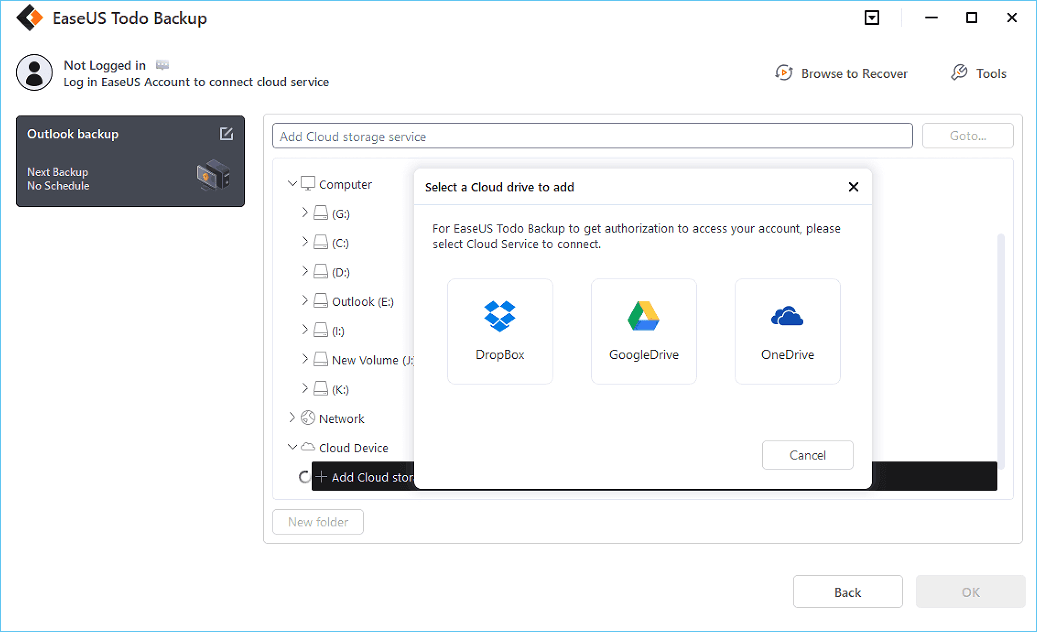 Click EaseUS Cloud, then sign up and log in with your EaseUS account if you wish to store backup files to EaseUS' own cloud storage service.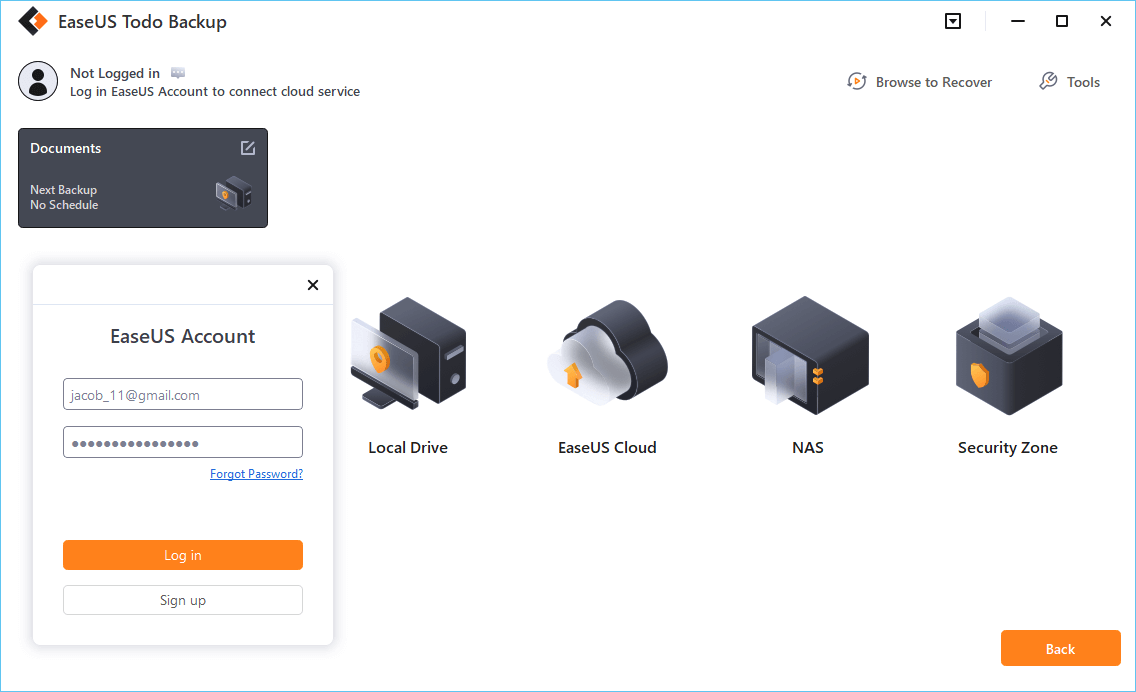 Step 7. Click on Backup Now to start a backup.  When the backup process is done, it will display as a card on the left-hand side of the screen. A right-click will let you see more about how to handle the backup job in more depth.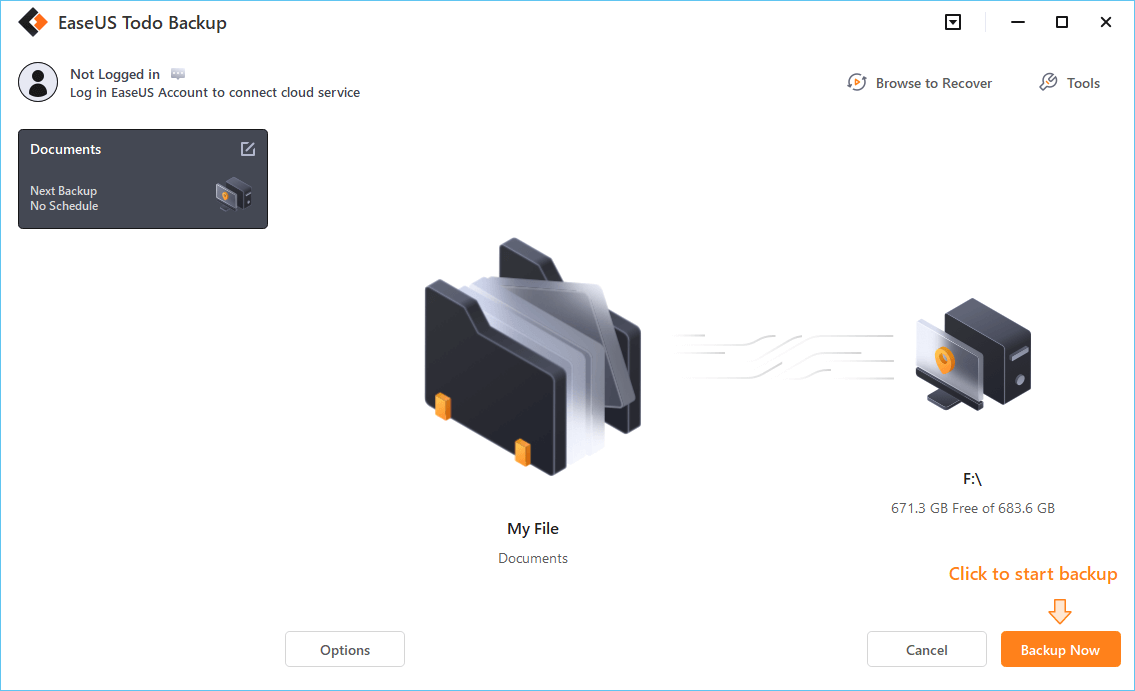 If you want to perform other types of backup, such as incremental or differential backup, EaseUS Todo Backup is also available. Besides, you can also do automatic backup to external hard drive or backup OneDrive to external hard drive. And there are other advantages of EaseUS Todo Backup:
Email backup
Backup encryption
Clone disk free
Method 2: Do Offsite Backup with Google Drive
Google Drive is one of the cloud backup tools. You can use it to back up local files of photos, pictures, and videos. And then, you can access these files when logging into Google Drive on another computer. Besides, Google Drive will provide 15GB of free cloud storage space. Here are the steps for making an offsite backup with Google Drive.
Step 1: Download "Backup and Sync" and log into your Google account.
Step 2: Choose "My computer" on the left side.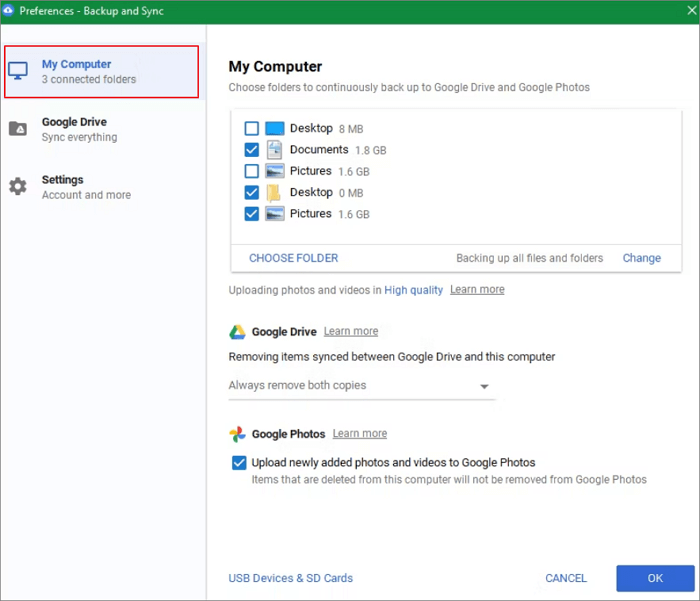 Step 3: Choose what you want to back up and open Google Drive.
Step 4: Click "OK" to begin the offsite backup process.
Tip: Dropbox, IDrive, and OneDrive are best alternatives for Google Drive. And if you want to use other clouds to do the offsite backup, you can click the button and follow the steps to do an offsite backup.
Method 3: Do Offsite Backup by Using FTP
File Transfer Protocol (FTP) is a standard protocol used to transfer files over a network. Doing offsite backup by using FTP is a traditional way. However, it is a little complicated: you first need to back up your files or folder to a storage device and then use the FTP command on another computer to do an offsite backup. If you have questions about using FTP to create an offsite backup, here are the steps of using FTP command in Windows.
Guide 1: Log in to FTP
Step 1: Open the "Run" window by clicking "Windows + R."
Step 2: Type "cmd" to open a command window.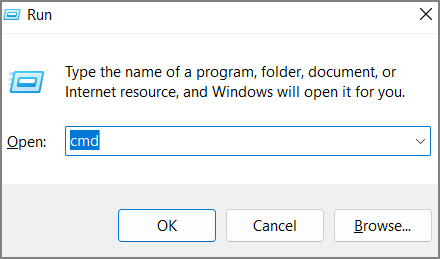 Step 3: Type "ftp" to enter FTP mode.

Step 4: Open the IP address/domain name of FTP. For example, "open 169.254.234.241."
Step 5: Input the user's name and password to finish the FTP connection.
Guide 2: Upload files
Step 1: Using "put + file name" or "send + file name" or "mput +files name." For example:

Step 2: Use "ls (or dir)" command to view current directory files.
Guide 3: Download files
Step 1: Use "lcd + local directory path" to set where you want to download the file.
Step 2: Use "get (or mget) + path + file name" to download files or multiple files.

Step 3: Input "!dir" to see the file you just downloaded.
Guide 4: Disconnection
Step 1: Input "bye" to finish the process.

Onsite Backup VS Offsite Backup
Onsite backup and offsite backup are important backup methods to protect our data. Understanding their differences helps us to perform a more comprehensive data backup.
1. Backup destinations: an onsite backup is stored on a local drive, such as a hard drive or tape. An offsite backup is stored on a remote server and accessed via the network or FTP server.
2. Internet requirements: onsite backup means that you can access the backup at any time even when there is no network. However, offsite backups are subject to the network.
3. Backup security: offsite backup is safer than onsite backup. It can avoid natural disasters and save data on several servers. But onsite storage devices are vulnerable to physical damage.
Both backup methods have advantages and disadvantages. It is safest to set up multiple backups. You can take a mixed model for secure backups.
Conclusion
This article provides three methods of offsite backup. In comparison, EaseUS Todo Backup provides a more comprehensive and simpler method for doing offsite backup. With it, you have multiple backup paths and backup methods. If you don't want to lose your valuable data, start backing up your data now!
FAQs About How to Do Offsite Backup
This passage introduced three solutions on how to do an offsite backup, and there are some frequently asked questions.
1. What are the advantages of off-site backup?
Performing offsite backups can prevent some natural disasters like floods and fires. So, it can provide better protection for data. It also allows for timely recovery in the event of a disaster.
2. Is cloud backup offsite backup?
Yes, cloud backup also belongs to offsite backup. Because it saves data on the internet instead of the local location. Both geographic and logical storage is offsite backups.
3. What is the difference between on-site and off-site backups?
On-site backup means you can backup your data on the local location, such as hard disks. But off-site backup means you need to backup your data to another location, such as a network location.
Was this page helpful? Your supoport is truly important to us!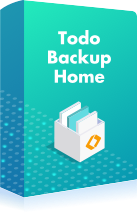 EaseUS Todo Backup
EaseUS Todo Backup is a dependable and professional data backup solution capable of backing up files, folders, drives, APP data and creating a system image. It also makes it easy to clone HDD/SSD, transfer the system to different hardware, and create bootable WinPE bootable disks.
Updated by

Jean is recognized as one of the most professional writers in EaseUS. She has kept improving her writing skills over the past 10 years and helped millions of her readers solve their tech problems on PC, Mac, and iOS devices. …

Read full bio

Written by

Cici is the junior editor of the writing team of EaseUS. She accepted the systematic training on computers at EaseUS for over one year. Now, she wrote a lot of professional articles to help people resolve the issues of hard drive corruption, computer boot errors, and disk partition problems.…

Read full bio