Microsoft Excel is a spreadsheet supported by Microsoft. It is popular because of its powerful calculation features, and most computer users are familiar with the operations of this software. And Microsoft designed other office software to improve work efficiencies, such as Word, Outlook, OneNote, and PowerPoint.
It is a good habit for home and enterprise users to back up excel files frequently. Otherwise, you may lose your Excel for one of the following reasons:
In the above cases, it is essential to back up data and follow the 3-2-1 backup rule. You'll learn two tested methods on this page. You can back up Excel files automatically with backup software and the built-in Excel feature.
Backup Excel Files with Automatic Backup Software
Is it hard to find suitable automatic backup software? We can recommend a reliable tool for you - EaseUS Todo Backup Home. You can download and finish the installation in minutes.
To back up Excel files automatically, you can apply the file scheduled backup option of EaseUS Todo Backup Home. It can be a good helper for users who have a bad memory, and users are allowed to set a schedule to back up excel files daily, weekly, and monthly with multiple types of backup methods, including full, incremental, and differential backup.
Note: If you have deleted the Excel files accidentally. EaseUS Data Recovery Wizard will help you recover deleted files with a few clicks.
How to Backup Excel with Automatic Backup Software Step by Step
EaseUS Todo Backup is a reliable and stable third-party tool. It is straightforward to operate, even for newcomers. We prepared a detailed tutorial for you, and you can follow the offered steps and back up Excel files automatically.
Step 1. To begin the backup process, click the Select backup contents button.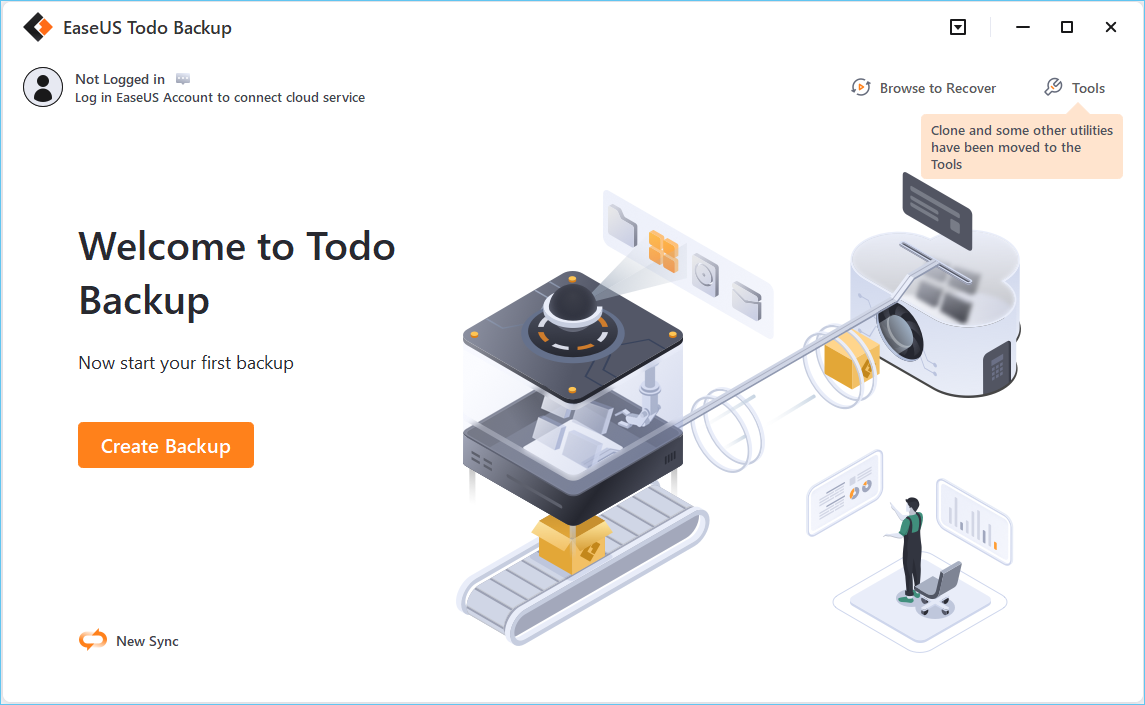 Step 2. Four data backup categories are listed: File, Disk, OS, and Mail.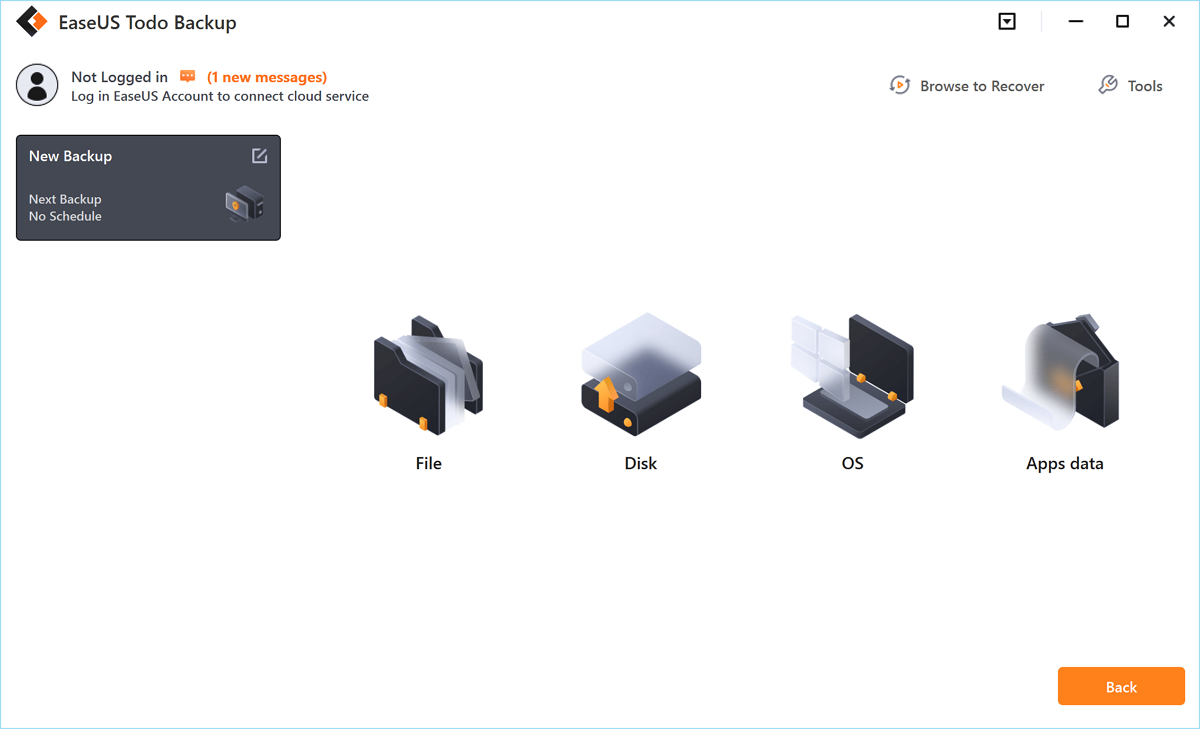 Step 3. Lists of both local and network files are shown on the left-hand side of the screen. Expanding the directory so that you can choose the files to back up.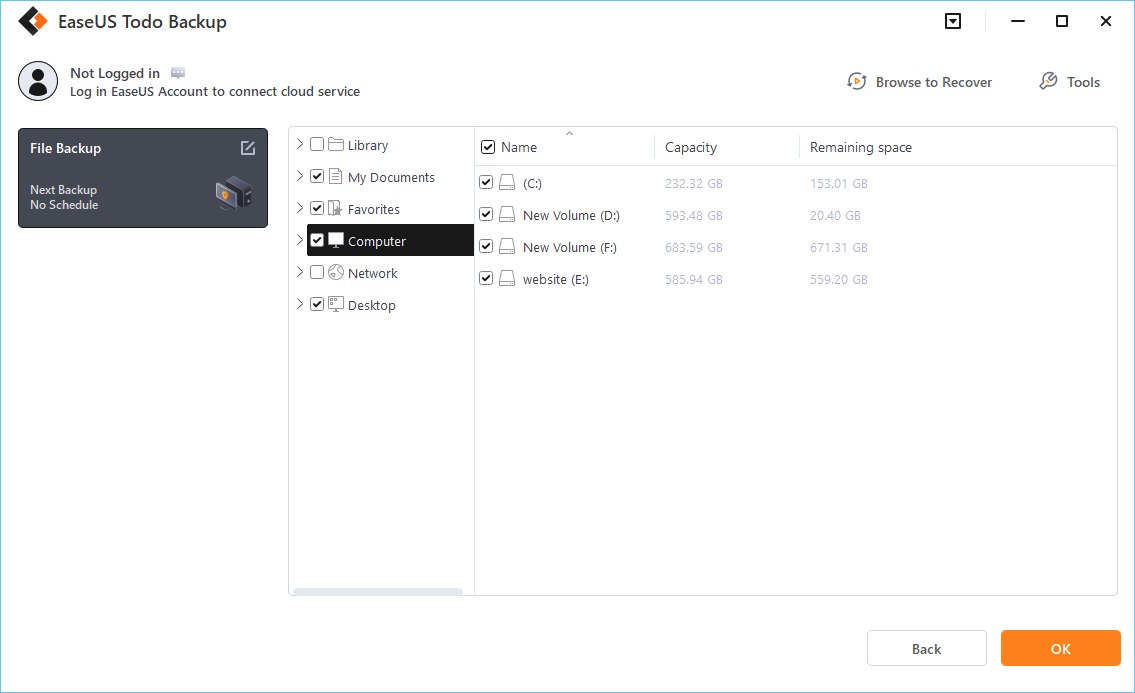 Step 4. Follow the guidance on the screen and choose the place where you want to store the back up.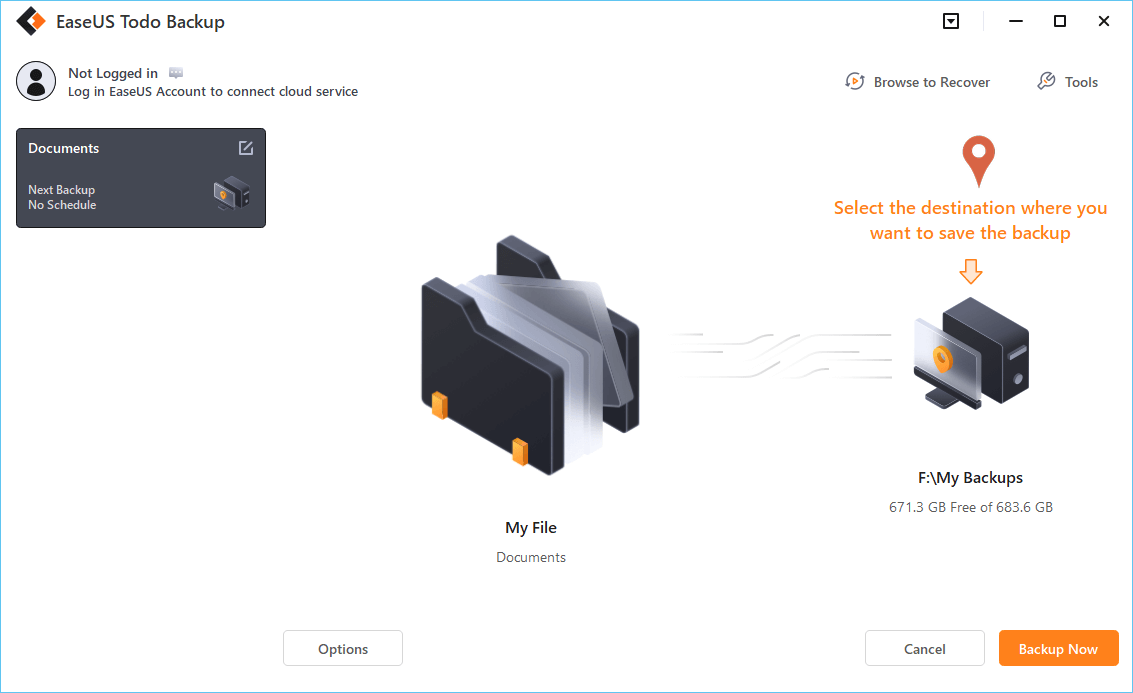 Make sure that the backup is encrypted and set the backup schedule by clicking Options in Backup Options. You can also choose to start the backup at a certain time in Backup Scheme by clicking Options. There are many other customizable options that you can look into.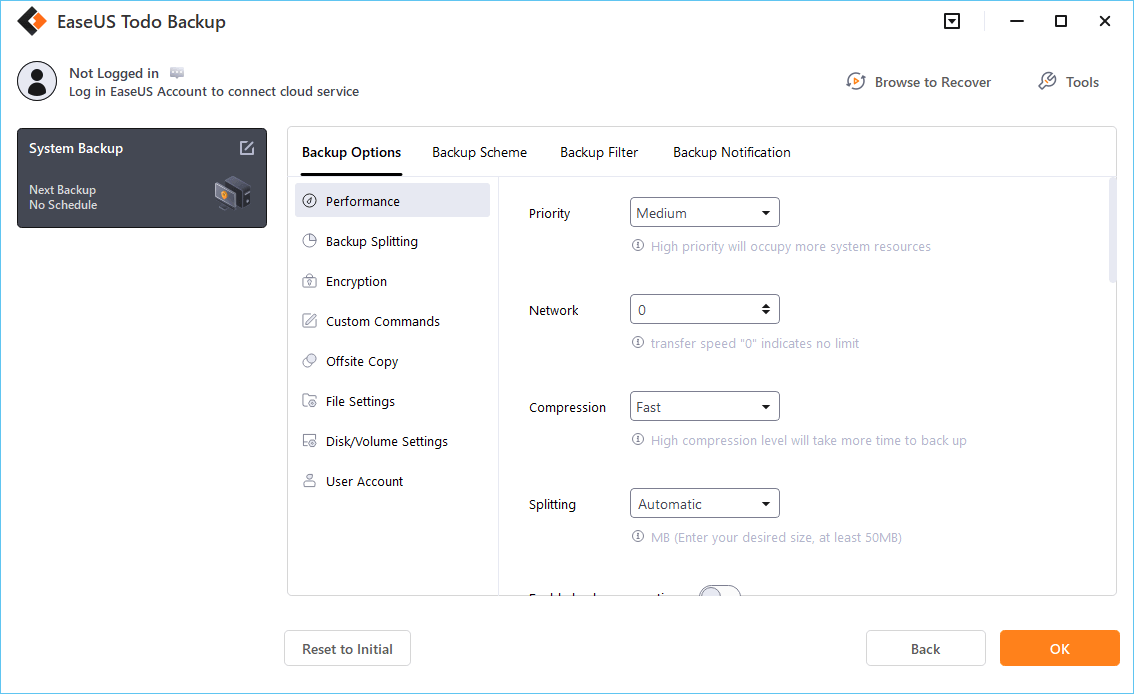 Step 5. You can store the backup file either on your computer, in EaseUS's cloud service, or on a network-attached storage device (NAS).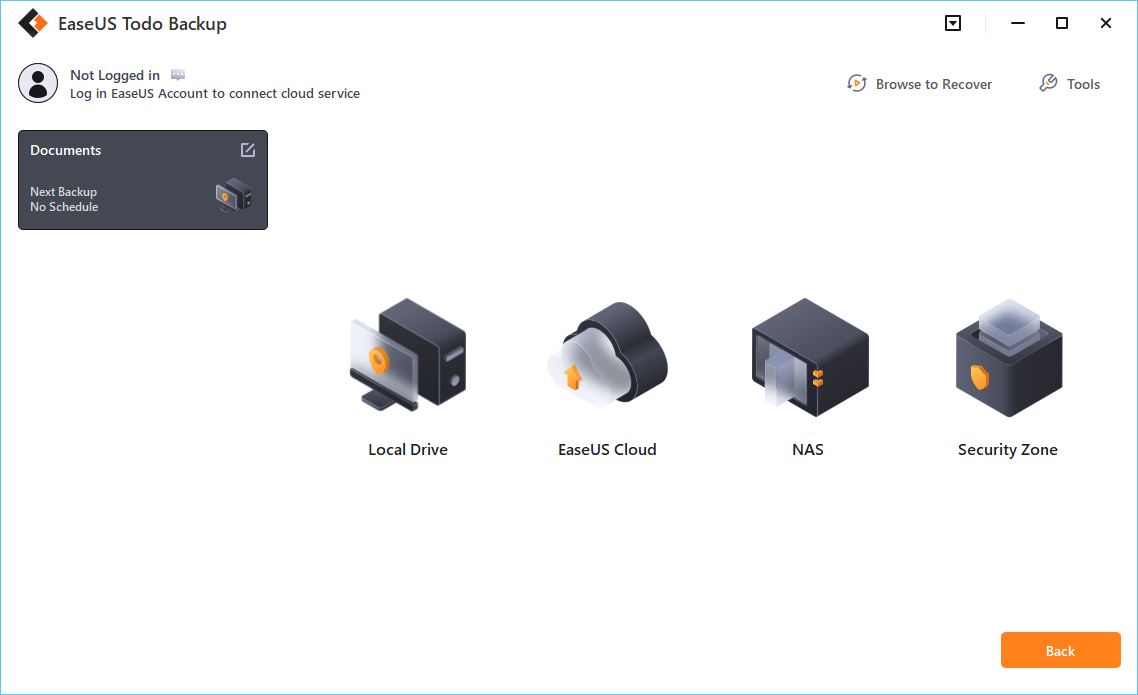 Step 6. EaseUS Todo Backup enables customers store backup copies of their files on a third-party cloud drive or on the company's own cloud storage.
If you want to back up your data on a third-party cloud drive, select Local Drive and scroll down to add Cloud Device. Then fill in your account information.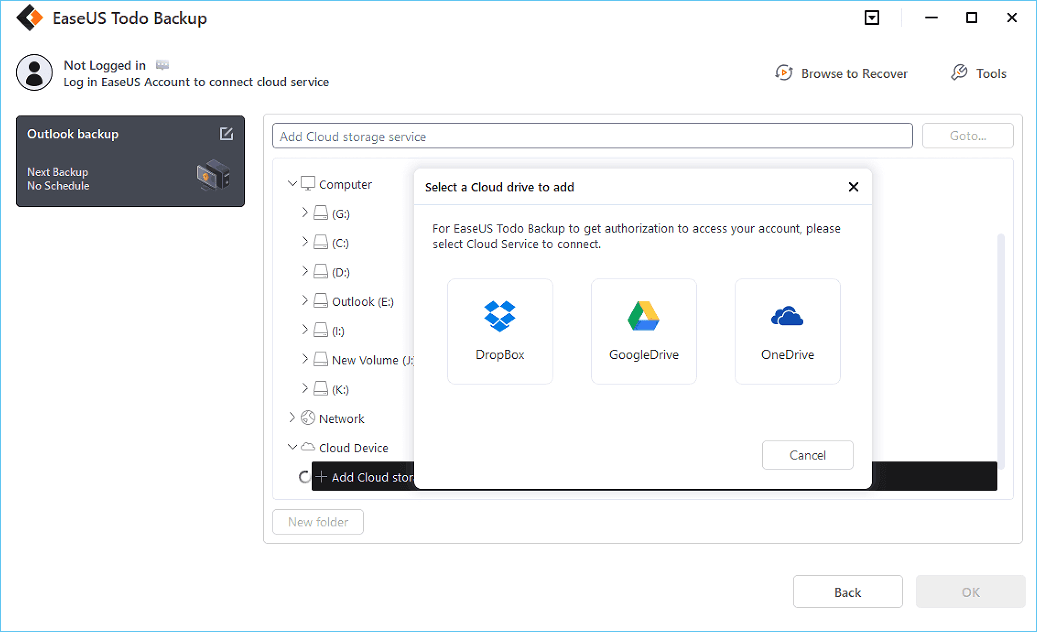 Click EaseUS Cloud, then sign up and log in with your EaseUS account if you wish to store backup files to EaseUS' own cloud storage service.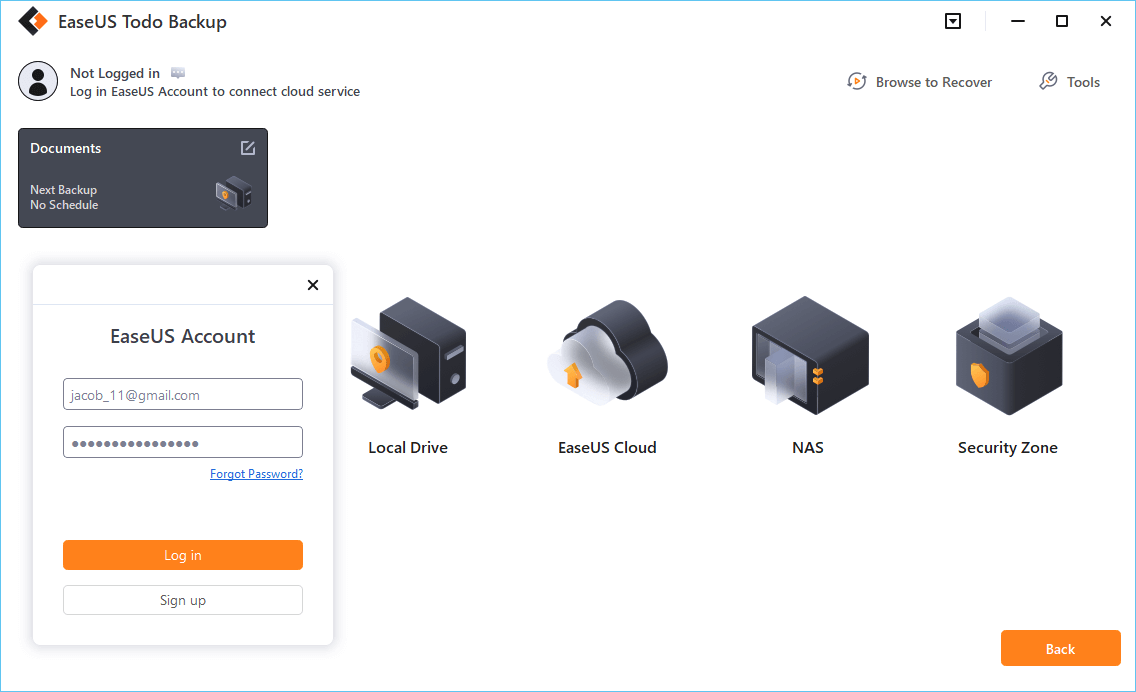 Step 7. Click on Backup Now to start a backup.  When the backup process is done, it will display as a card on the left-hand side of the screen. A right-click will let you see more about how to handle the backup job in more depth.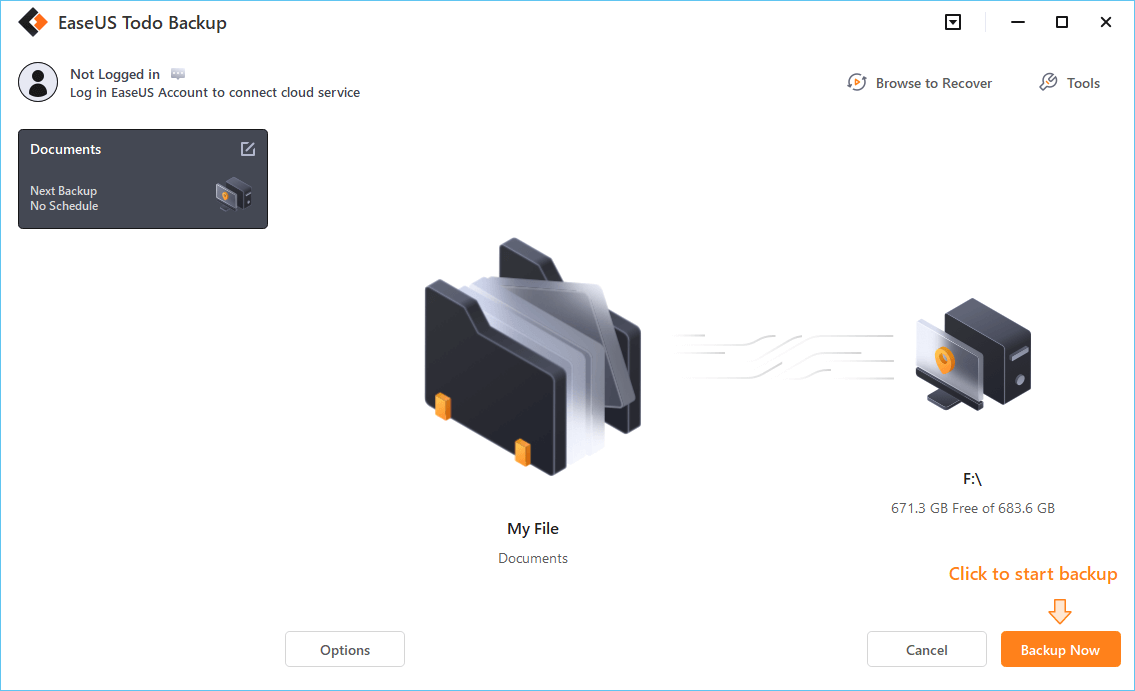 Create Auto Backup for Excel Files with Excel Built-in Option
While using Microsoft Excel, have you ever noticed it has a built-in backup option? Creating auto backup for Excel files with this built-in feature is the most direct way, but it can't execute other backup methods except full backup.
Auto Backup Excel with Built-in Feature Step by Step
It is simple to turn on the auto backup option. Read the following steps:
Step 1. Keep the Excel file open and click "File".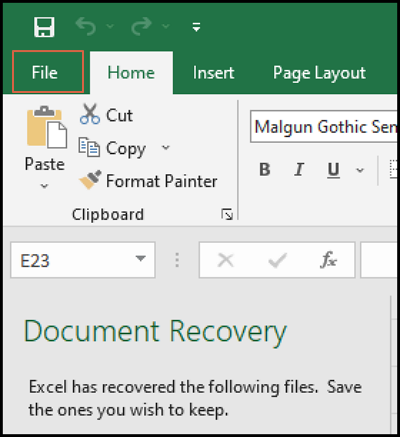 Step 2. Choose "Save As" and click "More options".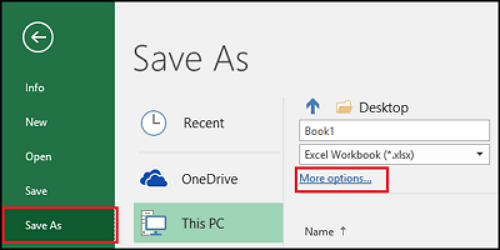 Step 3. Click "Tool" and then "General Options".
Step 4. Choose "Always create backup" and click "OK".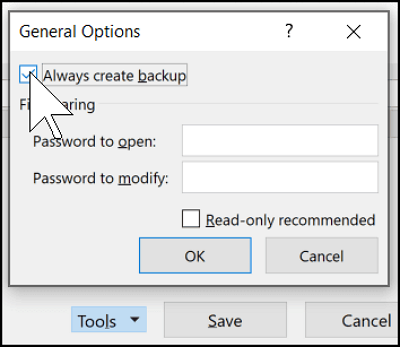 Step 5. Save the settings.
Wrap Up
You probably understand the importance of backing up your Excel files, as well as other information, on your computer or laptop. You can backup system and hard disks to the local, cloud platforms, and external hard drives. It will never go wrong to put essential data on different devices.
EaseUS Todo Backup can help you back up crucial information and has a clone option. You are allowed to create a system and disk clone.
Backup Excel File Automatically FAQs
With two simple ways to back up Excel files automatically, most doubts may disappear. If you still have questions, read the following Q&As:
Where does Excel save auto backups?
You can find your backup files by following the steps:
1. Select "File" and click "Open".
2. Click the "Browse" button and choose the target folder.
3. At the bottom right, select "Backup files" instead of "All Excel files".
How do I backup Excel 2007 automatically?
The best way to back up Excel 2007 automatically is backing up with reliable backup software - EaseUS Todo Backup.
1. You can click "Select backup contents" to create a new backup.
2. Choose "File" to back up your Excel files.
3. Decide the target location.
4. Click "Backup Now" to start backing up.
How do I transfer Excel from one computer to another?
Transferring Excel from computers to computers with USB devices and backup software is a wise choice. We recommend EaseUS Todo Backup.
1. You can click "Select backup contents" to create a new backup.
2. Choose "File" and choose your Excel files.
3. Choose the target USB flash drive.
4. Click "Backup Now" to start backing up.
5. Now you can connect the USB drive to a new computer and restore the backup.

Dany is an editor of EaseUS who lives and works in Chengdu, China. She focuses on writing articles about data recovery on Mac devices and PCs. She is devoted to improving her writing skills and enriching her professional knowledge. Dany also enjoys reading detective novels in her spare time.
Taking everything into consideration, we can say that EaseUS Todo Backup Home can offer you a little extra sense of security with a set of advanced tools. The interface provides quick adaptation, every process guiding you all the way through so you don't get stuck or further damage your system rather than keeping it safe.

 Read More

EaseUS Todo Backup Free lets you create backups of your important files or your entire computer through its streamlined interface. Just choose the backup type you'd like to get started, and let the program do the reset.

 Read More

EaseUS includes all the features I expect from backup software like versioning, incremental backups, and scheduling. For more advanced users, EaseUS allows you to install a pre-boot environment onto your hard drive so you can use it to restore files without burning a CD or putting it on an external USB drive.

 Read More

EaseUS Todo Backup
Smart backup tool for your files and entire computer in Windows 10/8/7.
Install Windows on Multiple Computers at Once? No Problem!
Learn how to install Windows 11/10/7 and special programs/software on a batch of computers. Use 10 minutes to do the 10 hours work without making a single mistake!
Get Free Solution!