Windows 11 Upgrade vs. Windows 11 Clean Installation
An upgrade is a common way of switching from an older Windows operating system (OS) to a new version. All computer settings, programs, files, etc., will be kept during the upgrading process. On the other hand, a clean installation will wipe the hard drive and the current OS and install Windows 11 from scratch.
Just like the proverb goes, "Nobody's perfect." The two options inevitably have merits and demerits.
Advantages of Windows 11 Upgrade
Users usually perform an in-place upgrade to install Windows 11 on a PC. With the help of the Windows 11 installation assistant, the upgrading process is almost automated.
You do not need to format your hard drive, reinstall applications, or change Windows settings after the updating because you may keep everything currently on the computer.
You can revert to the earlier version of the Windows operating system when something goes wrong or if you do not want to keep the current version.
Disadvantages of Windows 11 Upgrade
Windows 11 attempts to migrate all of the data from the previous version to the new one when upgrading. During the process, Windows 11 also keeps many unused and useless files and other junk files, thus cluttering the new system at the beginning.
Some programs and drivers not compatible with Windows 11 cannot run properly.
Benefits of Clean Install Windows 11
A clean installation can allow you to start from scratch, and any bloatware or trial software pre-installed with your system will not be installed. And you can also have a clean Windows registry.
Clean installation helps you eliminate all incompatible programs because it deletes all the apps. Therefore, you do not need to uninstall these apps manually.
A clean installation can help resolve some issues because errors and other problems are sporadic.
Drawbacks of Windows 11 Clean Install
Some data will be removed after a clean installation. You need to back up your files before you perform a clean installation.
After the clean installation, you still need to personalize your computer.
Preparations for Windows 11 Update or Clean Install
Since a clean installation of Windows 11 will wipe all data on the hard drive, you should better create a backup of your computer before you start the process. Besides, although Windows 11 upgrade will not delete the content on your PC, a backup is highly recommended in case something goes wrong in the upgrading process. Professional backup software, such as EaseUS Todo Backup, comes to help at this time. You can use it to create a computer backup to avoid data loss.
EaseUS Todo Backup Home is a practical, multifunctional backup utility for Windows 11/10/8/7. You can back up files, systems, disks, partitions, etc., and save the backups to the local drive, cloud, NAS, and security zone. It can also allow you to create different backup types, such as scheduled backup, automatic backup, full backup, incremental backup, and differential backup. In addition, it can also migrate Windows 10 to SSD and create an iso image from a hard drive. Most importantly, it also offers 250G of free cloud storage to help you save the backups to the Cloud.
The following are the detailed steps to back up your computer.
Step 1. Launch EaseUS Todo Backup on your computer, and click Create Backup on the home screen and then hit the big question mark to select backup contents.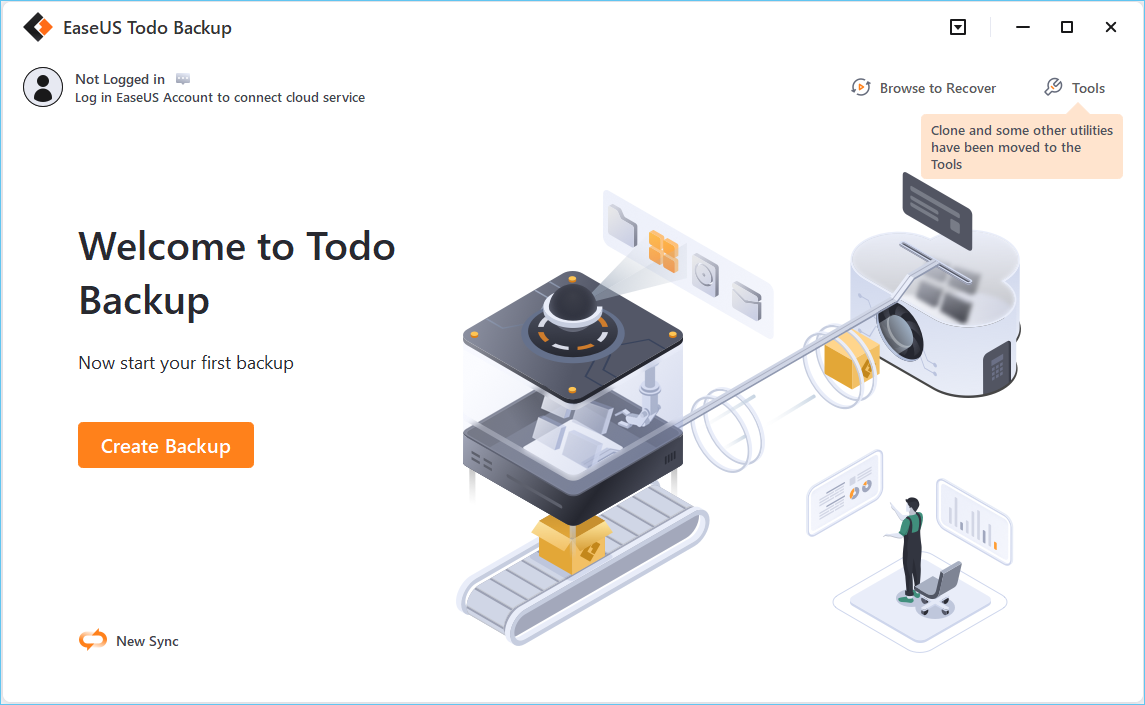 Step 2. To back up your Windows operating system, click "OS" to begin the backup task.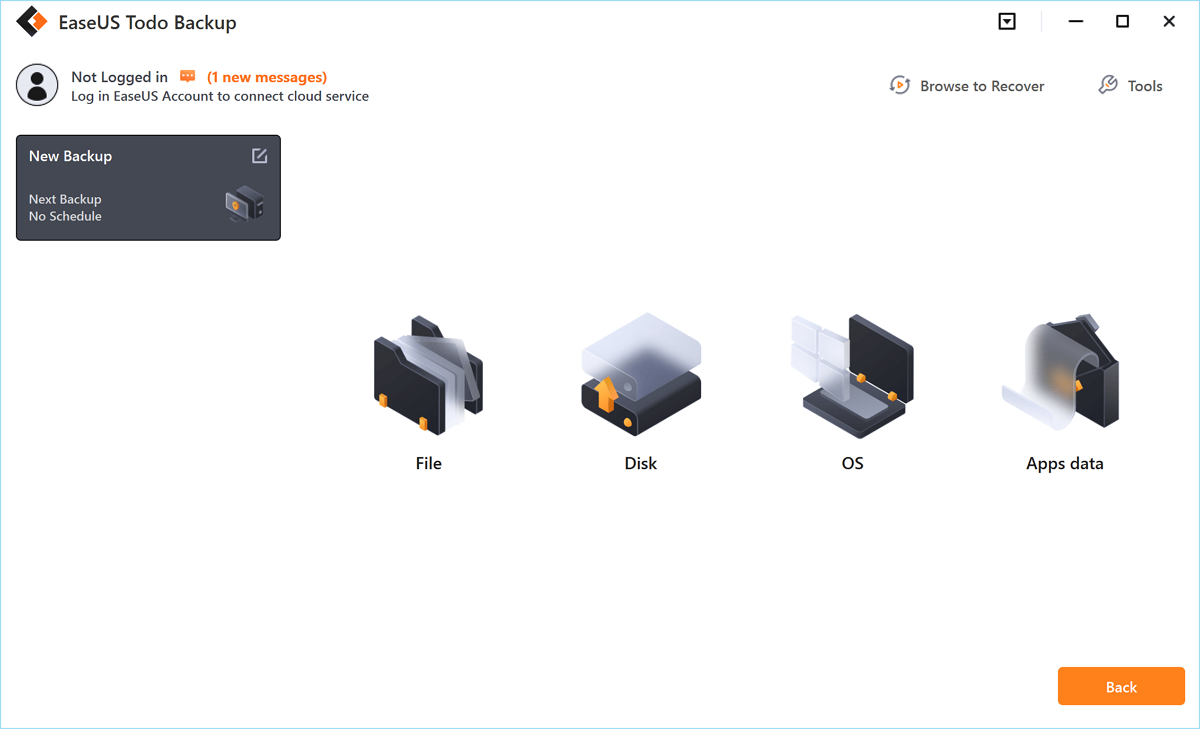 Step 3. Your Windows operating system information and all system related files and partitions will be automatically selected so you don't need to do any manual selection at this step. Next, you'll need to choose a location to save the system image backup by clicking the illustrated area.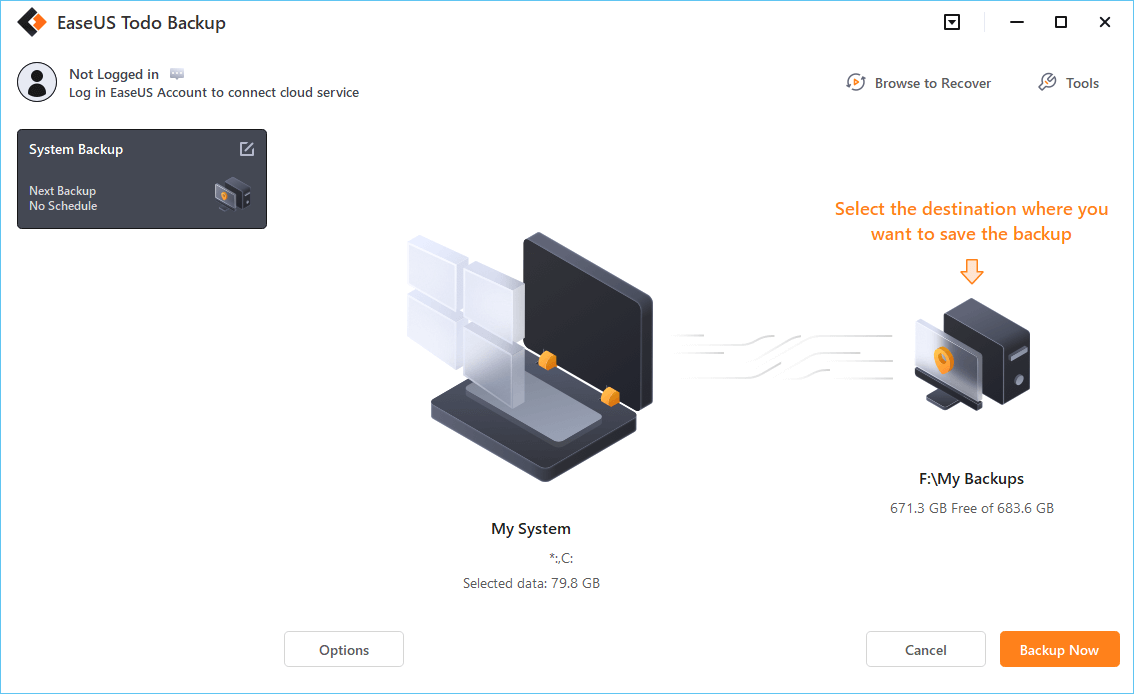 Step 4. The backup location can be another local drive on your computer, an external hard drive, network, cloud or NAS. Generally, we recommend you use an external physical drive or cloud to preserve the system backup files.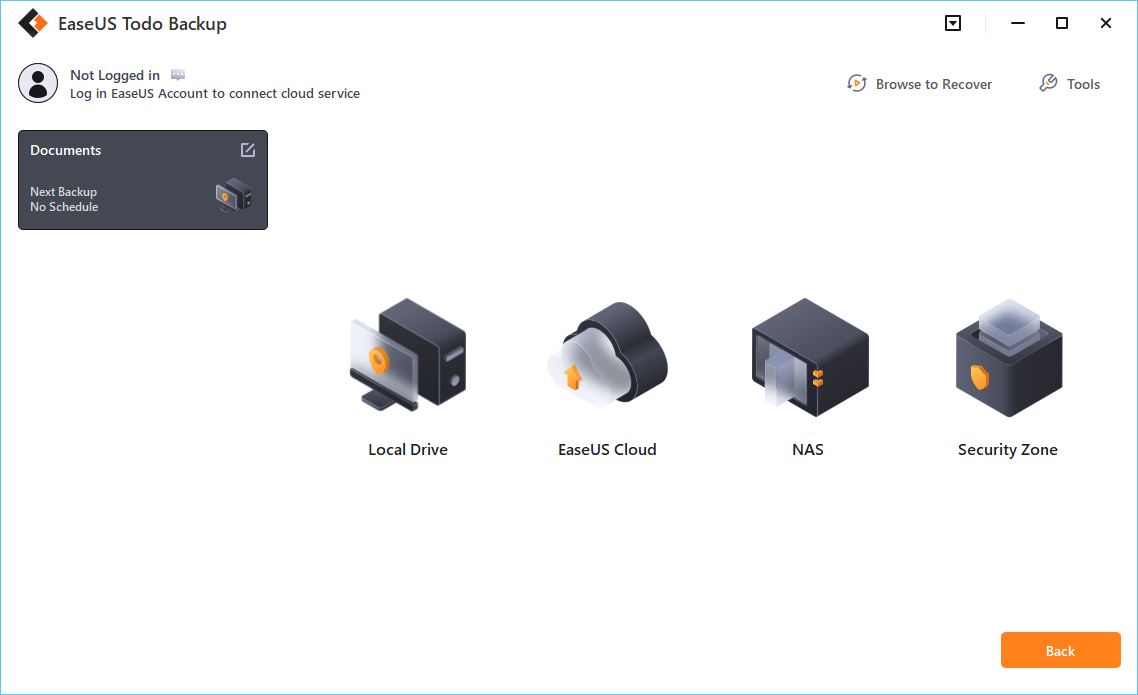 Step 5. Customiztion settings like enabling an automatic backup schedule in daily, weekly, monthly, or upon an event, and making a differential and incremental backup are available in the Options button if you're interested. Click "Backup Now", and the Windows system backup process will begin. The completed backup task will display on the left side in a card style.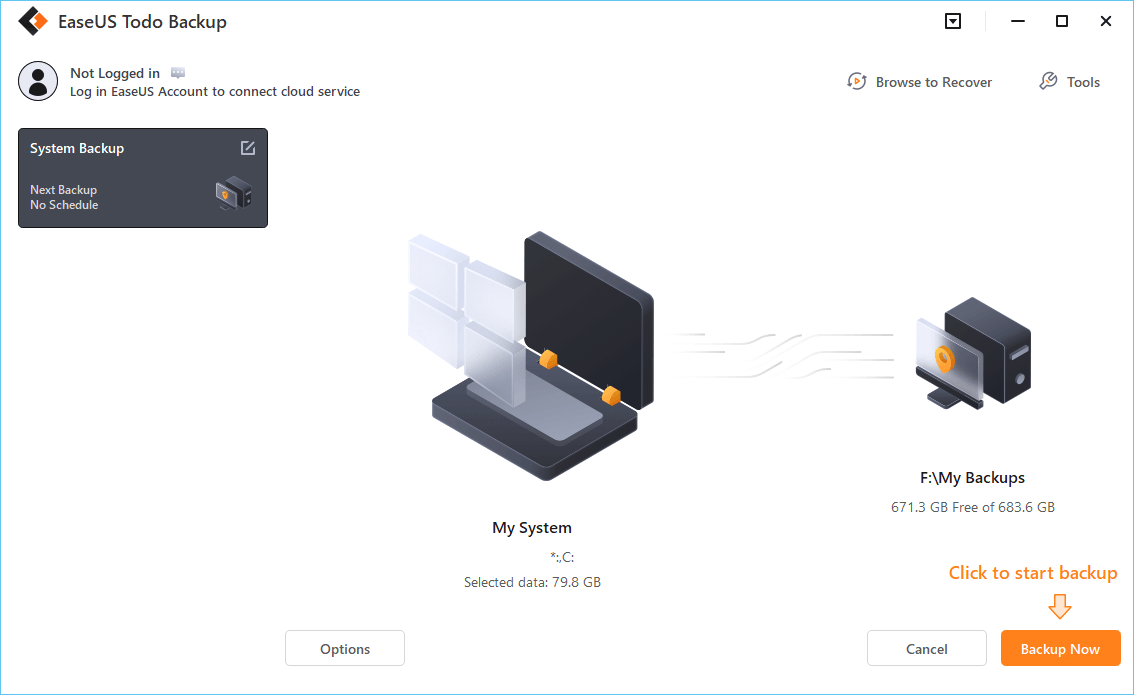 How to Upgrade to Windows 11 with In-place Upgrade
Microsoft offers a tool called Windows 11 Installation Assistant to help you upgrade your PC from Windows 10 to 11. It is the best accessible option for installing Windows 11 on the computer.
To use Windows 11 Installation Assistant, you need to pay attention:
It can only be used on computers with Windows 10 or higher.
Downloading Windows 11 requires 9 GB of disk space 
A Windows 10 license is required.
Your PC must meet Windows 11 PC requirements.
The following are the detailed steps to upgrade to Windows 11 using Windows 11 Installation Assistant.
Step 1. Download the tool from the Microsoft official site.
Step 2. Double-click on the .exe file to open the tool.
Step 3. Click on Accept and Install to continue.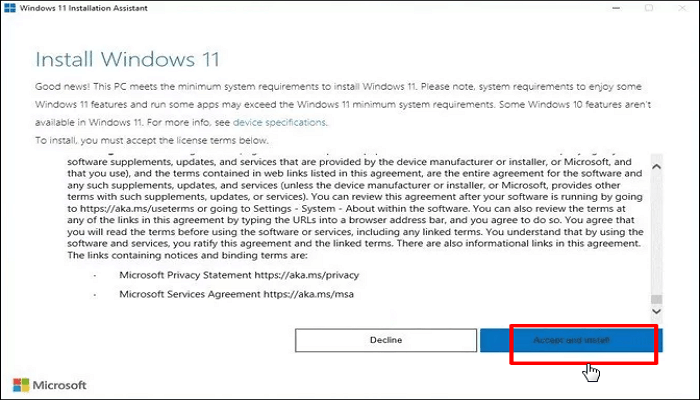 Step 4. This tool will begin downloading and installing Windows 11 on your PC.
Step 5. After everything is ready, click on Restart now, and the system will start upgrading.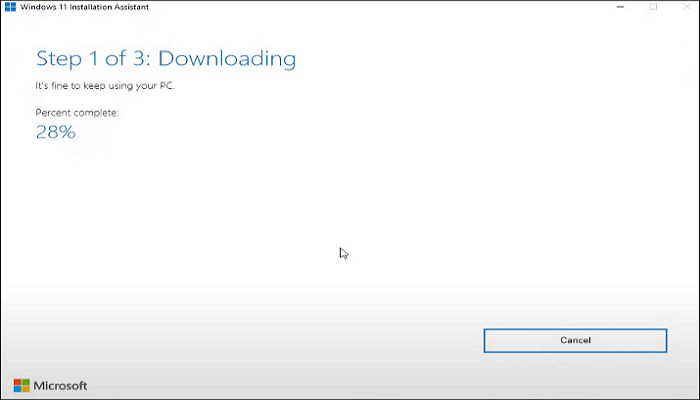 How to Clean Install Windows 11
As mentioned earlier, a clean installation can delete your files. Therefore, before you do, back up your essential files first. The Windows 11 clean installation concludes in two parts. One is the setup, and the other is the out-of-box experience (OOBE). The first part is the clean installation. The second part happens when the clean installation is done.

The Bottom Line
Windows 11 upgrade vs. clean install; which one should I choose? Is it better to clean install Windows 11 or upgrade to Windows 11? There is no clear-cut answer. Both options are available, and you can select one based on your needs. Specifically, perform a Windows 11 upgrade if you wish to keep your files, apps, and settings. And if you want a clean Windows, Windows 11 clean installation is a better choice.
Whether you upgrade to Windows 11 or clean install Windows 11, always remember to back up your data to prevent data loss. EaseUS Todo Backup is an excellent tool for you. It can not only help back up your data but also allow you to restore the data. Just try it!
FAQs
1. Does clean install of Windows 11 erase everything?
A clean installation of Windows 11 will wipe the hard drive and install a copy of the OS to set up a laptop or desktop computer. This approach can also be used to fix problems with an existing setup.
2. Will I lose anything if I upgrade to Windows 11?
What will happen to my files if I upgrade to Windows 11? All of your files and data will transfer by default. However, before installation, we advise making a backup of your files.
3. Does resetting Windows 11 remove viruses?
A factory reset will typically get rid of viruses. Before transferring any backup data back to your device, examine it for viruses wherever it is kept.
"I hope my articles can help solve your technical problems. If you are interested in other articles, you can check the articles at the bottom of this page, and you can also check my Facebook to get additional help."
Taking everything into consideration, we can say that EaseUS Todo Backup Home can offer you a little extra sense of security with a set of advanced tools. The interface provides quick adaptation, every process guiding you all the way through so you don't get stuck or further damage your system rather than keeping it safe.

 Read More

EaseUS Todo Backup Free lets you create backups of your important files or your entire computer through its streamlined interface. Just choose the backup type you'd like to get started, and let the program do the reset.

 Read More

EaseUS includes all the features I expect from backup software like versioning, incremental backups, and scheduling. For more advanced users, EaseUS allows you to install a pre-boot environment onto your hard drive so you can use it to restore files without burning a CD or putting it on an external USB drive.

 Read More

EaseUS Todo Backup
Smart backup tool for your files and entire computer in Windows 10/8/7.
Install Windows on Multiple Computers at Once? No Problem!
Learn how to install Windows 11/10/7 and special programs/software on a batch of computers. Use 10 minutes to do the 10 hours work without making a single mistake!
Get Free Solution!