If you're having problems with your Windows 10 PC, such as slow boot, failed restart, or consistent crashing, you may need to perform Windows 10 System Restore. If the system doesn't boot, a system restore can help you revert your Windows OS or settings to a previous working state before you begin encountering the problems. This article discusses how to perform Windows 10 system restore from the boot. The solutions in these guides also work for Windows 11. 
Can You Do a System Restore from Boot Menu
First, what do you understand about system restoration in Windows 10?
System Restore is Microsoft's built-in Windows tool to help repair and recover the operating system by reversing certain changes to return it to its previous working state. Think of system restore as the "undo" feature of Windows.
It reverses changes and settings, such as system files, drivers, registry keys, installed programs, etc., back to their previous versions/settings without reinstalling the operating system.
You may experience critical problems after installing a driver, Windows update, program, virus corruption, or modifying system settings in the Registry. If this happens, a restore point can help you revert your computer to an earlier working point to resolve the issue. You won't need to perform a clean Windows install.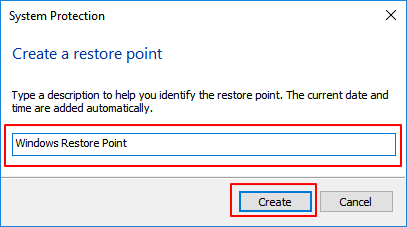 Now, can you do a system restore from the boot menu in Windows 10? Yes, Windows can carry out a system restore from the boot menu. You'll do this through system recovery in the Windows recovery environment (WinRE) before logging into our Windows 10.
But, Windows 10 no longer enables System Restore by default. You must first enable it manually before you can use it. To enable Windows 10 System Restore, follow these steps:
Step 1. Open Windows Start. Search "Create a restore point."
Step 2. Click the top result, "System Properties," and select the primary "System" drive. This is the drive where your operating system is installed, usually the C:\ drive.
Step 3. Navigate to the "Protection Settings" part and then click "Create."
Step 4. Name the restore point using a descriptive name. For example, "Before modifying the Registry settings."
Step 5. Click "Create" > "Close" > "Ok" > "Close" again.
Once you enable system restore, the operating system will automatically create system restore points when you install a new update, software, or specific system settings/changes.
In the next parts of this article, we'll show you how to carry out Windows 10 System Restore from the boot.
How to Do Windows 10 System Restore from Boot
To recover your system, you can run the Windows 10 system restore wizard at boot before logging into Windows 10 using your account. 
To do Windows 10 System Restore from the boot, use the following steps:
Step 1. Restart your computer. Press the F11 key as soon as it powers. This will open the "Advanced Startup" options.
Step 2. On the Advanced Options screen, select "System Restore". The computer will reboot.
Step 3. Select an administrator account (and confirm using a password) > Click "continue" > "Next."
Step 4. Ensure the "Choose a different restore point" option is selected, and then click "Next." You can also select the descriptive restore point you created on your PC. If you encounter the System Restore points missing issue, link to the article for solutions.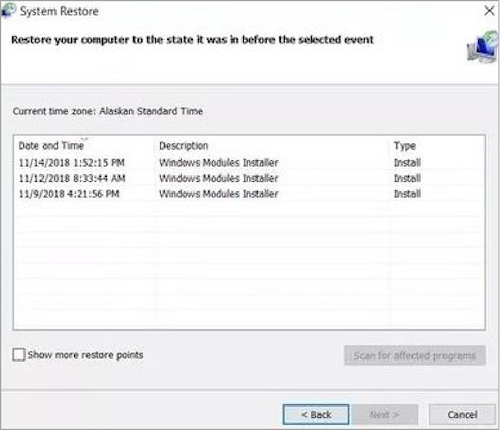 Step 5. Select a particular restore point from the available list on your PC. Then Click "Next" at the Confirm your restore point screen.
Step 6. Click "Scan for affected programs." This will confirm the apps/programs that will be removed since they were installed after creating the system restore point.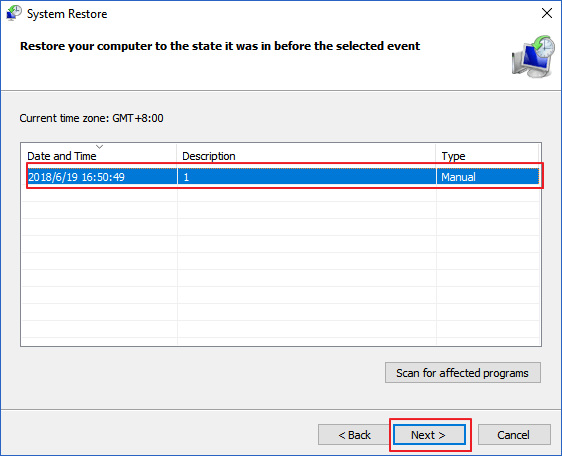 Step 7. Click "Yes" if a warning message appears.
Step 8. Click "Next", then click "Finish" and wait for the restore tool to continue.
Step 9. Your computer will restart, meaning the restore is complete.
Step 10. On the next boot, log in to your PC and go to your Desktop to see a confirmation message saying: "System Restore completed successfully."
This process will restore (undo) any system changes/programs that may have been causing problems or crashed, including those preventing it from booting correctly. Here is a video about how to restore Windows 10 from the boot.
0:24 - 2:41 Enter the "Advanced options" mode
2:41 - 3:06 Enter "System Restore"
3:06 - 4:00 The process of system restore 
Windows 10 System Restore with Windows Backup and Restore Tool
You can also restore a Windows 10 system using a Windows backup and restore tool like the EaseUS Todo Backup.
The EaseUS Todo Backup tool provides efficient and secure Backup and Recovery functionalities. Its main features include:
Local and Cloud backup and recovery
System backup and recovery 
Disk/Partition Backup and Recovery
Files Backup and Recovery
The advantage of using a backup and restore tool is that you don't have to be an expert in Windows system restore. EaseUS Todo Backup and Restore makes the system restore process clear and simple. You'll just need to be keen when following the tool's on-screen guide.
Let's look at the two key functions of the EaseUS Todo Backup and Restore tool: Windows system Backup and System Recovery.
How to Back UpWindows System Step by Step 
Data backup (file, folder, and system) is important because data loss can occur at any time caused by the system, software, computer malfunction, or even malware. 
EaseUS Todo Backup backs up your system data to keep its complete image file backup or provides critical file/folder backup. This helps make sure your data is safe, protected, and backed up all the time.
To backup your Windows system with EaseUS Todo Backup, follow the steps below:
Step 1. On the main page, click "Select backup contents".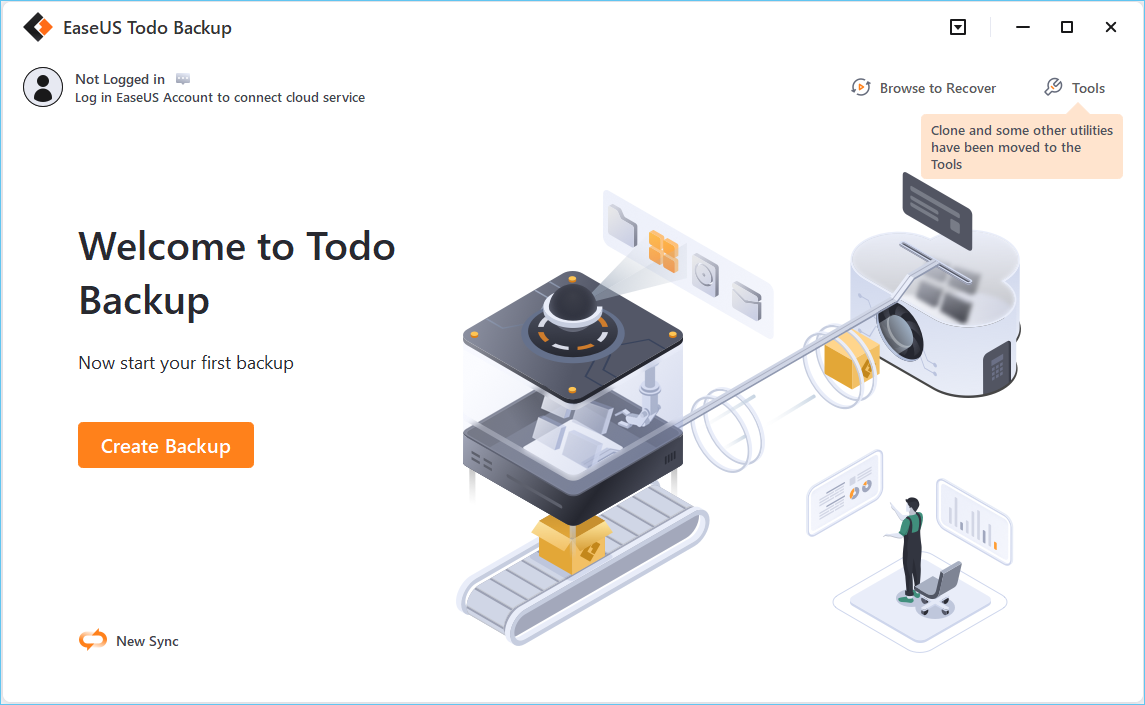 Step 2. Among the four available categories, click OS.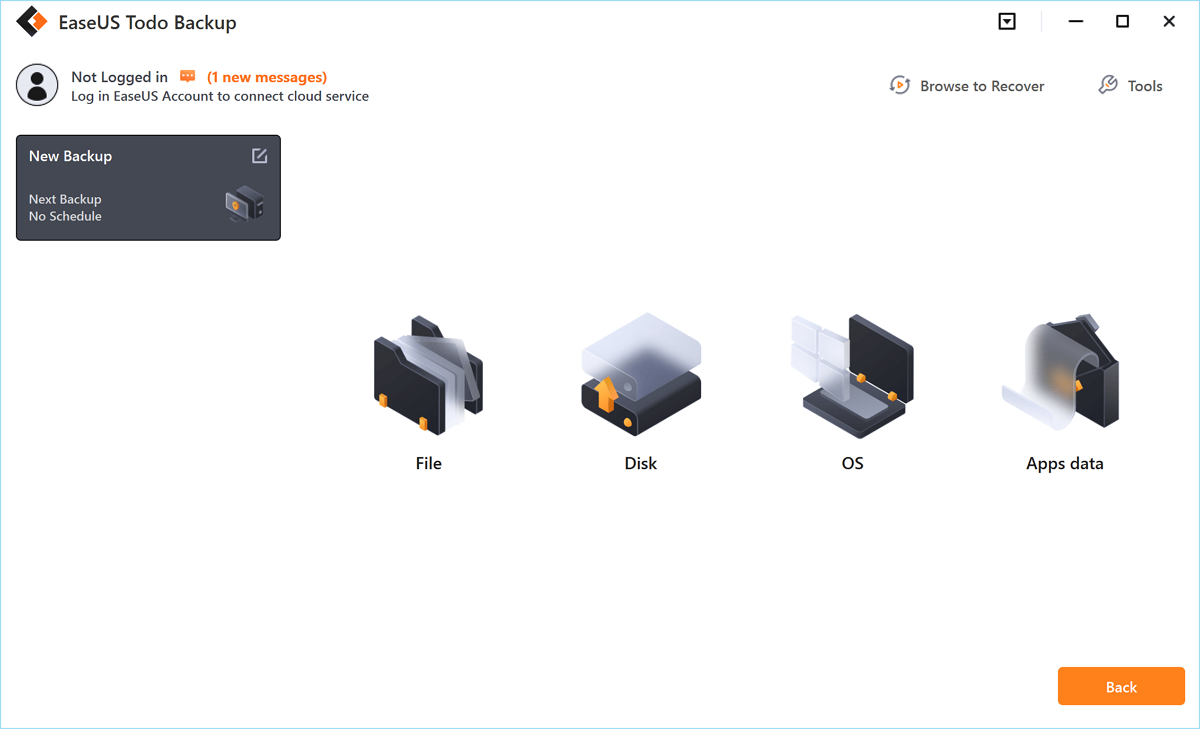 Step 3. EaseUS Todo Backup will automatically select your system partition, you only need to select the backup destination.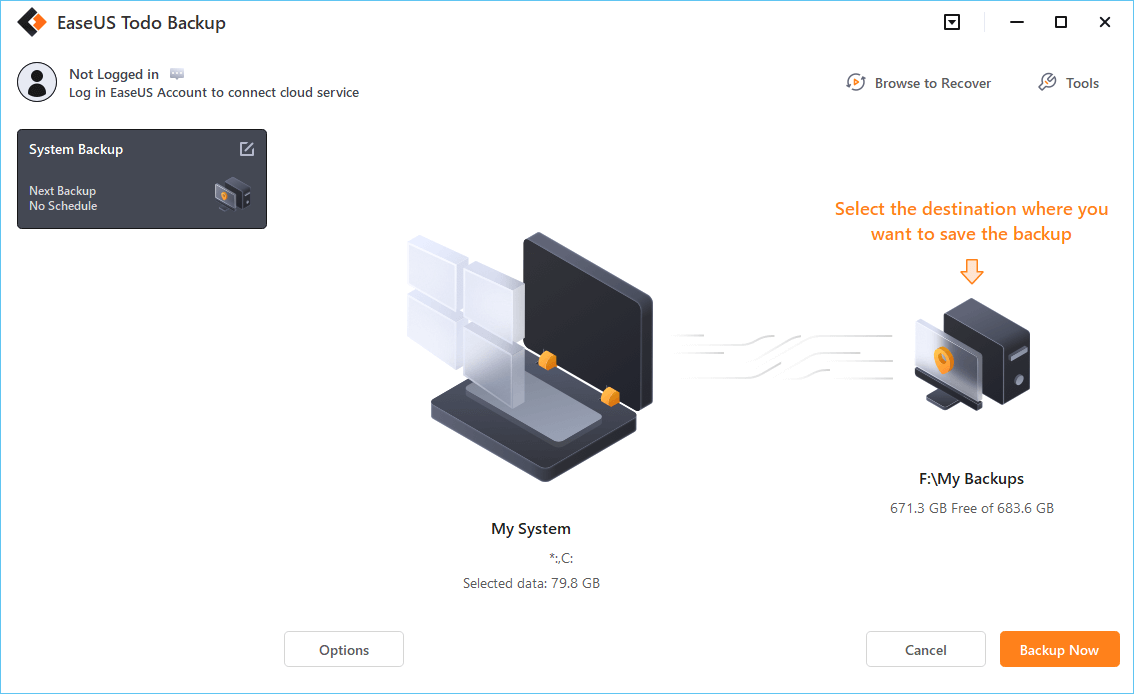 Step 4. Both Local Drive and NAS are available for you to save the backup file.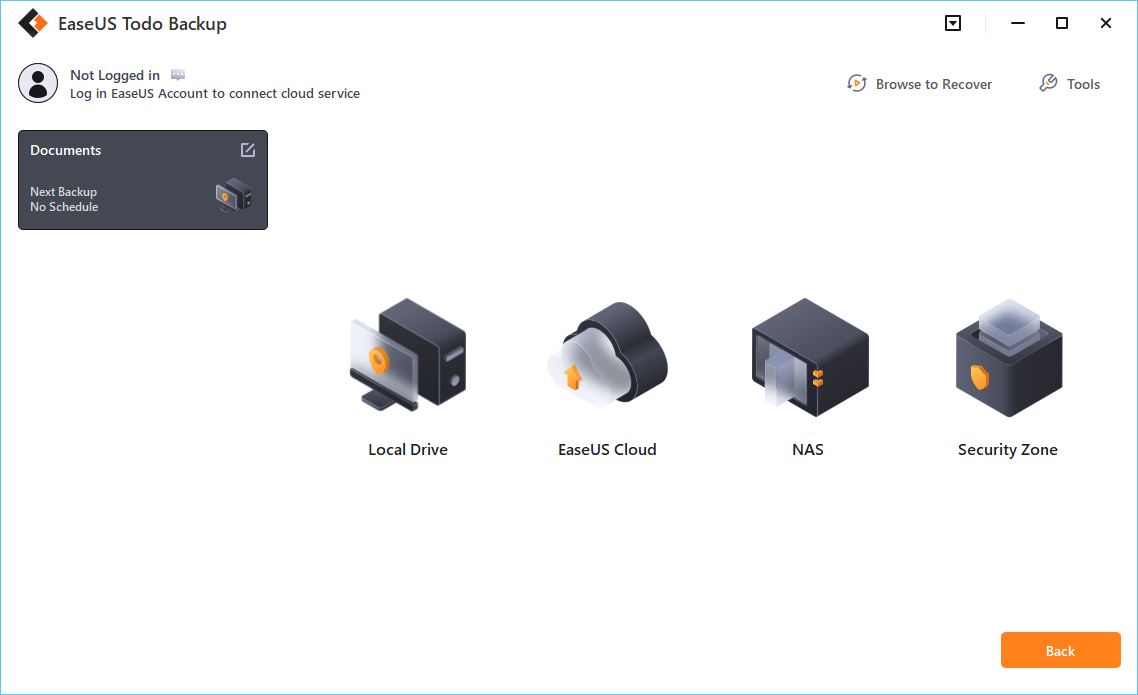 Step 5. After finishing the backup process, you can check the backup status, recover, open, or delete the backup by right-clicking the backup task on the left.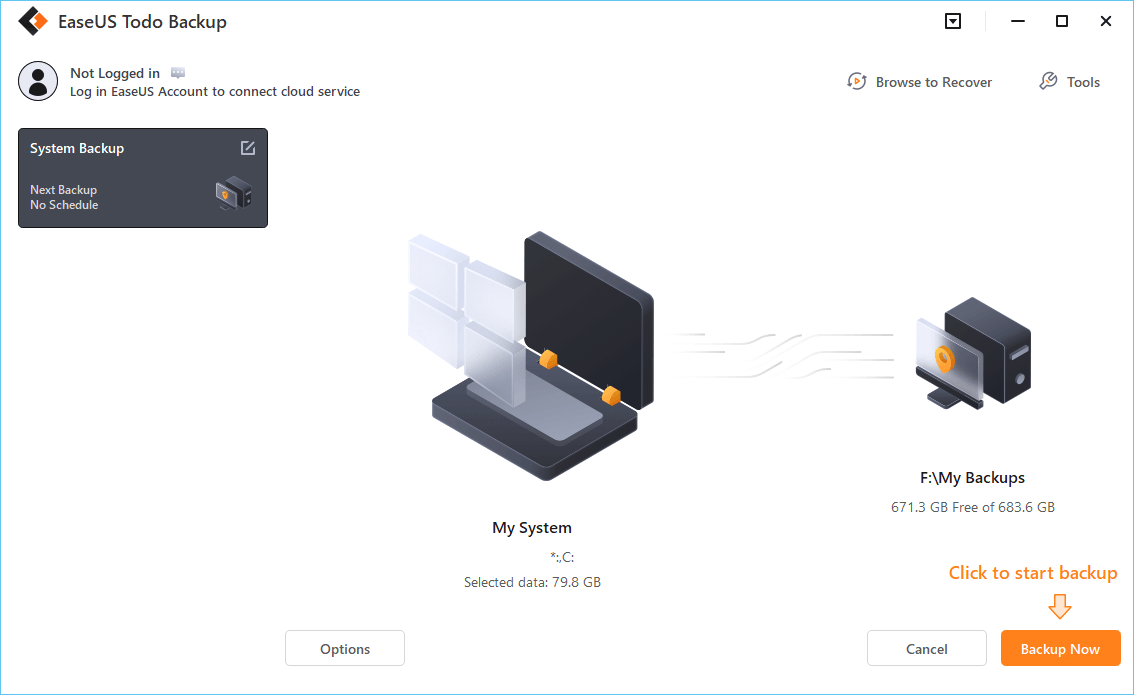 How to Do System Recovery Step by Step 
You'll feel devastated when you encounter an unexpected system crash or data loss. EaseUS Todo Backup software provides data and system recovery functionality to allow you to recover your system in case it malfunctions or when you lose certain data. 
The EaseUS Todo Backup allows you to easily perform system backup restore when the system crashes or fails to start. 
Here are the steps to follow for system recovery using the EaseUS Todo Backup tool:
*Try to boot the computer with the EaseUS Todo Backup emergency disk to accomplish system recovery on a non-bootable machine..
Step 1. Click Browse to Recover to luanch EaseUS Todo Backup.
Step 2. Navigate to the backup location, and then select the system backup file you need. (The backup file created by EaseUS Todo Backup is a pbd file.)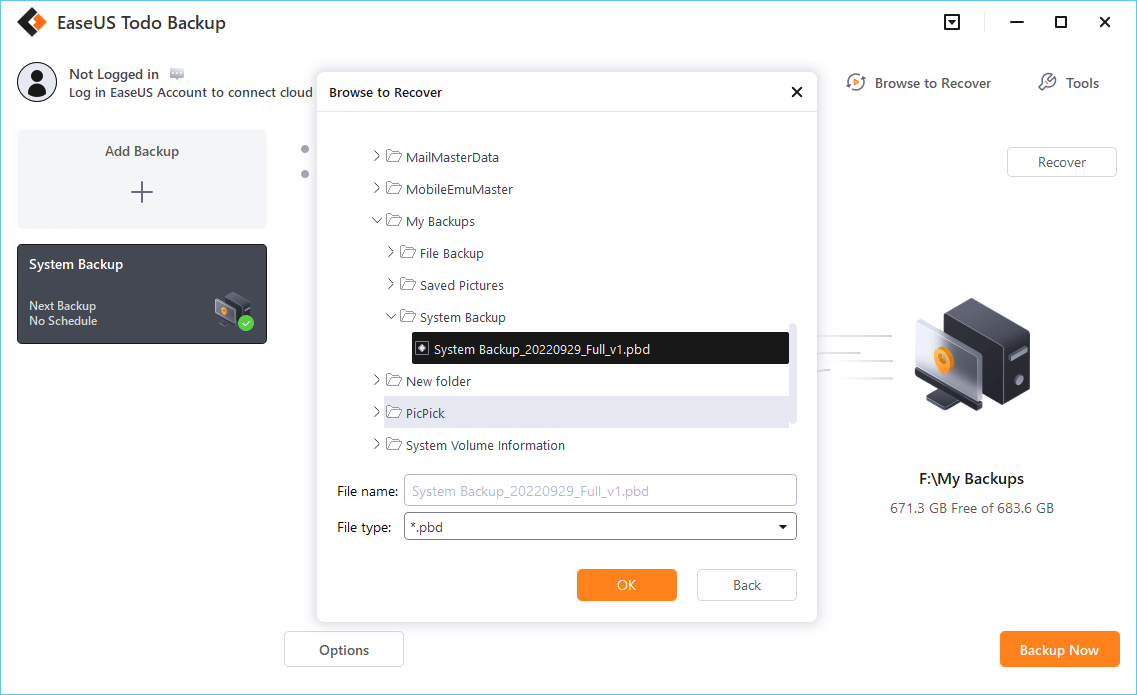 Step 3. Select a recovery disk. Verify that the partition styles on the source and recovery disks are same.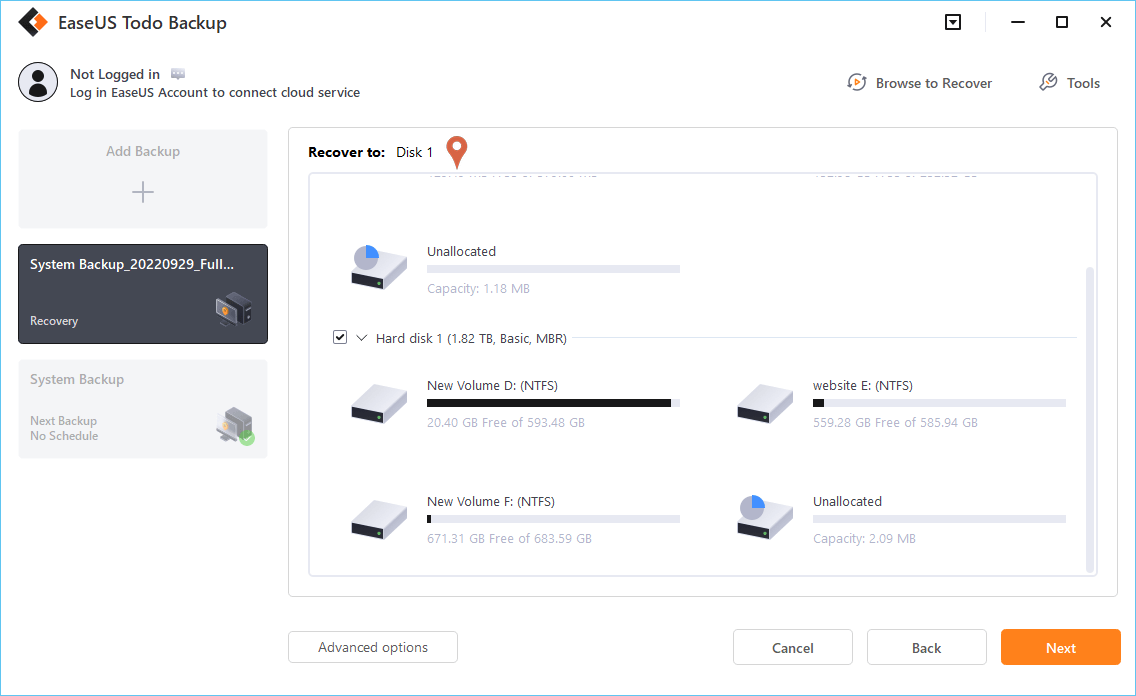 Step 4. You may change the disk layout to suit your requirements. Then, to begin system backup recovery, select Proceed.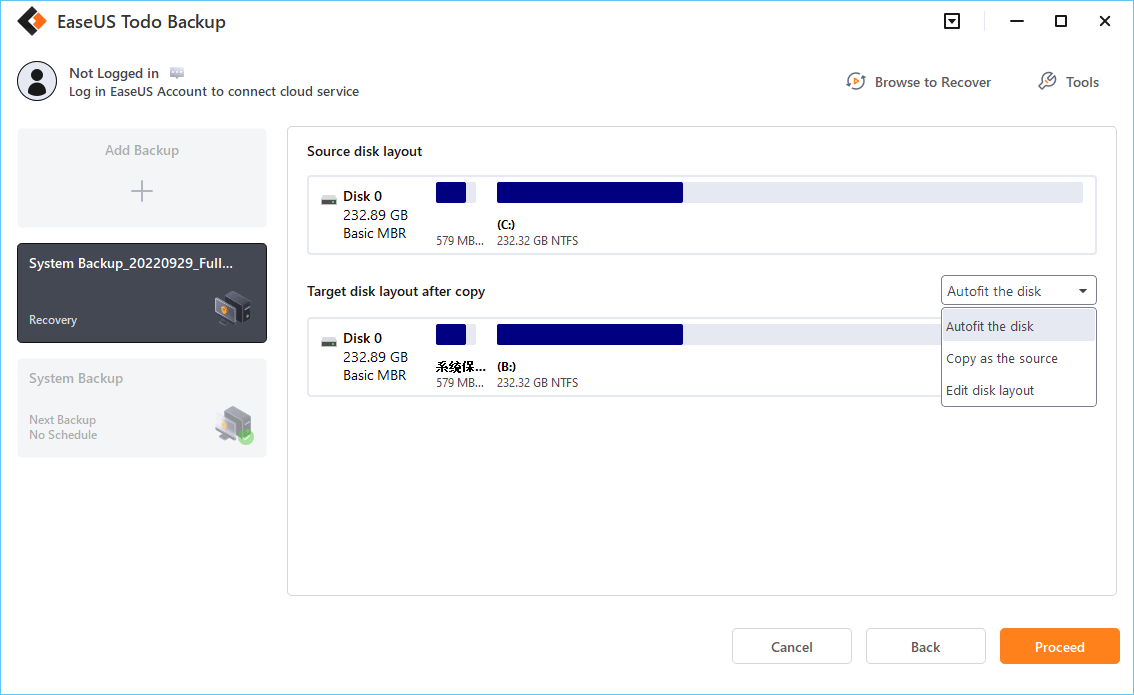 Windows 10 System Restore from Boot FAQs
The following are some of the frequently asked questions regarding Windows 10 system restore from boot:
1. What does Windows 10 System Restore actually do?
System Restore copies (duplicate) system files, Windows registry, and programs and saves them in the computer as Restore Points. When the system experiences data corruption, installation failure, system malfunction, etc., System Restore can return it to its previous working condition (before the mishap) without reinstalling the entire operating system.
2. How do I restore Windows from boot?
To restore Windows from the boot, use the following steps:
Step 1. Restart your computer. Press the F11 key as soon as its powers to open the "Advanced Startup" options. Select "System Restore." The computer will reboot again.
Step 2. Select a user name (administrator account) and enter the password. Click "Continue."
Step 3. Select a restore point from the list of options provided.
Step 4. Follow the prompts to restore your computer to its previous working condition.
3. How to Start System Restore From the Command Prompt?
Use the following steps to start system restore from the command prompt:
Step 1. Open the command prompt. Press Windows Key and type CMD.
Step 2. In the command prompt text box, type the command: rstrui.exe. Then press "Enter."
Step 3. This will immediately open the "System Restore wizard." Proceed to follow the on-screen instructions to complete your system restore process.
4. Can I restore Windows 10 from BIOS?
No. You can't restore Windows 10 from computer BIOS because BIOS controls hardware devices and not the Windows system. You can only restore Windows 10 from inside the system. 
Final Thoughts
This article has taught you how to do Windows 10 system restore from the boot and through  EaseUS Todo Windows Backup and Restore Tool. To restore Windows from the boot, you must enter the system's Advanced Startup and then use the System Restore option. Alternatively, you can use EaseUS Todo Backup to help you quickly back up and restore your Windows OS.

Cedric Grantham is one of the senior editors of EaseUS who lives and works in Chengdu, China. He mainly writes articles about data recovery tutorials on PC and Mac and how-to tips for partition management. He always keeps an eye on new releases and loves various electronic products.
Taking everything into consideration, we can say that EaseUS Todo Backup Home can offer you a little extra sense of security with a set of advanced tools. The interface provides quick adaptation, every process guiding you all the way through so you don't get stuck or further damage your system rather than keeping it safe.

 Read More

EaseUS Todo Backup Free lets you create backups of your important files or your entire computer through its streamlined interface. Just choose the backup type you'd like to get started, and let the program do the reset.

 Read More

EaseUS includes all the features I expect from backup software like versioning, incremental backups, and scheduling. For more advanced users, EaseUS allows you to install a pre-boot environment onto your hard drive so you can use it to restore files without burning a CD or putting it on an external USB drive.

 Read More

EaseUS Todo Backup
Smart backup tool for your files and entire computer in Windows 10/8/7.
Install Windows on Multiple Computers at Once? No Problem!
Learn how to install Windows 11/10/7 and special programs/software on a batch of computers. Use 10 minutes to do the 10 hours work without making a single mistake!
Get Free Solution!