Do you receive any of the following error messages that indicate your System Restore is not working?
System Restore failed
A shadow copy could not be created
Error 0x80070005/0x800423F3/0x80070570
System Restore failed to extract the original copy of the directory from the restore point.
Restore point could not be created for this reason: Error detected in the Volume Shadow Copy Services (VSS).
When Windows System Restore is not working, it usually happens after users update the system, install an application, or their computer becomes infected with malware or a virus. However, there are many other factors that result in failure to restore restore a previous version of Windows. We provide several methods to fix System Restore within this page, but it is an all-too-common problem that can be caused at no fault to the user. There are simpler alternatives to restoring your System besides using Windows System Restore and reconfiguring your PC every time something inevitably fails with it.
You can create restore points of the status of your system, applications, and personal files using third-party software. EaseUS Todo Backupis capable of doing just that, and it allows users to perform a complete system restore in Windows 10/8/7. More details are provided in the FINAL PART first we'll discuss how to directly fix Windows System Restore.
Five Solutions to Fix System Restore Not Working in Windows 10/8/7
To fix the matter, there are five fixes you can try.
Fix 1: Run System Restore in Safe Mode
There are different ways to enter Windows Safe Mode, depending on the version of your Windows OS. The specifics of the procedure vary slightly between Windows 10/8.1/8 and Windows 7, but the general method is the same.
Step 1. Restart your computer, press "F8" during the boot process to open the Windows "Advanced Boot Options" menu and enter "Safe Mode".
Step 2. In the Safe Mode menu, type recovery into the Start Menu search bar and select "Recovery" from the list.
Step 3. Open "System Restore" from the Advanced recovery tools menu.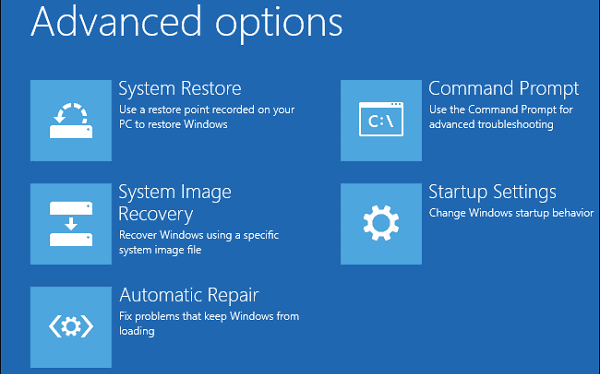 By booting into Safe Mode, you may be able to create a system restore point or restore to a prior restore point. Alternatively, if the issue is not resolved, you could execute a Clean Boot to see if you are able to get system restore working without potentially-interfering applications.
Fix 2: Check System Protection Settings and Configure Disk Space Usage
If the size of your created system restore points exceeds the maximum disk space configuration in the System Protection settings, you will lose many new backup images. In this case, you cannot restore your Windows to the desired restore point because it has not truly been saved. To resolve this, allocate more space for system restore points.
Step 1. Right-click "Computer/This PC" icon and select "Properties" -> "System Protection" -> "Configure".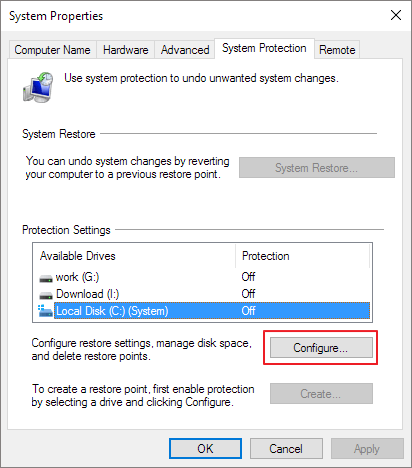 Step 2. When you arrive at the Configure area, drag the "Max Usage" bar and consider increasing from the default 3 percent to over 5 percent.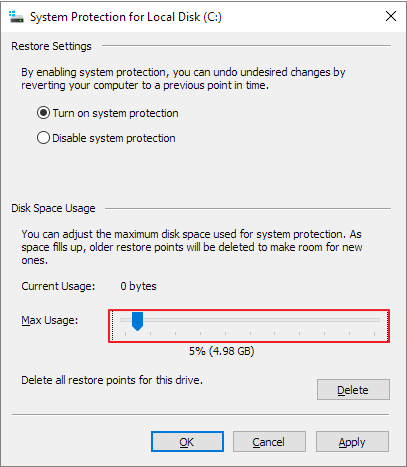 Fix 3: Check the Status of Volume Shadow Copy Service & System Restore Service
You should be aware of another facet of the system that can cause System Restore to not work properly. Volume Shadow Copy Service (VSS) is an implementation that allows volume backups to be performed while applications are running. If VSS is not enabled or the registry value of the Volume Shadow Copy Service has been changed in the Registry, it will lead to Windows System Restore issues.
To set the Volume Shadow Copy Service to "Automatic":
Step 1. Type Services.msc in the Start Menu search box and hit "Enter".
Step 2. Search for "Volume Shadow Copy, Task Scheduler, and Microsoft Software Shadow Copy Provider Service"; check if they are Running and have their "Startup type" set to "Automatic".
Step 3. Reboot your computer and retry System Restore.
Fix 4: Repair Corrupted System Files
If system restore loses functionality, one possible reason is that system files are corrupt. So, you can run System File Checker (SFC) to check and repair corrupt system files from the Command Prompt to fix the issue.
Step 1. Press "Windows + X" to bring up a menu and click "Command Prompt (Admin)".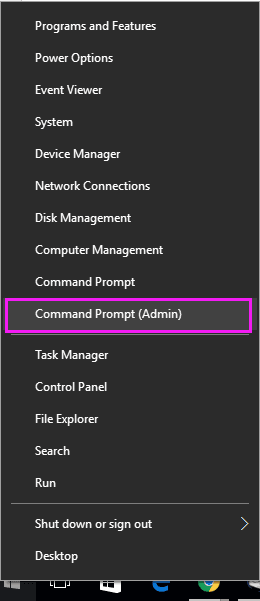 Step 2. On the Command Prompt window, type: sfc /scannow and press "Enter".

Fix 5: Windows System Restore Alternative - EaseUS Todo Backup
The System Restore feature is undoubtedly a very useful feature that is a life-saver when your computer runs into an accident and requires a restore. But at times, no matter how many restore points Windows automatically created for you, you are unable to restore your computer: System Restore simply won't work!
What's worse, you don't get the luxury of having a specialized consultant help solve your problems. If you find your Windows System Restore not working time and time again, it is wise to prepare a backup plan that can perfectly replace the Windows function.
Alternatively, backup software can provide double protection of your system restore points. EaseUS Todo Backup is the best tool for the job. You can use it to create a backup image of everything—including system data, applications, and files—onto internal/external hard drives, Network, or Cloud storage. Furthermore, you have direct access to a dedicated support team if you ever have an issue using the product. Ensure that you can always bring your computer back to a safer state with this backup and recovery program.
Create a system restore point with EaseUS Todo Backup
The detailed steps are provided here:
Part 1. Create a system backup
Step 1. Download and launch EaseUS Todo Backup.
Step 2. Click "System Backup" to backup your Operating System (Windows 10/8/7).
Step 3. Select the backup destination, the software will choose the most suitable location by default.
Step 4. Click "Schedule" option to open the Backup Scheme window, here you can create a scheduled backup plan to back up your OS later, daily, weekly, monthly or upon an event. Then, your OS will be automatically backed up.
Step 5. Save all of the changes. Click "Proceed" to start Windows 10 system backup.
Part 2. Restore the system
After you back up the system, you can refer to the detailed guide to restore the system from its restore points or follow the simple guide below to get things done.
Choose a system backup image -> Click "System Recovery" -> Choose a recovery drive -> Click "Proceed".