Have you been using Norton Ghost for the backup system and files but now it's not working on your Windows 11. You must be fed up while trying again and again. It's quite frustrating, though, but not anymore.
In this article, we came up with the best alternative to the tool you've been using for your files and system backup, EaseUS Todo Backup. We would say that once you learn about the incredible features, you'll never think about any other way to create backups of your system or files. 
In simple words, this software will help you backup your important data and restore it within minutes without hassle. Read the complete article about the software that can change how you've been doing system or file backup and restoration.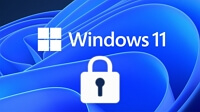 What is Norton Ghost?
Norton Ghost is a cloning and imaging tool first introduced in the 1990s. Norton Ghost is a software program designed to create backups of your computer files. The program can be used to create a complete copy of your hard drive, or you can choose to create backups of only selected files. Norton Ghost also offers the ability to schedule backups, so you can ensure that your most important files are always backed up. In addition, the program offers the ability to encrypt backups so that you can protect your data from unauthorized access. Norton Ghost is an essential tool for anyone who wants to keep their computer files safe and secure.
All in all, it's a tool that you can utilize if you want to create an image backup of your computer or clone it to the new hard drive. But unfortunately, it's no longer available as Symantec discontinued it in 2013. Let's take a look at its history to unveil the reason for its discontinuation.

The History of Norton Ghost?
Norton Ghost was first released in 2004 and has since been discontinued. Norton Ghost allows users to create a "ghost" of their hard drive, which is an exact copy of the contents of the drive. This ghost can then be used to restore the drive in the event of a data loss or system crash. Norton Ghost was one of the first software programs to offer this type of backup solution, and it quickly became a popular tool for both home and business users. However, Norton Ghost was discontinued in 2014 due to declining sales. Despite this, it remains a popular tool among many users and is still available for download from various sources.
Norton Ghost was discontinued in Windows 11. But what's the reason behind its discontinuation? Below, we'll explain some reasons that might have played the main role in its discontinuation.
Why did Symantec discontinue Norton Ghost?
Norton Ghost is among the first and best disk imaging programs available, and it appeared to have the best legacy of all the tools available at the time. Because making a clone and sector-wise copy of a hard disk or computer has become a colloquialism, we can gain a sense of its popularity.
However, Symantec had just exploited the product's popularity after sticking the price tag on it. That's when Norton Ghost's popularity began to drop, and Symantec decided to discontinue it in 2013 after noting the decline. After discontinuing Norton Ghost, Symantec announced a new year later a  solution called Symantec system recovery a new year later. The market had already revolutionized when the Norton Ghost was discontinued, as it had before its release. Symantec's financial failure would have been the last thing to happen at that point, and  Broadcom later bought it in late 2019. Thus, you can still discover a few remains of Ghost at Broadcom.
It's fairly obvious the tool has been discontinued; hence you can't keep using it; you'll surely need an alternative for system or file backup and clone.  In other words, Norton Ghost might have been the sign of a true legacy of backup and clone tools before the 20s, but now it's not available for use. You'll need a reliable alternative tool Like EaseUS Todo Backup that is perfect for your use in every aspect.
Norton Ghost Alternative | Windows 11 Backup Clone - EaseUS Todo Backup 
No one can deny how vital backup can be when you've lost your file or corrupted your system. You don't have any other option to restore them rather than backup. Creating your Windows image copy is the foremost thing to do for sure. Nothing would be as good as Norton Ghost for system image backup or restoration.  But unfortunately, Norton Ghost is not compatible with Windows 11. 
Then, what's next to do? Much other software is introduced with the most advanced interface like EaseUS Todo backup to ease you. It isn't software. It is a lifesaver for those who want to backup their system or files within minutes. 
Main features of EaseUS Todo Backup
We've listed some of the software's main features below to help you understand why you should prefer it over Norton Ghost:
How to Backup Windows 11 Using EaseUS Todo Backup 
Rather than going through a long process of data recovery and Windows reinstallation, it's better to use software like EaseUS Todo Backup which can help you make the tedious job of Windows repair easier while creating reliable image backups for your system. Being free, powerful, and flexible, it's among the best tools, especially when compared to Norton Ghost. 
Creating backups for your system or files is now easier. You just need to follow a few steps below:
Step 1. Select Backup Contents
On the main window, click the big question mark button to select backup contents. You can choose to back up individual files, entire disk or partition, operating system and mails.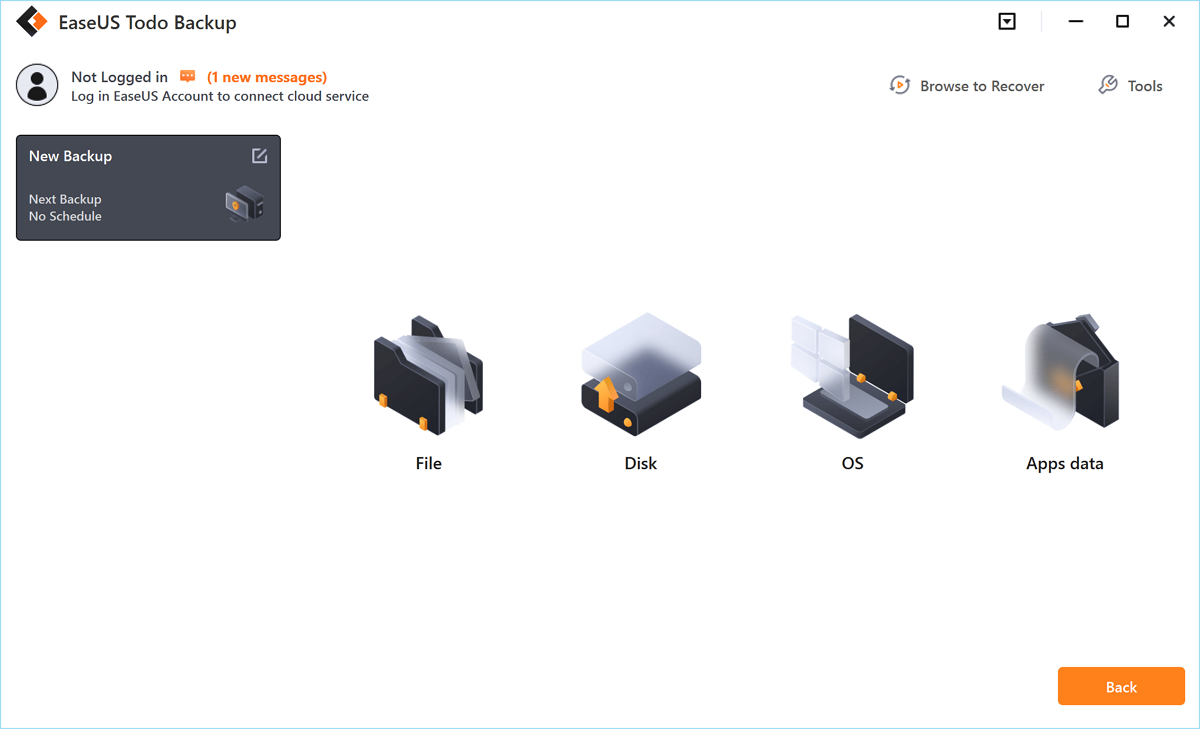 Step 2. Select Security Zone as Backup Destination
While selecting backup destination, you can see the Security Zone option. Click Security Zone and use it as a backup destination.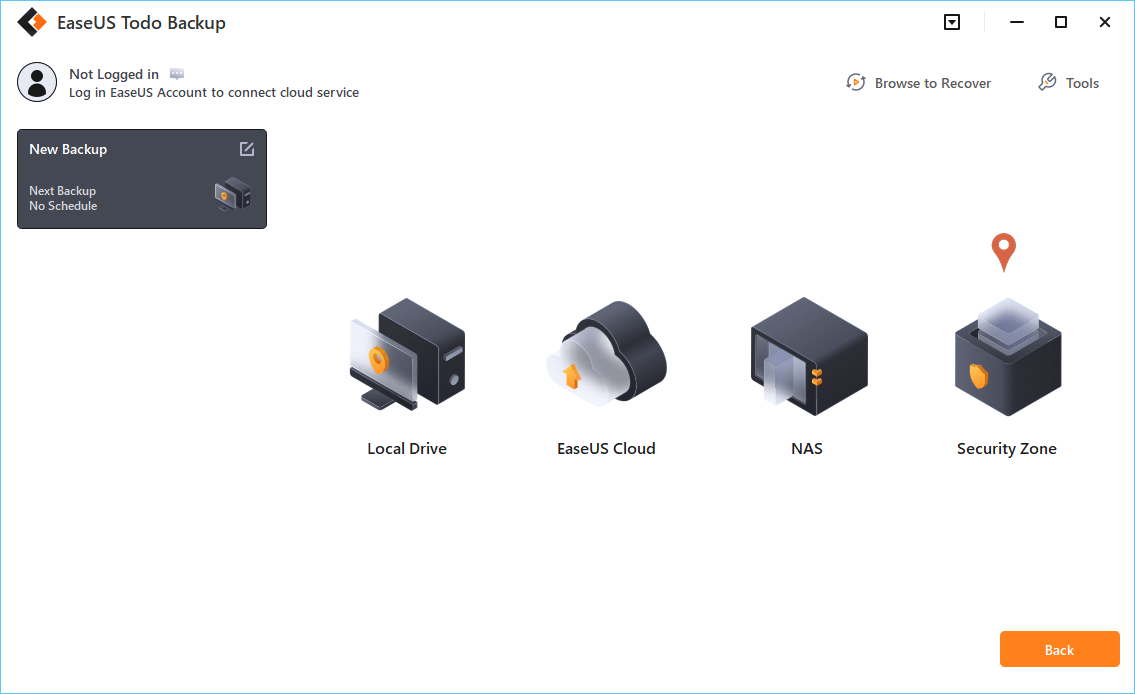 However, if you're first to use the Security Zone function, EaseUS Todo Backup will guide you to create one. Click "Create Security Zone".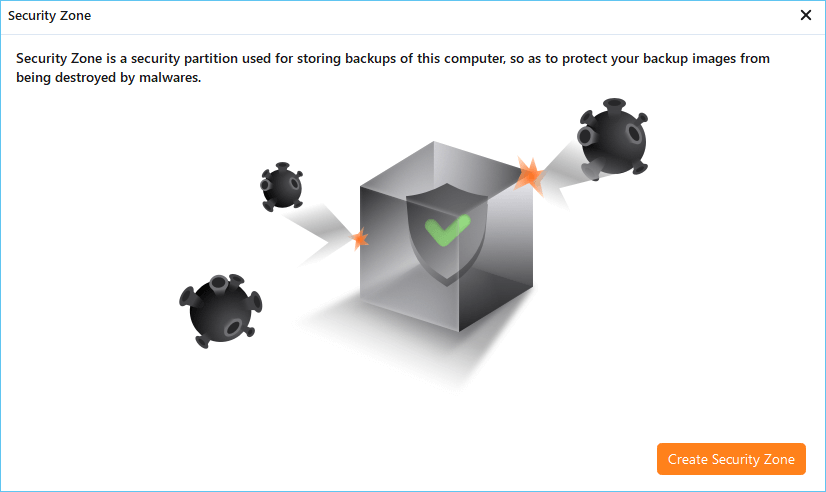 Choose a partition with enough free space for your backups and then click "Continue".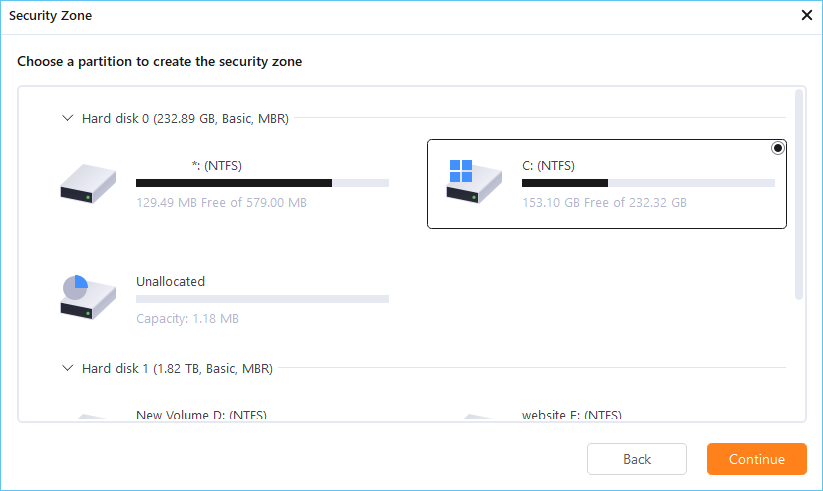 You can adjust the partition size for the security zone. Click "Create" to get it done.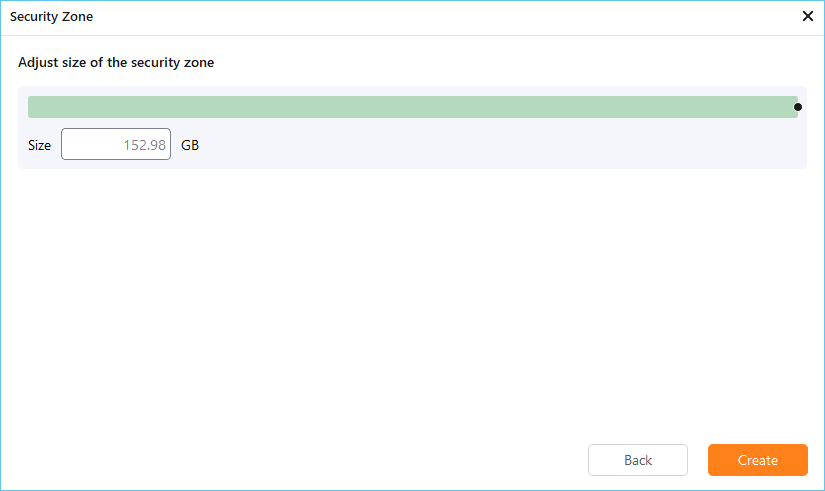 Step 3. Execute the backup task
Click "Backup Now" to start the backup process. Your backups of OS, files, drives and mails in the security zone will be fully protected from being seen or destroyed by virus, ransomeware and trojan. 
Comparison of EaseUS Todo Backup and Norton Ghost
| | | |
| --- | --- | --- |
| Features | EaseUS Todo Backup | Norton Ghost |
| System or files backup | Yes | Yes |
| Full/Differential/Incremental Backup | Yes | No |
| Partition or disk clone | Yes | No |
| Clone system | Yes | No |
| Available for all Windows | Yes | No |
Conclusion 
Norton Ghost has been the industry leader for many years, but most users cannot use it in modern hardware and Windows as it gets discontinued. 
With this article, you must have gotten a notion of the reason behind the discontinuation of the Norton Ghost. It would be worthy to say that EaseUS Todo Backup is not just an alternative to Norton Ghost; instead, it's the best tool for backup and restoration. It can help create an automatic backup so that you have no worry about losing data. So, what next to think? Download this mind-blowing backup tool now!
Updated by Gemma
Gemma is member of EaseUS team and has been committed to creating valuable content in fields about file recovery, partition management, and data backup etc for many years. She loves to help users solve various types of computer related issues.
Taking everything into consideration, we can say that EaseUS Todo Backup Home can offer you a little extra sense of security with a set of advanced tools. The interface provides quick adaptation, every process guiding you all the way through so you don't get stuck or further damage your system rather than keeping it safe.

 Read More

EaseUS Todo Backup Free lets you create backups of your important files or your entire computer through its streamlined interface. Just choose the backup type you'd like to get started, and let the program do the reset.

 Read More

EaseUS includes all the features I expect from backup software like versioning, incremental backups, and scheduling. For more advanced users, EaseUS allows you to install a pre-boot environment onto your hard drive so you can use it to restore files without burning a CD or putting it on an external USB drive.

 Read More

EaseUS Todo Backup
Smart backup tool for your files and entire computer in Windows 10/8/7.
Install Windows on Multiple Computers at Once? No Problem!
Learn how to install Windows 11/10/7 and special programs/software on a batch of computers. Use 10 minutes to do the 10 hours work without making a single mistake!
Get Free Solution!