How to Backup Only New or Changed Files in Windows 10 [2 Ways]
Can I copy only new files to an external hard drive in Windows 10? On this page, you'll find two efficient way that can help you fully backup all valuable files with ease:
Can I backup only changed files in Windows 10?
"Hi guys, do you know how to back up the only changed files in Windows 10? I'm using File History for file backup in Windows 10 but File History will copy each file every time when it executes the backup command.
How can I back up the files that only altered in Windows 10? Help please."
Can Windows 10 back up only changed files? Some of you may have the same questions as to why trying to create a backup of newly changed files on Windows 10 computers. The answer is Yes but the process is quite complex.
To execute this task in Windows 10, you can follow either method as shown below by applying powerful backup software for Windows 10 and the Windows 10 Backup and Restore feature for help. 
Follow and learn how to copy and create a backup of your changed files with a step-by-step guide in the next two methods.
Method 1. Back Up Only New/Changed Files to External Hard Drive With Software
For most Windows beginners, it's a wise decision to turn to Windows backup software to update and create a backup of the only altered files like music, images, documents, videos, etc., on Windows 10 PC.
Powerful backup software - EaseUS Todo Backup with its incremental backup function can help. 
EaseUS Todo Backup Key Features
Back up only changed files, like documents, photos, audio, music, emails effectively.
Back up Windows OS, hard disk partitions, even clone disk.
Compress the backup image, occupying small storage space on your PC or external hard drive.
Tutorial: Back Up Only Changed or New Files to External Hard Drive with EaseUS Todo Backup
Before you start, remember to empty your external hard drive and connect it to your computer. Then start with the following steps:
Step 1. Open EaseUS Todo Backup and select "File".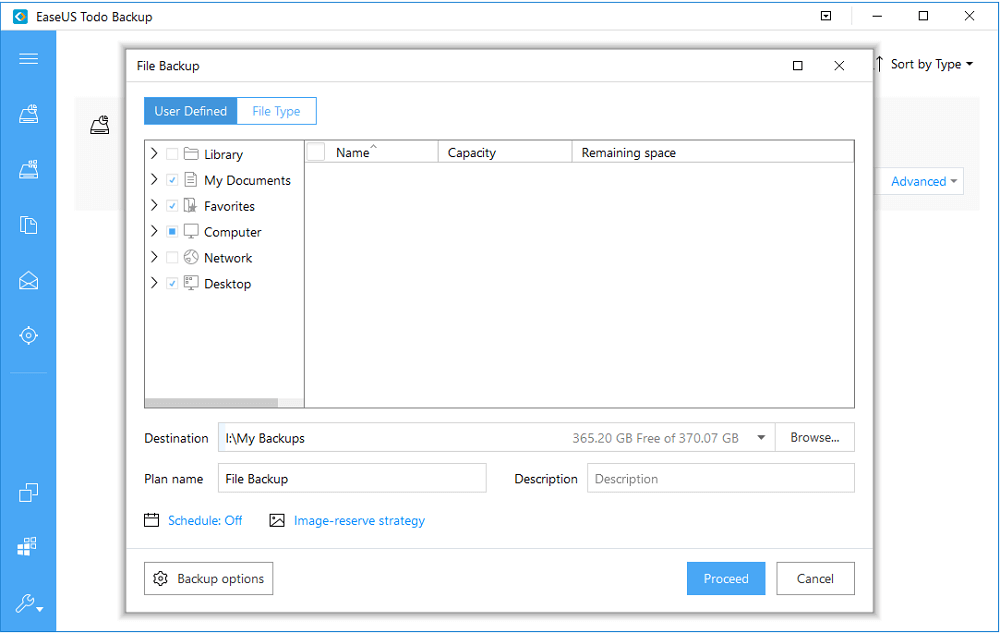 Step 2. Select the files that you want to back up.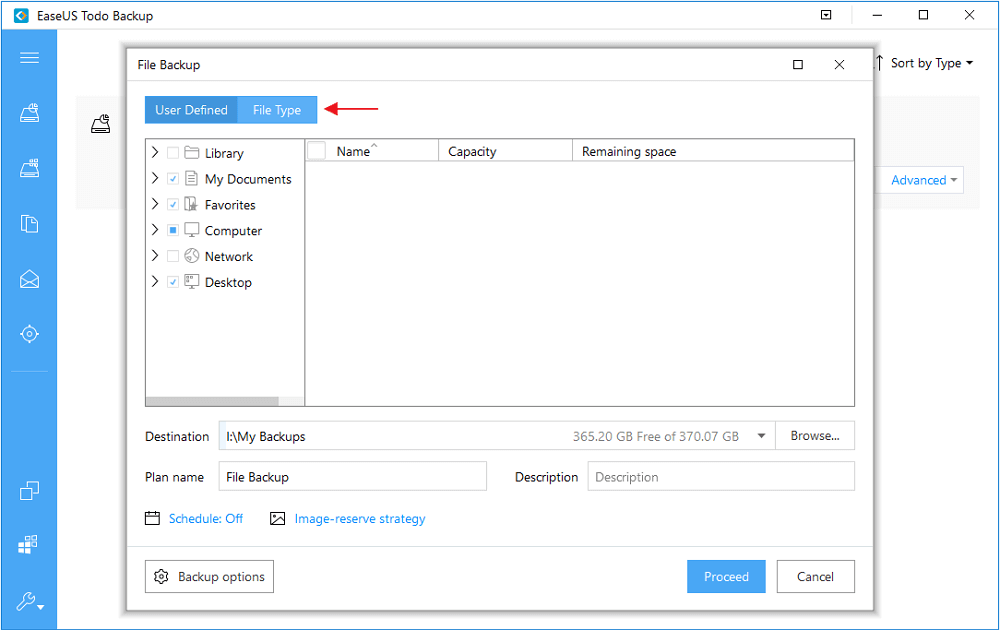 Step 3. Click "Browse" to select a destination to save your backup file.
 Product News

EaseUS Todo Backup now supports users to back up files to the cloud. All you need to do is sign up with an EaseUS account, then you could enjoy a large cloud storage space. More advantages of backing up to the cloud include accessing backup files anytime and anywhere, saving file copies offsite, so you don't need to worry about virus attacks or computer failures, and easier and faster backup and recovery operations.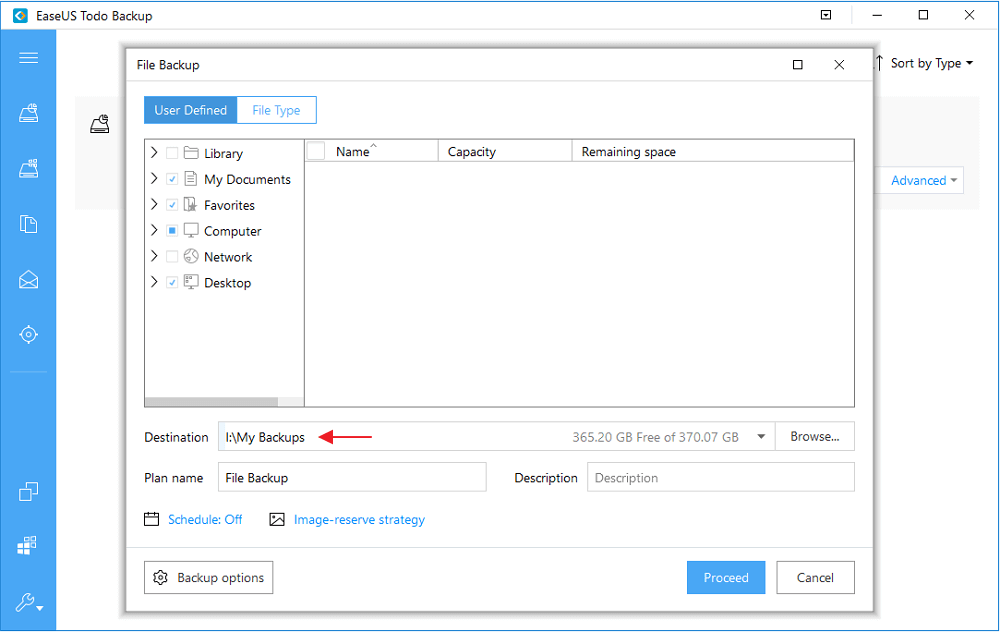 Step 4. Click "Schedule" to create an automatic incremental backup.
For example, if you want to back up these files every Sunday, select "Weekly", and select "Sun". Then, set the backup method as Incremental.
Our software will start with a full backup for the first time. After that, it will execute a backup task for only changed files every Sunday.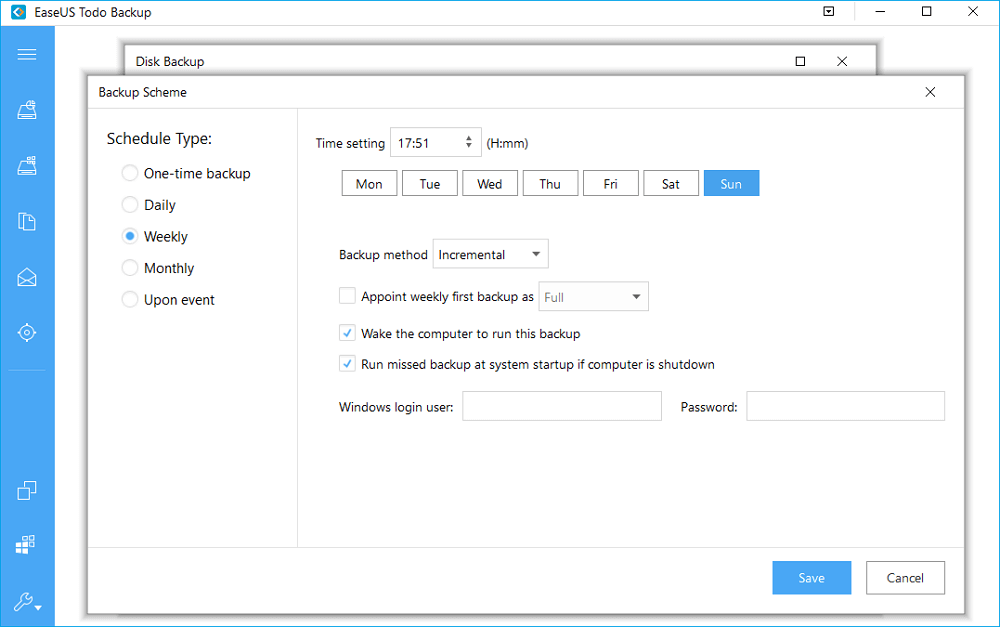  Notice:

Here's a warm tip for you. Since it's the first-time backup for creating a full backup image, the process normally takes longer as it needs to image all selected files. Have a little rest and wait patiently.
If you have enough space, you can also select the "Appoint weekly first backup as Full" option. This option enables you to take a full backup and an incremental backup at the same time. But it takes a lot of disk space.
Step 5. Click "Save" and then click "Proceed" to execute the full back up. 
After this, EaseUS Todo Backup will automatically backup files that are only altered for you in Windows 10 after the first full backup operation. Nothing else you'll need to do later. 
Method 2. Back Up Only Changed/New Files in Windows 10 via Backup and Restore
Another way that you can try is to apply Windows built-in tool - Backup and Restore (Windows 7) for creating a scheduled backup plan.
By doing so, you can also back up newly added or updated files with manual steps. As the process is a bit complex, follow and try this method carefully:
Step 1. Connect an external hard drive with enough space to your PC.
Step 2. Press Windows + S keys, type Control Panel in the Search box, and click to open Control Panel.
Step 2. Click "Backup and Restore (Windows 7)" to open it.
Step 3. On the right pane, click "Set up backup".
Step 4. Select the external hard drive to save your backup and click "Next".
Step 5. Select the files you want to back up.
You can follow the default Windows settings or decide for yourself.
Step 6. On the set up backup window, tick "Run backup on a schedule", set the plan and click "OK".
Here, you need to set the backup schedule for how often, what day for the new backup, which will add newly changed files to your next backup.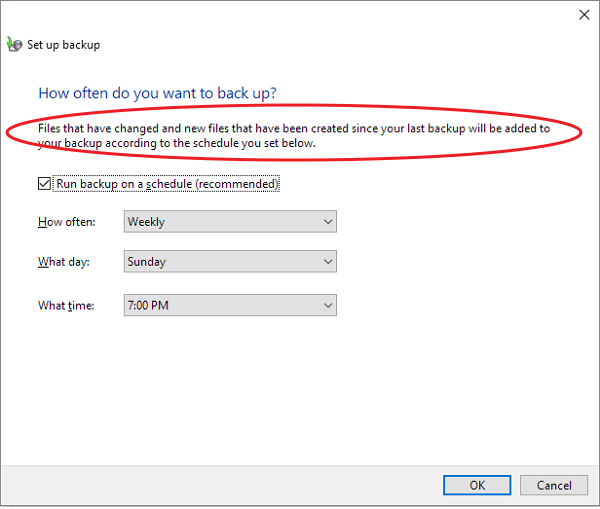 Step 7. Click "Save settings and run backup".
Now files that have transformed and new files that have been created since your last backup will be added to your backup according to the schedule you set.
Sum Up
On this page, we collected two reliable ways to help you back up important Windows 10 files that have changed recently. For an easier way out, EaseUS Todo Backup is recommended for you to try. It's secure and reliable. 
Gemma is member of EaseUS team and has been committed to creating valuable content in fields about file recovery, partition management, and data backup etc for many years. She loves to help users solve various types of computer related issues.
Written by Tracy King 
Tracy joined in EaseUS in 2013 and has been working with EaseUS content team for over 7 years. Being enthusiastic in computing and technology, she writes tech how-to articles and share technical solutions about Windows & Mac data recovery, file/system backup and recovery, partition management and iOS/Android data recovery.
Taking everything into consideration, we can say that EaseUS Todo Backup Home can offer you a little extra sense of security with a set of advanced tools. The interface provides quick adaptation, every process guiding you all the way through so you don't get stuck or further damage your system rather than keeping it safe.

 Read More

EaseUS Todo Backup Free lets you create backups of your important files or your entire computer through its streamlined interface. Just choose the backup type you'd like to get started, and let the program do the reset.

 Read More

EaseUS includes all the features I expect from backup software like versioning, incremental backups, and scheduling. For more advanced users, EaseUS allows you to install a pre-boot environment onto your hard drive so you can use it to restore files without burning a CD or putting it on an external USB drive.

 Read More

EaseUS Todo Backup
Smart backup tool for your files and entire computer in Windows 10/8/7.