PAGE CONTENT:
Can I backup only changed files in Windows 10

Method 1. Apply professional backup software for help (4 steps only)

Method 2. Manually set a schedule to backup only changed files
Can I backup only changed files in Windows 10?
"Hi guys, do you know how to back up the only changed files in Windows 10? I'm using File History for file backup in Windows 10. But the problem is that File History will copy each file every time when it executes the backup command.
And this has taken up quite a lot of space on my computer hard drive. So I think that if I can back up the files that only altered in Windows 10, things will be perfect. But I don't know how to use File History to do the job.
Is there a tool or program that can allow me to perform such a task in Windows 10? How?"
To execute this task in Windows 10 can be easily realized by applying powerful backup software for Windows 10 and the built-in backup and recovery program in Windows 10 operating system.
Next, you're going to learn each way about how to copy and create a backup of changes of your files with a step-by-step guide.
Method 1. Backup only changed files and new files in 4 steps
If you prefer a simple way to update and create a backup of only altered files like music, images, documents, videos, etc. in Windows 10 PC, powerful backup software with incremental/differential backup function can help.
Professional backup software - EaseUS Todo Backup will help you realize the goal within just a few simple clicks. Just download and install it on your Windows 10 PC for free and let it help you now:
Why do we recommend you try EaseUS Todo Backup as a backup tool to only update and copy the transformed files in Windows PC?
Here is a list of popular features of EaseUS Todo Backup for your reference:
 Recommendation

100% free for the file/disk partition backup, and system backup, system clone, disk clone, etc. in 30 days.
Incremental backup: backup only altered files and new files since the last backup.
Customized compression feature: compress the backup image, occupying small storage space on your PC or external hard drive.
Compatible with all Windows OS: Windows 10/8.1/8/7, Windows XP and Vista.
And if you want to activate this software for getting more advanced features, click the activation button below to upgrade this software right now:
Your money is safe with our 30-day refund policy. (If this software doesn't help, contact us and get your money back within 30 days.) If you have any questions in using this software for backing up newly added or revised files, follow the guidelines below to do it on your own now.
Tutorial: Backup only altered files in 4 steps with EaseUS Todo Backup
Step 1. Open EaseUS Todo Backup and select "File Backup".
You may have a large amount of vital data to be protected as time goes on, such as documents, pictures, music, and videos, etc. It is always a good habit to have a backup on a regular basis.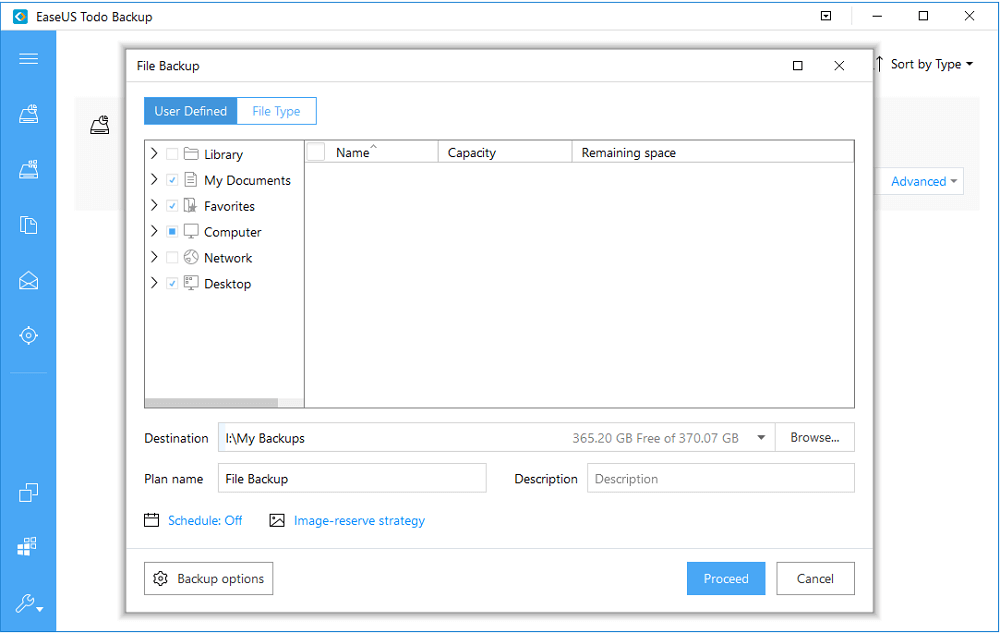 Step 2. Select the files that you want to back up.
If you just want to back up one or some specific file types from one folder, the option at the top right corner can help you exclude the others files.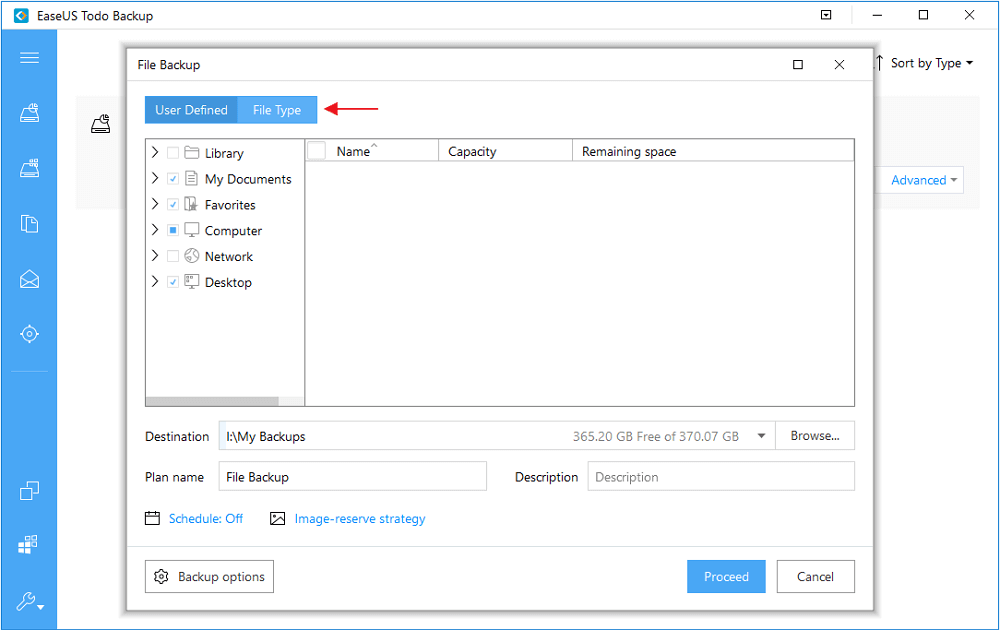 Step 3. Select a destination to save your backup file.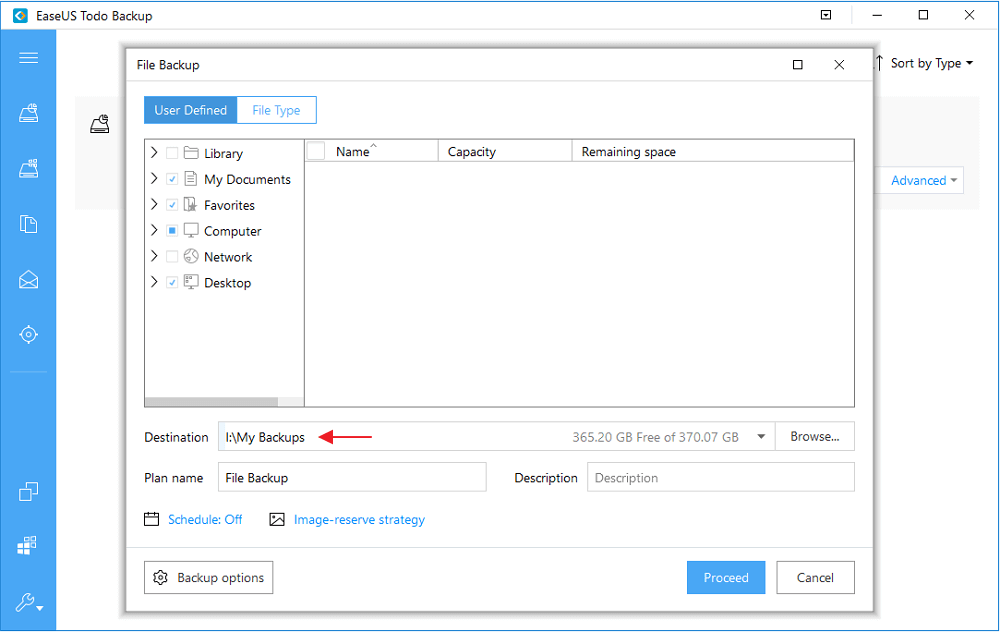 Step 4. Click "Schedule" to create an automatic incremental backup.
For example, if you want to back up these files every Sunday, select "Weekly", and select "Sun". Then, set the backup method as Incremental.
Our software will start with a full backup for the first time. After that, it will execute a backup task for only changed files every Sunday.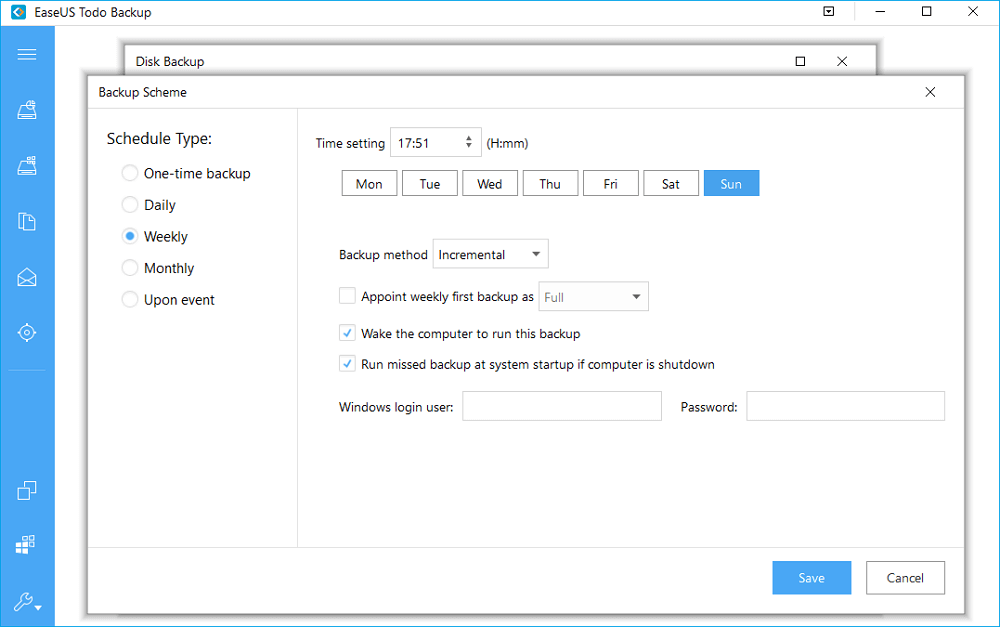  Notice:

Here's a warm tip for you. Since it's the first-time backup for creating a full backup image, the process normally takes longer as it needs to image all selected files. Have a little rest and wait patiently.
If you have enough space, you can also select the "Appoint weekly first backup as Full" option. This option enables you to take a full backup and an incremental backup at the same time. But it takes a lot of disk space.
After this, EaseUS Todo Backup will automatically backup files that only altered for you in Windows 10 after the first full backup operation. Nothing else you'll need to do later.
Method 2. Set up a schedule in Windows 10 to backup only changed/new files
Another way that you can try is to apply Windows built-in backup tool in Backup and Restore (Windows 7) for creating a scheduled backup plan for backing up newly added or updated files with manual steps. And you can also follow and try this method now:
Step 1. Type Control Panel in the Search box in Windows 10 to open the Control Panel.
Step 2. Find the option "Backup and Restore (Windows 7)" and open it.
Step 3. On the right pane, click "Set up backup".
Step 4. Choose a location to save your backup. You're highly recommended to save your backup to an external hard drive.
Step 5. Now choose what contents you want to back up. You can follow the default Windows settings or decide by yourself.
Step 6. In the Schedule area, you can change the backup schedule for how often, what day for the new backup.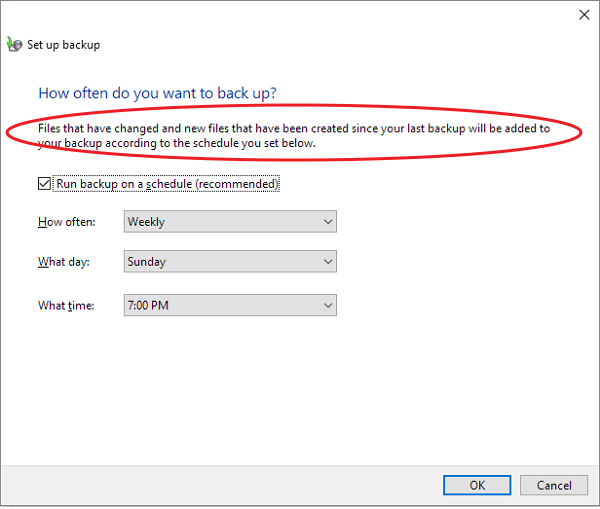 Step 7. Click "Save settings and run backup".
Now files that have transformed and new files that have been created since your last backup will be added to your backup according to the schedule you set.