Applies to: Move Documents folder, Desktop files, and even system files from C to D drive.
Complex Level: Medium
Supported OS: Windows Server 2022/2019/2016/2012, older Servers, and Windows systems.
Can I Move Documents Folder from C to D Drive Like an Expert?
Do you know how to move the Documents folder from C to D drive to free up C drive space in Windows Server? Desktop folders like Documents, Photos, Videos, etc., were set as the default location to save Windows users' data. It's the same on Windows Server computers.
So how do Windows Server or Windows users move Documents and other folders from C to D drive? On this page, we'll present you with complete guides to execute the operation to successfully change the location of Documents, Photos, Videos, and even the Downloads folder locations on Windows and Windows Server computers like an expert.
How to Move the Documents Folder from C to D in Windows Servers [1-Click Solution]
Here you can also apply an even easier method to execute and fulfill the operation of switching the physical location of the Documents folder from C to D drive. Windows Server migration software - EaseUS Todo PCTrans Technician with its Large File Cleanup feature is designed for this. 
We want to share this other expertise method with you. You can apply this software to move default folders like Documents, Desktop, Downloads, and more, to another location to save disk space.
EaseUS Todo PCTrans Technician
 ☆ Deploy & install Todo PCTrans on multiple PCs.
 Transfer unlimited files, programs, apps between Servers.
 Transfer account, domain account, and settings.
 Data rescue, find product key of installed programs.
 One license for multiple PCs.
Here is how to use it:
Step 1. Click "Large File Cleanup" on the left panel, and click "Start" button.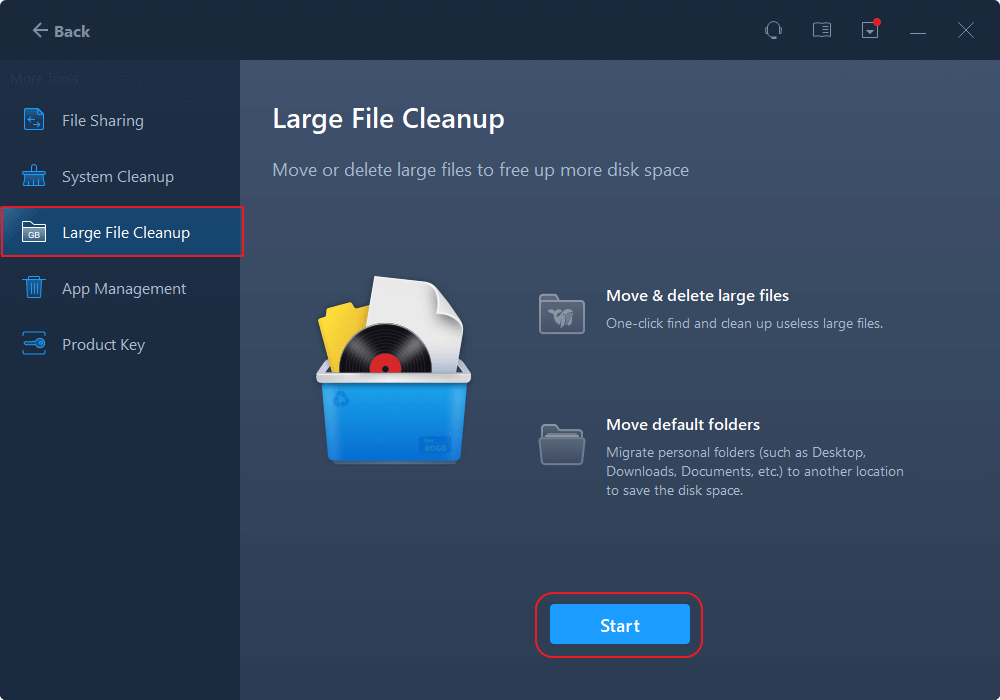 Step 2. Select "Folder" tab, check the folders you want to move. Choose target drive and click "Move" button.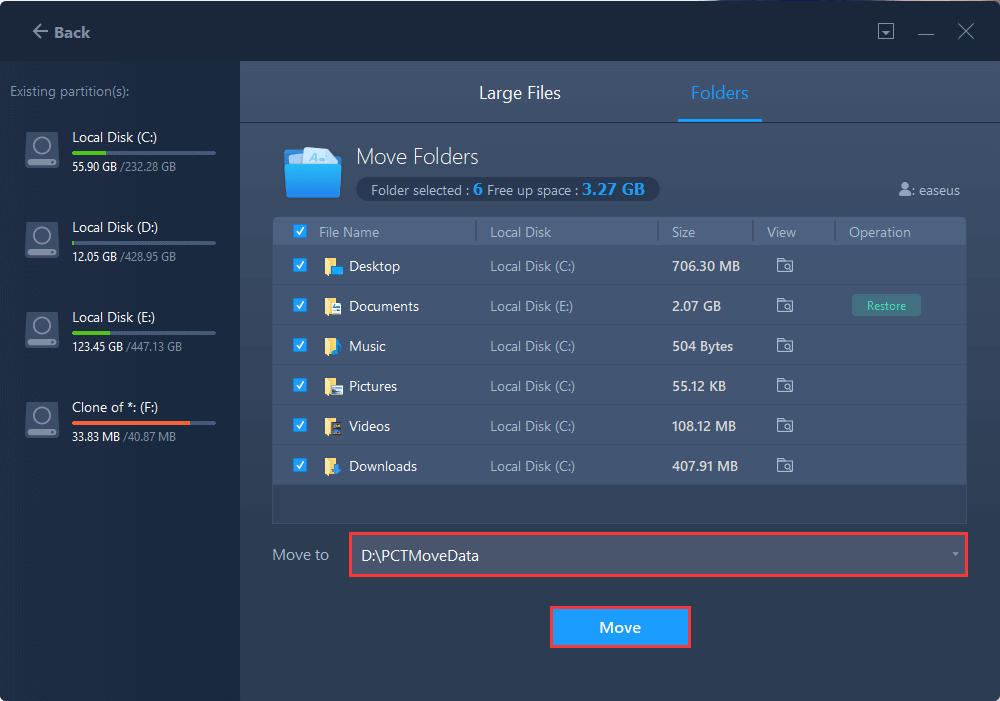 Step 3. Wait for moving process completes. Click "Finish".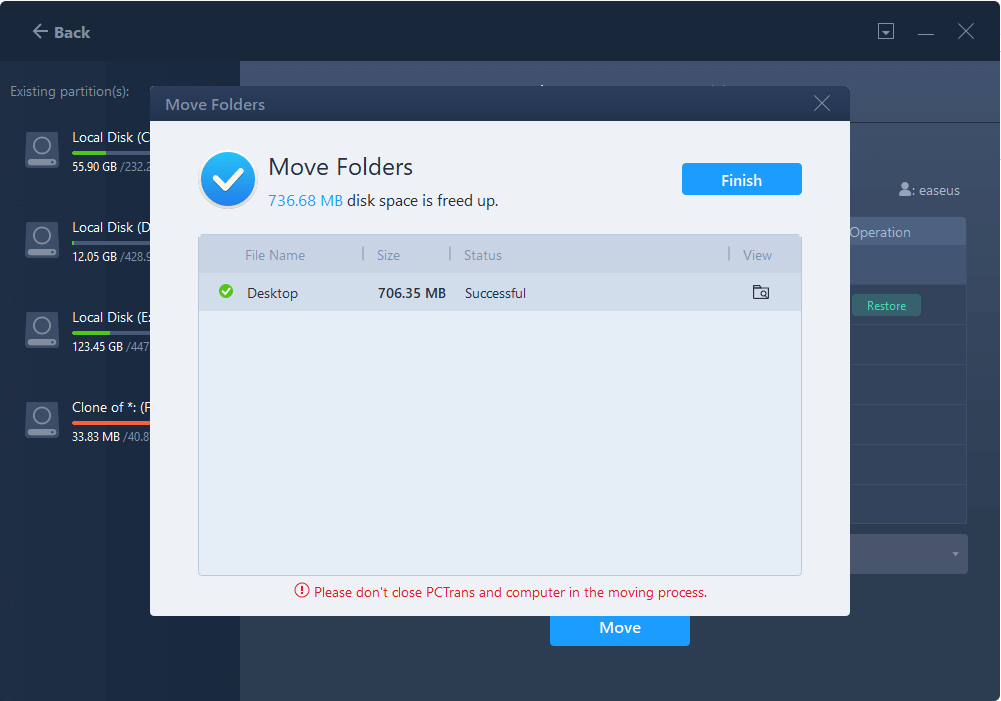 Note: You can click the "Restore" button to restore the current folder to the default location.
Alongside this, EaseUS Todo PCTrans Technician also helps to:
To further explore advanced features in this software, feel free to download and try it now.
Bonus Tip: Manually Move Documents Folder from C to D Drive in Server 2022/2019/2016
The procedure to change the locations of desktop folders are nearly the same on both Windows Server and Windows computers. Here are the steps that most Windows experts do to move the Documents folder and other system files on the Desktop to another drive:
Step 1. Make sure that you log in with your administrator or target user account and password.
If not, change it and log in with your target user account.
Step 2. Press Windows + E keys to open Windows File Explorer.
Step 3. Right-click on "Documents" and select "Properties".
Step 4. Go to the Location tab, click "Move". 
Step 5. Select "D" drive as the target location on the pop-up window and click "Select Folder" to confirm.
Step 6. Click "OK" to confirm and "Yes" to allow Windows Server to move the Documents folder from C to D drive.
Wait for the process to complete, and after this, restart your Server computer. When the computer boots up, the Documents folder and the folder will automatically move to the D drive. 
Error Fix: Can't Move the Folder Because There Is a Folder in the Same Location
If Windows Server or Windows computer pops up this error message: 
"Can't move the folder because there is a folder in the same location that can't be redirected. Access is denied.", stay calm.

The possible reasons are:
The Documents folder was mapped to a personal folder in the OneDrive folder on the computer.
If you mapped the Documents folder into other local personal folders, this error may not pop up, but the system will merge two folders together.
So how to fix this error? Here is the workaround:
Step 1. Press Windows + R keys to open the Run dialog, type regedit.exe, and hit Enter to open Registry Editor.
Click "Yes" if a User Account Control window pops up.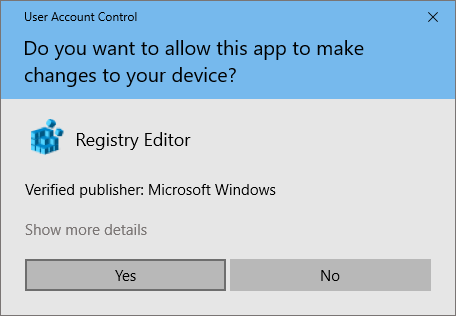 Step 2. Follow this path to open the Documents Registry key and change the key to the default value.
Path: HKEY_CURRENT_USER\Software\Microsoft\Windows\CurrentVersion\Explorer\User Shell Folders
Default Documents folder value: %USERPROFILE%\Documents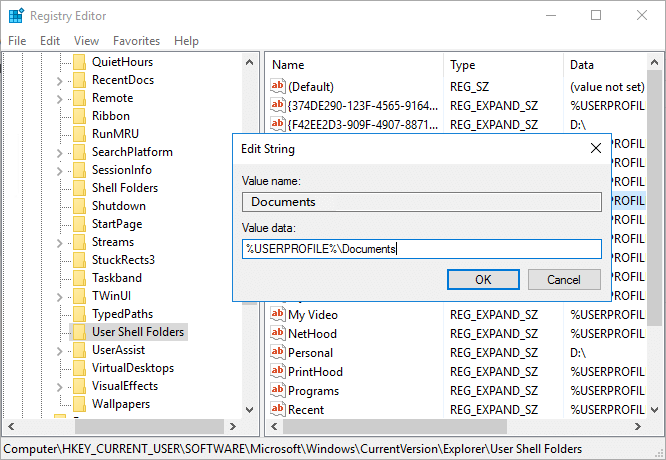 Step 4. Click "OK" to save the changes and restart File Explorer to make the changes take effect.
Or, you can even reboot the Server computer, and after this, you should be able to try the above two methods to move the Documents folder and other system default folders and files from C to D or other drives. 
Changing Location of Documents Folder in Servers Is Easy, You Can Be the Expert
This page collects two normal ways that most Windows Server administrators would apply for changing the location of Desktop, Documents, Videos, Photos, and even Downloads folders. 
Both methods are easy to follow in switching the physical location of a Windows folder on a local drive. For Windows Server beginners and experts who need an easy but efficient way to manage Windows folders' locations, you can always trust EaseUS Todo PCTrans Technician.
About the Author
Updated by Tracy King 
Tracy joined in EaseUS in 2013 and has been working with EaseUS content team for over 7 years. Being enthusiastic in computing and technology, she writes tech how-to articles and share technical solutions about Windows & Mac data recovery, file/system backup and recovery, partition management and iOS/Android data recovery.
Reviews and Awards
EaseUS Todo PCTrans Free is a useful and and reliable software solution created to serve in computer migration operations, be it from one machine to another or from an earlier version of your OS to a newer one.

 Read More

EaseUS Todo PCTrans is by the folks at EaseUS who make incredible tools that let you manage your backups and recover your dead hard disks. While it is not an official tool, EaseUS has a reputation for being very good with their software and code.

Read More

It offers the ability to move your entire user account from your old computer, meaning everything is quickly migrated. You still get to keep your Windows installation (and the relevant drivers for your new PC), but you also get all your apps, settings, preferences, images, documents and other important data.

 Read More