Overview
Software that transfers files from one system to another, both locally or through the Internet. File transfer software is extensively used to transfer and retrieve data from a Web server. Files may be sent using FTP protocols as well, but file transfer software packages make accessing and transmitting considerably easier.
1 - Transfer Large Files with Free File Transfer Software
There are several ways of transferring large files. One of the ways is to use File Transfer Software such as EaseUS Todo PCTrans Free. EaseUS Todo PCTrans is a good choice for companies who want to deploy a large number of PCs while decreasing sophistication and maintaining within the expense. It incorporates all complicated storage division management capabilities, simplifies IT administration.
Try the free version:
It significantly lowers end-user latency whenever installing, transferring, and configuring programs, data, as well as configurations. It helps IT professionals as well as network administrators to enable a large number of machines while incurring the least amount possible. Most importantly, EaseUS offers free technical support.
You may easily overcome your apprehension about downloading the images, music, as well as movies sequentially with this transfer service. Furthermore, this PC transfer program could securely move applications from one computer to another.
Main features:
EaseUS stands out among data migration systems due to the relative ease of operation and effectiveness. This one-click laptop transfer tool streamlines file transfers from one system to another without incurring data loss. There are several features in EaseUS that make it one of the best software to transfer large files. Therefore, let us learn more about these features.
File Transfer - Transfer large files in minutes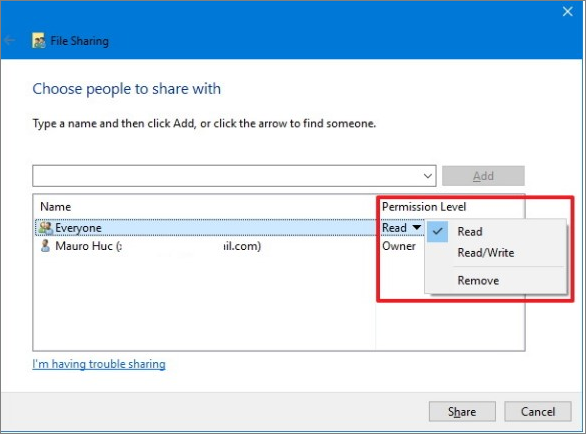 One of the features that make EaseUS Todo PCTrans one of the best software is its ability to transfer large files in minutes. The file transfer feature allows users to move applications and data information and preference to choose files from the directory. You can select the files that you wish to transfer. Once you have selected the files, they will be automatically downloaded to the new computer.
App Migration - Change App location between local drives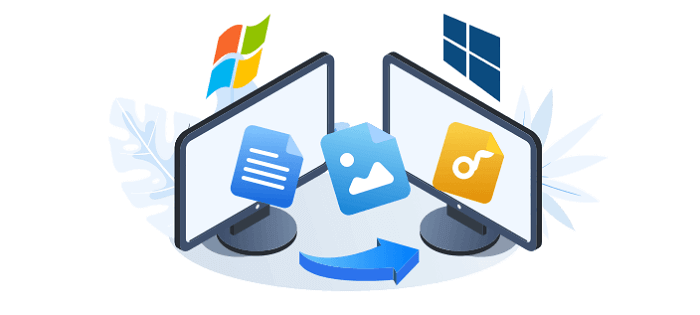 Another feature is the App Migration option, which allows users to transfer applications from one system to another on a server. Additionally, the users don't have to download and install the files, again and again, to enhance the overall memory of the system significantly. Additionally, it also improves the speed and reduces any latency that might have occurred.
Data Rescue - Get your files, apps, settings back from a broken computer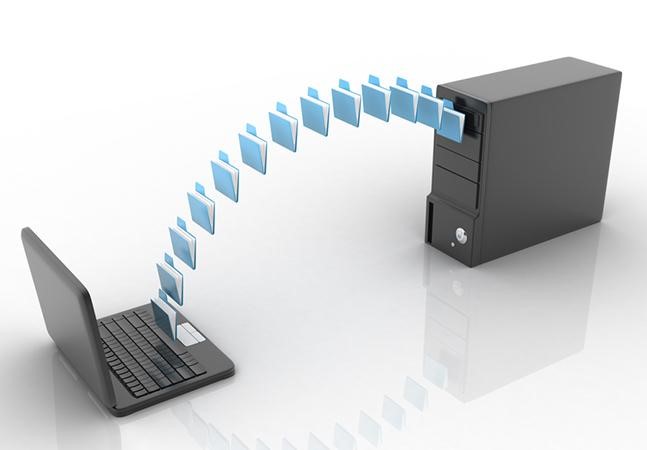 When it comes to using EaseUS software, it additionally can create a recovery and backup from your computer that has been damaged. It is very beneficial, and you do not have to worry about the loss of data.
Support Microsoft account transfer
EaseUS Todo PCTrans additionally supports the transfer of Microsoft account when it is being transferred from one platform to another. Therefore, it would prove to be very efficient when you are migrating from one system to another, and the user doesn't have to create new Microsoft accounts.
Support Various Windows systems: Windows server 2003/2008/2012/2016/2019
EaseUS Todo PCTrans enables the transmission of data, along with all sorts of documents and apps, as well as configurations, from prior Windows 7/8/XP/Vista computer systems to the current Windows 11 operating system.
How to use EaseUS Todo PCTrans
One of the benefits of EaseUS Todo PCTrans is that it might have been utilized in a range of methods. The very first – arguably fastest – is Computer to Computer transmission, which allows you to transport data between computers linked to the very same (wireless connection or wired) connection. If you don't have a network connection or don't want to go into these things, you may save anything as a digital image and manually transfer everything across.
The networked method is not just the fastest but simply the most straightforward, as it eliminates the need to bother with external devices. Even for inexperienced users, the simplicity of use is difficult to criticize. It makes the transition to a new computer environment less traumatic, but it comes at a cost that others may not be willing to rationalize.
EaseUS Todo PCTrans Professional is partly (but not totally) superfluous for anyone migrating from either a Windows 10 machine to the current Windows 11 computer, but anyone wishing to convert from an outdated version of Windows, the tool is a great benefit.
Step 1. Open EaseUS Todo PCTrans on both of your computers. Choose "PC to PC" to go to the next step.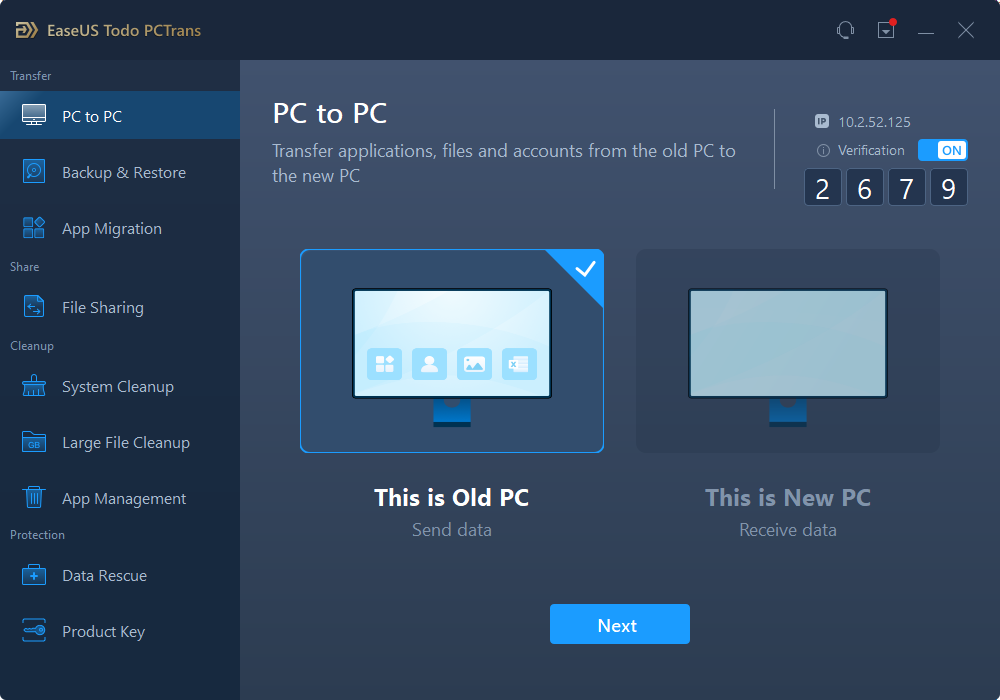 Step 2. Make sure you have chosen the right transfer direction.
"New" - Move data from old computer to current new computer.
"Old" - Move data from current old n computer to remote new computer.
Step 3. Connect two PCs via the network by entering the password or verification code of the target PC. Besides, make sure you have chosen the right transfer direction and click "Connect" to continue.
The verification code is on the right top of the "PC to PC" main screen on the target computer.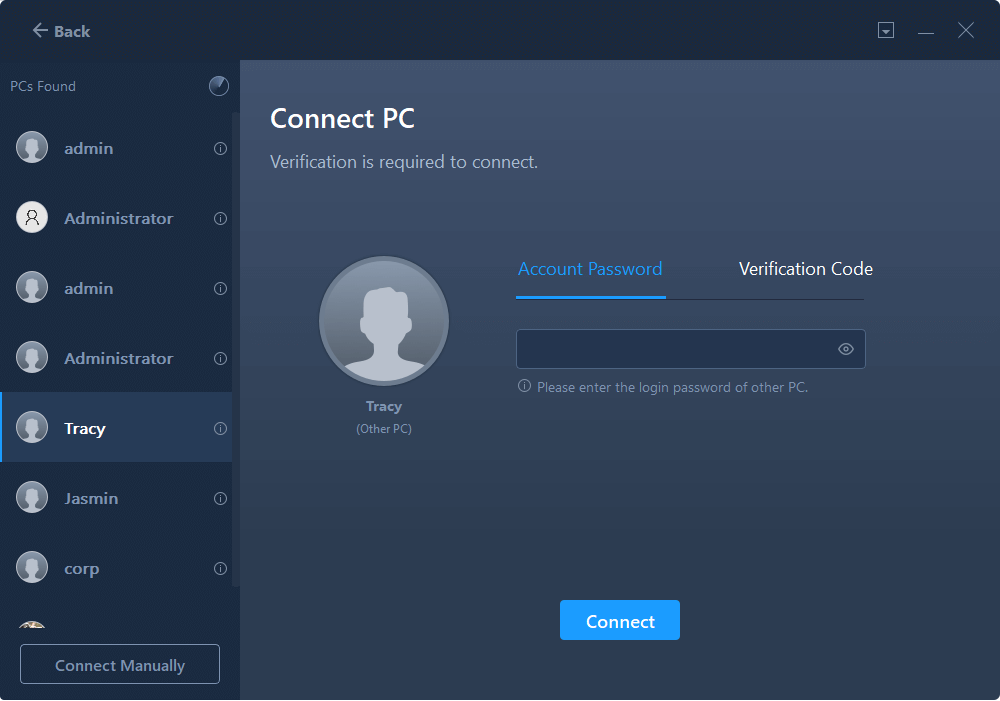 Step 4. Then, choose "Files" to select files to transfer. Select the specific files as you want. What's more, you can click the Edit icon to customize the storage path for transferred data.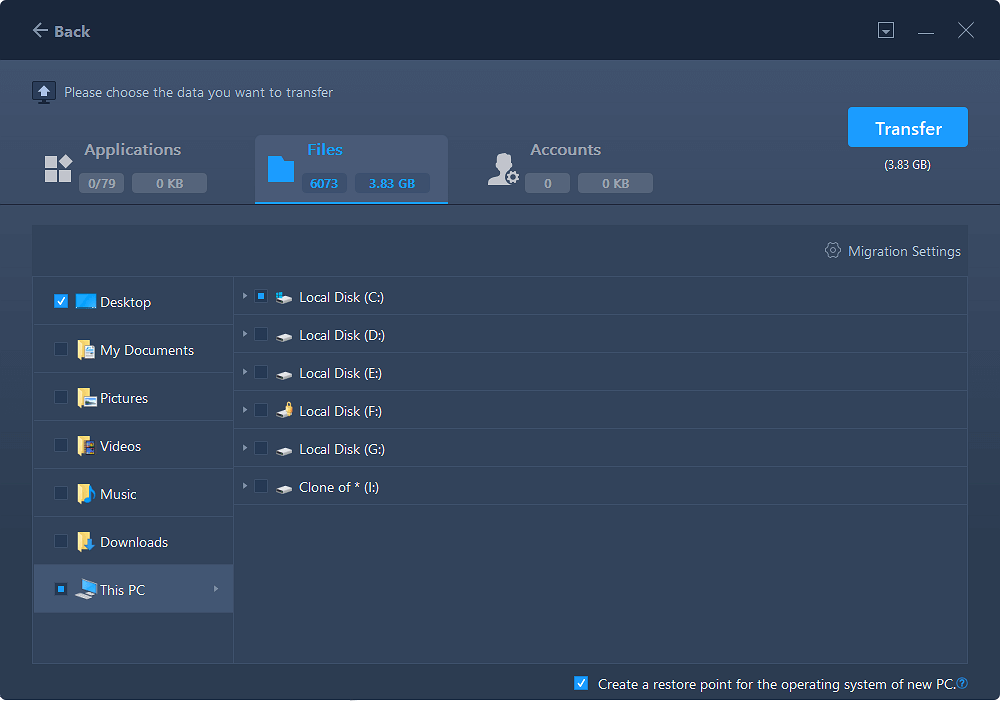 Step 5. Now, click "Transfer" to begin to transfer files from PC to PC. The size of the file determines the transfer time. Wait patiently.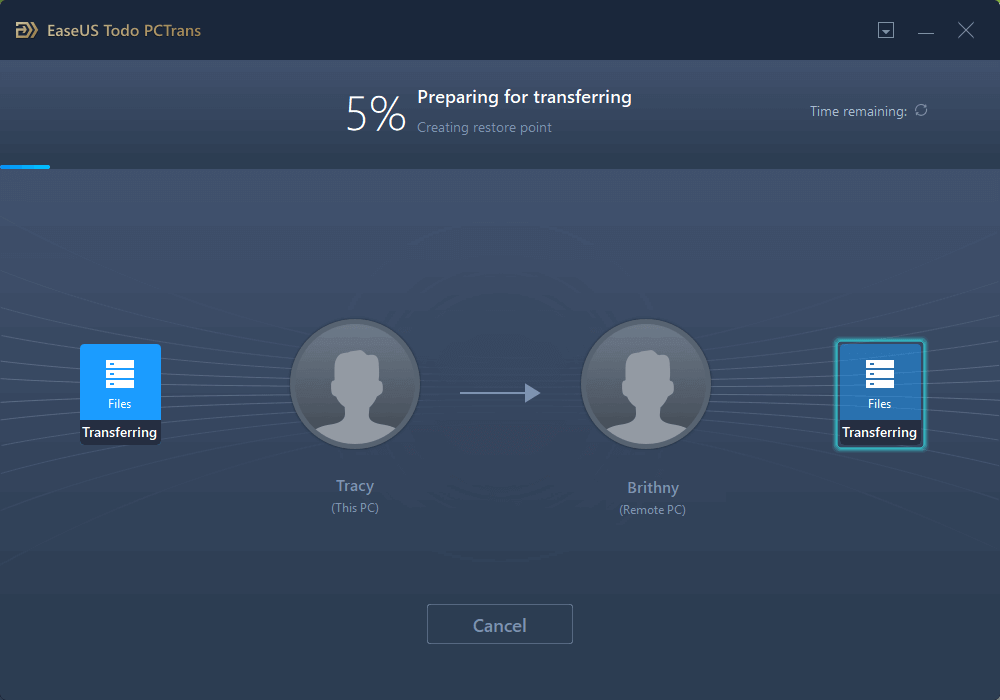 2 - Transfer Huge Files over FTP (File Transfer Protocol)
Is FTP used to transfer large files?
FTP, or file transfer protocol, is a time-honored method of transferring data. FTP is indeed a TCP/IP protocol that allows data to be transferred between FTP clients as well as servers. FTP was created primarily for the transport of huge files. To begin utilizing the protocol, every user requires an FTP client.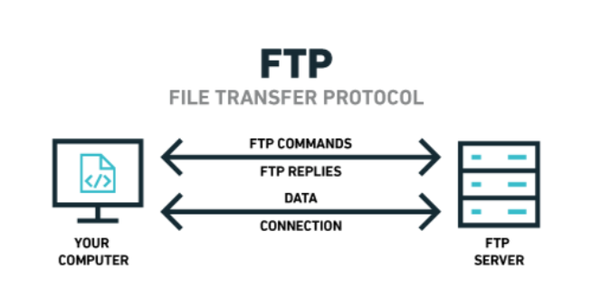 Here are the steps to use FTP to transfer files.
1. Navigate to the local system's source directory.

2. The directory through which users enter the FTP command seems to be the local working location, hence the destination folder for such an operation.
3. Make an FTP connection.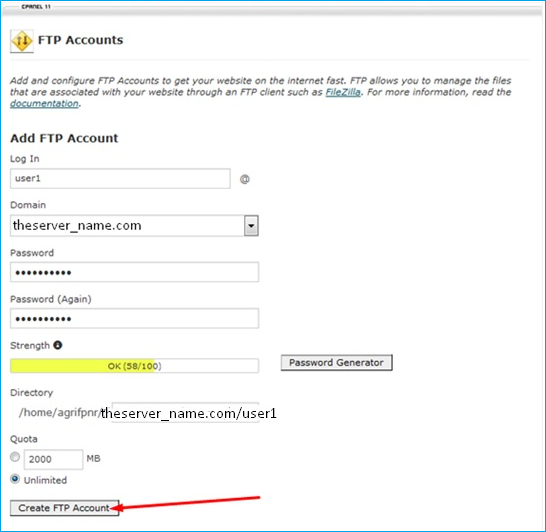 4. Change to that same target directory with the command ftp> cd target-directory.
5. Remember that if your system is utilizing the automounter, then the remote system's user's browser directory displays adjacent to users, under /home.
6. Check that you have access to write the destination directory. ftp> target-directory
7. Change the transfer mode to binary. binary ftp>
8. Use the put command to copy a single file.ftp> enter filename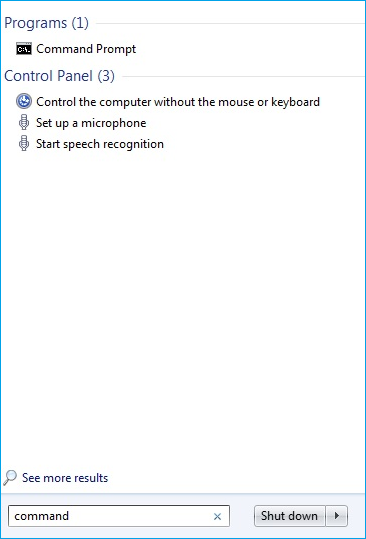 9. Use the put instruction to duplicate multiple file types at once.put filename [filename...] ftp>
10. You can provide a list of individual file titles and utilize wildcard characters. Every file is copied separately using the put command, which prompts you for approval each time.
11. Type bye to terminate the FTP connection.ftp>bye
3 - Transfer Large Files with SCP
Can SCP transfer large files?
SCP/SFTP may not be the best method for transferring huge files. If you're looking for a solution that requires moving huge files across virtual computers, there are transferring tools that accomplish numerous streams while transferring data, resulting in higher performance. The majority of file transfer apps are single-threaded therefore restricted to a particular session.
They are also connected to the CPU in a digital network infrastructure. That's what keeps the usage at roughly 36MB. There are methods for increasing bandwidth, such as employing transfer tools with many paths and connections.
The following is the syntax for moving a file or folder from a local system to a remote system:
SCP [file_path] [user]@[remote_host]:[remote_dir]
SCP -r [local_dir] [user]@[remote_host]:[remote_dir]
Use the command line when transferring data from a distant server to any local system:
SCP [user]@[remote_host]:[remote_file_path] [local_dir]
SCP -r [user]@[remote_host]:[remote_dir] [local_dir]
When sending a file among two distant servers which require a password, adopt the equivalent syntax:
SCP [user]@[remote_host]:[remote_file_path] [user]@[remote_host]:[remote_dir]
What Is the Best Way to Transfer Large Files Between Servers?
From the above discussions, it is clear that the SCP is not the ideal way of transferring larger files. And however, using FTP, you would have to go through a lengthier process and take the help of different client servers. Therefore, these two ways of transferring larger files are not very productive.
However, when it comes to using EaseUS Todo PCTrans to transfer larger, it is a simple, straightforward method that is highly efficient. The work of transporting data must be done with care and efficiency. The transfer should be carried out in such a method that no data is harmed or lost. EaseUS is the ideal file transfer tool that ensures a smooth transition.
Nothing is lost or destroyed during this entire procedure. The program is available in three distinct versions. The user could select the one which best meets their wants and expectations.
About the Author

Roxanne is one of the main contributors to EaseUS and has created multiple posts on digital devices like PCs, Mobile phones, tablets, Mac, etc. She loves to share ideas with people of the same interest.
Daisy is the Senior editor of the writing team for EaseUS. She has been working in EaseUS for over ten years, starting from a technical writer to a team leader of the content group. As a professional author for over 10 years, she writes a lot to help people overcome their tech troubles.
Reviews and Awards
EaseUS Todo PCTrans Free is a useful and and reliable software solution created to serve in computer migration operations, be it from one machine to another or from an earlier version of your OS to a newer one.

 Read More

EaseUS Todo PCTrans is by the folks at EaseUS who make incredible tools that let you manage your backups and recover your dead hard disks. While it is not an official tool, EaseUS has a reputation for being very good with their software and code.

Read More

It offers the ability to move your entire user account from your old computer, meaning everything is quickly migrated. You still get to keep your Windows installation (and the relevant drivers for your new PC), but you also get all your apps, settings, preferences, images, documents and other important data.

 Read More