Windows Server product key is a crucial digital key in the form of an arrangement of a total of 25 characters. It is of utmost importance as this key is used for the activation of Windows. Without this key, users may not be able to gain complete control of their Windows server. They may also not be able to use several Windows integrated programs that require the input of the Windows server key for activation. In this article, we'll be looking at some of the ways we can learn what our Windows server key is. So, without any further delay, let's begin.
Fix 1. View the Windows Server 2016 Product Key in Registry
Windows Registry is primarily a database of information in the form of values and other options for both software and hardware of a system. There is a way to find the Windows server product key of a system in Registry, and that is precisely what we are going to discuss in this section.
To look for the Windows server product key in Registry, follow the steps listed below:
Step 1. Click on the Windows Start button, select Run, and enter Regedit in the dialogue box that appears. Press the Enter key or click on the OK button to proceed.
Step 2. Now you have to navigate to the folder where your Windows server product key lies. Go to HKEY_LOCAL_MACHINE\SOFTWARE\Microsoft\Windows\CurrentVersion.
Step 3. Scroll down, locate ProductId, right-click on it and select Modify. The number displayed is your Windows server product key. Avoid making any changes to it, and click on the Cancel button after you've noted it down somewhere.
The steps listed above were the correct guide on finding your Windows server product key in Registry. Let's now take a look at the other possible fixes we can try.
Fix 2. Using PowerShell to Find Windows Product Key
PowerShell is an application similar to Command Prompt in terms of appearances but is new and a lot more functional. However, finding the Windows product key using PowerShell isn't much different than using the Command Prompt to do it.
Follow the steps given below to find your Windows Product key using PowerShell:
Step 1. Press Windows + X. Navigate to Windows PowerShell (Admin)
Step 2. In the new PowerShell popup screen that appears, type and enter: (Get-WmiObject -query 'select * from SoftwareLicensingService').OA3xOriginalProductKey
Step 3. Press Enter, and you shall see your Windows product key appear on the screen.
Fix 3. Get Product Key by Command Prompt
Command Prompt is a great utility to all Windows users, and it can be used to find the product key of a Windows system as well. To find your Windows product key using Command Prompt, follow the steps listed below:
Step 1. In the Windows search bar, type CMD or Command Prompt, press Enter, and launch it.
Step 2. When at the Command Prompt screen, type the following: SoftwareLicensingService get OA3xOriginalProductKey
Step 3. Hit Enter. Now you shall see a 25 digit code appear on your screen. It is your Windows product key. 
Command Prompt is one of the easiest ways to find the Windows product key of a system. However, Windows PowerShell is also a great way to do the same.
Recommend: Find Windows Server 2016 Product Key with EaseUS Key Finder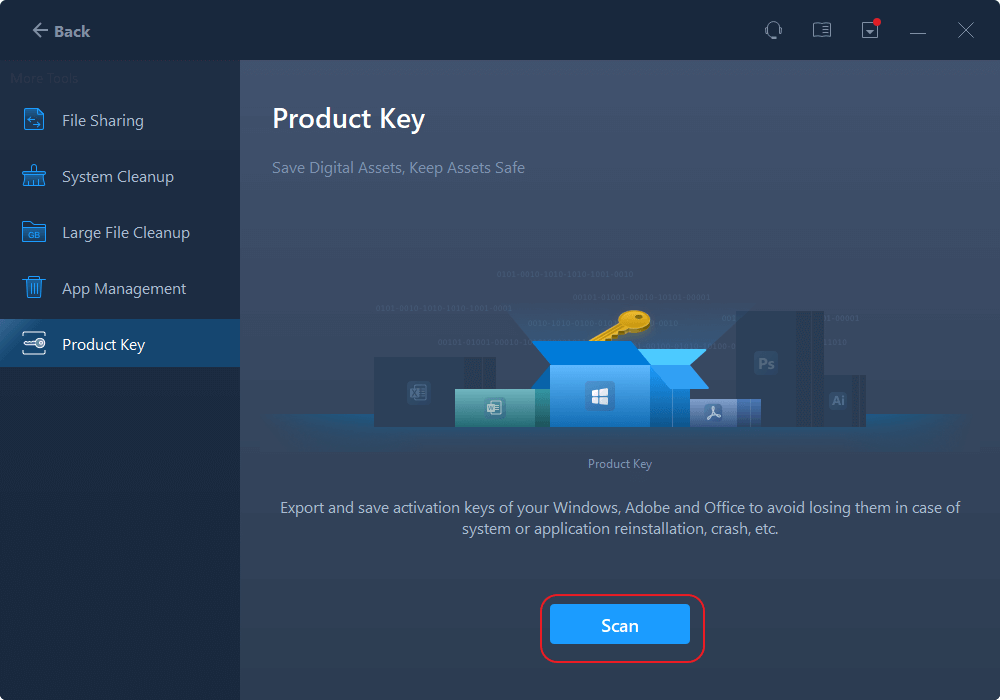 You might be wondering why we are mentioning this after discussing three different ways to find a Windows product key. Bear with us. It's going to be worth it.
The EaseUS Key Finder is an application that lets you transfer your data, inclusive of accounts and applications, with great ease. But what makes it extra worthwhile is that it can find product keys. It works on all versions of Windows, including Windows 10/8/7 and Windows Server.
Step 1. Click "Windows" tab under the Registry Key.
Step 2. Check Windows product key on the right side. Click "Copy" to paste. Or select other two options:
"Save" - Save to local as a PDF file.
"Print" - Click to print key file.
All of the ways listed in this article are presented in the form of simple to follow steps, and you can easily access your Windows server product key using any of them. However, the EaseUS Key Finder software does it with way more ease and speed. All it takes is to click on the Product Key, Scan, and reveal all the keys in Windows Server, including the Windows key. Then you can save it to another location as well.
Conclusion
In this article, we learned about some of the quick ways to find out our Windows server product key. However, all of them require internally built Windows programs and features that may tend to crash if the PC is quite old. That is precisely why the EaseUS Key Finder application is there for us in the hour of need. EaseUS Key Finder makes sure that you successfully find, export, and save your Windows product key.

Updated by Roxanne
Roxanne is one of the main contributors to EaseUS and has created multiple posts on digital devices like PCs, Mobile phones, tablets, Mac, etc. She loves to share ideas with people of the same interest.
Daisy is the Senior editor of the writing team for EaseUS. She has been working in EaseUS for over ten years, starting from a technical writer to a team leader of the content group. As a professional author for over 10 years, she writes a lot to help people overcome their tech troubles.
About EaseUS Key Finder
EaseUS Key Finder offers complete solutions for you to efficiently find Windows or Windows Server product keys, discover Offce, Adobe, and other installed software serials, and find WiFi codes, etc, successfully in simple clicks.