5 Best Portable Key Finders Free Download + Guide to Find Windows Product Keys
Workable Solutions
Step-by-step Troubleshooting
#1. EaseUS Key Finder 
Step 1. Click "Windows" tab under the Registry Key; Step 2. Check Windows product key on the right side...Full steps
#2. LicenseCrawler
Just run the LicenseCrawler app and click on software; you will find all your product keys...Full steps
#3. Notepad Product Key.VBS

Visit https://www.sysnative.com/apps/WindowsKeyCode.vbs

 and it will open a window...Full steps

#4. CMD Command Line 
Step 1. Search Command prompt (CMD) from the start menu search bar and run it; Step 2. When...Full steps
#5. Registry Editor
Step 1. Go to Start and type Regedit into the search box; Step 2. Right-click on the Registry Editor...Full steps
5 Best Portable Key Finders Free Download + Guide to Find Windows Product Keys
If you have lost your product key and don't want to spend the money on repurchasing the key, What's the best possible option for you? The good news is that there is still a way out, and that way is to use a portable key finder tool.
Portable key finder tools have become pretty famous now. There are a ton of different key finder tools available on the internet. But, not all of them are trustworthy.
Portable Product Key Finder Overview
A key finder tool is an automated software that searches different databases of your computer and finds out the saved product keys of multiple software for you.
The best portable key finder tool must have easy access and free download. Moreover, a reliable key finder tool will work on all Windows systems, and you won't need to follow complex steps on such tools because it will have an easy interface. 
Some key finder tools in the market only work on a specific version of the operating system and do not find the product keys of some software. However, the best portable key finders can work on every operating system while finding the license key of every software possible.
Their algorithm is designed so that they can find keys even from the restricted databases of your computer.
The best free portable product key finder tools for Windows are listed below. Users may find missing or lost Windows, MS, Office, and other third-party program keys using this tool. 
Furthermore, customers may access these portable tools without having to install them. These tools' mobility allows people to carry them about in removable media devices.
Here are 5 of the best portable key finders:
#1. EaseUS Key Finder [Paid & Easiest]
One of the easiest ways to find your lost product key is using the EaseUS Key Finder software. EaseUS Key Finder is an old player in the industry that can help you recover your lost product key within seconds. Moreover, it is extremely easy to use with a friendly interface. EaseUS Key Finder is a paid tool, but it will still cost you a lot less than buying the product key again.
Here is how you can recover your product key with EaseUS Key Finder:
Step 1. Click "Windows" tab under the Registry Key.
Step 2. Check Windows product key on the right side. Click "Copy" to paste. Or select other two options:
"Save" - Save to local as a PDF file.
"Print" - Click to print key file.
Our Ratings: ✮✮✮✮✮
Pros
It is easy to use.
Recovers product key within seconds.
You can find Windows, Office, Adobe, and other software keys.
Compatible with all versions of Windows.
It does not require too much space to install.
Pocket Friendly
Cons
Portability is a bit limited because you have to install it.
Download EaseUS Key Finder now to not spend any money on buying Adobe, MS Office, or Windows subscriptions again. EaseUS Key Finder doesn't charge a fortune. Moreover, the EaseUS Key Finder has some other features that can also come in handy for you.
#2. LicenseCrawler [Paid]
LicenseCrawler is a free tool that will search the license key for almost any software that has one. Although if you choose the 'faster speed' setting, the scanning of the Windows system takes a very long time to finish, you may restrict its reach by using the ban and clear filters.
You don't have to download LicenseCrawler on the PC you're scanning because it's supplied as a portable tool.
Just run the LicenseCrawler app and click on software; you will find all your product keys.
Our Ratings: ✮✮✮✮✮
Pros
It scans a lot of apps for the product key
Portable
Easy to use
Quick in finding keys
Cons
#3. Notepad Product Key.VBS [Free]
It is undoubtedly the easiest to use product key finding tool on our list. It just takes one click to find out the product key of your Windows and some other software. This method does not involve any complex steps to find out your product key. You just have to:
Step 1. Visit https://www.sysnative.com/apps/WindowsKeyCode.vbs, and it will open a window on your PC.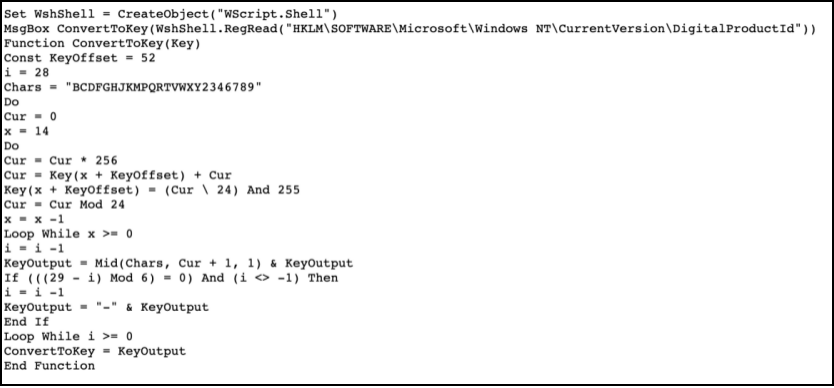 Step 2. Copy the whole command and paste it into a notepad file on your PC.
Step 3. Close and save the notepad file.
Step 4. Open it again, and you will find your product key.
Our Ratings: ✮✮✮✮✮
Pros
Involves simple steps
You just have to copy-paste the code
Quick and accurate
Portable
Cons
It might not work with some older versions of Windows
#4. CMD Command Line [Free]
The product key is saved within the chipset bios for computer systems preloaded with Microsoft Windows 10 or newer versions. A program from the command prompt (CMD) can be used to obtain it.
It just takes a fraction of a minute to recover your product key through this method; here is how: 
Step 1. Search Command prompt (CMD) from the start menu search bar and run it.
Step 2. When the command prompt is opened, type wmic path SoftwareLicensingService get OA3xOriginalProductKey, and press enter.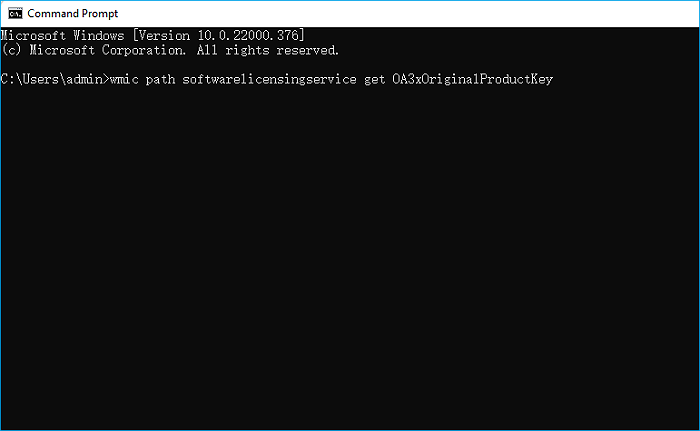 Step 3. On the next windows, CMD will be back with your product key.
Our Ratings: ✮✮✮✮
Pros
Easy to use
Free of cost
Portable 
Quick and accurate
No need to download or install any software 
Cons
Works on only newer versions of Windows 
This technique of keyword recovery shows the Microsoft product key saved in the BIOS or UEFI architecture of your laptop. To be precise, it displays the actual Windows key that came with your system. If you've updated Windows with a new key ever since (or purchased a digital license), the present code on your PC will be changed.
#5. Registry Editor
Registry editor is another built-in tool of Windows that can be used to recover the lost product key within no time. Moreover, windows also store the product key in its registry, and a registry editor is the best way to retrieve it. Here is how:
Step 1. Go to Start and type Regedit into the search box.
Step 2. Right-click on the Registry Editor and then choose "Run as Administrator" from the drop-down menu.
Step 3. In order to access the registry editor, open the directory tree and browse to the following location: Computer\HKEY_LOCAL_MACHINE\SOFTWARE\Microsoft\Windows NT\CurrentVersion\SoftwareProtectionPlatform.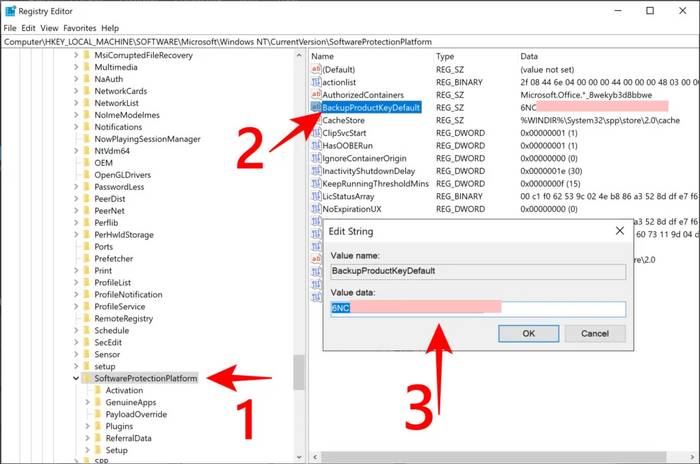 Step 4. Click "SoftwareProtectionPlatform" and verify the registry keys on the right menu once you've navigated to the provided location.
Step 5. Analyze the "BackupProductKeyDefault" registry key's value. Double-click it and save the data and insights; the activation code is a 25-digit integer.
If your PC is enabled using a password or a digital license, this will apply in both scenarios.
Our Ratings: ✮✮✮✮
Pros
No downloads or installation is required
Free of cost
Can recover product keys of Adobe and MS office too
Available on all versions of Windows
Cons
It involves some complex steps. 
Conclusion
With so many options on your hand, you should never worry about losing the product key of any of your software. Every key finder tool comes with some pros and cons. There isn't a single one of these options that is perfect. 
We just discussed the five best portable key finders, and there isn't a single application out there that will show all of your product keys. However, the list topper EaseUS Key Finder is the most efficient one, which can recover the most number of lost or misplaced product keys of different applications. 
They may, however, be able to complete the task where your memory, mail, or official documents have fallen short. It's beneficial to have these alternatives.
Kindly be informed that these services are virus-free and reliable. Some open-source or cracked software with pirated product keys are often blocked by the Windows Firewall or anti-virus. They are malicious and might cause damage to your PC. 
So, always find your product key and use the windows and other software legally so you won't face any viruses or such issues.

Roxanne is one of the main contributors to EaseUS and has created multiple posts on digital devices like PCs, Mobile phones, tablets, Mac, etc. She loves to share ideas with people of the same interest.
About EaseUS Key Finder
EaseUS Key Finder offers complete solutions for you to efficiently find Windows or Windows Server product keys, discover Offce, Adobe, and other installed software serials, and find WiFi codes, etc, successfully in simple clicks.