Server to Server Transfer Software Free Download
How can you transfer existing Windows Server data and apps to another Windows Server once you've installed it? Is it difficult to move apps from one Windows Server to another? Also, with the aid of the Windows Server transfer tool, it just requires a few clicks to migrate desired files and applications to another Server.
Why EaseUS Todo PCTrans is an ideal choice?
EaseUS distinguishes out amongst data migrating technologies for its accessibility of use and efficacy. This one-click computer transfer program automates the file transfers through one pc to others without causing loss of data. You may quickly erase your fear of downloading your photographs, music, and movies one after another that use this transfer service.
Furthermore, this PC transfer software could transfer applications from one pc to another in a secure manner. EaseUS Todo PCTrans is an excellent option for businesses looking to deploy large numbers of PCs while reducing complexity and staying under budget. It includes all complex disk division management tools, streamlines the IT administration routine, and reduces end-user latency while setting up and moving apps, data, and configurations.
EaseUS Todo PCTrans Technician
 ☆ Deploy & install Todo PCTrans on multiple PCs.
 Transfer unlimited files, programs, apps between Servers.
 Transfer account, domain account, and settings.
 Data rescue, find product key of installed programs.
 One license for multiple PCs.
EaseUS Todo PCTrans is completely safe, allowing you to transfer files and even user accounts without fear of losing or destroying your confidential information. It enables IT professionals and network operators to flexibly activate many computers while spending the least amount of money. Most significantly, EaseUS provides free technical help.
Characteristics of EaseUS Todo PC Trans
EaseUS Todo PCTrans is a file transfer program that is easily accessible on the market. It will assist in making the procedure simpler. This application performs the task very well. It can help you transfer files from PC to PC. It is a one-click approach that will move all of your documents from one PC to another without losing any information.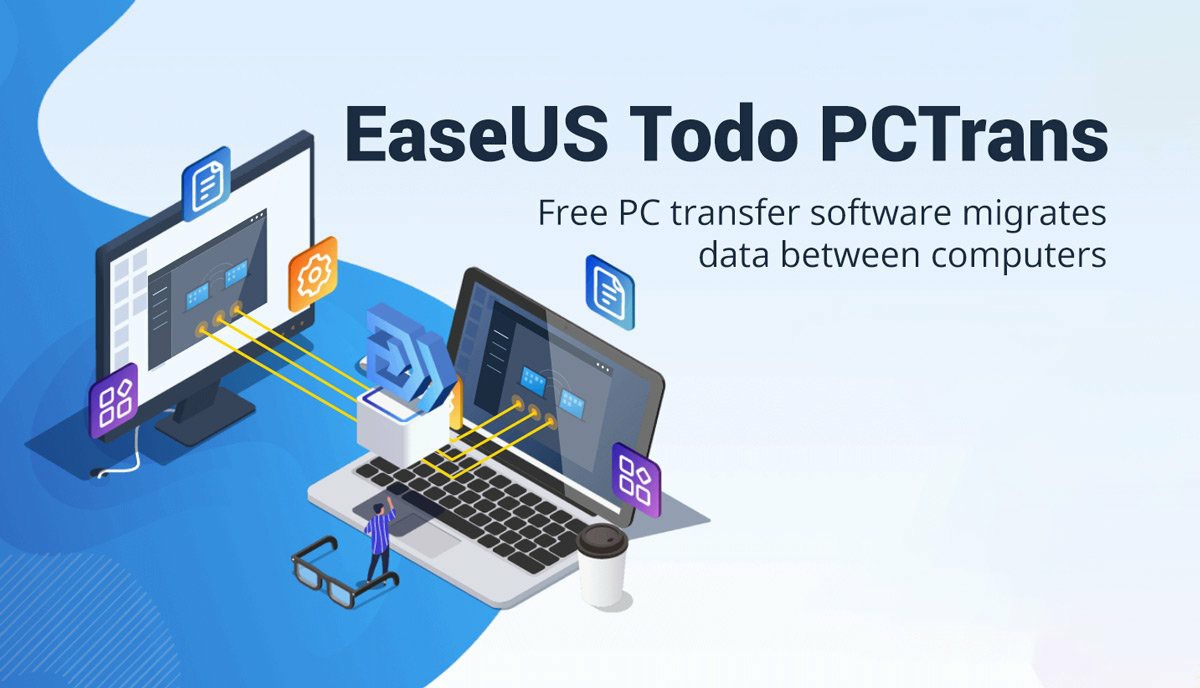 It can transfer your files, programs, and settings from a damaged PC to a newer one. EaseUS Todo PCTrans, unlike the other data recovery software, can retrieve your files and support program transferring.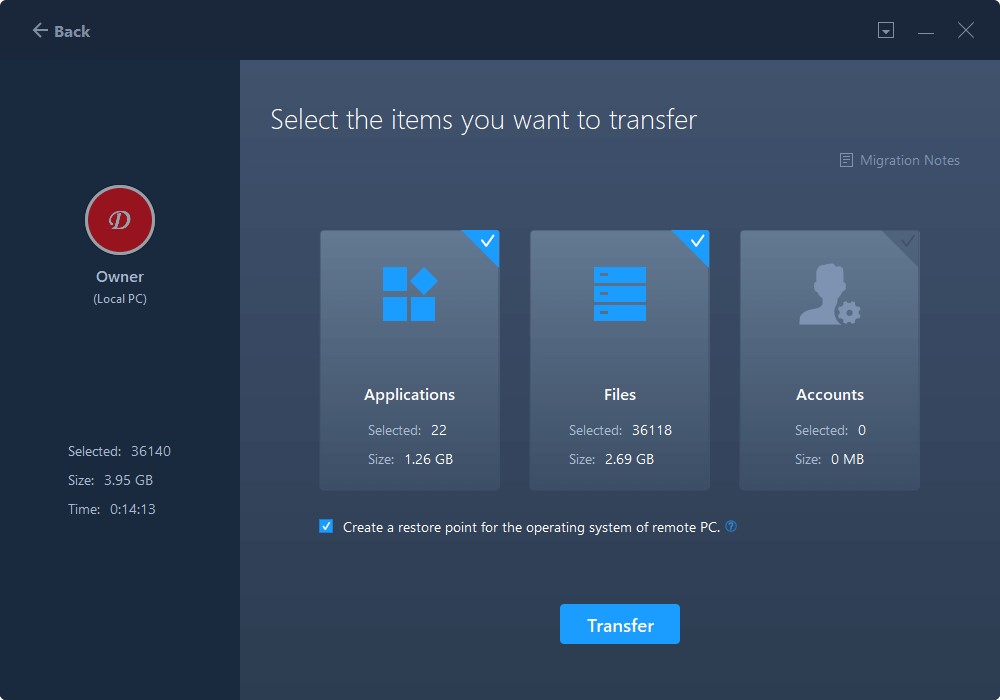 The most important thing about this software is that it can flawlessly move all of your configurations to a new PC. Users can move apps without downloading and installing them, which can considerably improve overall performance. It is compatible with the most popular programs, including Microsoft Office.
User and Domain Accounts Could Be Transferred
Many Windows users are now experiencing the challenge of transferring and moving a user and domain account to a new Desktop or PC due to various demands and causes. If you are one of those persons who need to switch user accounts across PCs right away, EaseUS Todo PCTrans is the ideal option for you.
Some of you may believe that the Windows built-in transfer programs. It can assist you in transferring a user and domain account between two PCs. The program offers one-click transfer that enables transferring your local and domain accounts to a new computer.
Data Recovery – Recover All Data from a Damaged PC
Everyone has cloud storage to backup and restore their data in this technological world. But what if you haven't backed up your data to the cloud storage and your PC breaks down? This is where EaseUS Todo PCTrans proves beneficial.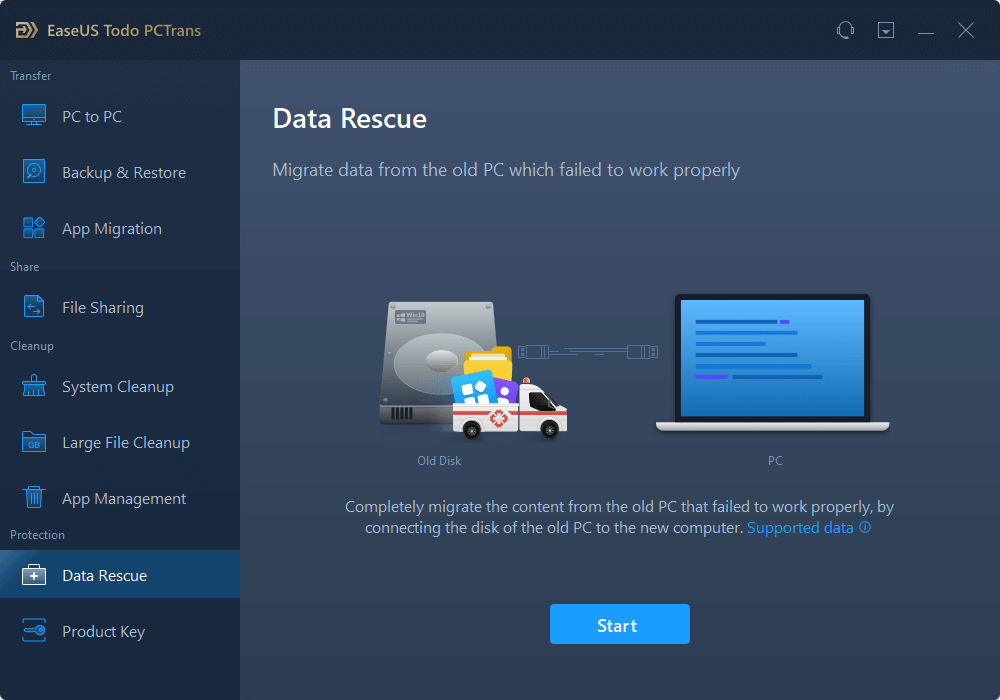 If your PC fails to start due to a technical issue, you don't have to panic since EaseUS Todo PCTrans can recover all your data in simple steps. It can retrieve data even from a damaged or dead PC.
The EaseUS Todo PCTrans provides free technical support 24/7. You may reach out to a knowledgeable professional at any time for assistance with data transmission and other underlying issues.
Available to Windows Server 2003/2008/2012/2016/2019
EaseUS Todo PCTrans is compatible with all Windows operating systems, including Windows Server 2003/2008/2012/2016 and 2019.
How Does Server-to-Server File Transfer Software Work?
EaseUS Todo PCTrans is a quick and convenient PC transfer program that allows you to transfer your files and documents from one server to another without losing any quality. You may also execute app and image migration in addition.
When you acquire a new PC, you are eager to put it to use, but you also require the data from your previous laptop. First and foremost, you will want a hard disc or a USB storage drive. However, the question arises is how to move all of your info from your old PC to your new one? If you try to back up all the files manually, it will take a huge time.
However, if you chose EaseUS Todo PCTrans, you will never have to manually backup your images, music, movies, or files to a storage device. This effective program seamlessly transfers all of your info to your new server.
Step 1. Run EaseUS Todo PCTrans on both PCs
On the source PC, select "PC to PC" on the main screen of EaseUS Todo PCTrans and move on.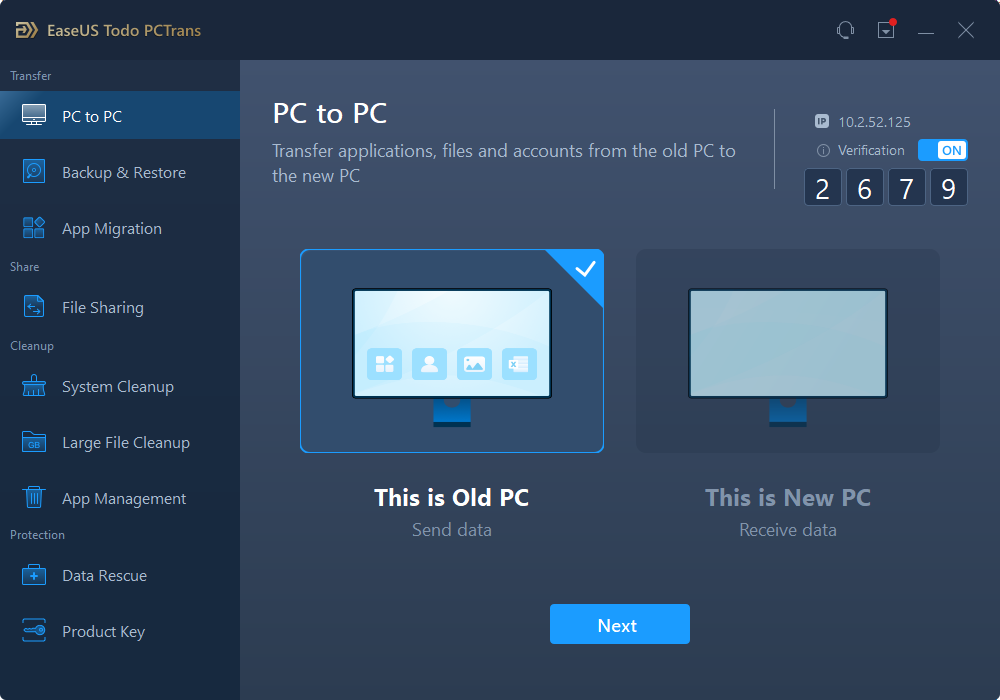 Step 2. Choose transfer direction - Old or New Computer
"New" - Transfer all data from remote old computer to current new computer.
"Old" - Transfer all data from current old device to a new computer.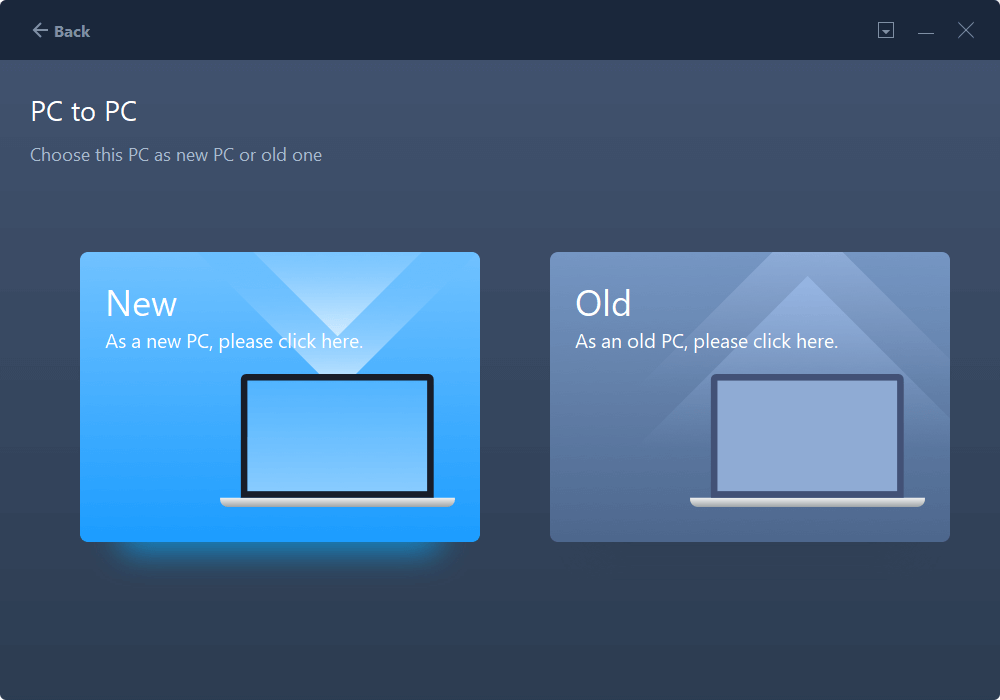 Step 3. Connect two computers
1. Select your target PC to connect via its IP address or device name and click "Connect".
2. Enter the login password of your target PC and click "OK" to confirm.
If you didn't see the target PC in the listed devices, you can also click "Add PC" to manually connect the target PC by inputting its IP address or device name.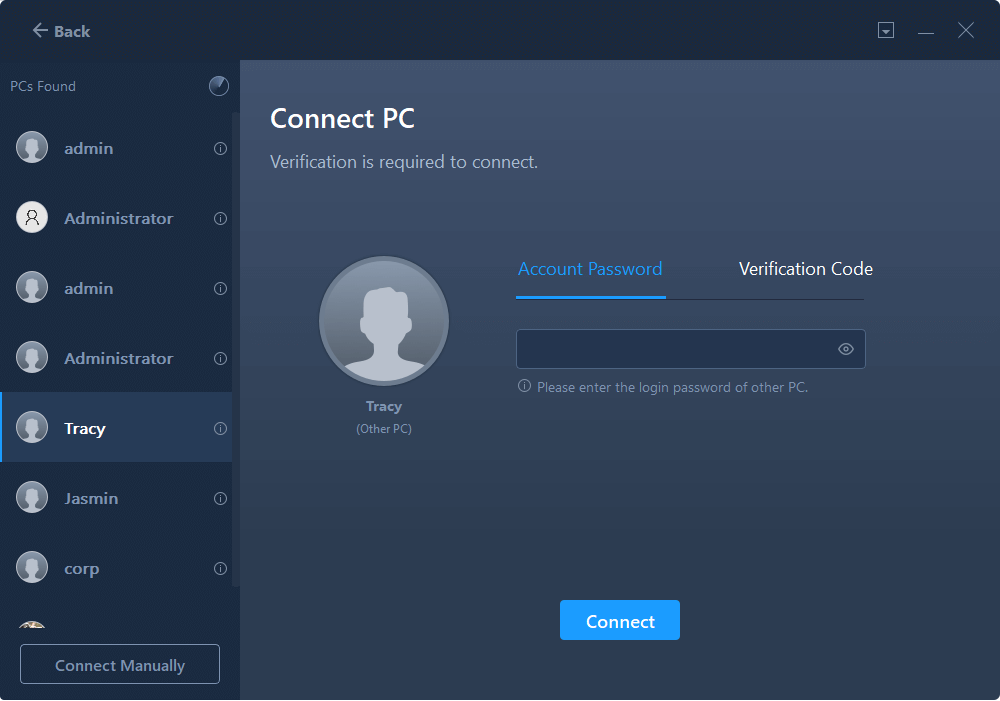 Step 4. Select apps, programs, and software and transfer to the target computer
1. You can select and choose what you want to transfer from the current computer to the target PC.
2. After selecting desired applications and programs, click "Transfer" to start the transferring process.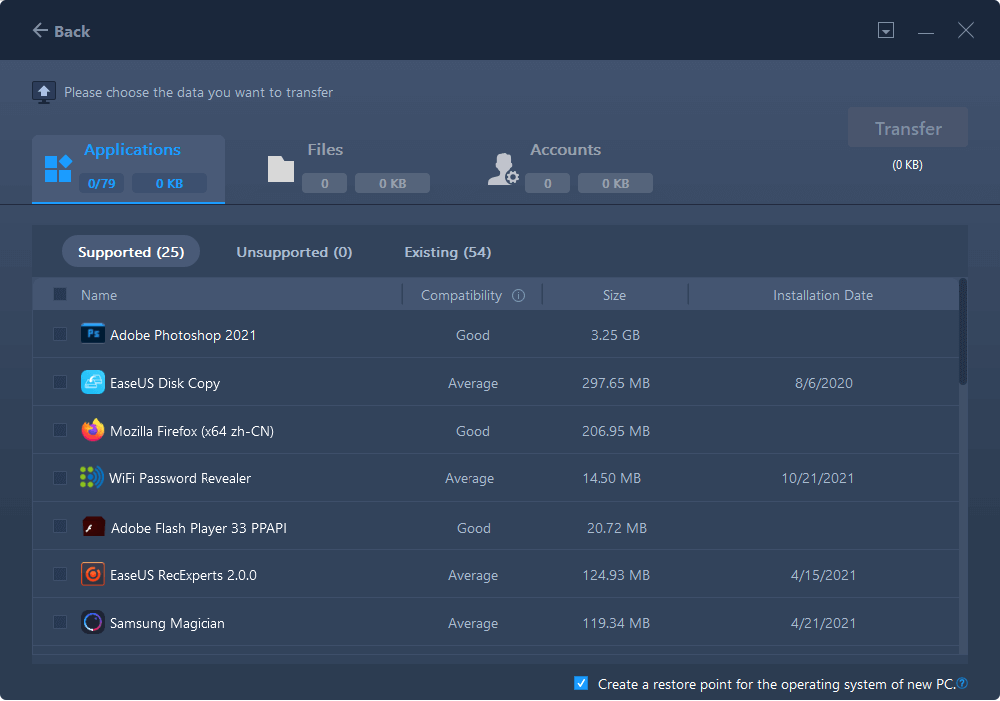 Bonus Tips: Other Methods to Complete Transfer Task
1. Use Windows Robocopy to Copy Files between Two Servers
You can use Windows Robocopy to copy files between two servers.  To proceed with the procedure, you can follow the below-mentioned steps:
Step 1: First, you need to start File Explorer.
Step 2:Then, you will have to right-click on any file that you want to share and choose Properties.
Step 3: Next, go to the Sharing section. Following that, choose the Share button.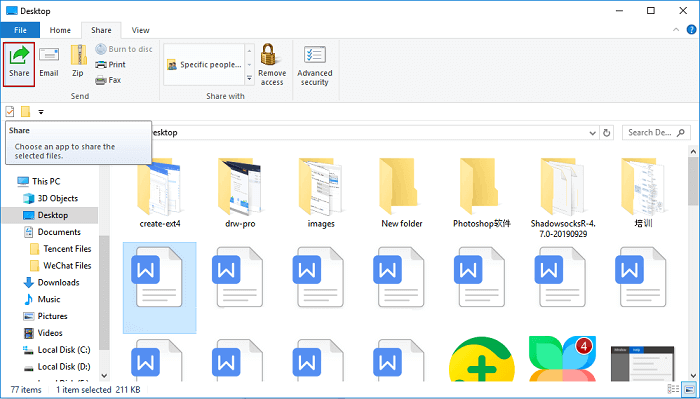 Step 4: Select the Everyone group, then click the Add button.
Step 5: Then, select the Permission Level, followed by the Share option.
Step 6: Lastly, select the Done and Close button.
2. Transfer Files from one server to another by SCP
SCP enables the transfer of files between two servers: local and remote.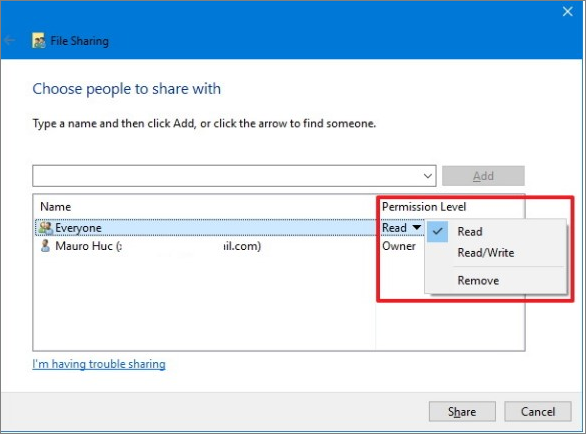 The following is the syntax for moving a file or folder from a local system to a remote system:
SCP [file_path] [user]@[remote_host]:[remote_dir]
SCP -r [local_dir] [user]@[remote_host]:[remote_dir]
Use the command line when transferring data from a remote server to any local system:
scp [user]@[remote_host]:[remote_file_path] [local_dir]
scp -r [user]@[remote_host]:[remote_dir] [local_dir]
When sending a file among two distant servers which require a password, adopt the equivalent syntax: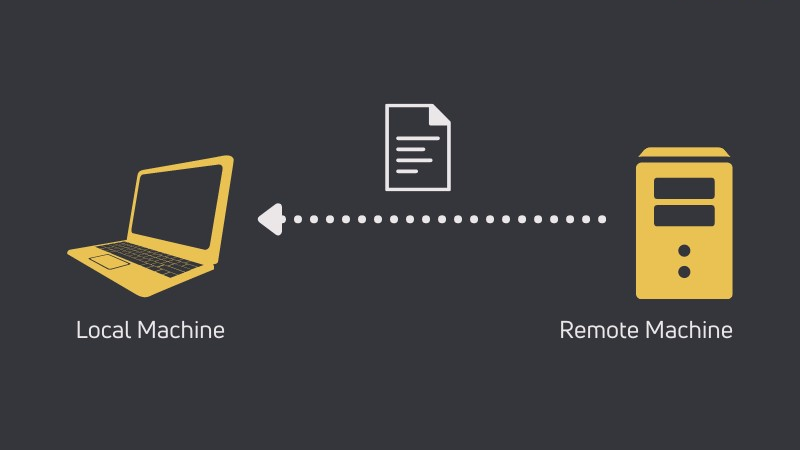 scp [user]@[remote_host]:[remote_file_path] [user]@[remote_host]:[remote_dir]
To Sum Up
EaseUS PC transfer application is the best Windows Server migration alternative. It is the finest in terms of ease of use and brilliance. With options ranging from file selection to user preferences, this file transfer tool is tailored to the user's needs. As a result, if you want to move files from server to server, perform the methods outlined above.
About the Author

Roxanne is one of the main contributors to EaseUS and has created multiple posts on digital devices like PCs, Mobile phones, tablets, Mac, etc. She loves to share ideas with people of the same interest.
Daisy is the Senior editor of the writing team for EaseUS. She has been working in EaseUS for over ten years, starting from a technical writer to a team leader of the content group. As a professional author for over 10 years, she writes a lot to help people overcome their tech troubles.
Reviews and Awards
EaseUS Todo PCTrans Free is a useful and and reliable software solution created to serve in computer migration operations, be it from one machine to another or from an earlier version of your OS to a newer one.

 Read More

EaseUS Todo PCTrans is by the folks at EaseUS who make incredible tools that let you manage your backups and recover your dead hard disks. While it is not an official tool, EaseUS has a reputation for being very good with their software and code.

Read More

It offers the ability to move your entire user account from your old computer, meaning everything is quickly migrated. You still get to keep your Windows installation (and the relevant drivers for your new PC), but you also get all your apps, settings, preferences, images, documents and other important data.

 Read More