"I plan on buying a cloning dock to clone a 1TB HDD to a 512GB SSD. Can I do this? Will it keep my windows installation, activation, and all of my other programs and files?"
With the popularity and improved performance of SSD (Solid State Drive), an increasing number of users are thinking about upgrading their HDD (Hard Disk Drive) to SSD. Compared to HDD, SSD is:
Much faster
More durable
More efficient
Easier to carry
and thus better-performed. Based on these advantages, many users want to upgrade their system disk from HDD to SSD or clone their data drive to an SSD in order to work more effectively. However, since HDD is larger than common SSD, there is a confusion that is bothering many users - is it possible to Clone an HDD to a smaller SSD?
Can You Clone a 1TB HDD to a 512GB SSD
Generally, whether the HDD contains the Windows OS or not, as long as the used space on the HDD is less than the total space of the SSD, you can clone an HDD to a smaller SSD using a professional partition tool, like EaseUS Partition Master. EaseUS disk/partition management software will not only help you clone an HDD to SSD but also enables you to:
Manage disk partitions: Resize (shrink or extend) a partition, merge partitions, format partitions
Convert disk/partitions: Convert MBR to GPT and vice versa, convert basic disk to dynamic disk and vice versa, interconvert primary partition and logical partition...
Optimizing disks: Clean up junk files, defrag disks, perform a surface test, rebuild MBR and more
Download the software and then follow the guide below to clone your HDD to a smaller SSD immediately.
How to Clone an HDD to Smaller SSD
To ensure you can clone the HDD to SSD without any data loss, before the start, make sure:
The total space of the SSD is larger than the used space on the HDD
You have backed up the existing files on the SSD since the disk clone process will erase the data on your SSD
Afterward, you can start cloning your 1TB HDD to a 500GB or 250GB SSD without data loss:
Step 1: Select the source disk.
Open EaseUS Partition Master. Right-click the disk that you want to copy or clone. Then, select "Clone".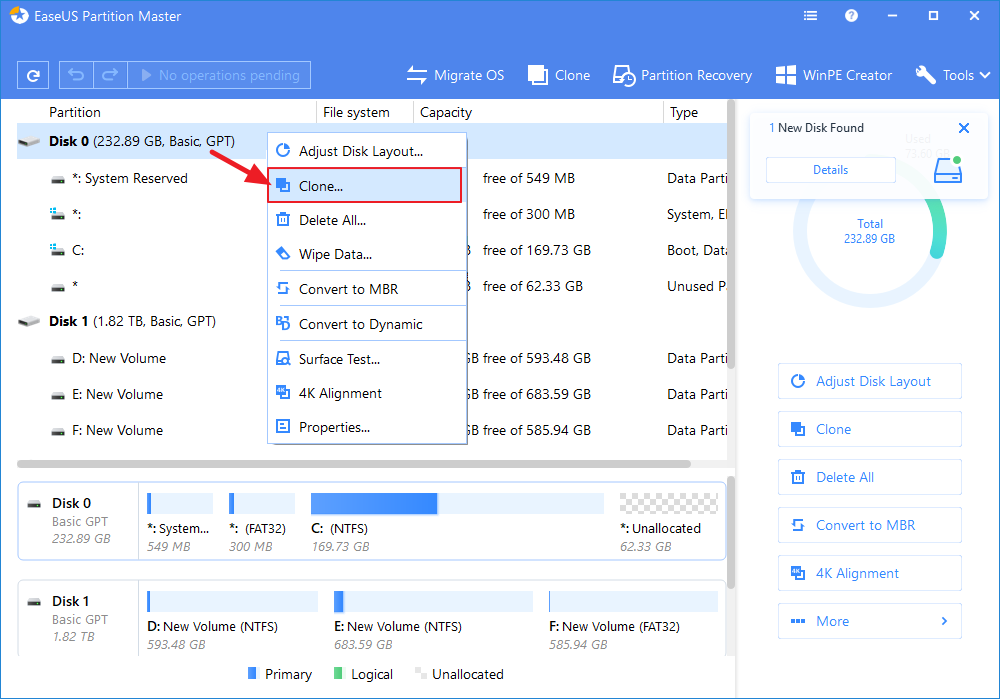 Step 2: Select the target disk.
Step 3: View the disk layout and edit the target disk partition size.
Then click "Continue" when the program warns it will wipe out all data on the target disk. (If you have valuable data on the target disk, back up it in advance.)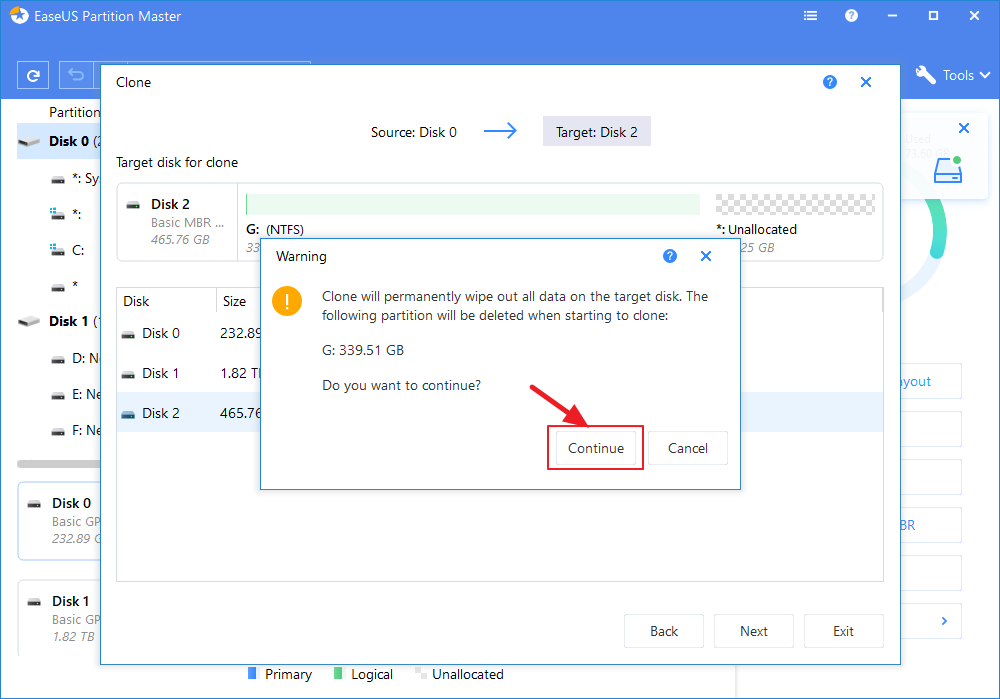 You can select "Autofit the disk", "Clone as the source" or "Edit disk layout" to customize your disk layout. (Select the last one if you want to leave more space for C drive.)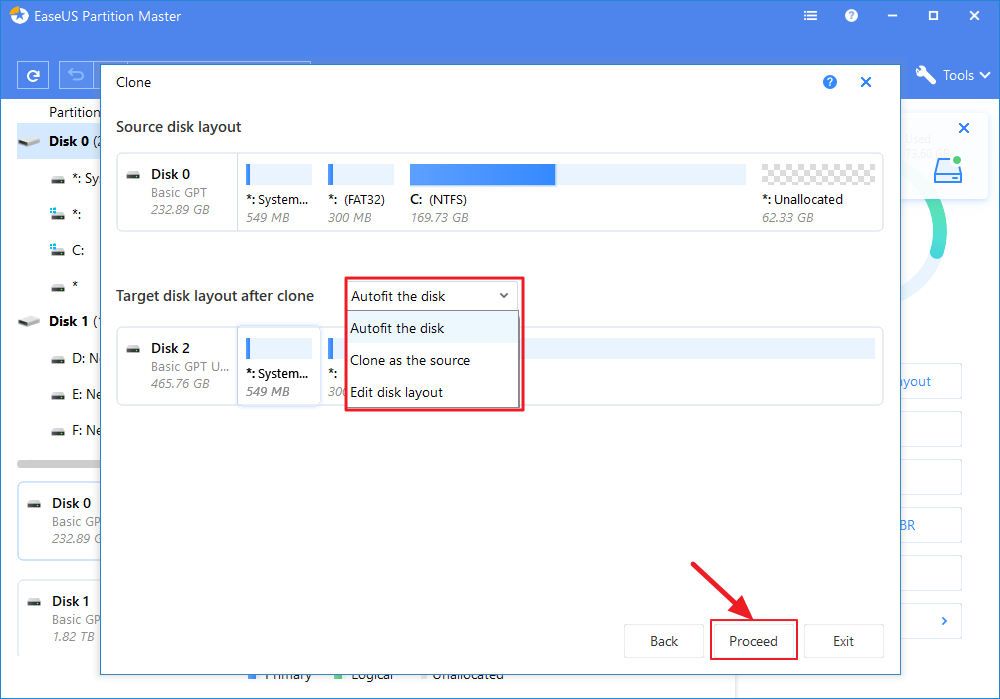 Step 4: Execute the operation.
Click the "Execute the operation" option and click "Apply" to start the disk cloning process.
If you want to migrate OS from an HDD to SSD, you can use the "Migrate OS" feature in EaseUS Partition Master to get things done.
The Bottom Line
When you want to clone an HDD to an SSD, the first thing you need to check is how much space is used on the source disk and how much the total space is in the target disk. That decides whether you can clone an HDD to a smaller SSD without data loss. Then you need to find a reliable partition manager that can help you complete the cloning process effectively. Hope you can get your needs met by following this article.
100% of people found this article helpful.
Frequently Asked Questions
Why Choose EaseUS Partition Master?

"I've used Partition Master Professional many times to create, delete, format, move, rename, and resize partitions." —PCWorld

"Partitioning tools have come a very long since the days of complicated command line utilities and EASEUS Partition Master is one of the most advanced programs available." —TECH ADVISOR

"I love that the changes you make with EaseUS Partition Master Free aren't immediately applied to the disks. It makes it way easier to play out what will happen after you've made all the changes." —Lifewire
Will the "Migrate OS" feature transfer the Windows system files only or the whole C drive?

To ensure that the migrated system will boot normally, the Migrate OS feature will transfer all the files in the system and the boot partitions. Generally, the boot partition is the C drive so the transfer will include all the files in C.
Does EaseUS Partition Master license apply to multiple computers?

The license of Partition Master Professional and Server editions can be used on 1 computer only, while that for for the Technician and Unlimited editions can be used on multiple machines.
What is the difference between EaseUS Partition Master Trial version and the Free version?

Free is for home users only, with most basic functions available such as partition resize and clone. While trial can help you understand how this product works and test what a full license can do on a business or server OS machine.
Will it cause any data loss after resizing the partition in EaseUS Partition Master?

Generally, it will not cause any data loss or boot issue by resizing a partition. However, in order to protect your data, we suggest that you backup the partition before resizing, in case of any unexpected situations such as power outages, computer hardware failures, etc. You can use EaseUS Todo Backup to backup the partition and its trial version is fully functioned for 30 days.
What should I prepare before resizing the partition?

On the partition that is going to be operated, there might be some files being occupied by other programs. To ensure a successful operation, we suggest that you close all the unnecessary software before resizing that partition. Otherwise, EaseUS Partition Master will detect the partition being locked by the other software and require a reboot to resize the partition under boot mode.
About EaseUS Partition Master
All-round disk & partition management software for personal and commercial use. Let it manage your storage drive: resize, format, delete, clone, convert, etc.