With the popularity and improved performance of SSD (Solid State Drive), an increasing number of users are thinking about upgrading their HDD (Hard Disk Drive) to SSD. Compared with HDD, SSD enjoys some noticeable benefits, making it better performed.

Much faster
More durable
More efficient
Easier to carry
Based on these advantages, many users want to upgrade their system disk from HDD to SSD or clone their data drive to an SSD in order to work more effectively. However, since HDD is larger than common SSD, one confusion arises: is it possible to clone HDD to smaller SSD? 
EaseUS Partition Master - Your optimal choice to clone a hard drive, from a larger HDD to smaller SSD
Can I Clone 1TB HDD to 500GB SSD or Even Smaller? Like 250GB
"I plan on buying a Samsung SSD of around 250~500GB to replace the HDD system drive. The old HDD is 1TB, which is surely bigger than the new SSD. Can I use any disk cloning software to migrate Windows installation, programs, and files from a 1TB HDD to a smaller SSD?"
Yes, the answer is positive. You may have heard of many qualified HDD to SSD cloning software on the market, for example, EaseUS Partition Master, Macrium Reflect, Clonezilla, Samsung HDD to SSD cloning software, SanDisk SSD cloning software, etc. But which is the most capable to clone larger HDD to smaller SSD then?
Generally, whether the HDD contains the Windows OS or not, as long as the used space on the HDD is less than the total space of the SSD, you can clone an HDD to a smaller SSD as the below image demonstrates.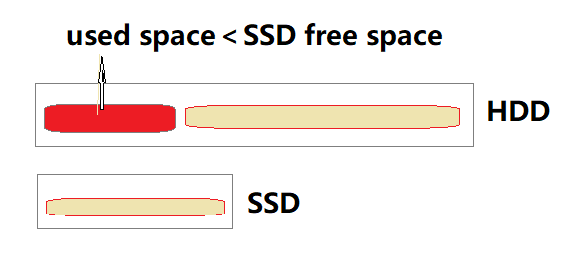 Regarding the ease of use, success rate, and the ability to clear up useless files on HDD, migrate OS to HDD/SSD, clone a disk or partition, we highly recommend you choose a professional partition tool, like EaseUS Partition Master. Besides the HDD to SSD clone, you can enjoy many more useful features as follows.
Clone and resize hard drive: Adjust the partition size and layout before executing the final clone procedure.
Manage disk partitions: Resize (shrink or extend) a partition, merge partitions, format partitions
Convert disk/partitions: Convert MBR to GPT and vice versa, convert basic disk to dynamic disk and vice versa, interconvert primary partition and logical partition...
Check partition errors: Solve the problem of cloning a hard drive takes forever by checking disk errors and perform an instant repair.
Download the EaseUS HDD to SSD cloning software and then follow the guide below to clone your HDD to a smaller SSD immediately.
Guide: How to Clone an HDD to Smaller SSD
To ensure you can clone the HDD to SSD without any data loss, before the start, you need to go over the essential factors to successfully clone a 1TB HDD to 500GB SSD, or 500GB SSD to 250GB SSD.
The total space of the SSD is larger than the used space on the HDD
Back up the existing files on the SSD since the disk clone process will erase the data on your SSD
Take one more step to clean up the hard drive, removing some useless junk files, and extremely large files from the HDD before doing the clone. This will significantly reduce the used space on the HDD.
Now take the simple steps to clone your 1TB HDD to a 500GB or 250GB SSD without data loss:
Step 1. Select the source disk.
Click the "Clone" from the left menu. Select the "Clone OS Disk" or "Clone Data Disk"  and click "Next".
Choose the source disk and click "Next".
Step 2. Select the target disk.
Choose the wanted HDD/SSD as your destination and click "Next" to continue.
Read Warning message and confirm "Yes" button.
Step 3. View the disk layout and edit the target disk partition size. 
Then click "Continue" when the program warns it will wipe out all data on the target disk. (If you have valuable data on the target disk, back up it in advance.)
You can select "Autofit the disk", "Clone as the source" or "Edit disk layout" to customize your disk layout. (Select the last one if you want to leave more space for C drive.)
Step 4. Click "Start" to start the disk cloning process.
If you want to migrate OS from an HDD to SSD, you can use the "Migrate OS" feature in EaseUS Partition Master to get things done. 
The Bottom Line
When you want to clone an HDD to an SSD, the first thing you need to check is how much space is used on the source disk and how much the total space is in the target disk. That decides whether you can clone an HDD to a smaller SSD without data loss. Then you need to find a reliable partition manager that can help you complete the cloning process effectively. Hope you can get your needs met by following this article.

Roxanne is one of the main contributors to EaseUS and has created multiple posts on digital devices like PCs, Mobile phones, tablets, Mac, etc. She loves to share ideas with people of the same interest.

Brithny is a technology enthusiast, aiming to make readers' tech life easy and enjoyable. She loves exploring new technologies and writing technical how-to tips. On her spare time, she loves sharing things about her favorite singer - Taylor Swift on her Facebook or Twitter.