Can I Copy VHD to the Physical Disk
"I have a Lenovo laptop that runs Windows XP. At the same time, I set up Windows 7 on a VHD. Now I want to upgrade my computer from XP to Windows 7. But there is no straight upgrade path, and I do not want to spend an entire weekend setting everything up. After some testing, I would like to copy VHD to physical disk to move the content of the VHD to my real hard drive. I think it is the best way to do the upgrade job. It allows me to set up the machines step by step in parallel to working with the original one. But I don't know how can I clone VHD to the physical disk? Do you have any suggestion?"
What Is a VHD
VHD is short for Virtual Hard Disk. It is a file format which represents a virtual hard disk drive (HDD). It may contain what is found on a physical HDD, such as disk partitions and a file system, which in turn can contain files and folders. It is typically used as the hard disk of a virtual machine. A Virtual Hard Disk allows multiple operating systems to reside on a single host machine. Besides, it has many other advantages:
IT organizations can deploy standardized, 'pre-built' configurations on a single VHD.
Changes to the contents of a VHD are easily undone.
Many current operating systems support having multiple users but offer varying degrees of protection between them.
Apart from these advantages, it still has limitations.
The VHD format has a built-in limitation of just under 2 TB for the size of any dynamic or differencing VHDs.
It only allows a maximum of 65535×16×255 sectors.
The Best VHD to Disk Solution
Have you ever wanted to copy a VHD to a physical disk? Or copy a VMDK, VHDX, or VirtualBox VDI to a physical disk? Although many users tried to copy a virtual hard disk to the physical hard drive when they want to do a complete new setup of the machine. Yes, it is the easiest way that can save much time and effort.
But few people know how to migrate VHD to the physical disk manually. So on this page, we would like to offer you an efficient VHD to disk method. You can do this by using a VHD to disk migration tool - EaseUS partition software. Simply download EaseUS partition software, create a disk clone task and choose the virtual disk (VHD, VHDX, etc.) as a source and the physical disk as the target. In this way, it allows you to easily duplicate the contents of the virtual hard disk to the physical drive.
Steps to Copy the VHD to a Physical Disk
Right-click My Computer > Manage > Storage > Disk Management, right-click Disk Management and choose Attach VHD.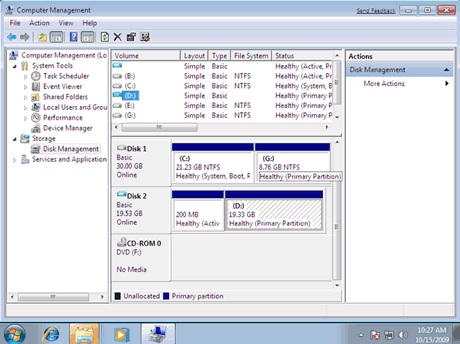 Download and install this reliable partition manager the follow the steps below to copy your virtual disk.
Step 1: Select the source disk.
Step 2: Select the target disk.
Step 3: View the disk layout and edit the target disk partition size.
Step 4: Execute the operation.
If the disk that you choose has partitions on it, the wizard will ask you to delete all the partitions on the disk. So backing up your data is very important.