
About the Author
Hot Topics in 2022
How to Clone A Hard Drive on Windows 11
Can I Clone A Hard Drive in Windows 11?
"How do I clone a hard drive in Windows 11?" - Quora
Same question we've got a few days ago. Fortunately, we already finish cloning steps by EaseUS Partition Master. If you are ready to copy data from the old hard drive to a new one, this how-to tutorial is written for you. With the help of third-party cloning software, you can enjoy a smooth clone process without any stuck or device damage. Fully compatible with Windows 11/10/8/7. See how this software can do for you in this task.
Must-do List Before Disk Cloning on Windows 11
Here are a bunch of tips you should know before letting the clone happens. Don't skip it for data protection.
1. Back up data on target hard drive (If available)
Get a brand-new hard drive? Skip the following word. If your hard drive has stored some files and useful programs, you'd better back up all the wanted data to a safe place because the clone function will erase all data on the target disk.
2. Make sure the capacity of the Hard Drive is larger than the used space of the old disk
If many unwanted programs and files exist in your device, try to optimize its space by deleting useless big files or unwanted programs.  
3. Initialize the New Hard Drive
Clone the old hard drive to a new disk, you need to initialize the HDD or SSD and make sure the partition style of the target disk is in accordance with the source disk.
How to Initialize Hard Drive in Windows 11:
Step 1. Click the Search icon in the middle of the taskbar.
Type Disk Management in the box and click the best result.
Check the partition style of the old disk on Disk Management:
Right-click the disk and select "Properties" from the menu.
Hover on the "Volumes" tab and check if the partition style is MBR or GPT.
Step 2. Connect hard drive to the computer via SATA Adapter cable or USB 3.0. Check if the new disk is shown on Disk Management.
Step 3. Right-click the HDD or SSD you want to initialize. Choose "Initialize Disk" from the menu.
In the Initialize Disk window, set your selected disk as MBR or GPT.
4. Download EaseUS Partition Master on Windows 11 PC
EaseUS Partition Master is an easy-to-use software that can easily clone HDD to SSD in Windows 11, such as clone 1TB HDD to 2TB SSD, clone larger HDD to smaller SSD, clone hard drive to 500GB SSD, etc. All these topics bounded with disk cloning can be achieved by this cloning software. Click the download button and get a free download.
How to Clone A Hard Drive on Windows 11
EaseUS Partition Master provides 2 modes to copy data from the old hard drive to the new disk - partition mode and disk mode. If you just want to clone partitions to another drive, it is easier to select the partition mode. Or if you are trying to clone the entire disk, choose the disk mode. See how to use both modes in Windows 11.
1 - Clone Entire Hard Drive in Windows 11
2 - Clone Partition on Disk in Windows 11
1 - Clone Entire Hard Drive in Windows 11
Step 1. Select the source disk.
Right-click the disk that you want to copy or clone. Then, select "Clone".
Step 2. Select the target disk.
Choose the wanted HDD/SSD as your destination and click "Next" to continue.
Step 3. View the disk layout and edit the target disk partition size. 
Then click "Continue" when the program warns it will wipe out all data on the target disk. (If you have valuable data on the target disk, back up it in advance.)
You can select "Autofit the disk", "Clone as the source" or "Edit disk layout" to customize your disk layout. (Select the last one if you want to leave more space for C drive.)
Step 4. Click "Proceed" to start the disk cloning process.
2 - Free Clone Partition on Disk in Windows 11
Check how to clone partition free with several clicks:
Step 1. Right-click the partition you want to copy, and choose Clone.
Step 2. Choose your the target partition and click Next to continue.
If you clone partition to the existing partition, you should transfer or back up data before cloning to prevent it being overwritten.
Step 3. Click Proceed and wait for the clone to complete.
You can check how to clone partition or system reserved partition on this video tutorial.
What EaseUS Partition Master can do for your new hard drive in Windows 11?
To adjust disk space for optimization - Resize/move partition, merge, shrink, create a partition.
To migrate OS to SSD to improve Windows speed.
Change disk style based on your needs - Convert MBR to GPT or vice versa (without data loss), convert partition from primary to logical or vice versa, etc.
Recover lost partition to securely get partitions back.
Boot PC from New Hard Drive in Windows 11
Step 1. Insert the new HDD/SSD on the computer
Use a screwdriver to open the computer case.
Use a SATA cable to connect the cloned disk to the PC.
Step 2. Restart PC and enter F2/F8/Del to enter BIOS.
Step 3. Click the Arrow key to see the new disk as a boot drive and save changes.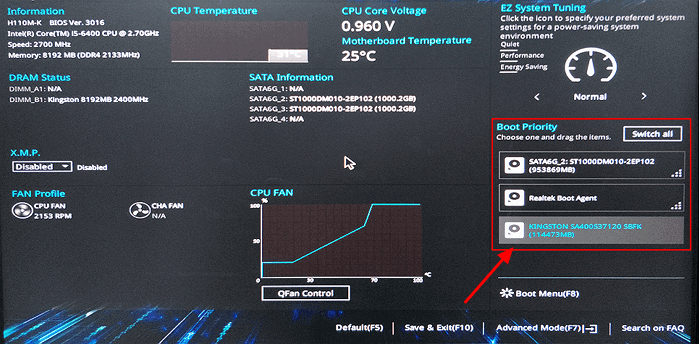 Then you can restart the PC, your computer is boot from the new SSD.
Final Thoughts
We've introduced how to use EaseUS Partition Master in this article. This software also can clone hard drive from Windows 10 to Windows 11. If you want to upgrade your computer from the old OS version to the newest one. Don't hesitate. Any questions, please contact us by online chat.
About the Author

Roxanne is one of the main contributors to EaseUS and has created multiple posts on digital devices like PCs, Mobile phones, tablets, Mac, etc. She loves to share ideas with people of the same interest.
Product Reviews
I love that the changes you make with EaseUS Partition Master Free aren't immediately applied to the disks. It makes it way easier to play out what will happen after you've made all the changes. I also think the overall look and feel of EaseUS Partition Master Free makes whatever you're doing with your computer's partitions easy.

 Read More

Partition Master Free can Resize, Move, Merge, Migrate, and Copy disks or partitions; convert to local, change label, defragment, check and explore partition; and much more. A premium upgrade adds free tech support and the ability to resize dynamic volumes.

 Read More

It won't hot image your drives or align them, but since it's coupled with a partition manager, it allows you do perform many tasks at once, instead of just cloning drives. You can move partitions around, resize them, defragment, and more, along with the other tools you'd expect from a cloning tool.

 Read More