
About the Author
Hot Topics in 2022
How Do I Clone Disk in Windows Server? 2022 Full Guide
Applies to: upgrade and clone Windows Server disk to a bigger, newer, and faster HDD/SSD without data loss.
Duration: 30 minutes - 1 hour.
Support: Windows Server 2022, 2019, 2016, 2012/2012 r2, 2008/2008 r2, etc.
Can you clone a Server hard drive? This page covers the complete guide that helps you clone a disk in Windows Server computers to a larger or bigger new hard drive or SSD without data loss or Server OS reinstallation. 
If you have the same requests, follow the tips below and start your disk upgrade process now.
Before You Start: Get a New Hard Drive or SSD Ready
When you are with the listed issues in the Windows Server disk, it's time that you should clone to upgrade the Server disks:
Data or system disk becomes full.
Windows Server computer slows down as the disk is getting full.
System C drive gets full in Windows Server without further free space to extend.
So how do I clone a disk in Windows Server and upgrade to a larger or faster new HDD or SSD? Before you start, you need to get the new disk ready for disk upgrade cloning.
Here is a list of quick guides that you can follow to get the new disk ready:
Prepare a new mechanical hard drive or hybrid HDD-SSD with an even larger storage capacity to upgrade the Windows Server data disk. 
Prepare a faster and even larger SSD if your goal is to move Windows Server OS disk.
Install and initialize the new disk in Windows Server when you get the new disk back.
So how to initialize a new disk in Windows Server? First, you can directly install the new disk to Windows Server and open Disk Management to initialize the new drive.
Here is a full guide that you can follow to execute the operation:

Full Guide: Initialize SSD/HDD for Free
If you add a brand new disk to your PC and it doesn't show up in File Explorer, you might need to add a drive letter or initialize it before using it. There are three ways to initialize SSD or HDD in Windows and Windows Server.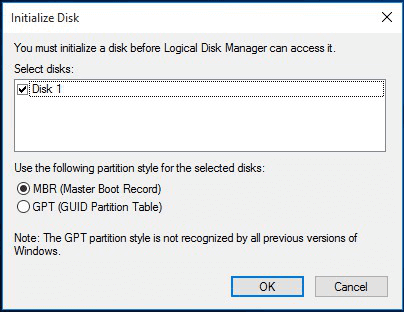 How Do I Clone a Windows Server Disk? 2 Reliable Methods Available Here
 Here we collected two reliable methods that you can turn to either one to accomplish disk upgrade in Windows Servers:
Which disk clone tool to choose? Here is EaseUS Editors' pick:
For an easier way out, Method 1 with a third-party disk cloning software like EaseUS Partition Master Enterprise is more suitable for different levels of Windows Server administrators.
Windows Server Backup deserves a try for a 100% free way to migrate Windows Server disk data to another drive.
If you are trying to clone the entire Server OS disk to a new drive, the 1st solution can fulfill your task and ensure Windows programs and installed software are bootable after cloning.
Let's get started to clone your disk in Windows Server now.
#1. Clone Windows Server Disk with EaseUS Disk Cloning Software
Tool: 3rd party disk cloning software - EaseUS Partition Master Enterprise with its Disk Copy feature.
Supported: Windows Server 2022/2019/2016/2012/2008, etc.
The most efficient way to upgrade and clone a disk in Windows Server computers is turning to reliable Windows Server disk clone software. EaseUS Partition Master Enterprise with Disk Copy feature enables any Windows Server to clone and upgrade the disk to a new one with ease.
EaseUS Partition Master Enterprise
Your trustworthy Windows Server disk manager.
 Extend System drive, combine/split partitions.
 Clone disk, migrate OS to HDD/SSD.
 Convert MBR to GPT, GPT to MBR, no data loss.
 1-click adjust disk layout, create volumes at one time.
Here is the complete guide of cloning Windows Server disk to a new and larger disk:
Step 1. Select the source disk.
Click the "Clone" from the left menu. Select the "Clone OS Disk" or "Clone Data Disk"  and click "Next".
Choose the source disk and click "Next".
Step 2. Select the target disk.
Choose the wanted HDD/SSD as your destination and click "Next" to continue.
Read Warning message and confirm "Yes" button.
Step 3. View the disk layout and edit the target disk partition size. 
Then click "Continue" when the program warns it will wipe out all data on the target disk. (If you have valuable data on the target disk, back up it in advance.)
You can select "Autofit the disk", "Clone as the source" or "Edit disk layout" to customize your disk layout. (Select the last one if you want to leave more space for C drive.)
Step 4. Click "Start" to start the disk cloning process.
After this, you can reboot the PC, and your data will be completely cloned to the new disk in Windows Server. 
Stay calm if some of you cloned the Windows Server OS disk to a new drive, but the computer fails to boot after cloning. It could be two issues that stop you from accessing and running Windows Server systems:
1. You failed to configure the newly cloned disk as a boot drive. Read: Set Cloned Drive as Boot Drive.
2. You need to configure boot mode for the OS disk: MBR - Legacy, GPT - UEFI. Read: Disable/Enable UEFI Mode.
Aside from cloning disk in Windows Server, EaseUS Partition Master Enterprise can also help you better manage disk partition space with the following features:
#2. Back Up Server Data and Restore to A New Disk with Windows Server Backup
Tool: Microsoft Windows Server Backup. 
Supported: Windows Server 2022/2019/2016/2012/2008, etc.
Windows Server users may turn to Windows Server Backup for a free disk upgrade solution for help. Though Windows Server Backup is a disk partition data backup tool, it's still a perfect alternative solution for Windows Server disk clone. 
Experienced Windows Server users can turn to this method for a try. And here is the complete procedure of backing up and restoring hard drive data to another drive:
First, Backup Windows Server Hard Drive
Lanch Windows Server Manager, go to Server Manager, click "Manage", and select " Add Roles and Features".
Click "Tools" in Server Manager, select "Windows Server Backup" and click "Local Backup".
Select "Backup Schedule..." or "Backup Once...", here you can select "Backup Once...".
Click "Select Items for Backup" on the left pane, basically "Bare metal recovery" is the default option that most users may choose as it provides you with the most options for recovery.
Click "Add Items" > "Backup" to stat back up your disk.
Next. Restore Disk Content Backup to Another Drive
Open Windows Server Backup, click "Local Backup" and select "Recover".
On the Getting Started window, select "This Server" and click "Next" to start the disk backup recovery.
Select the backup date, recovery time, items to restore, and navigate to restore the backup to a new disk that you added to the computer. Click "Recovery" to start.
After this, all you need is to wait for the process to complete. 
Bonus Tip: What to Do with the Old Drive after Disk Clone
What will you do with the old drive after you successfully cloned or moved all disk data to the new drive? To clean up the old drive is the basic need. However, some of you may also want to use the disk. So how to manage the old drive? 
EaseUS disk manager software - Partition Master Enterprise provides you with a complete resolution to clean up and re-partition the old drive in a few simple clicks.
1. Clean Up Old Drive
We've set two options for you to wipe data. Choose the one you need.
Option 1.  Wipe Partition
Right-click the partition you want to erase data from, and choose "Wipe".
In the new window, set the time for which you want to wipe your partition, then click "OK".
Click the "Execute 1 Task(s)" button in the lower right corner, check the changes, then click "Apply".
Option 2. Wipe Disk
Select the HDD/SSD. And right-click to choose "Wipe Disk".
Set the number of times to wipe data. (You can set to 10 at most.) Then Click "OK".
Click "Execute 1 Task(s)" and then click "Apply".
2. Partition Cleaned Drive 
Step 1. Open EaseUS Partition Master, go to Partition Manager and click "Partition this disk" on the popped-up New Disk Guide window.
Step 2. Set the number of partitions you need to create, and set the partition style to your disk - MBR or GPT.
Or, you can accept the default setting offered by EaseUS Partiton Maste. Once done, click "Proceed".
Step 3. Click "Execute 1 Task" and "Apply" to finalize partitioning the new HDD/SSD or external disk.
Clone Disk in Windows Server Is Easy with Reliable Disk Cloning Software
On this page, we provided the complete guide to help Windows Server users to clone and upgrade their Server computer disks to a larger and newer drive with ease.
As long as you get the new drive ready, you can turn to either method provided on this page to succeed the disk upgrade operation. 
About the Author
Updated by Tracy King 
Tracy joined in EaseUS in 2013 and has been working with EaseUS content team for over 7 years. Being enthusiastic in computing and technology, she writes tech how-to articles and share technical solutions about Windows & Mac data recovery, file/system backup and recovery, partition management and iOS/Android data recovery.
Product Reviews
I love that the changes you make with EaseUS Partition Master Free aren't immediately applied to the disks. It makes it way easier to play out what will happen after you've made all the changes. I also think the overall look and feel of EaseUS Partition Master Free makes whatever you're doing with your computer's partitions easy.

 Read More

Partition Master Free can Resize, Move, Merge, Migrate, and Copy disks or partitions; convert to local, change label, defragment, check and explore partition; and much more. A premium upgrade adds free tech support and the ability to resize dynamic volumes.

 Read More

It won't hot image your drives or align them, but since it's coupled with a partition manager, it allows you do perform many tasks at once, instead of just cloning drives. You can move partitions around, resize them, defragment, and more, along with the other tools you'd expect from a cloning tool.

 Read More