
About the Author
Hot Topics in 2022
How to Migrate Windows Server OS to a New Drive (HDD/SSD) [2023 Full Guide]
Updated by
Sherly
on Dec 06, 2022
Duration: 30 minutes - 1 hour.
Applies to: Migrate Windows Server 2022/2019/2016/2013/2008/2002 to a new HDD/SSD.
Can You Perform a Server OS Migration on the Same Server? Are you looking for a reliable Windows Server migration tool to transfer and upgrade Windows Server to a new disk? Do you want to upgrade the Windows Server OS disk?
You'll get a complete guide to migrate Windows Server OS to a new disk with success on this page.
# 1. Prepare New Disk for Windows Server OS Migration
In the process of preparing a new disk for Windows Server migration, you may encounter two issues:
1. Which type of disk to select?
2. How to make the new disk ready?
Let's first figure out what your goal for Windows Server OS migration is:
Upgrade Windows Server to a bigger disk, hard disk drives with big storage capacity is what you need.
To optimize Windows Server running speed, SSDs with sufficient storage capacity should work.
A hard drive with 32GB - 4 TB or SSD with 2-4TB or even bigger storage size is recommended for Windows Server installation.
When you get the disk back, you've now come to the next step: getting the new disk ready for Windows Server migration. Here are the steps:
Step 1. Add new disk to Windows Server computer via a SATA cable and a power cable.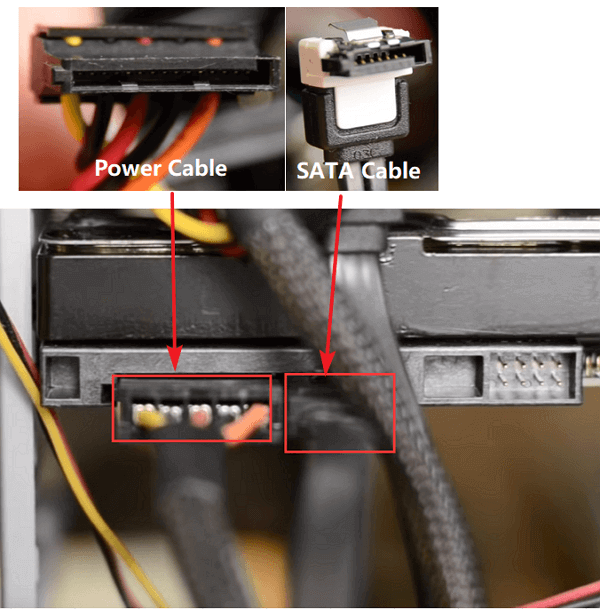 Step 2. Once connected the new disk to your computer, open Disk Management in Windows Server.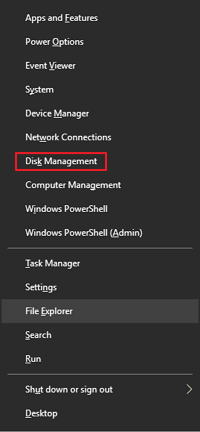 Step 3. Right-click the old system drive and select "Properties", confirm its disk partition style is MBR or GPT.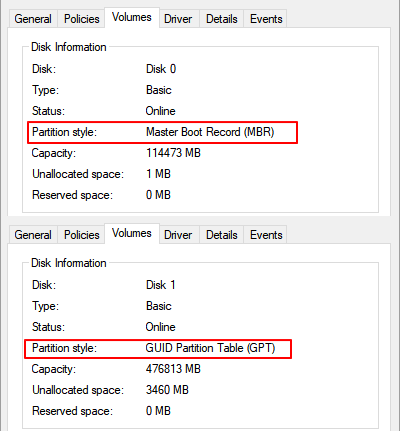 Step 4. Locate and right-click the new disk, which will display as "Unknown or Not Initialized", and select "Initialize Disk".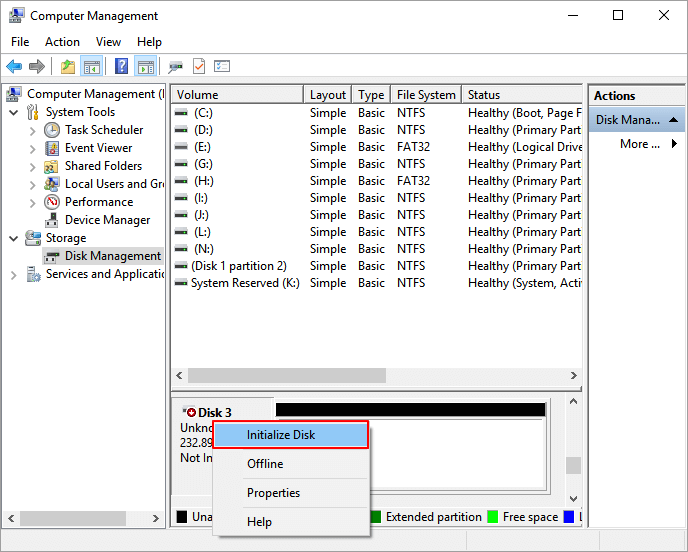 Step 5. Select the disk style for the new disk, make sure it's the same as the old system disk - MBR or GPT, and click "OK" to confirm.
Once done, your new disk is ready for Windows Server migration, and you can move to the next guide for further operation.
#2. Pick and Download Windows Server Migration Tool for Help
Windows Server Manager has Windows Server Migration Tools that you can turn to for help. But this tool only works efficiently in transferring Windows Server system to another computer with a complex operation procedure. And it doesn't work quite well in updating Windows Server OS within one computer.
To do an in-place upgrade of the Windows Server system disk, you'll need to turn to a professional system migration tool or software for help.
EaseUS Partition Master Enterprise, with its reliable Migrate OS feature, allows any Windows Server and Windows users to efficiently migrate the operating system to a new hard drive or SSD with success. It requires no technical background to migrate Windows Server to a new HDD/SSD successfully.
EaseUS Partition Master Enterprise
Your trustworthy Windows Server disk manager.
 Extend System drive, combine/split partitions.
 Clone disk, migrate OS to HDD/SSD.
 Convert MBR to GPT, GPT to MBR, no data loss.
 1-click adjust disk layout, create volumes at one time.
After installing the Windows Server migration tool on your computer, you can refer to the next guide for system migration between old and new disks.
#3. Migrate Windows Server OS to a New Hard Drive or SSD
Here are the steps that you can follow to migrate your Windows Server system to the newly added hard drive or SSD:
Note: The operation of migrating OS to SSD or HDD will delete and remove existing partitions and data on your target disk when there is not enough unallocated space on the target disk. If you saved important data there, back up them to an external hard drive in advance.
Step 1. Select "Clone" from the left menu. Select the "Migrate OS" and click "Next" to continue..
Step 2.  Select the target disk you want to clone. Click "Next".
Step 3. Click "Yes" after checking the warning message. The data and partitions on the target disk will be deleted. Make sure that you've backed up important data in advance. If not, do it now.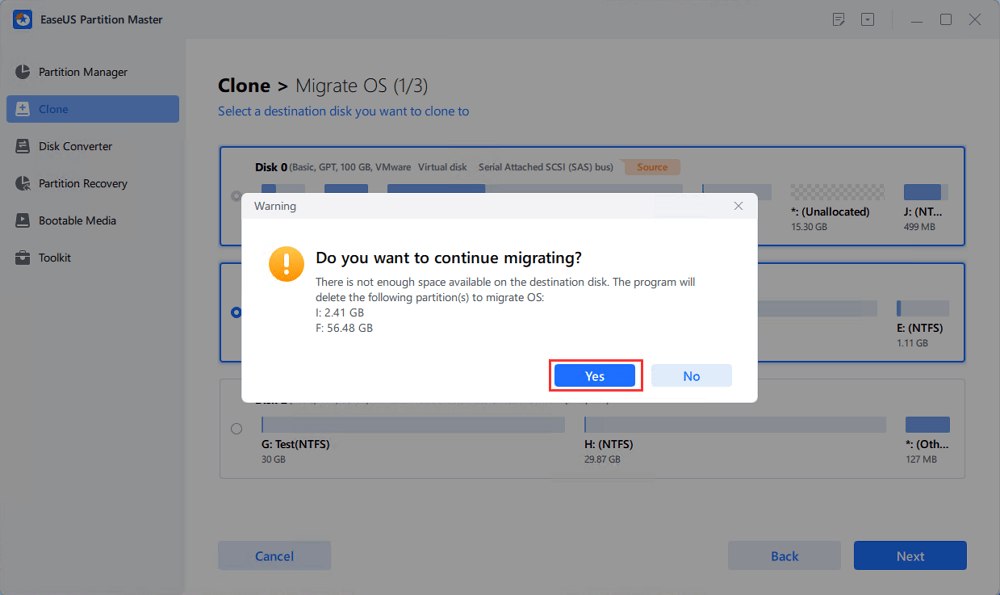 Step 4. Preview the layout of your target disk. You can also click the disk layout options to customize the layout of your target disk as you want. Then click "Start" to start migrating your OS to a new disk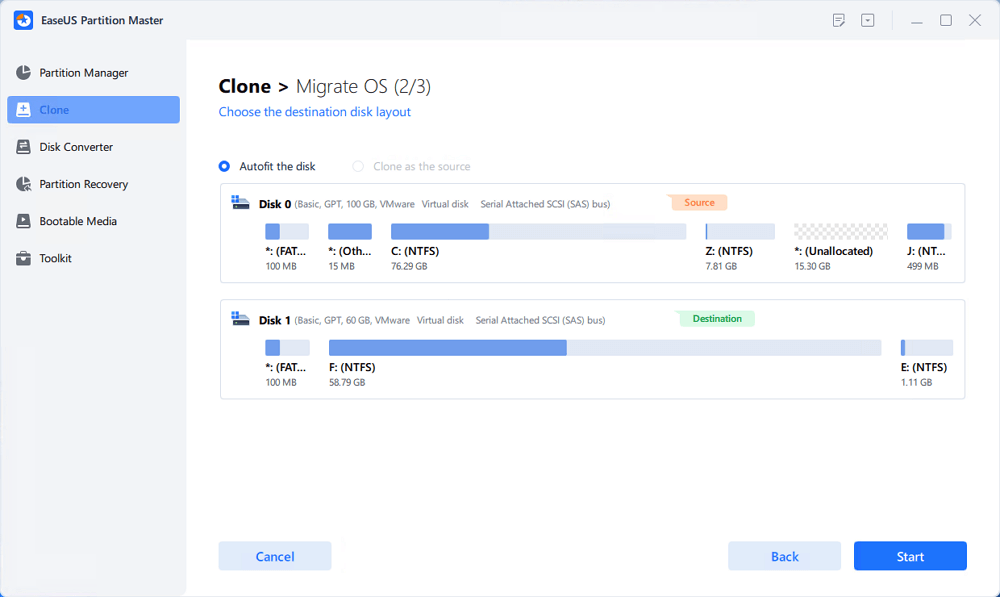 Aside from OS migration, this tool also helps you to:
Manage hard drive space in Windows Server
Extend System C drive or fix low disk space error in C drive
Merge or split hard drive partitions
Create, format, convert, delete, and even wipe disk partitions
Recover partitions, 4K align SSD, check and repair disk error, etc.
When the system migration procedure completes, it's essential that you enter the Windows Server BIOS settings to configure the system drive boot order. The steps are contained in the next guide.
#4. Set The New Disk as System Boot Drive
Step 1. Reboot Windows Server computer and press the F2/F8 or Del key to enter the BIOS settings.
Step 2. Go to the Boot Menu, find the Boot Order settings section, and click it.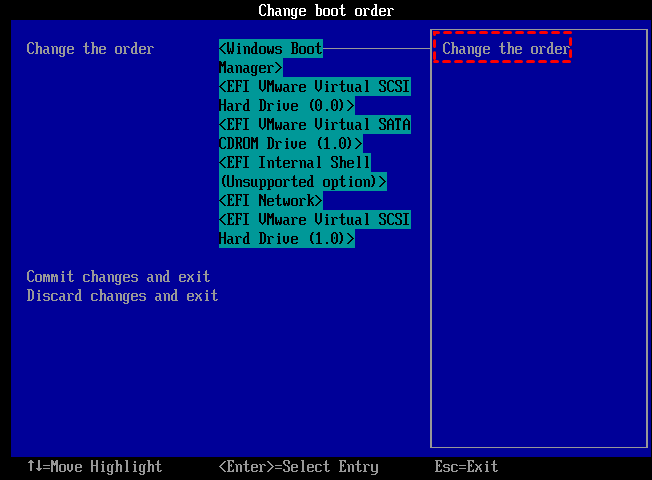 Step 3. Select the priority boot drive as the newly added drive and save the changes.
Step 4. Exit BIOS and restart the computer.
Wait for the computer to boot up and enter your Windows Server systems. When you see the login image, enter your account and password, you can then start using your Server computer on the new disk. 
You Can Migrate Windows Server Computer to A New Hard Drive or SSD Now
We simplify the Windows Server OS migration procedure into 4 separate guides on this page. 
Always remember, to migrate and configure Windows OS migration to a new disk, you should first prepare the disk, get a reliable OS migration tool like EaseUS Partition Master for help.
Next, apply EaseUS Partition Master to migrate OS and configure the new disk as the boot drive. 
As long as you follow the full guide one by one, you can successfully migrate the Windows Server systems to a new disk and enjoy optimized Server computer performance immediately.
FAQs About Migrate Windows Server to a New HDD/SSD
If you have further questions about migrating the Windows Server system to a new hard drive or SSD, follow and find answers to the listed questions below:
1. Can I move my Windows OS to another hard drive?
Yes, you can move Windows operating system to another hard drive successfully without reinstallation. All you need is to turn to a system migration tool like EaseUS Partition Master with its Migrate OS to SSD or HDD feature for help. 
2. How do I move my Server OS?
First, connect a new disk with equal or larger storage space than the used data size of the Server OS drive.
Second, initialize the new disk to the same partition style as the Server OS disk - MBR or GPT.
Third, run a reliable OS migration tool like EaseUS Partition Master to migrate the Server OS.
Once done, reboot Windows Server and set the computer to boot from the new disk.
3. Can I migrate just my OS to an SSD?
Yes, you can only transfer OS to a new SSD without reinstalling the system on Windows computers. To do so, you'll just need a new SSD with the same disk type as the OS drive and then migrate the OS to SSD with a reliable OS migration tool like Windows 11 System Migration Software for help. EaseUS Partition Master can fulfill your remands for OS migration between HDDs and SSDs.
About the Author

Updated by Sherly
Sherly joined EaseUS in 2022 and she has always loved writing articles and enjoys the fun they bring. She receives professional training here, focusing on product performance and other relative knowledge.
Written by Tracy King 
Tracy joined in EaseUS in 2013 and has been working with EaseUS content team for over 7 years. Being enthusiastic in computing and technology, she writes tech how-to articles and share technical solutions about Windows & Mac data recovery, file/system backup and recovery, partition management and iOS/Android data recovery.
Product Reviews
I love that the changes you make with EaseUS Partition Master Free aren't immediately applied to the disks. It makes it way easier to play out what will happen after you've made all the changes. I also think the overall look and feel of EaseUS Partition Master Free makes whatever you're doing with your computer's partitions easy.

 Read More

Partition Master Free can Resize, Move, Merge, Migrate, and Copy disks or partitions; convert to local, change label, defragment, check and explore partition; and much more. A premium upgrade adds free tech support and the ability to resize dynamic volumes.

 Read More

It won't hot image your drives or align them, but since it's coupled with a partition manager, it allows you do perform many tasks at once, instead of just cloning drives. You can move partitions around, resize them, defragment, and more, along with the other tools you'd expect from a cloning tool.

 Read More