What can an SD card format tool do for you?
Under normal circumstances, you can free format an SD memory card, USB flash drive, external hard drive or some other storage devices with Windows built-in disk management tool easily. But in some complex cases, you might need a third-party SD card format software to help you do this job successfully. Here we list some of such cases:
Fix sd card not formatted error for reuse
Repair corrupted, unrecognized or inaccessible SD card
Change file system, raw to NTFS, FAT32 to NTFS, etc.
Restore SD card to original size or full capacity
Remove write-protection of the SD card
Clean up unknown malware or virus
Erase data for privacy protection
Format SD card for optimal performance
What is the best format tool for memory SD Card & USB drive?
There are many format tools for memory SD Card and USB drive, for example, HP USB Disk Storage Format Tool, MMC Format tool, Panasonic SD Format Tool, Urescue Format Tool, SD formatter, etc. Which one is the best?
Here we would like to recommend you EaseUS free partition software. It allows to format the disk partition and other external storage devices like SD card, USB drive easily in all complex cases, for example, format write-protected SD card, USB flash drive, format SD card back to the original size, format RAW drive/partition to NTFS without losing data. It supports all types of memory card from Sandisk, Kingston, Panasonic, Lexar, Samsung, Sony, etc. Now you can try the following guide to format your Android, Raspberry Pi, 3DS SD card. It just takes simple steps.
How to format SD card with EaseUS SD card formatter
Step 1. Connect SD card to your computer. Launch EaseUS partition tool, select and right-click the disk you want to format and choose "Format partition" by right-clicking the mouse.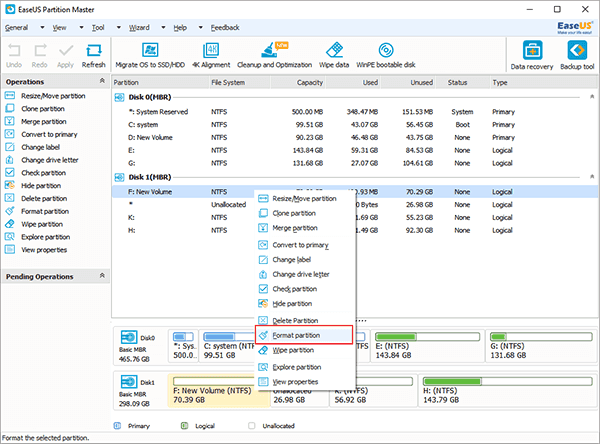 Step 2. Configure the label you want in the Partition Label box.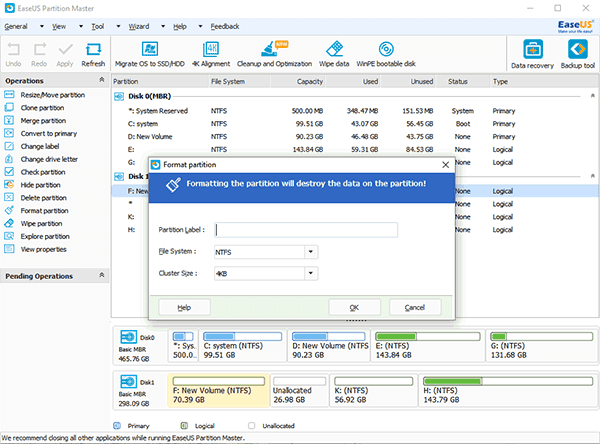 Step 3. Select the file system type to be created from the "File System" drop-down list. (FAT/FAT32, NTFS, EXT2/EXT3). If the partition is larger than 4GB, you can only choose FAT32, NTFS or EXT2/EXT3; and if the partition is smaller than 4GB, you can choose FAT, FAT32, NTFS or EXT2/EXT3.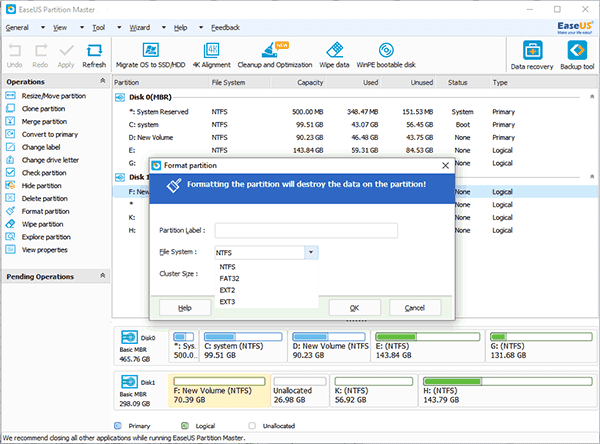 Step 4. Choose the Cluster Size (512 bytes, 1, 2, 4...64KB) from the drop-down list and click "OK" to apply the format operation.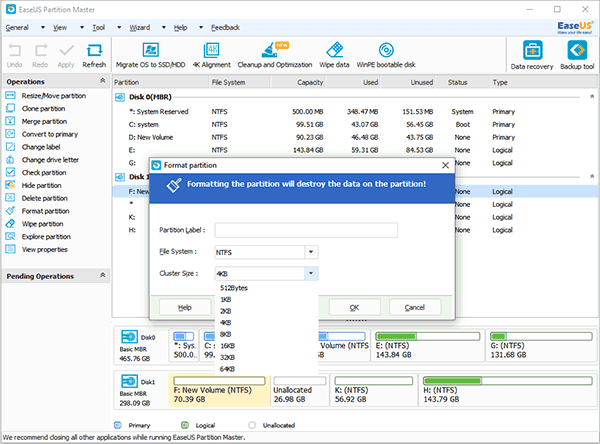 Note: Smaller cluster size makes less wasting of disk space. The smaller cluster size is, the bigger file allocation table (FAT) will be. The bigger the FAT is, the slower the operating system works with the disk.
Step 5. Click "Apply" to confirm to format your SD card.
Except for SD card format tool, the program is also a free disk partition management tool that can help you deal with many tasks such as partition hard drive/memory card/USB, resize partition, settle low disk space problem, manage disk space easily on MBR and GPT disk. Just try it whenever you need. Good luck!