
About the Author
Hot Topics in 2022
2022 Samsung SD Card Format Tool Free and Available Download [Step-by-step Guide]
Introduction
SD cards and other external storage drives are essential devices to store and transfer our important files safely. If you are a Samsung SD card user, you may be looking to format old data, or even format sd card fat32 for storing new files. Before moving forward, do you know what format means and what are the best formatting tools for your Windows system in 2022?
Formatting is the best way to wipe an SD card. When you command to format an SD card, it erases every single file, including internal hidden files. 
In this article, we will share the best SD card formatting tools, including the most-advanced disk management and formatting software in 2022. And it also includes a step-by-step guide for using each tool.
How Do I Format My Samsung SD Card?
If you're unable to read the information in your Samsung Micro SD card or want to delete old and save new files, select the given settings and follow these steps for formatting the memory.
 Notice:

The formatting process is irreversible, you need to backup all the data before formatting.
Step 1. Open your Android Settings > Device Care.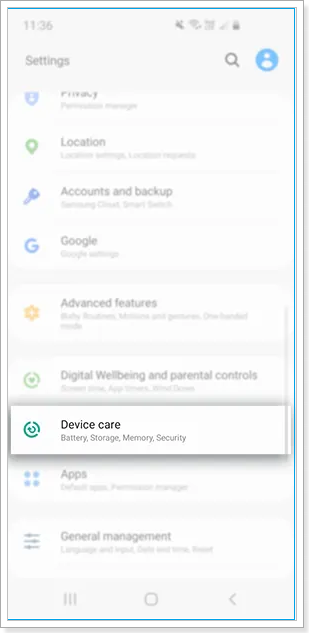 Step 2. Select "Storage" to format the SD card.
Step 3. Tap on "Advanced".
Step 4. Under Portable storage, choose "SD Card".
Step 5. Tap on "Format".
Step 6. Read through the pop-up message, then select "Format SD Card".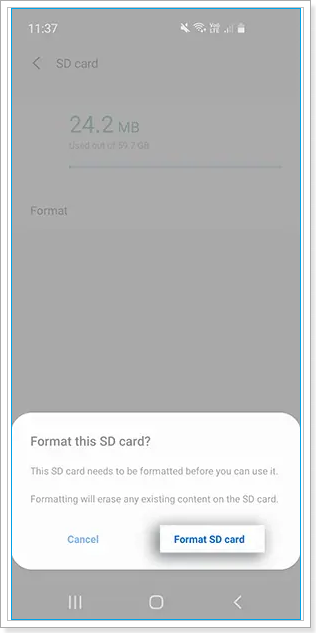 However, when you try to format an SD card, the device warns you with an error message, saying "Unable to Format the SD Card" as shown here, which means that you are currently having this error on your SD card. The article below will show you how to fix this problem:

What Is A Format Tool for SD Card?
Indeed SD cards are essential storage devices to save our precious data, but we cannot use them to keep the data for the long run. After a considerable time, the files may begin to corrupt. The standard formatting process does not work appropriately to clear the clutter inside the card. 
Hence, a specific SD card formatting tool works for proper formatting to keep it in working order. The SD Memory Card Formatter optimizes the data structure of the SD card following the flash parameters defined by the SD Association. It is responsible for fast formatting and creating an empty partition. 
As a result, any sensitive information stored on the device is unrecoverable, resulting in a more secure format. There are different SD card formatting tools for formatting sd card windows 7, windows 10, and 11. Windows has its functionalities that work as specific format tools. Using these functions, you cannot format SD cards over 32 GB.
However, you can keep your hands on a reliable third-party format tool EaseUS Partition Master. A major advantage of this SD Card Formater tool is that it fully maintains the specification standards and is applicable for all SD host devices. In addition, it ensures that FAT is aligned to the partition to internal flash boundaries that maximize the performance. Download it and give it a try.
Samsung SD Card Format Tool Free Download with How-To Guide
A program called Samsung Format Utility is specifically designed for Samsung external storage drives to format Samsung SD cards using the NTFS or FAT32 file systems (You can convert fat32 to ntfs, or convert ntfs to fat32 by formatting). We will help you understand this tool and how to use it.
What Is Samsung SD Card Format Tool? 
Samsung offers a specific Formatting tool named Samsung Format Utility. It is an effortless application for Windows computers that provides formatting features for external Samsung storage devices like hard drives or SD cards. Using this tool, you can easily wipe the data from your Samsung SD Card. It is easy to work with, and you can run it on any computer with lower effort. 
After successfully downloading and installing the Samsung Format Utility application, it enables you to drop any file and run it. You can select the Samsung device, the drive to format, the file system type, and write a volume label from the regular window of Samsung Format Utility. However, this tool offers limited formatting options but it can quickly perform the task with its formatting mode depending on how much data you have on your Samsung SD card.
Follow the given steps to use this Samsung SD card format tool. 
How to Use Samsung SD Card Format Tool?
Step 1. Go to your internet browser and download the Samsung Format Utility application to your Windows Computer.
Step 2. To open the zip file, Right-click on it and extract.
Step 3. Select your desired location to extract the file. 
 Notice:

Please make sure your Samsung SD card is connected to your computer.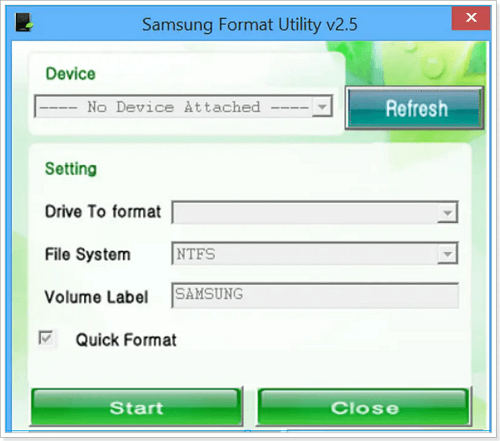 Step 4. Follow the prompts after double-clicking "Formatter_v2.5.exe".
More SD Card Format Tools to Format Your SD Card 
We have mentioned three different methods to format SD cards. Windows 10/11 comes with disk management and File Explorer tools that make it easy to format an SD card up to 32GB. However, you may be looking for an easier, more developed, and more effortless way with the ability to format any SD card. Therefore, we have mentioned EaseUs partition master to help you format any SD Card without hassle.
Fix 1. Format SD Card via EaseUS Partition Master 
Reasons to Format SD Card can be different, but a quick and straightforward solution to format is using the EaseUS partition tool. It is a reliable tool to solve any formatting issue, even if your SD card is unreadable. It provides cutting-edge disk management solutions worldwide for free, and its user-friendly interface makes it more effortless. This formatting tool can easily and quickly format SD cards of more than 32 GB with a file system format, FAT32 file system for instance. 
It provides advanced disk partition options, and its Format functionality is one of the most-used features. This tool is useful for erasing the data even if your SD Card is corrupted and unreadable to the system. However, it will erase the entire data from an unreadable SD Card. You can use the EaseUS Data Recovery tool to recover your essential files. 
EaseUS partition tool has easy usability and is accessible to everyone, even without prior experience. It improves the performance and data writing speed of your Samsung SD Card. Once you install the software on your Windows PC, it will automatically detect and optimize the SD card and provide you with easy-to-use options.
To easily format the SD card with EaseUS Partition Master, please follow the steps below:
Step 1. Find your SD card and right-click the partition you want to format and choose "Format".
Step 2. Set a new partition label, file system (NTFS/FAT32/EXT2/EXT3/EXT4/exFAT), and cluster size to the selected partition, then click "OK".
Step 3. Click "Yes" on the pop-up window to continue.
Step 4. Click the "Execute 1 Task(s)" button on the toolbar, then click "Apply" to start formatting your SD card.
Fix 2. Format SD Card via Windows File Explorer
File Explorer is a build-in application on Windows computers. We all use it many times while using our computers. Using this app, you can check all existing files in your system and use it as the easiest way to format your SD card. Please follow these steps to achieve the best results.
Step 1. Go to the File Explorer icon and click on it, or Press "Windows + E" in Windows 11/10 to quickly open it.
Step 2. On the left-side panel, Select "This PC".
 Notice:

Make sure your SD Card is inserted correctly.
Step 3. Check your SD card listed as a device, then Right-click on it and select the "Format" option.
Step 4. Under the format window, choose your desired file system from NTFS, FAT32, or exFAT. 
 Notice:

Choose "NTFS" or "FAT32" for 32GB SD cards, or "exFAT" for 64GB SD cards.
Step 5. Click on "Start" to begin the format process and wait until it finishes.
Fix 3. Format Samsung SD via Disk Management
Disk Management has excellent functionality and is an effective way to format SD cards. Users can do different disk volume operations like format disk, create or delete, etc. Here are the detailed steps of how you can format an sd card, and also help you to solve the unable to format sd card error. 
Step 1. Make sure your sd card is inserted into your computer. If yes, open file explorer and right-click on "This PC".
Step 2. Go to the "Manage" option, then under Storage, select "Disk Management".
Step 3. Find the Samsung SD card, press right-click, and select the "Format" option. Set file system and click "OK".
 Notice:

This Windows feature is applicable under 32GB to FAT32. To format SD cards over 32GB to FAT32, you can use EaseUS Partition Master.
Conclusion
When you want to format a Samsung SD card, you need to follow specific instructions to get the desired result. However, memory cards over 32 GB of memory space cannot be formatted by the default tools of Windows 10/11. After reading this article, you know how to format your Samsung SD card by using a specialized tool, EaseUS Partition Master. You can download and use this tool for free and quickly perform the process. 
Samsung SD Card Format Tool FAQS  
Here is the list of the top three frequently asked questions about the formatting of SD cards.
1. What is the Best Format for SD Card? 
FAT32 is more compatible. We recommend formatting the memory card to FAT32 if you are not sure if your device supports exFAT. However, FAT32 is functional with SD/USD cards with a capacity of less than 32GB, and it cannot store or transmit files larger than 4GB. However, if your SD card is more significant than 32 GB, you can use a third-party SD card formatting tool EaseUS Partition Master.
2. How Do I Format My Samsung Hard Drive or USB?
Usually, there are two ways to format an external storage device, disk management, and Windows File Explorer. But these windows functions are unable to format SD cards over 32GB. Therefore it is advisable to your an advanced third-party-tool EaseUS Partition Master.
3. Why Can't I Format My SD Memory Card?
SD card is loaded with bad blocks that harm the reading capacity of SD card. 
You may be unable to format the SD card due to write-protected.
Windows platforms can no longer format data from a corrupted memory card.
About the Author
Daisy is the Senior editor of the writing team for EaseUS. She has been working in EaseUS for over ten years, starting from a technical writer to a team leader of the content group. As a professional author for over 10 years, she writes a lot to help people overcome their tech troubles.
Written by Tracy King 
Tracy joined in EaseUS in 2013 and has been working with EaseUS content team for over 7 years. Being enthusiastic in computing and technology, she writes tech how-to articles and share technical solutions about Windows & Mac data recovery, file/system backup and recovery, partition management and iOS/Android data recovery.
Product Reviews
I love that the changes you make with EaseUS Partition Master Free aren't immediately applied to the disks. It makes it way easier to play out what will happen after you've made all the changes. I also think the overall look and feel of EaseUS Partition Master Free makes whatever you're doing with your computer's partitions easy.

 Read More

Partition Master Free can Resize, Move, Merge, Migrate, and Copy disks or partitions; convert to local, change label, defragment, check and explore partition; and much more. A premium upgrade adds free tech support and the ability to resize dynamic volumes.

 Read More

It won't hot image your drives or align them, but since it's coupled with a partition manager, it allows you do perform many tasks at once, instead of just cloning drives. You can move partitions around, resize them, defragment, and more, along with the other tools you'd expect from a cloning tool.

 Read More