
About the Author
Hot Topics in 2022
Is exFAT The Same As FAT32 Format? Everything You Need to Know
| Workable Solutions | Step-by-step Troubleshooting |
| --- | --- |
| How to Format or Convert exFAT to FAT32 | Method 1: Using EaseUS Partition Master; Method 2: Using Windows Tool on CMD...Full steps |
| How to Format or Convert FAT32 to exFAT  | Step 1: Press the Start menu, and type CMD to bring up the Command Prompt...Full steps |
Is exFAT The Same As FAT32 format? 
Many file formats are used in Windows, and FAT32 emerged as a popular format in the long run but has its limitations regarding the size of files. Then comes the exFAT, and there is a considerable difference between them.
The exFAT (Extensible File Allocation Table)) is more advanced and superior to FAT32 (File Allocation Table 32), supported by more devices and OS, and it's the best solution for removable devices and flash drives.
So no, exFAT is not the same as FAT32 and was introduced as a replacement for FAT32. The most significant advantage of using exFAT is that there are practically no limitations on partition size, whereas FAT32 supports files up to 4GB and partition size is 8TB at the max.
Should I Use exFAT or FAT32? 
It is clear that exFAT is better than FAT32, but when it comes to using it depends on your use case. exFAT works across platforms, offering better speed and supporting large-size formats.
Comparison between exFAT and FAT32: exFAT 
| FAT32 | exFAT |
| --- | --- |
| Best suited for small drives. | Works well on large drives. |
| Maximum file size 4 GB and partition size 8 TB. | No limit on file size, and partition size. |
| FAT32 is an older type of file system introduced in Windows 95. | exFAT replaces FAT32, and supports cross-platform scenarios. |
| Better compatibility | Not used often. |
Which format should you use? It will depend on the purpose.
If you are sure that you won't be copying or moving files larger than 4GB, Fat 32 is the way to go.
On the other hand, if you need to deal with a large file, then use exFAT.
On similar lines, small storage like SD Card and USB go better with FAT32, while external hard drives can use exFAT.
There is another reason to use exFAT—Cross-Platform support. If you need to copy files between platforms, it is better to use it. 
 How to Format or Convert exFAT to FAT32?
It is possible to convert one format into another. For example, if you want to convert the exFAT to FAT32, there are two ways of doing this. The first option is to use the EaseUS Partition Master software, and the second is to use Windows built-in tool.
 Notice:

No matter which tool you use to convert exFAT to FAT32, make sure to back up the data from the drive.
Method 1: Using EaseUS Partition Master - Easier for Beginners
EaseUS Partition Master simplifies the whole process, making the formatting device as easy as 1-2-3. You can just download this software and apply it to format your device from exFAT to FAT32 in only a few clicks:
Step 1. Launch EaseUS Partition Master, right-click the partition you intend to format and choose "Format".
Step 2. In the new window, enter the Partition label, choose the FAT32/EXT2/EXT3/EXT4 file system, and set the cluster size according to your needs, then click "OK".
Step 3. Then you will see a warning window, click "Yes" in it to continue.
Step 4. Click the "Execute 1 Task(s)" button in the top-left corner to review the changes, then click "Apply" to start formatting the partition to FAT32/EXT2/EXT3/EXT4.
The best part of using the software compared to the command tools is that you are likely to make fewer mistakes, resulting in data loss. So make sure you always backup essential content on the device in advance.
Method 2: Using Windows Tool on CMD 
Diskpart is a built-in tool in Windows that allows to manage and format partitions and partition Data. You can use an administrator account to execute it. 
Step 1. Open Run prompt using Win + R and type CMD. Then use Shift + Enter to open the command prompt with admin permission.
Step 2. Type diskpart, and press the Enter key to launch the tool.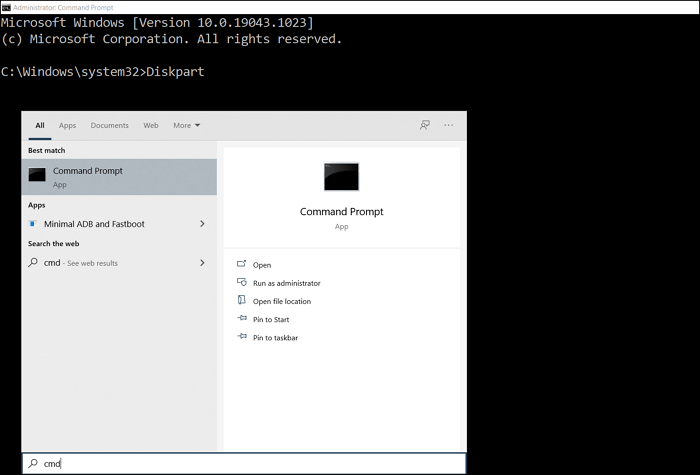 Step 3. Once established, type the following command one after the other. For example, here, X is a number and the drive you want to format.
list disk 
select disk 2
list partition 
select partition 2
format fs=fat32 quick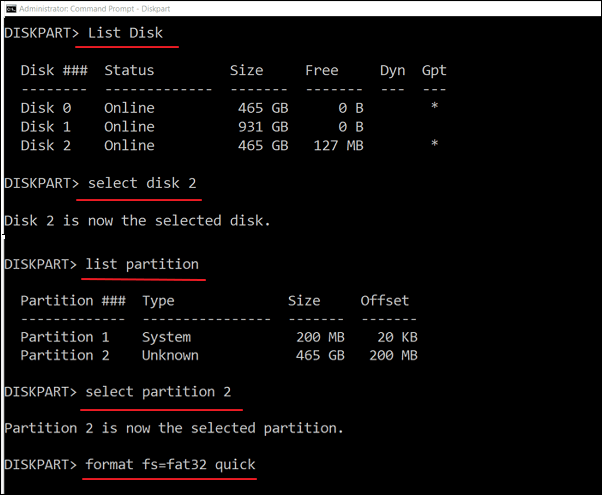 Once the process is complete, right-click on the drive and select properties to check the format type.
 How to Format or Convert FAT32 to exFAT 
Similar to how we converted exFAT to FAT32, the reverse can be achieved. Using the same Windows Diskpart tool on Command Prompt, you can format FAT32 to exFAT.
Step 1: Press the Start menu, and type CMD to bring up the Command Prompt. Mouse over it and choose to run as administrator.
Step 2: Type Diskpart and press Enter to launch the disk management tool. 
Step 3: Execute the following commands to convert:
list disk 
select disk 1
list partition 
select partition 2
format fs=exfat quick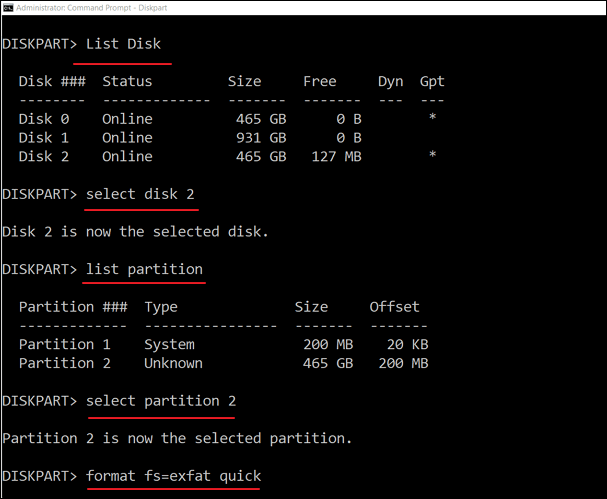 Check the driver properties, and you should notice that it is now FAT32.
What's more, there are many other ways available to format a drive to FAT32. Check the video guide here.
exFAT Is Not The Same as FAT32, Set the Right Format for Your Devices
Now that you know about both formats, the primary difference between exFAT and FAT32 is that exFAT is primarily used on SD cards, large flash drives, and some external hard drives.
exFAT should be your preferred choice if you want to transfer large-size files and make them work on almost every platform.
Due to FAT32's 4GB limitation, it is only used on USB-like devices. Fat32 is a bit limited in functionality.
However, if you are using a portable drive, you should go for fat32 because it directly supports portable drives.
No matter which format you decide to set for your storage devices, EaseUS Partition Master, with its Format feature, can always fulfill your tasks in switching the file system in simple clicks. 
FAQs About exFAT vs. FAT32, Which Is Better
If you have more doubts on exFAT vs. FAT32, and or you want to know which is better for your current situation, follow and find answers here:
1. Which is better, exFAT vs. FAT32?
exFAT surpasses FAT32 in reading and writing speed. In other words, exFAT works faster than FAT32 in data transfer.
FAT32 is the most compatible file system compared with exFAT, NTFS, etc.
2. Can I use exFAT instead of FAT32?
Yes, you can use exFAT to replace FAT32 on most storage devices as its file system for data transferring, etc. However, if you need to maximize the storage devices' performance,  you are supposed to set the correct file system to different-sized storage devices.
32GB or smaller external storage devices, use FAT32.
64GB or bigger external storage devices, use exFAT.
3. Is exFAT slower than FAT32?
exFAT is said to have equal or similar speed in reading and writing data as FAT32. However, if you test exFAT and FAT32 with a professional benchmark testing tool, you'll learn that exFAT is actually faster than FAT32 in reading and writing data. 
About the Author
Updated by Tracy King 
Tracy joined in EaseUS in 2013 and has been working with EaseUS content team for over 9 years. Being enthusiastic in computing and technology, she writes tech how-to articles and share technical solutions about Windows & Mac data recovery, file/system backup and recovery, partition management, data transfer, Windows update issues, etc.
Product Reviews
I love that the changes you make with EaseUS Partition Master Free aren't immediately applied to the disks. It makes it way easier to play out what will happen after you've made all the changes. I also think the overall look and feel of EaseUS Partition Master Free makes whatever you're doing with your computer's partitions easy.

 Read More

Partition Master Free can Resize, Move, Merge, Migrate, and Copy disks or partitions; convert to local, change label, defragment, check and explore partition; and much more. A premium upgrade adds free tech support and the ability to resize dynamic volumes.

 Read More

It won't hot image your drives or align them, but since it's coupled with a partition manager, it allows you do perform many tasks at once, instead of just cloning drives. You can move partitions around, resize them, defragment, and more, along with the other tools you'd expect from a cloning tool.

 Read More