
About the Author
Hot Topics in 2022
Urescue Format Tool: Available Download and Format USB or SD Card
USB format tools are pretty famous these days. So, let's guide you through them.
Urescue is one of the leading USB format tools. However, it's not the only one that has many users confused. Mainly because picking the right tool to format your USB or SD Card shouldn't be a difficult choice, but the overabundance of tools makes it one.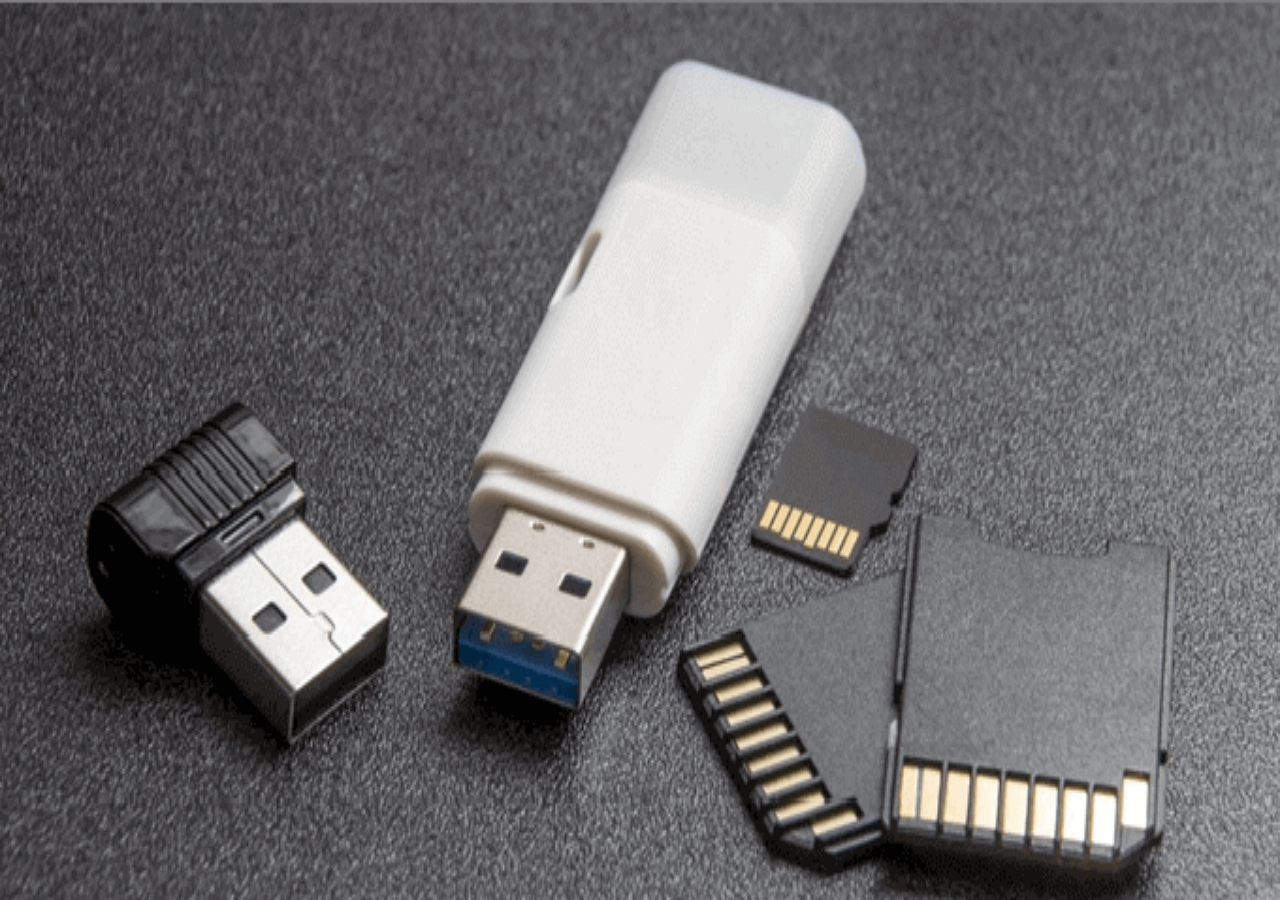 Now, the purpose of this guide is to show you what USB tools like the Urescue format tool do and if you should use such a program to format USB/SD Card. Therefore, we'll be diving into the depths of this topic, so let's begin.
Do you need to format your USB or SD Card? Fitting your USB or SD card has an advantage, as it's known to prolong the life of removable storage devices. However, it's imperative to backup your data before you do it.
But, many people believe you need to format a new USB drive or SD Card before you use it. So, is there some truth to it? Not precisely, because most out-of-the-box SD cards or USB flash drives come pre-formatted from the factory.
However, some users run into problems like a corrupt or slow drive, which makes it difficult to transfer data quickly. Or, if the format is incorrect, it won't operate correctly on the corresponding system, such as NTFS on a Mac device.
Now, if you have an SD card and you need to format it to remove existing pictures or videos, then you must unlatch the lock on the side like this: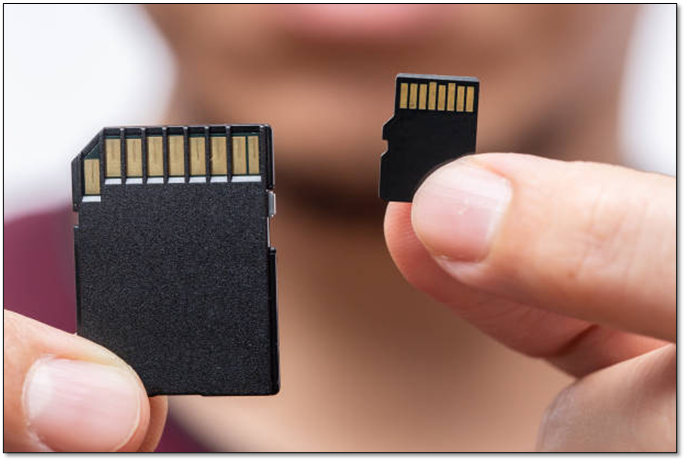 So, you can format if you're facing one of these two problems:
USB working slowly or not working at all
SD card filled up or not detected in a camera/phone
If that's the case, you can format your SD card or USB in two different ways. One is by using the Windows Explorer Formatting method. The other us with the help of a professional tool like EaseUS Partition Master.
And now, to sum it up, you don't necessarily need to format a brand new USB or SD card. However, you can format the one you're using to get better performance out of it, fix any errors, or make it work faster and free up space.
About Urescue Format Tool
Urescue is a disk formatting utility, but its usage is minimal. The tool offers firmware updating and formatting options. However, some say it's only usable on USB devices with UT161, UT163, UT167, and UT190 controllers.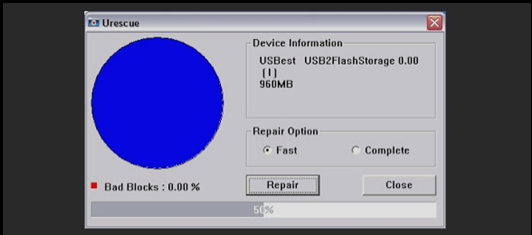 That's why it's used primarily on ADATA USB devices. Mainly because they happen to have those controllers, as well as other controllers like ITE Tech. That's why, upon launching this tool, many people in 2022 will get the message "Device Not Found."
Don't worry about it because it's an older tool and doesn't support many newer SD Cards and USB devices.
Format USB Flash Drive with Urescue Format Tool
Suppose you're lucky and have a device supported by the Urescue format tool. In that case, it'll detect it without any issues. So, once you do, plug in your USB device and follow these steps to format your USB or SD card:
Step 1. Open Urescue format utility.
Step 2. Pick your repair option, i.e., Fast or Complete(recommended).
Step 3. Click "Repair".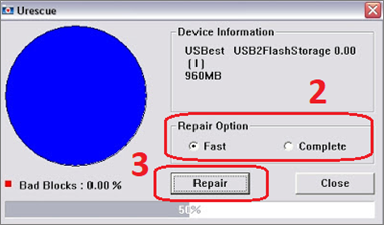 Step 4. Wait for it to finish.
After the format is finished, you will find this option pop up: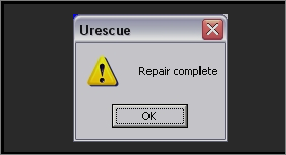 Once you click "Ok", you will find your USB device in My Computer/This PC again.
More Recommended USB/SD Card Format Tools
Let's be honest here, Urescue is a bit outdated, considering it was released over nine years ago in 2013. Nowadays, formats for your USB or SD cards are much better options. These options can be effective for many reasons.
So, we've compiled a list of the four best/recommended USB and SD card formatting tools. Here they are:
Tool 1. Format USB or SD card via EaseUS Partition Master
The first tool on our list is also the best: EaseUS Partition Master. This tool caters to various hard drives, SSDs, etc. That's why it's considered overkill for formatting devices like USB and SD cards simply because it has way too many convenient options.
But why is this tool number one? First of all, it's highly convenient and effortless to use. On top of that, the tool offers remarkable support for Windows 10/11—something that older tools lack. But, let us list out a few reasons for you:
The design of this tool is unmatched;
 It's ideal for converting SD cards over 32 GB into FAT32 format;
 Solve issues with SD cards, USB Devices, external storage, etc.
So, here's how you can use this tool to format the USB device/SD card:
Step 1. Launch EaseUS Partition Master, right-click the partition on your external hard drive/USB/SD card which you want to format and choose the "Format" option.
Step 2. Assign a new partition label, file system (NTFS/FAT32/EXT2/EXT3/EXT4/exFAT), and cluster size to the selected partition, then click "OK".
Step 3. In the Warning window, click "Yes" to continue.
Step 4. Click the "Execute 1 Task(s)" button in the top-left corner to review the changes, then click "Apply" to start formatting your external hard drive/USB/SD card.
Tool 2. Format USB or SD card via HP USB Disk Storage Format Tool
HP Disk Format Tool for Windows is a formatting utility for Windows computers. This tool allows you to format all sorts of USB devices and isn't constrained by any model or controller-based restrictions. On top of that, using this tool to format your USB is easy too.
Here's what you need to do:
Step 1. Download and run HP USB Disk Storage Format Tool.
Step 2. Pick the "USB device" you need to format.
Step 3. Pick the "file system".
Step 4. Pick "Quick Format" under Format options.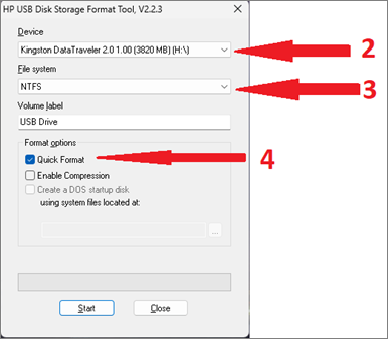 Step 5. Start the format.
Step 6. Wait for it to finish.
This will format your USB/SD card within a few seconds.  
Tool 3. Format USB or SD card via Panasonic SD Formatter
The following tool on our list is Panasonic's SD card formatter, simply known as SD Card Formatter. This tool allows you to format your USB device or SD card quickly. Once again, this is a viable alternative to Urescue, and here's how you can use it:
Step 1. Download and install the tool.
Step 2. Run Panasonic SD Card Formatter.
Step 3. Pick your "USB/SD card".
Step 4. Select "Quick Format".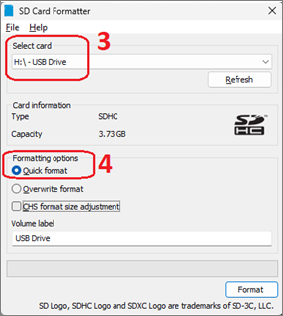 Step 5. Click on "Format" to start formatting.
If the software doesn't detect your USB immediately, simply plug it into another port and click on the "Refresh" button. This will most likely solve your issue.
Tool 4. Format Samsung SD Card via Disk Management
The final step is to format your SD card using the in-built disk management in your Windows. This is one of the easiest ways of doing it, but it may not always fix the errors in your SD cards or USB flash drive. But, here's how you can use it:
Step 1. Press Window + X to open Power Menu and pick Disk Management.
Step 2. Once in Disk Management, scroll all the way down until you find the USB drive/SD card.
Step 3. Right-click on the device and click "Format".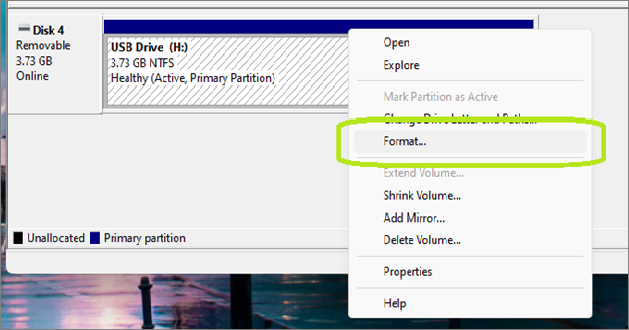 Step 4. Pick "File system".
Step 5. Click "Perform a quick format".
Step 6. Press OK to begin.

This will ensure your USB/SD card is formatted correctly. And it's a viable alternative to the Urescue format tool.
Format USB or SD Card FAQs
If you've any more questions, check out our FAQ sections to address your queries.
1. Which is the Best Format Tool for USB Formatter?
The one tool that stood head and shoulders above any other was EaseUS Partition Master. This latest program in the arsenal of EaseUS's vast storage solutions is an outstanding option for USB formatting for a few good reasons:
The design is super-friendly
It's able to format larger SD cards (32GB and more) into FAT32
Enables you to repair damaged or unformattable USB devices/SD cards
Clone entire USB/SD card data
Therefore, as mentioned before, the quality and abilities of this tool make it an overkill just for formatting USB devices as it's meant to perform a lot more operations than simply wipe the data.
2. How to Fix A Flash Drive that Won't Format?
If you're unable to format a USB device, then it could be caused by a few reasons. Such as bad sectors, physical damage, or primarily, write protection. It's most likely the last case in many USB devices and flash drives.
So, how do you fix that? With the help of EaseUS Partition Master. Once again, this tool isn't just ideal for formatting USB devices; it also ensures that you remove write protection or any other errors that might prevent a full USB format.
3. Should I Format USB to NTFS or FAT32?
The thing with FAT32 is that it caps out at 4GB. In other words, while it might be ideal for mobile phones and cameras (SD cards), it's not suitable for more extensive storage mainly because it won't allow formatting any device over 4GB.
NTFS, on the other hand, is the quickest and much more compatible with the latest devices and operating systems. However, suppose you're someone that switches between Mac and Windows. In that case, you'd want to use FAT32, as it's the only format supported by both operating systems.
Therefore, you can use EaseUS Partition Master to format your SD card/USB devices to more than 32 gigabytes.
Conclusion
These are some of the best alternatives to the Urescue format tool. While it's not only outdated, it doesn't support most of the USB storage devices available today, whether they're USB flash drives or SD cards.
 You can always trust EaseUS Partition Master which can effectively satisfy most of your requests in USB/SD card formatting. It's worth you downloading and applying for help!
About the Author
Updated by Tracy King 
Tracy joined in EaseUS in 2013 and has been working with EaseUS content team for over 7 years. Being enthusiastic in computing and technology, she writes tech how-to articles and share technical solutions about Windows & Mac data recovery, file/system backup and recovery, partition management and iOS/Android data recovery.
Product Reviews
I love that the changes you make with EaseUS Partition Master Free aren't immediately applied to the disks. It makes it way easier to play out what will happen after you've made all the changes. I also think the overall look and feel of EaseUS Partition Master Free makes whatever you're doing with your computer's partitions easy.

 Read More

Partition Master Free can Resize, Move, Merge, Migrate, and Copy disks or partitions; convert to local, change label, defragment, check and explore partition; and much more. A premium upgrade adds free tech support and the ability to resize dynamic volumes.

 Read More

It won't hot image your drives or align them, but since it's coupled with a partition manager, it allows you do perform many tasks at once, instead of just cloning drives. You can move partitions around, resize them, defragment, and more, along with the other tools you'd expect from a cloning tool.

 Read More